There are several ways to renew your passport; if you are looking for the easiest and fastest way to renew your passport, we have found using an expedited passport service is the way to go. We understand that may not be the most economical solution for everyone, so we broke down all of your available options below.
If you are in a rush and don't have time to go through the options, we highly recommend RushMyPassport to get your passport renewed fast and safely.
As a U.S citizen, you can apply to renew your passport by mail rather than applying in person. Although the entire process cannot be done online, the necessary passport renewal form can be downloaded and sent by mail to an official passport agency, making the whole thing more convenient. Knowing how to renew a passport book/card this way can save time and effort.
How to Renew a Passport Online
A passport is the official citizenship document for the USA, and keeping it up to date is essential for anyone who wants to travel internationally. It is important to renew your passport before it runs out at least six months before you need it. Luckily, a U.S passport renewal application can be filled out online to make the process easier.
What This Official Guide Covers
How to find and complete a passport application for renewing a U.S passport
What documents are required as part of the completed application
Where and how to send the application
What to expect from the application process
Other considerations for specific circumstances
Everything You Need for This Passport Renewal Tutorial
Your current passport
Access to the USA.gov website
A printer
A new passport photo (We love this online service)
Any necessary supporting documents (see details below)
An envelope large enough to hold all documents
If Applying for Expedited Service
The expedited service for a U.S passport carries an additional fee, so be sure to include the correct amount. You must also write expedite clearly on the front of the envelope. Or you can use a passport courier service to do all the work for you. Learn more
If Applying for a First-Time U.S Passport
This process applies to passport renewal only. Applicants must appear in person with the relevant forms. Find more official government information about U.S passport eligibility and the passport agency protocols at the USA.gov website.
If Applying to Replace a Damaged or Lost Passport
Replacing a damaged or lost passport may also require an in-person appointment. Details on how to report a stolen passport card/book and begin the replacement process are available on the official government website.
If Applying from Canada
When applying to renew a U.S passport from within Canada, you must schedule an appointment at the embassy and appear in person. When you fill out the social security number, do not include the Canadian number- only U.S.
Renewing a U.S Passport in 10 Simple Steps
When the time comes to renew your passport, you have the choice to do it by postal service rather than in person. The following step-by-step guide explains this process in detail in 10 easy stages.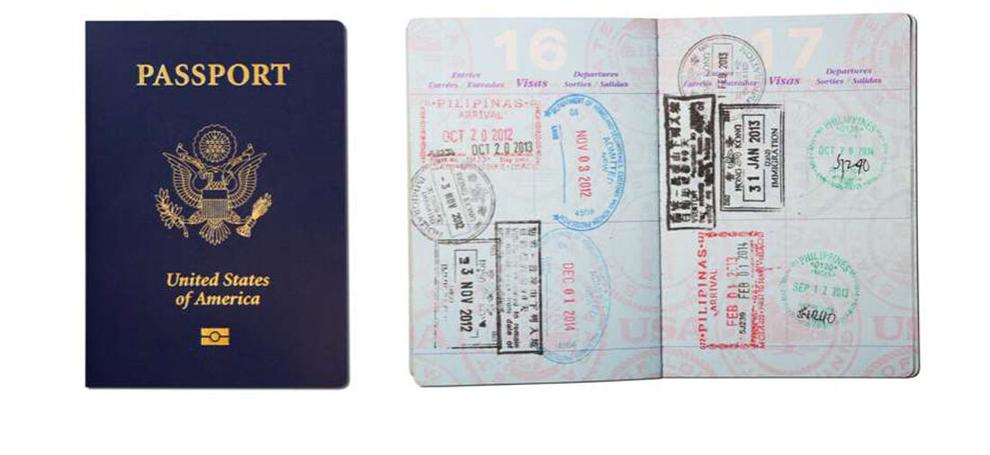 Step One: Check If You are Eligible to Renew Your Passport by Mail
Before getting started, please remember that this type of passport renewal application is not valid if:
You do not have a physical passport card/book (either because you never applied for one before or because you lost it)
Your old passport is damaged in any way
The current passport was issued before you turned 16
Your most recent passport was issued more than 15 years ago
The passport you currently have is not in your current name, and you cannot provide proof of the change
If none of these statements apply, you can find a passport application online and do the rest by post! You cannot submit a new passport online: only with printed documents sent to the relevant passport agency. You can double-check all the eligibility requirements for renewing a U.S passport by mail on the official site.
Step Two: Download and Fill Out Form DS-82
Once you check that you tick all the boxes, the application process begins! The first thing that everyone must do is access and complete the correct application form. In this case, you want form DS-82. There are two ways to access this form:
Download it as a PDF
Use the official form filler on the state department website
It is best to complete the form digitally rather than by hand to avoid mistakes or confusion with handwriting. Here is what to expect from the form:
You will be asked to confirm your eligibility.
Fill out your basic information, including full name, birthday, contact details (phone, email, and mail), gender, place of birth, current registered address, and Social Security number.
Details of further required documents are explained on the form.
The option to apply for a larger passport book with additional pages should be selected or not, according to your preference.
Every page must be completed in full- any missing information may result in a rejected application form.
Please double-check every detail and ensure nothing is missed. Read through all the documentation requirements and confirm all spellings and numbers. It is well worth taking an extra few minutes to avoid redoing the whole thing a few weeks down the line due to a silly error!
When to Use Form DS-11
Form DS-11 is the application form for an in-person passport renewal. You should use it if you do not meet the criteria for a postal application. Please refer to step one for a refresher on the terms of eligibility. First-time passport applicants should also use this form.
Step Three: Print and Sign Form DS-82
You must print the completed form on single-sided paper (double-sided printing is not accepted). Sign and date the form in blue or black ink. Check the print for any smudges or imperfections and ensure the ink quality is sufficient for clear reading. If the printed document is not clear enough, please find an alternative way to get a copy.
Step Four: Get a New Passport Photo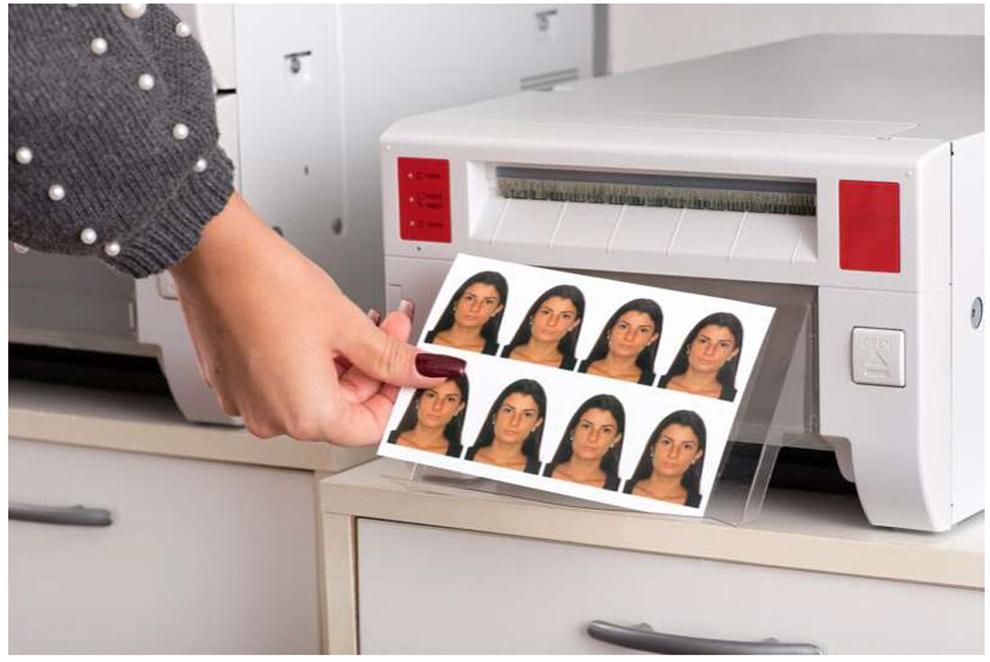 As the application form DS-82 explains, one full-color passport photo should accompany the paperwork. The photo must be recent and meet the standards asked by the passport acceptance facility. Some of the specifications include:
A plain white or off-white background
No filters or other editing tools used to warp the photo
Maximum of six months since the photo was taken
No glasses, headwear (some exceptions for religious purposes), or excessive jewelry
Minimal makeup
Full head must be well within the frame
Nothing covering any part of the face
Neutral expression
Clear resolution
We really like this online passport photo service. It is best to have the photo taken by a person or machine specializing in this service. You can probably find a passport photo booth in your local post office that prints regulation-sized copies for a small fee. You can find a full explanation of the official passport photo requirements on the official site. The photo should be stapled to your application form. Use four staples- one in each corner of the photo, as close to the edge as possible. Staple vertically rather than horizontally.

Step Five: Include Any Relevant Name-Change Documents
This step does not apply to everyone. You can ignore this part if you are simply renewing a passport in the same legal name as your previously issued passport. On the other hand, anyone applying for a new passport under a different name for whatever reason must provide evidence to support the legality. Reasons for a passport renewal application under a different name include
Marriage
Divorce
Self-changed name (legally)
The decision to change the name to the same as an immediate family member with a different surname (parent or grandparent, for example)
It is possible to do this via mail as long as the paperwork matches. Supporting documents must be sent along with the application form DS-82. They should be originals or a certified copy of the original. A simple photocopy or scan is unlikely to be accepted.
Accepted Supporting Documents for a Name-Change Passport Renewal
The following paperwork can be considered as a legal name change document to support a passport application:
A marriage certificate
U.S or Canadian divorce decree
Court-ordered name change document
Please note that if a person is applying for a passport in their maiden name after a divorce and the divorce decree does not specifically state the information, additional proof should be provided. In this case, the person's birth certificate (or a certified copy) will do. Any supporting documents sent when renewing passports are returned to the sender via post in a separate mailing envelope to the new passport. If you decide to use a passport courier they will handle everything for you from the comfort of your own home. Check out the best passport courier service here: Voted #1 by Wall Street Journal - RushMyPassport
Step Six: Prepare Your Previous Passport for Mailing
Please note, that this application process is only available for people who still have their fully intact previously issued passport. The renewal process for damaged or lost passports is different' you need to make an appointment to appear with your passport application at an approved national passport information center.
You must send your current passport book and the rest of your application. Without it, the request will be refused. It should be returned to you in most cases- usually separately from the new passport.
Step Seven: Calculate Fees
Calculate the passport renewal fee and include the payment with the other documents. The standard fees to renew your passport are as follows:
Passport book only: $130
Passport card only: $30
Passport book and card: $160
These fees apply only to the routine service. If you need your passport urgently and choose to opt for expedited service, there is an additional fee of $60 applied to each category. Check, or money order are both acceptable payment methods. Do not send cash! The state is not responsible for the loss if you send cash as something happens during the postal journey.
Applications coming from Canada must include a check or money order payable in U.S dollars, not Canadian dollars, and should have a nine-digit routing number.
Fee Considerations
Factor in additional expedited service costs if you need your passport renewed urgently.
Delivery fees should be paid separately.
Do not attempt to pay the passport renewal fee online. Some websites offer the service but are not official and should not be used. Companies may charge a fee to complete the form for you, but they are in no way affiliated with the Department of State.
How to Fill Out the Check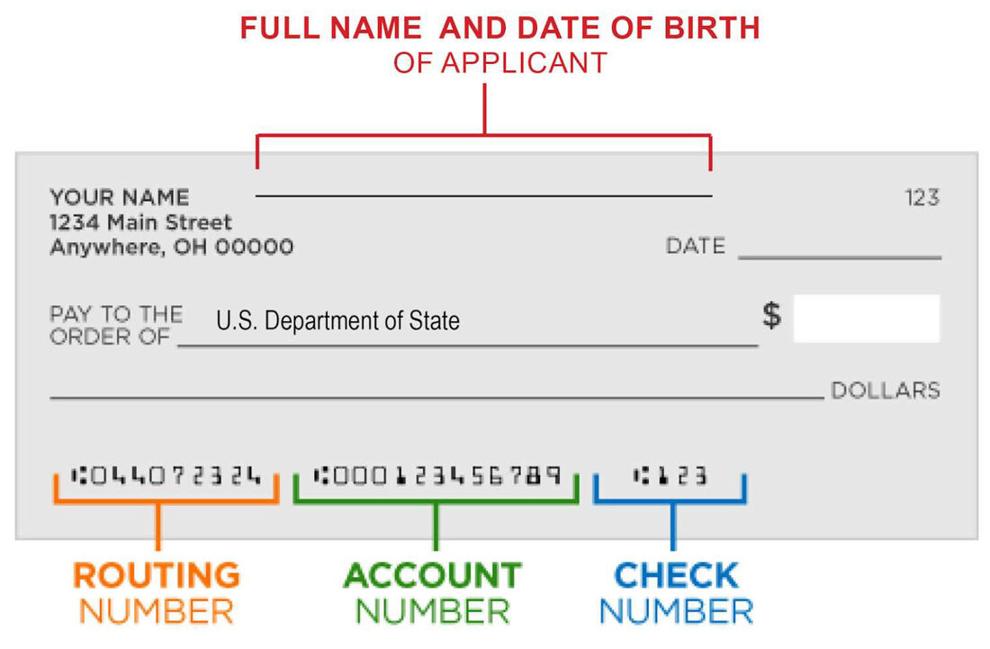 Check is the most popular choice of payment option. Please ensure all the details are correct to avoid delays or outright rejection. Add your full name, make it payable to U.S Department of State, and confirm the necessary numbers at the bottom (as shown in the above photo). Whether you are paying for the standard or expedited service, the payment should be included in the envelope with everything else. Failure to do so will result in the application not being processed.
Step Eight: Package All Required Documents
Once you are sure you have everything you need (we recommend looking back through the requirements list on the form DS-82 to be safe), all that remains is to put everything together. Get an envelope big enough to safely hold all the documents. Consider a padded or lined envelope for additional security. As a quick reminder, you need to include:
The completed form DS-82
One regulation passport photo
Your current passport
A check or money order made payable to U.S Department of State for the correct amount of money
Any relevant supporting documents (name change document, for example)
Pack everything together neatly and avoid bending or crushing any documents. It is best to get an envelope with a firm back to keep documents flat and orderly. Bent or folded passport photos are not accepted, and if the old passport is damaged in transit, it could affect your eligibility to apply by mail. Splash out on the best envelope to avoid any mishaps or delays!
Step Nine: Mail the Application to the Passport Agency
Time to post! You should send the complete application through the United States Postal Service to the relevant address (see below). Please note that USPS is the only accepted postal service for the official renewal. Any applications received via a courier such as FedEx or UPS will be returned to the sender without being opened. If you want to get your passport quickly, this delay can be very frustrating.
The addresses of the passport acceptance facility options are:
National Passport Processing Center- Post Office Box 64015- Irving, TX 75064-0155 (applications from California, Texas, Illinois, Florida, New York, and Minnesota)
National Passport Processing Center- Post Office Box 90155- Philadelphia, PA 19190-0155 (applications from the rest of the U.S states or anywhere within Canada)
National Passport Processing Center- Post Office Box 90955- Philadelphia, PA 19190-0955 (all expedited service applications from all the U.S states and Canada- be sure to write EXPEDITE in clear capital letters on the front of the envelope).
We recommend sending the application with postal tracking, just in case anything unexpected happens along the way. You can arrange this with your post office when arranging the delivery. If you want to speed things up for your newly issued US passport, you can opt for a faster delivery service through USPS. It is different from the expedited application processing service, so those in a serious hurry can choose to do both.
You can opt for express postage when sending the documents to the State Department for processing. Prices depend on what part of the country you are sending it from, so check out the official postal website for exact details. These fees should be paid separately, rather than including them in the envelope.
On the other end of the process, you may also want to speed things up with return postage. In this case, include a payment of $18.32 (check or money order). Doing so ensures that the new passport is sent back to you with one to two-day shipping, no matter where you are in the country. Please note, that a return envelope with pre-paid postage of $18.32 does not secure the fast return postage, so do not send this with your application form.
To clarify, the fastest combination for getting your new passport book or card is:
Expedited service sent to National Passport Processing Center- Post Office Box 90955- Philadelphia, PA 19190-0955 (expedite written clearly on the front of the envelope and additional fees paid)
Express delivery through USPS paid directly to the post office
Request for one to two-day shipping on the return postage paid to the Department of State through a check or money order for $18.32 included in your application
The only way to renew your passport quicker than this is to arrange an appointment in person or to use a professional passport courier service.
Step Ten: Track and Monitor Application Status
Now comes the waiting. You can track the status of your passport renewal application online at travel.state.gov. To do so, when prompted, you need to enter your last name, date of birth, and the last four digits of your social security number. The Online Passport Status System lets you keep track of how your application is coming along. Please note that this is not a delivery tracking system- that should be arranged separately with the delivery.
There are generally four stages to the application:
Not Available: If your status shows as unavailable, that most likely means that the application has not yet been received. It is probably still in transit and making its way to passport services. Sometimes, you may notice the status change to Arrived, which means the envelope has been received but not yet processed.
In Process: When you see this, it means the ball is rolling on your application. Have patience- it can take up to two weeks to see these two little words appear on the tracking system. Due to COVID-19 and an increase in postal applications, the average wait for things to begin processing is a little longer than usual. When you do see this pop-up, it means the agents are handling your application form and reviewing the details.
Approved: The word everyone wants to hear! As you may have guessed, this status update means the review process is complete, and the new passport has the go-ahead. The actual travel documents don't exist yet, but the printing process will begin pending this approval. Processing times on the creation of the passport itself vary.
Mailed: Last but not least, the status icon changed to mailed. It is now on its way back to you and ready to travel internationally. If you included the payment of $18.32, you can expect to have the passport with you in less than 48 hours- otherwise, it is subject to standard postal times, which vary depending on your location. Remember that the renewed passport is generally sent separately from everything else. Your legal name change document, old passport, and any other paperwork will come in another package. The Mailed status applies to the new passport only.
How Long Does It Take?
There is no exact length of time for U.S passport renewals. The rough expectation for a standard application, according to the U.S Government, is roughly 10 weeks. Expedited service passport renewals should take roughly half as long, with the average processing time taking around four to six weeks.
In terms of the postage, once the status changes to Mailed, all documents should arrive within two weeks. If two weeks pass from the alleged mailing and nothing arrives, you should contact the National Passport Information Center and speak with customer services. You may need to complete form DS-86 within 90 days of issuing. Failure to report within 90 days may result in you having to repeat the entire process.
After careful examination and thorough testing of all the options and several channels, we found that the best, most reliable, and generally the fastest choice is the Rush My Passport expedited service. It is simple, user-friendly, and effective for someone who wants to get their new passport as quickly as possible.

Summary
Without a valid passport, international travel is not possible. Luckily, it is easy to renew your passport by following these 10 simple steps. Here are the key things to remember before starting the process:
Be patient: applications can take up to 10 weeks without an expedited service.
Don't forget to double-check that all the required legal documents at included in your applications, along with a recent passport photo and the necessary fees.
You can only apply by mail if you have a fully intact U.S passport that was issued in the last 15 years when you were 16 or older.
The only way to pay is by money orders or checks sent with the application form- NOT with cash or online payment.
If in doubt, check again! Any mistakes can lead to delays and postpone any international travel plans.
Overall, Rush My Passport is our favorite service for fast passport renewal. We looked into all the most popular options, including in-person applications, standard mail, and other companies that advertise express services, and we found it to be the most reliable. Find out more on the official website to get the ball rolling.