Penn State enters the Big Ten Championship in Ann Arbor, Michigan, with nine wrestlers seeded in the top five of their weight classes — the most of any team at the tournament.
With the lofty expectations, here's a look at how each Nittany Lion could fare during this weekend's festivities.
125 pounds
Penn State's Gary Steen slots in at No. 10 in the Big Ten at 125, an interestingly high rank considering his record this season.
The redshirt freshman is 6-12 overall on the season and is 1-5 in Big Ten bouts this year. His lone win came against Michigan State's Tristan Lujan, the tournament's 12th seed, in sudden victory.
The Big Ten earned a total of nine automatic qualifier spots for nationals at 125, and Steen likely has to finish in that top nine this weekend if he wants any chance at qualifying for nationals.
Steen is the only unranked Penn State wrestler in the InterMat rankings, and he hasn't been ranked all season long. The Nittany Lions would love nothing more than to accomplish the rare feat of sending all 10 wrestlers to nationals, and that all hinges on Steen's performance in the Big Ten Tournament.
Steen's 10th slot matches him up with Maryland's Braxton Brown, ranked No. 15 in the nation by InterMat, in the first round. The two wrestled in early February, where Brown narrowly avoided the upset with a 1-0 decision.
Steen looks to get revenge against Brown on the biggest stage of his career. A loss would send Steen to the consolation bracket, where he would likely have to win at least three matches to finish in the coveted top eight places.
The Big Ten only has eight NCAA automatic qualifier spots at 125, as a wrestler who initially earned one of those spots dropped out of the tournament due to injury.
Steen's path to nationals is going to be a tough one indeed, but March wrestling was never intended to be easy.
133 pounds
Roman Bravo-Young is coming into his fourth Big Ten Tournament with two first-place finishes under his belt. Penn State's beloved "RBY" is riding a 49-match win streak and looks to extend it all the way through the end of his career.
Bravo-Young is not only the No. 1 seed in the Big Ten Tournament, but he's No. 1 on InterMat's rankings as well, a spot he's defended all season long since winning the national championship two years in a row.
Bravo-Young's first opponent this postseason will be either Michigan State's Rayvon Foley or Iowa's Brody Teske, who happens to be his former roommate at Penn State. Bravo-Young pinned both wrestlers in back-to-back dual meets this season, so he shouldn't have much difficulty handling either one.
The second highest ranked wrestler from the Big Ten at 133 pounds is Ohio State's Jesse Mendez, a freshman ranked No. 8 in the nation that Bravo-Young beat 8-2 earlier this season. Taking that into consideration, the graduate student will be the favorite in his weight class.
Not that Bravo-Young has to worry about it at all, but the Big Ten earned nine automatic qualifier spots at 133, so he has some wiggle room should Cael Sanderson decide to rest him at any point.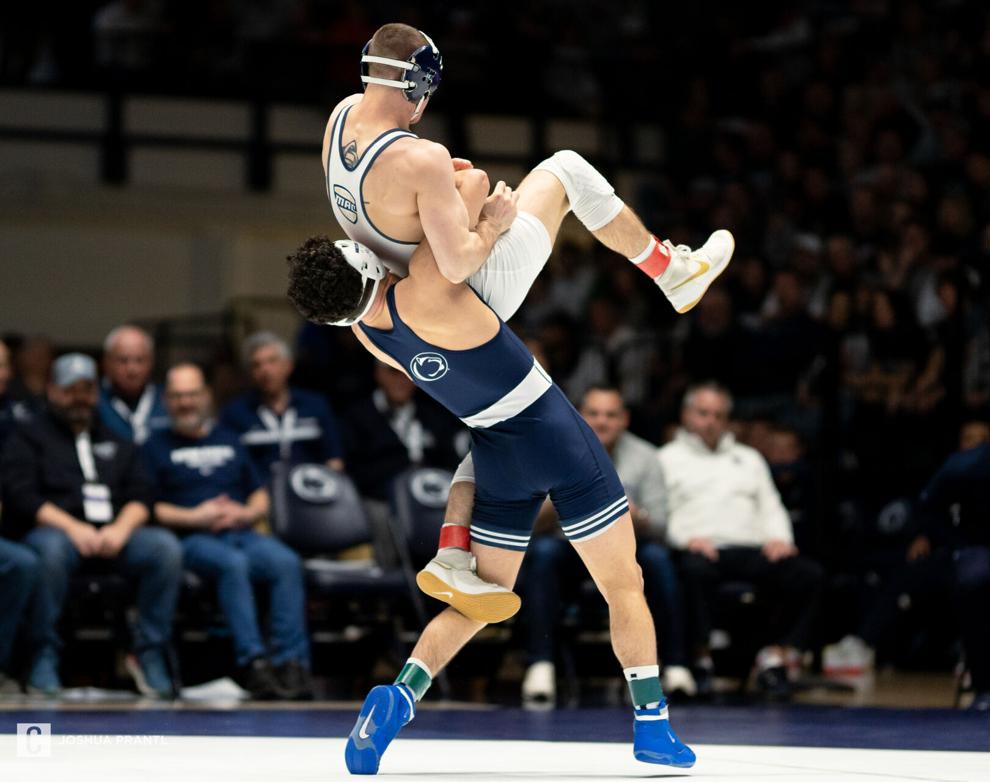 141 pounds
Penn State's No. 4 Beau Bartlett earned the No. 2 seed in the Big Ten Tournament with a 19-1 overall record.
Bartlett is also 8-1 against Big Ten opponents this season, with his lone loss coming at the hands of Iowa's Real Woods, who's slotted at No. 1 in the conference.
Bartlett's No. 2 seed earns him a first-round bye, so he'll take on the winner of the bout between Michigan's No. 10 Cole Mattin and No. 7 Joseph Olivieri of Rutgers. Bartlett defeated both wrestlers in dual meets that were never very close, so he should have no trouble securing one of the nine automatic qualifier spots at 141 pounds.
Bartlett will likely have to go through Nebraska's Brock Hardy to get to the finals, a fellow sophomore who is 24-4 and ranked No. 6 in the nation. If Bartlett manages to defeat Hardy, his opponent will in all likelihood be Woods once again.
Woods beat Bartlett 4-1 in a very closely contested match, and the two wrestlers may end up wrestling once again at nationals.
Bartlett is motivated to earn his first Big Ten title, but a loss to Woods may end up benefiting Bartlett in the long run should they meet again. Penn State wrestlers are known for wrestling an opponent better the second time around, so don't be surprised if Bartlett comes out swinging in the finals should he make it that far.
149 pounds
No. 13 Shayne Van Ness is entering his first postseason as a Nittany Lion in his freshman campaign. Van Ness is 15-4 this season, a record that earned him the No. 5 seed in the Big Ten Tournament.
The freshman will no doubt earn an at-large bid should he fail to place in the top nine at 149 pounds, but doing so should be no issue for Van Ness. Van Ness has been on a tear recently, winning his last four matches either by major decision or tech fall and gaining momentum for the postseason in the process.
His first opponent will be 12th-seeded Jake Harrier of Illinois, who is 6-13 this season. Should Van Ness advance, his next challenge will likely be Iowa's Max Murin, who is ranked No. 6 in the nation and beat Van Ness 4-1 earlier this season.
The 149-pound bracket features four wrestlers ranked in the nation's top six, which presents a very tough path for Van Ness after his first match.
The freshman is wrestling his best as of late, and he'll be thrown into the fire these next few weeks. Only time will tell how he'll respond.
157 pounds
Levi Haines enters the Big Ten Tournament with a 20-1 record as a true freshman. As the national stage nears, Haines has the opportunity to gain valuable experience as the postseason begins.
Haines clocked in at the No. 2 seed for the 157-pound class when the Big Ten released its pre-seeds for the conference tournament earlier this week, which earns him a first-round bye early in the tournament. However, like any other weight class in the Big Ten, there will be tough competition ahead, as 13 of the 14 wrestlers competing at 157 pounds are ranked.
The Nittany Lion will wrestle the winner of the bout between seventh seed, Illinois' Michael Carr, and the 10th seed, Indiana's Derek Gilcher. While Haines has yet to wrestle Carr, a seventh-year senior who's only wrestled in four bouts this season, Haines defeated Gilcher with an 8-2 decision earlier this season.
Haines' second-round matchup will likely be his easiest test, but the rest of the field is a lot tougher. Earlier in the season, Haines pulled off a 3-1 sudden victory win over Michigan's Will Lewan before defeating Iowa's Cobe Siebrecht by 3-2 decision in his next bout. Haines also has yet to wrestle Purdue's Kendall Coleman, who's No. 6 in the country, nor Michigan State's Chase Saldate, who's No. 12 in the country.
And then there's Peyton Robb.
The Nebraska Cornhusker and country's No. 1-ranked 157-pound wrestler sits at the top of the Big Ten's pre-seeding with a perfect 23-0 record. If Haines can wrestle his way to the finals, Robb will be the final boss of sorts.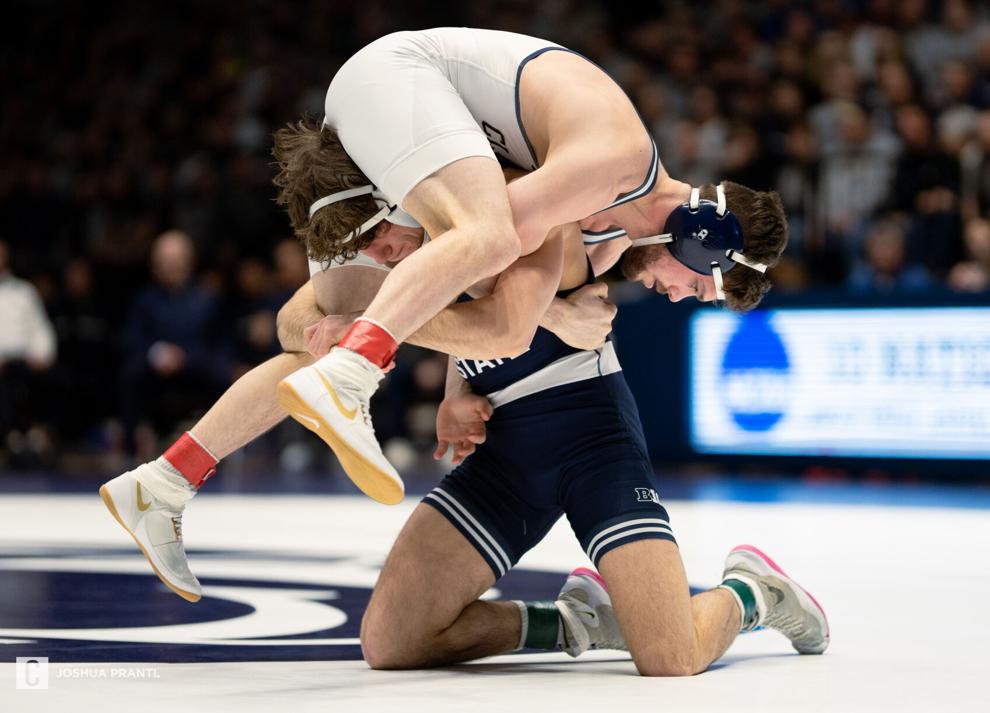 165 pounds
The 165-pound weight class could be the most competitive, since there really isn't a clear favorite.
While Wisconsin's Dean Hamiti and Michigan's Cameron Amine are probably the pair most likely to win the Big Ten, No. 4 seed Alex Facundo also has a shot. Facundo defeated Amine 6-5 in a bout that took two tiebreaker periods to decide.
In the first round, Facundo will wrestle 13th-seed Stoney Buell. Buell is 11-13 this season, making the 16-2 Facundo a favorite in that matchup.
As far as the rest of the field goes in terms of potential later-round matchups, the other name that sticks out besides Hamiti and Amine is Iowa's Patrick Kennedy. Facundo lost to Kennedy in a 2-1 decision that was decided by tiebreaker during the Penn State-Iowa dual meet.
A rematch between the two may not be the most likely matchup since Kennedy, the No. 3 seed, and Facundo would have to both make the finals for that to happen.
174 pounds
Carter Starocci is the guy to beat at 174 pounds; there's no doubt about it.
Starocci is 72-2 in his college career and is currently on a massive 44-bout win streak spanning back to the 2020-21 season. As a reward, Starocci was granted the Big Ten's No. 1 seed ahead of the tournament.
Nebraska's Mikey Labriola, who's the No. 2 seed in the tournament and the No. 2-ranked wrestler in the country, is probably Starocci's biggest threat to the conference crown. The last time the two wrestled was at the 2022 NCAA Championships, a match that Starocci won by 6-1 decision.
However, Labriola has improved since then, as his 24-0 record so far this season is the best of his career.
Starocci has proven he's the best 174-pounder in the conference, but a 2023 Big Ten Championship would further drive home the point.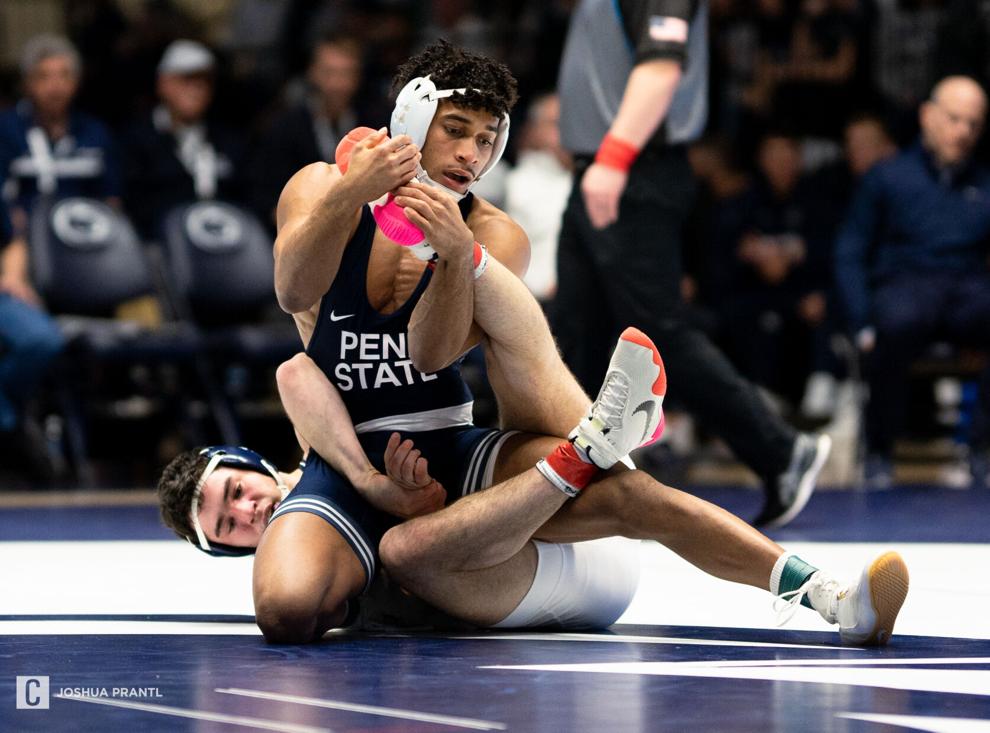 184 pounds
At 184, Penn State's Aaron Brooks will look to capture his third Big Ten title after failing to do so last season. Brooks lost last year in the championship bout against Michigan's Myles Amine in sudden victory, 6-4.
Once again entering as the heavy favorite and with a first-round bye, Brooks holds the No. 1 seed with a shot of reclaiming his spot on top of the Big Ten.
After the first round, Brooks will face the winner of the No. 8 and No. 9 seed, which are currently Rutgers' Brian Soldano and Illinois' Dylan Connell, respectively.
Brooks, who hasn't wrestled since Feb. 10, faced Soldano in his last scored bout. The Nittany Lion won the matchup by an 18-3 tech fall at 4:05.
Brooks holds a perfect 5-0 record in Big Ten competition and 9-1 overall, with the one loss against Iowa State's No. 4 Marcus Coleman. With Amine out of the picture, Brooks won't have a chance at revenge, but he'll have an opportunity to pile up some quality wins.
The Big Ten's 184-pound class features nine wrestlers ranked by InterMat, including Brooks himself. Of those nine, five are in the top 10 in the class.
Having spent so much time between bouts, Brooks may have to shake off the rust, but he remains far and away the best at 184, even if he's slightly limited.
197 pounds
This time last year, Max Dean was the No. 2 seed in the Big Ten Tournament; now he enters as the clear favorite as the No. 1 seed at 197 pounds. He'lll be trying to capture his second-straight Big Ten title.
Dean has dominated in Big Ten competition, posting an 8-0 record with five of the wins being bonus-point victories. Overall, Dean holds an 18-2 record, with his last loss coming in early December.
Dean will hold a first-round bye, but he'll still have to face some tough competition in the ensuing rounds. With 10 of the 14 Big Ten wrestlers ranked at 197, Dean has some challengers, including last year's NCAA runner-up Jacob Warner.
Dean, however, is 3-0 against the Hawkeye and will look to continue that trend should the two meet in the later rounds of the Big Ten Tournament.
Dean's other biggest challengers will likely be Nebraska's No. 10 Silas Allred and Michigan State's No. 13 Cameron Caffey. In their last matchup, Dean defeated Caffey 4-0 in a packed Rec Hall.
In the third round, Dean could face the No. 4, No. 5, No. 12 or No. 13 seeds should he win his matchup in the second round, the No. 4 seed being Caffey and No. 5 seed being Warner.
With a difficult route ahead of him, Dean will need to continue to be resilient to repeat as a Big Ten champion.
Heavyweight
In his third year as a starter, Greg Kerkvliet has hit another stride. Ranked No. 2 by InterMat and holding a bye in the Big Ten Tournament for the first time, Kerkvliet seems to have found the best version of himself.
Kerkvliet is the Big Ten's No. 2 heavyweight seed with a 6-1 record in conference play and sitting at 13-1 overall.
The one loss came to Michigan's No. 1-ranked Mason Parris by a 3-1 decision. Parris managed to get a late takedown on Kerkvliet that decided the bout.
Sitting at a perfect 25-0, Parris will likely have to face Kerkvliet at least one more time, whether that's in the NCAA Tournament or the Big Ten Championship.
Kerkvliet will no doubt want to get revenge on the Wolverine for his narrow victory earlier this season, and it gives Penn State's heavyweight a chance to possibly steal away the top seed in the NCAA Tournament.
Outside of Parris, the only other real threat to Kerkvliet's Big Ten title hopes is his Hawkeye rival, Tony Cassioppi.
Cassioppi holds a 3-1 record against Kerkvliet in officially scored bouts, but the Nittany Lion got the better of him earlier this season in the NWCA All-Star Classic and did it again officially in the Bryce Jordan Center.
Kerkvliet's victories both came by decision, first by a score of 8-5 in the All-Star Classic and by 4-1 in the BJC.
MORE WRESTLING COVERAGE
After more than an 11-month wait, the college wrestling postseason is finally here. Penn Sta…