PITTSBURGH –– Jason Nolf and Bo Nickal represent half of the three-time NCAA Champions in Penn State history.
Ed Ruth and Zain Retherford are the only other Nittany Lions to capture three individual titles. Nickal and Nolf just did it within the same hour.
And it's only fitting.
Ever since they arrived at Penn State a little over five years ago, their careers have a been a mirror image of each other.
In 2016, Nolf finished his first NCAA tournament in second place after losing to Isaiah Martinez of Illinois. And since then, he hasn't been runner-up to anybody in the final match. He beat Joey Lavallee of Missouri in 2017 to get his first taste of an NCAA title.
In 2018, he overcame a knee injury in the middle of the season and was out for several matches. He came back to compete in the Big Ten Championships and then went straight onto NCAA Championships without skipping a beat. He beat Hayden Hidlay of NC State for his second title, a matchup he saw again in this year's semifinal round that was just another step in his quest for three.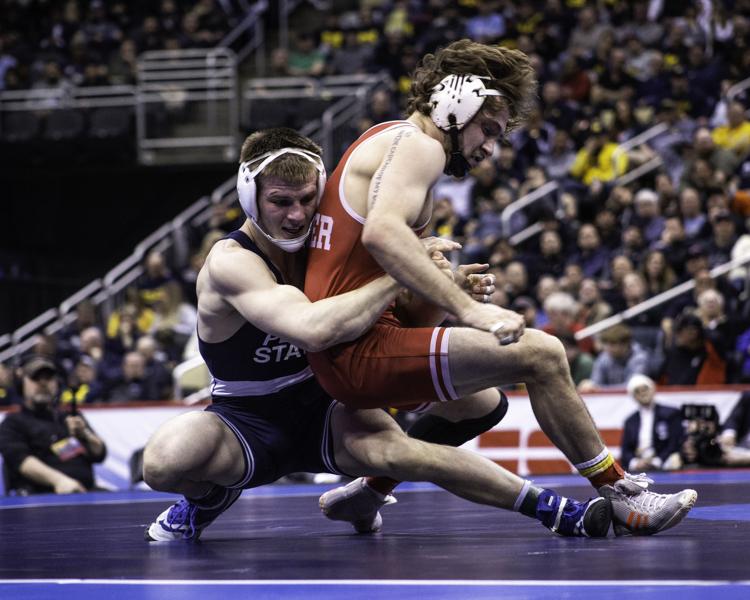 Nickal praised his teammate for everything he had to overcome last year in order to add another title to his accolades.
"I think just seeing him go through his injury last year and come out and show how tough of an individual he is and how strong minded he is," Nickal said. "It's not necessarily one specific moment but just seeing him have to go through all of the different little things with his injury — rehabbing and getting back into the swing of things by the national tournament was a pretty awesome and incredible feat."
This year, he beat Tyler Berger of Nebraska, improving his record to 6-0 in their collegiate careers, by a score of 10-2 to win his third and final NCAA title.
"Not as good as four-time national champ, but I'll take it," Nolf jokingly said after winning the NCAA title. "Look, coming into college, I think everybody wants to be a four-time national champ. I was definitely willing to work for it and sacrifice. But after the first year, my goal was to be a three-time national champ, and that's what I am."
Nickal had a similar path –– losing his freshman year and then winning three straight and helping Penn State to the team title as well. He lost in 2016 during his freshman year to Ohio State's Myles Martin, but got that winning feeling in 2017 when he upset top-seeded Gabe Dean of Cornell.
In 2018, he got his revenge on Martin in dramatic fashion. Nickal reversed a takedown and pinned Martin, giving him the individual title, as well as clinching the team title.
Earlier in the week, Nolf was asked what he will remember most about his teammate and his response is probably similar to a lot of other Penn State fans.
"Probably last year when he flipped a guy over and pinned him in NCAA finals," Nolf said. "That was pretty impressive. I was with my family and Bo's family watching from the stands, so it was pretty cool."
In his final season, he bumped up a weight class to 197 pounds and took down another Buckeye in the title bout –– Martin's teammate Kollin Moore.
"I would say the main thing that I feel is gratitude," Nickal said ahead of his final match as a Nittany Lion. "I've come a long way and there's so many people that have put an incredible amount of time and effort into me. Not only my coaches at Penn State, but my parents. They lugged me around the country since I was little."
***
Nolf and Nickal have very similar wrestling careers. They both arrived on campus in 2014, each bringing three state titles with them to Penn State. They both took a redshirt during the 2014-2015 season.
"I mean, what happened is we're comfortable and happy with the way things have turned out," coach Cael Sanderson said regarding the decision to redshirt the two. "And I was able to create a wave to roll through. And now the exciting part is creating another wave. That's what it's all about."
After coming in second place in their first NCAA tournament, Nolf and Nickal have only stood on top of the podium since then.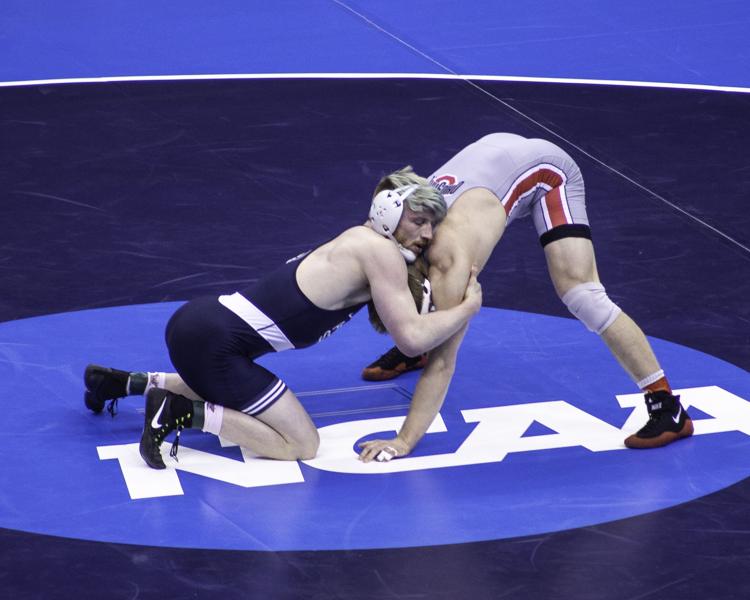 "It's really been blessing after blessing," Nickal said after his final win. "Since the first time I stepped foot on campus it's been incredible. And there's so many people that have just put so much time and effort and energy into me -- and my coaches my trainers and countless others. And I'm incredibly grateful for it."
Nickal also gave credit to the teammate that's been through his side for all of it.
"And being able to go through it with a guy like Jason Nolf is something that's amazing and a true blessing," he continued. "And that's a guy I know I can count on, and I know we're going to be friends for a long time to come."
"It's just unbelievable," Nolf said reflecting on his final match as a Nittany Lion. "The surroundings I've been surrounded with. And all my coaches have always told me to surround myself with great people. That's what I've done at Penn State."
The two have combined to put up jaw-dropping stats –– 237 wins, 119 pins.
But they were never counting wins or pins. They were always shooting for something more.
Three individual titles, four team titles. That's certainly 'something more.'
Just like every success they've had in college, Nickal and Nolf's legacy will be shared. It's impossible to talk about one without mentioning the other.
But even though their careers are officially over, they might not be done sharing yet.
After all, co-Dan Hodge Trophy winners has a nice ring to it.