Hours of preparation, constant pressure to perform well and hectic schedules.
These are just some of the challenges faced by NCAA Division I coaches in any sport. Being a collegiate coach is a huge time commitment, and time spent away from family is a part of the job.
Missed family time can have large mental impacts on coaches, no matter the institution. Penn State is no different, as women's soccer head coach Erica Dambach and associate head coach Ann Cook have their own respective trials and tribulations when balancing work and family.
For Cook, who's in her 12th year with the program, finding time to be with her family is extremely difficult because all of her family resides in Missouri, which is "hundreds of miles away from Happy Valley."
To cope with these difficulties, Penn State has become her home away from home, and the team has become her second family.
"It is really challenging at times for sure," Cook said. "I love these kids like my own kids and my own little sisters at times, and so I take a lot of joy from that."
Cook faced her biggest struggle when her mother was sick for the last two years in Missouri, and she was in Pennsylvania coaching the Nittany Lions.
"It definitely took a toll," Cook said. "It was really challenging to be here in the moment and with my Penn State family, while I knew that my family back in Missouri could have used my help, and it would have been nice to have been around a little bit more."
Cook's family travels to watch the blue and white play a few times every season, both at Jeffery Field and at away games in the Midwest.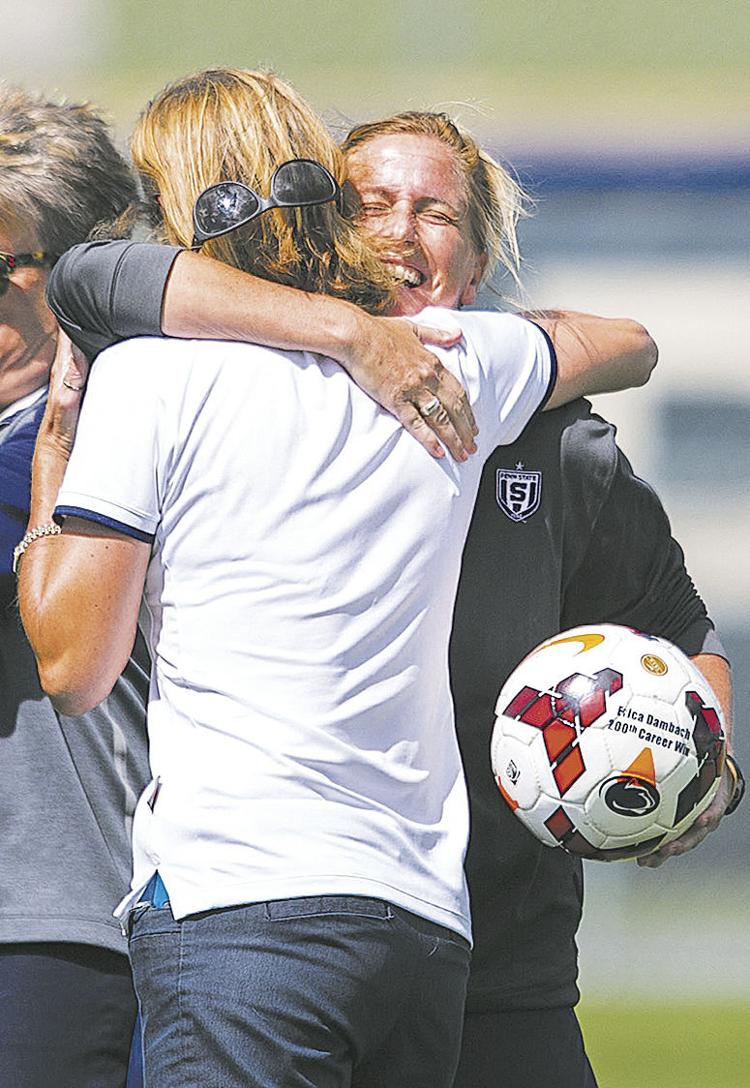 Once the season is over, Cook heads back to her native Missouri to spend time with family and unwind in the great outdoors. She feels this debriefing is important after a long and strenuous season.
"When I go home, I really try to go home and be home," Cook said. "Take some time away and take the vacation, and take the holidays and just try to recharge a little bit."
Dambach on the other hand is able to bring her family to work.
Also in her 12th season at the helm, Dambach has been able to push through the hard times by having her two aspects of life come together at the soccer field.
She said she regularly has her husband, Jason, and their two daughters, Addie and Kylie, come to Jeffrey Field and spend time with herself and the rest of the team after practices and games.
"When I bring Addie around this group, it's the best feeling in the world, because they embrace her, they love her like she was their own," Dambach said. "For me, that outweighs some of the lows of being away from home and some of the stresses."
Dambach believes the time spent with family around the soccer program not only benefits her, but also her daughters.
"I got to keep reminding myself that the benefit both of our daughters get by being around this environment is one of the best situations that I could possibly put them in," Dambach said.
She credits her husband, Jason, for being so supportive, allowing her to have a good balance of work and outside life.
"I'm fortunate to have a wonderful husband that allows me to do this and supports me in every way possible," Dambach said.