When Erica Dambach was a teenager playing soccer at Lower Moreland High School, just outside of Philadelphia, she played for the boys' team.
The Pennsylvania Interscholastic Athletic Association, the state's governing body of high school sports, didn't hold a girls' soccer championship until 1992, and even then, the number of schools with girls' teams was low.
Since then, girls' and women's soccer in the United States has exploded.
The United States women's national team has won three FIFA World Cups and four Olympic gold medals, and hundreds of thousands of youth players take the field every weekend.
It's growth that Dambach, set to enter her 13th year as coach of Penn State, attributes to a greater acceptance of the sport and the education of her generation.
In terms of success on the field, few programs in the country can boast the success that Dambach's teams have yielded in her time in State College. The Nittany Lions have won three Big Ten tournament titles, appeared in 11-straight NCAA Tournaments and secured the program's first national title in 2015.
But the three-time National Soccer Coaches Association of America Coach of the Year understands there's a greater good to the success her program fosters, because while few girls have to play on boys' teams anymore — the fight can't stop there.
***
On March 8, the United States women's national team filed a lawsuit against the United States Soccer Federation (USSF) in search of equal pay to the men's national team.
"It draws attention to and draws back the curtains on how federations spend their money and insisting that what [women athletes] are doing is not a hobby. It's not leisure, and they deserve to be paid equitably," Penn State professor of History and Women's, Gender and Sexuality Studies Amira Davis said.
An Atlantic article reports that, in some cases, women's national team members earn as little as 38 percent of what their male counterparts make — this regardless of the fact that the women's team has been irrefutably better than the men's team in terms of results. Additionally, in recent years, the two teams have generated similar revenues.
"I think it's been a long-time coming," Dambach said. "I'm proud of those women for standing up, especially in a World Cup year because it's full of distractions. They certainly don't want to be the ones that are spearheading this movement right now, but if it's not them, then who's it gonna be?"
But within the lawsuit is a difficult reality: Although the sport has begun to develop a stronghold in the United States, in many ways it's still in its infancy in terms of popularity. In order for soccer to continue to grow, both the men and women's teams' popularity needs to continue to grow.
But the Federation's treatment of female players seemingly inhibits advancement.
"What happens is the women get pushed into a position in which they have to make comparative arguments, so part of how they're trying to prove gender discrimination is by drawing a comparison," Davis said.
Davis referenced past examples of women's sports teams standing up for equitable pay, specifically the U.S. national women's hockey team's threat to boycott the 2017 International Ice Hockey Federation World Championship. The team scored an exponential increase in wages and the same benefits as the men's team.
But in that case, the women had the backing of their male counterparts because there wasn't the push to compare the two. Similarly, the NFL, MLB, NBA, NHL and WNBA players' associations supported their efforts.
But by the nature of the USWNT's lawsuit, it may be hard for the men's team to argue in the women's favor as the two teams are, in ways, being pitted against each other.
"The basis of their lawsuit calls for a comparison, but when it comes to actual mobilization efforts, it can be hard because solidarity actually generates more opportunities," Davis said.
Dambach added that the sheer profit and popularity statistics suggest the USSF will have no choice but to respond to the lawsuit, especially in a World Cup year.
But beyond the tiny percentage of female players who are talented enough to be selected to the national team lies a deeply rooted problem — stunting the sport's growth for decades.
***
In 2018, reports surfaced regarding the poor living and working conditions of Sky Blue FC, the National Women's Soccer League's (NWSL) oldest club.
Based in Piscataway Township, New Jersey, the club has been cited as providing unhygienic and dangerous playing conditions for its players, the complaints regarding which have been largely overlooked.
While Sky Blue FC is an extreme, it paints a larger picture of the status of the professional women's game in the United States. The NWSL is the country's fourth iteration of professional women's soccer, and in 2018 the minimum salary was only $15,750 per year. There is a lack of glamor which forces ambassadors for the game, like Dambach, to balance promoting the sport while also providing potential future players with the bleak reality.
"We try to make it real in terms of what they're walking into," Dambach said. "I think really making sure that we're painting a realistic picture for them, and that they go in there [thinking], forget about making money, they're just really looking to break even in hopes that in a few years from now they can have livable wages and live their dream."
Penn State has had a bounty of players go on to play in the NWSL, and Dambach always tells them they're going to have to work in the offseason in order to continue their careers. But often times, that's not enough.
"These women are women that are graduating, that are going into this league, that are not making livable wages," Dambach said. "They're losing money, and therefore, we're losing players within two years, therefore the product doesn't get any better. Women are gonna hit their prime at 26, 27 years old, and none of them are making it to that point."
The NWSL seldom receives positive coverage — instead only highlighting teams when they fold or are outed for issues like that at Sky Blue FC — and while streaming numbers have increased, Davis said the league has made some questionable decisions in terms of dissemination.
And thus, Dambach notes it's on the players to drive the growth of the sport.
"I think that the women really understand the grassroots nature that we're still in, and they need to be in the trenches," Dambach said. "The number of them that you'll see that shakes every little girl's hand until there's no one left in the stadium because that's what's required of us.
"When [Penn State assistant coach Ann Cook] played [professionally], they actually went out into the crowd and parking lot before the matches to shake hands. Should you have to do it as a professional? No. But it's not about right now."
***
The paradox of promoting the future of women's soccer in the United States while trying to prepare the current crop of talented players for a fight for equity is a difficult juggling act.
For as much as soccer in the United States has grown in the past decades, it has only recently removed itself from being the butt of sports anchors jokes, as Dambach put it.
But Dambach herself has been a part of that growth, and, now a mother of two daughters, feels a responsibility to keep the momentum going.
"For me, when I first got into coaching… there were no women," Dambach said. "Then there were no women with families, and that was something I wanted. I didn't know if I could do it. Is it even possible? I feel this obligation to push and drive and kind of show all of us that not only is it possible, but you can thrive, and you can make it a better environment for your program."
When Dambach was a kid, she would clear her Sunday schedule to watch the Philadelphia Eagles with her dad.
While she still does that, she also clears her Saturday and Sunday mornings to watch European soccer and her weekend afternoons to watch the MLS. But Dambach estimates fewer than 15 percent of her players watch professional soccer, and it shows.
"It is very rare that we have a player that's a student of the game, which means they grew up in a household where it just wasn't what they watched," Dambach said.
That's not on the kids as much as it's on the parents, Dambach said, and she hopes that future generations will continue to become more invested and thus grow the sport in the United States.
For that reason, Penn State's men and women's teams have begun to team-up to provide youth coaching clinics in the hope it fosters improvements and excitement for the game.
"Coming together and trying to grow our game in the area and bump our whole level of awareness and excitement, I think the more we can open our doors without having a pro team in a three-hour radius, the more excitement there'll be," Dambach said.
As is the case with any sport, success breeds popularity.
The USMNT missed an opportunity to garner attention when it failed to qualify for the 2018 World Cup. But with the Women's World Cup only months away and the United States set to be a favorite, there's another chance to drive the next generation of athlete toward soccer.
It's also a chance to set an example.
"It's two-fold right now," Dambach said. "It's society accepting it, and it's women stepping up and standing up for themselves and recognizing that we do have a voice and that no one else is gonna fight for us. We're gonna have to do this ourselves."
***
The many relationships and circumstances that have brought soccer to this point are complex and at times convoluted.
But for every moment when the outlook seems grim — like the situation at Sky Blue FC — there are more examples of the bright future the sport holds. Young players have role models to look up to in players like Alex Morgan and Carli Lloyd.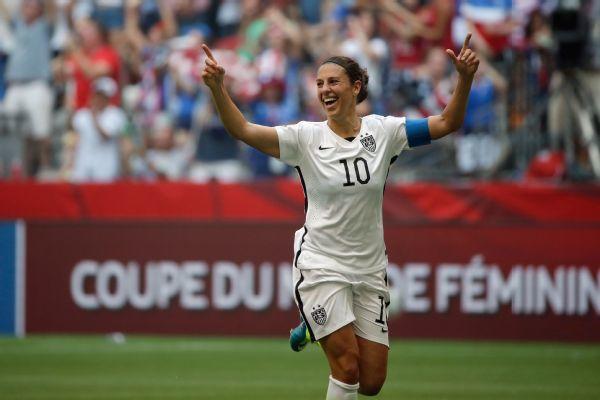 And perhaps more importantly, they have role models off the field who continue to wage the war toward achieving equality.
"What it really is women across the globe, who are some of the best athletes in the world, refusing to just be grateful for the opportunity to play and instead insisting that their value and their talent and their time is appreciated," Davis said.
Soccer in the United States has undoubtedly grown, but there's still a great deal of work to be done.
As Dambach sees it, children need to be interested in the professional game, the youth systems need to have quality instruction, there must be an improvement to the professional system and players' wages need to become equitable.
These all work in harmony, and the grassroots efforts of those fighting these battles might just create future generations of excellence on the pitch.
"I'm certainly optimistic with the direction that soccer is going in our country. I think that those of us in these types of positions have to push harder," Dambach said. "Right now, women soccer players in our country are more athletic, more determined, they've gotten by on physical and mental qualities, but technically and tactically we're behind. That has caught up to us. And now, we've gotta grow ourselves in those areas.
"That's when I think we can start to smile and feel good about where we are as a country."