For the second straight night, Penn State took on a NEC team it has never played before.
And also for the second straight night, the Nittany Lions ended things quickly with a three-set sweep in Rec Hall.
"This was their first real match that counted, ever. I'm honored to be a part of that legacy for them," Penn State coach Mark Pavlik said of Merrimack.
The Penn State upperclassmen showed up against the Warriors, as senior outside hitter Jack Shampine, senior opposite hitter John Kerr and graduate student setter Cole Bogner put the Penn State attack on their backs.
"Anybody that was on the court did real good things for us," Pavlick said.
Junior outside hitter Will Kuhns said that the upperclassmen do a great job at leading the rest of the squad.
"Our captains have been our captains for the last three years, and we know what we're gonna get from them. I think they've played a huge part in turning the culture of this program around," Kuhns said.
Shampine had a .150 hitting percentage going into the match, but showed out with a team-high 11 kills on an .846 hitting percentage.
"I thought he was playing with a great balance of aggressiveness and control. We're blessed at that position," Pavlik said.
Kerr continued his blazing hot start to the season, notching his 39th kill in his fourth match played. The Derry, Pennsylvania, native also had three consecutive aces in the first set, displaying his all-around talent.
As for Bogner, his strong passing is nothing new, as he led the EIVA in assists per set last season with 10.48. He led the Nittany Lions to a .556 hitting percentage on Saturday night with his 21 assists, while also adding in five kills, three blocks, seven digs and an ace on a 1.000 hitting percentage.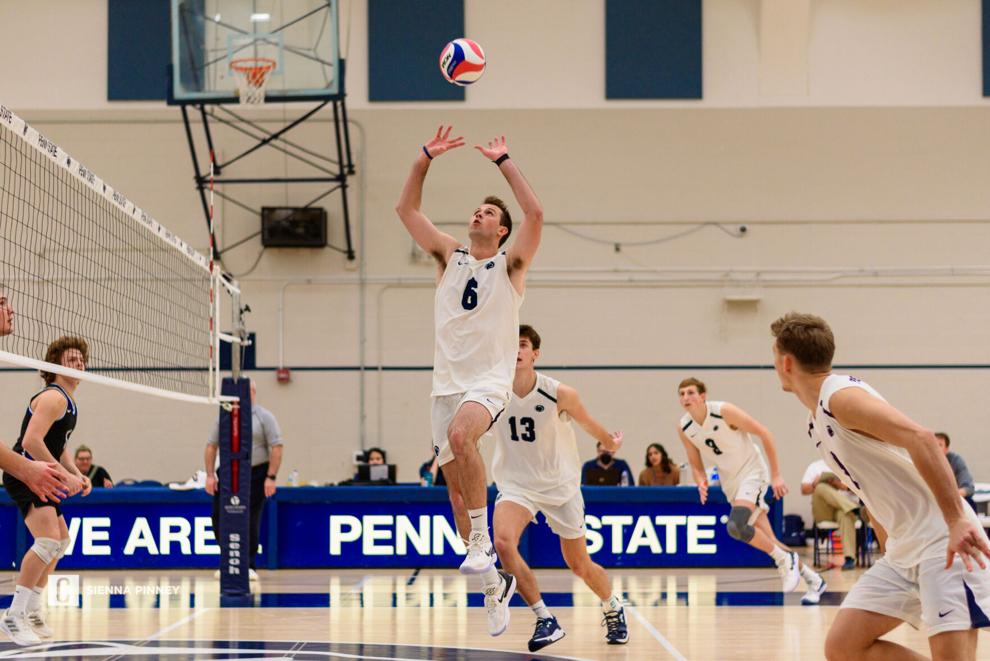 Bogner's all-around game has been a big help for the Nittany Lions both offensively and defensively. He led the team in blocks, digs and assists against Merrimack. However, his leadership has also made an impact on the rest of the team.
"Cole is our guy," Kuhns said. "We have so much trust in him to run our offense, and props to him, because we have a lot of different guys in there who each need particular things."
Penn State has an older team this season, with four graduate students, five seniors and five juniors. The experience across the board for the blue and white could prove to be a major advantage as it moves forward in the young season.
After playing in the smaller South Gym at Rec Hall on Friday, Penn State returned to the bigger home stage against the Warriors. No matter which court they play on though, the Nittany Lions have proven their home-court advantage.
Mark Pavlik's squad has not lost a home match during the regular season since February 14, 2021, when Penn State fell to NJIT.
Playing in Rec Hall has become a notable advantage for the Nittany Lions throughout the years. The team went 13-1 at home in each of the last two seasons, and swept both matches this weekend in front of the Penn State fans.
"We definitely can feel the closeness with the crowd. They're very supportive. They come out every week to watch us play, so I'm grateful for that," senior outside hitter Tim Herget said.
The Nittany Lions will now head to Austin, Texas, where they will take on Pepperdine next Friday at 4 p.m. as part of the First Point Collegiate Challenge.
Pavlik said he and the team are looking forward to the tournament.
"I think it's a great opportunity for the men's [volleyball] game to grow down in Texas," Pavlik said.
MORE VOLLEYBALL COVERAGE