Penn State's best player, Tori Dubois, already has her successor lined up.
Dani Fey, a freshman utility player, is turning heads for her play so far this season and Dubois has taken notice.
"Dani is definitely my mini-me," Dubois said.
Softball coach Amanda Lehotak has taken notice of the freshman, a bright spot on a team that has struggled all season.
"[Fey] is athletic, raw and has all the tools," Lehotak said. "She has a great arm, she is fast and she is strong.
"She loves to play ball and she loves Penn State, so I think she is just special in that regard."
Fey is one of three players on the team to start all 37 games this season and has been very productive in the batter's box.
Although Fey only has a .191 batting average this season, the freshman always seems to find a way on base.
Fey has been walked 26 times this season, which leads the team and puts her at fourth in the Big Ten in walks.
It's not the only category Fey leads the team in, however, as she also is tied for the most runs scored with 17 and has stolen a team-high four bases.
But the most impressive statistic Fey has put up so far this season in her freshman campaign is her on-base percentage.
Fey is first among starters with a .395 on-base percentage.
"I think I really learned how to pace myself and feel more comfortable in the box, like breathing, so I'm not going after it right away and swinging at balls, which I definitely did in the fall, but definitely being more selective," Fey said.
The ability Fey has to find a way on base no matter the circumstance has prompted Lehotak and the rest of the Penn State coaching staff to put Fey primarily in the leadoff spot in the lineup this season.
Success on the diamond is nothing new to Fey, as she had an impressive resume coming into Penn State.
Fey grew up in Bangor, Pennsylvania and played at Bangor High School where she was a four-year letter winner on a team that won two district championships during her four years.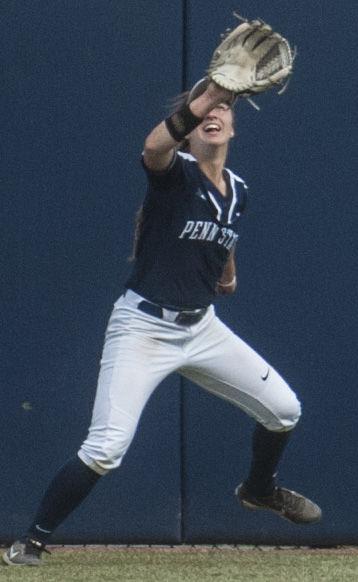 In her senior season of high school, Fey led her team in batting average, on-base percentage, home runs, RBIs and slugging percentage.
This effort from Fey granted her a plethora of awards including being named to the All-State First Team by the Pennsylvania High School Coaches Association.
Fey chose to come to Penn State early in the recruiting process as it was just the perfect fit for her.
"It was a really easy decision," Fey said. "It was more of a comradery thing with the team, with the coaches and you can just tell that they care more than other coaches."
Once Fey got to State College, she adjusted to the college game remarkably well, something that freshmen often struggle with.
"It is just faster and obviously having more things to do during the week before like lifts and fitting in school and traveling, that's probably the biggest adjustment I had to make," Fey said.
She also appreciates the advice and help she receives from some of the older and more experienced members of the team.
"Probably Gianna [Arrizurieta ] and Tori [Dubois]," Fey said when asked who helped her adjust to the college game. "I get a little fast when I'm practicing and they are like, 'hey chill out you're fine,' … but they have been really good with just making me check back in during practices and games."
Fey is one of two players listed on the Penn State roster as utility players. Dubois is the other.
This means that Fey is not set to one position and that she will play all over the field over the course of the season.
So far this season, Fey has primarily seen action behind the dish at catcher and in right field.
Fey favors her play behind the plate, which makes her unique as she is left handed.
"[Penn State] knew I was capable of being a lefty catcher and sometimes people didn't appreciate that and didn't even give me a chance so I'm really happy that they did," Fey said.
Left-handed catchers are not common in the game of softball (or baseball) as they often have to shift their bodies to make certain throws, something that right-handed catchers don't have to do, which increases the pop time for the left-handed catchers.
Although left-handed catchers aren't common, this didn't stop Fey.
"Growing up people would just be like 'you're a lefty catcher, you won't make it' and a different school I was looking at, he said I wouldn't catch because you're a lefty but I had the best pop time," Fey said. "Here that is not a problem at all."
This attitude of not listening to the doubters has been noticed by some of Fey's teammates.
"The upperclassmen are grooming her without even knowing that they are grooming her to be a leader," Lehotak said. "She is kind of the heart and soul of our team and she provides the energy. I really see her being the Tori Dubois of the team in the next few years."
This is high praise from Lehotak, as Dubois has been a crucial player for Penn State and was the only Nittany Lion to earn First Team All-Big Ten honors last season.
Dubois, one of the players Fey pointed out to helping her adjust to the college game, also sees a lot of herself in the freshman.
"She is all over the place, but she is driven, motivated and she is ready to go anytime, so to see her succeed this early in her career is awesome," Dubois said.