No. 1 Penn State is set to face its biggest test of the season against No. 2 Iowa at 8:30 p.m. on Friday at the Bryce Jordan Center.
Following blowout victories over Michigan and Michigan State over the weekend, the Nittany Lions will do battle with the Hawkeyes, who pose the biggest threat to Penn State's national title hopes.
While Iowa leads Penn State all-time 7-4 in the series, Penn State is 4-5 against the Hawkeyes under Cael Sanderson and has won four of the last six.
Both squads enter the matchup undefeated on the year, with Iowa holding a 12-0 record and Penn State a 10-0 record.
Iowa is coming off of a near-upset by the hands of No. 13 Wisconsin. Iowa won the dual 19-18 in Madison, Wisconsin, by a criteria tie-breaker.
The Hawkeyes and Badgers were tied 5-5 in bouts, and Iowa won by having more points in decisions, majors and falls.
This dual marked the third time this season that Iowa's heavyweight No. 3 Tony Cassioppi was the deciding bout for the Hawkeyes.
125 pounds: Gary Steen (PSU) vs. No. 1 Spencer Lee (IOWA)
The 125 class is Iowa's biggest strength in its lineup, featuring three-time NCAA Champion Spencer Lee.
No. 1 Lee, a sixth-year senior, has had a dominant season so far. His victory against Wisconsin's No. 8 Eric Barnett marked Lee's sixth consecutive pin, earning him NCAA Wrestler of the Week.
Notably, Lee's falls in that span were over No. 8 Barnett, No. 5 Liam Cronin, No. 6 Michael DeAugustino and No. 3 Matt Ramos in comeback fashion. The Iowa legend is well on his way to his fourth title after picking up his 48th-straight win.
Gary Steen will likely represent the blue and white at 125, who has struggled this season with a 2-8 record in duals. He picked up his second win against Michigan State's No. 29 Tristan Lujan on Sunday.
Steen hasn't been able to finish takedowns, and the trend is likely to continue against such a tough opponent. Lee tends to get the better of his opponents in the first period, so Steen will need to make major adjustments to even have a miniscule chance in this bout.
133 pounds: No. 1 Roman Bravo-Young (PSU) vs. No. 17 Brody Teske (IOWA)
Roman Bravo-Young will anchor Penn State's 133 spot against the Hawkeyes. A two-time NCAA Champion, Bravo-Young remains a perfect 9-0 on the season.
His most recent outing was a pin of Michigan State's then-No. 16 Rayvon Foley. Bravo-Young mentioned that he was looking forward to facing Iowa in the Michigan State post-dual press conference.
The graduate student will look to defend his 45-match win streak against Iowa's No. 17 Brody Teske.
Teske, a recent transfer from Northern Iowa and Penn State before that, is a two-time NCAA qualifier and is 4-0 on the season. He was unranked until his most recent win over No. 29 Taylor LaMont.
During his brief time at Penn State from 2018-2020, Teske was a roommate of Bravo-Young's.
On facing his former teammate, Bravo-Young said, "Brody's my homie, comes home with me every summer. So, if we gotta wrestle, we gotta wrestle. Try to go out there and do my job and help the team get the dub."
141 pounds: No. 4 Beau Bartlett (PSU) vs. No. 2 Real Woods (IOWA)
The 141-pound class will be the first "toss-up" match of the dual, where No. 4 Beau Bartlett is slated to face No. 2 Real Woods.
Bartlett enters the matchup 14-0 with five ranked wins under his belt, but Woods will be the biggest challenge of the season thus far.
After moving down a weight from 149 pounds, Bartlett has reinvented himself. With one more win on the season, he could tie his win total from last season in 10 less bouts.
Woods is in his first season at Iowa since transferring from Stanford. There, he was a two-time All-American and a two-time PAC-12 Champion at 141 pounds.
On the season, Woods is 9-0 with four ranked wins, including one over No. 6 Brock Hardy.
149 pounds: No. 13 Shayne Van Ness (PSU) vs. No. 7 Max Murin (IOWA)
Iowa should be slightly favored in the 149 class with No. 7 Max Murin holding that spot for the Hawkeyes. Last season, Murin went 14-5 at 149 and finished in third place in the Big Ten Championship.
Now in his sixth season, Murin is 13-3 and looking to finish the year strong.
Standing in the way is redshirt freshman No. 13 Shayne Van Ness, who has been a force for the Nittany Lions. Boasting an 11-2 record, Van Ness has been a key part of Penn State's continued success early on in the season.
Against common opponents, Van Ness is 3-2 on the year while Murin is 2-3. Both grapplers have taken losses to No. 2 Austin Gomez and No. 6 Paniro Johnson.
Murin was beaten 7-5 by Manzona Bryant, while Van Ness beat the Lehigh sophomore by fall earlier this year.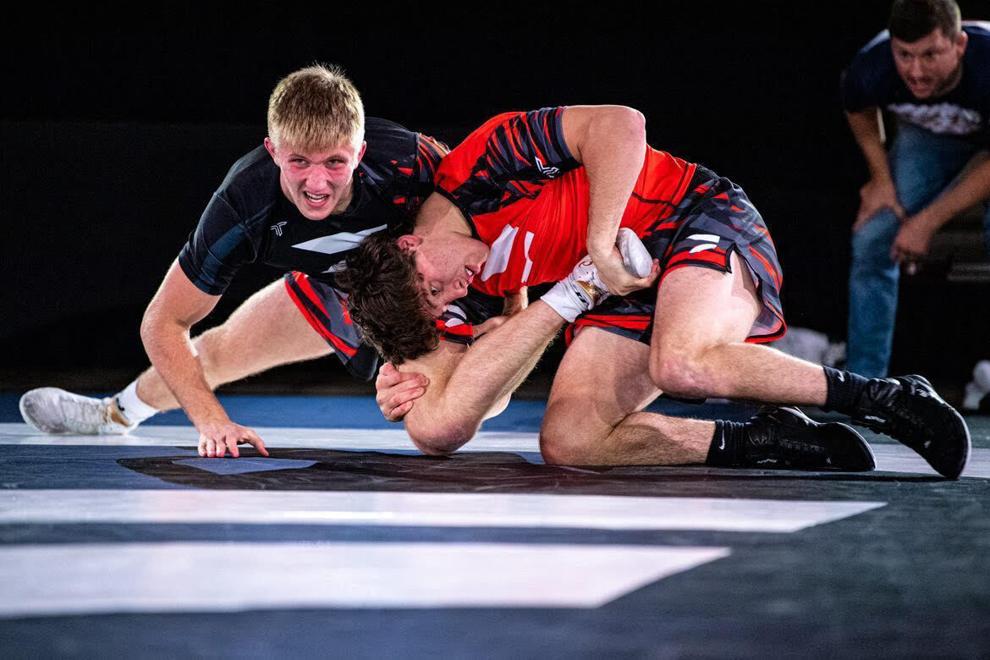 157 pounds: No. 9 Levi Haines/Terrell Barraclough (PSU) vs. No. 15 Cobe Siebrecht (IOWA)
The Nittany Lions will have a major decision to make ahead of the matchup with Iowa regarding the 157 spot.
At 157, Penn State could start true freshman No. 9 Levi Haines, fresh off a victory over No. 10 Will Lewan, and burn his redshirt year. Or the staff could decide to keep Haines' redshirt and start veteran Terrell Barraclough.
When asked about the decision at 157 after the Michigan State dual, Sanderson said, "That's a good question. One that we will have to figure one out as we press on here… Terrell's right there, and Levi's right there. Obviously they're both going to compete hard."
Haines has broken onto the scene for Penn State this year and offers a lot more potential in the starting lineup. However, Barraclough has more experience at the collegiate level.
"It can be tough because every situation is a little bit different, but I think the ones where we've done it, we felt good about it. And we felt good about [the] results…," associate head coach Cody Sanderson said about burning redshirts in a Tuesday press availability. "Before we take someone's redshirt, we're gonna know whether or not we feel that they have a chance to really push deep in the national tournament."
Whoever the coaching staff decides to go with at 157, the opponent will likely be No. 15 Cobe Siebrecht. With an 8-2 record so far, Siebrecht is putting together a solid campaign in his first full collegiate season.
Prior to this season, Siebrecht had only competed in 22 bouts, where he posted a 17-5 record.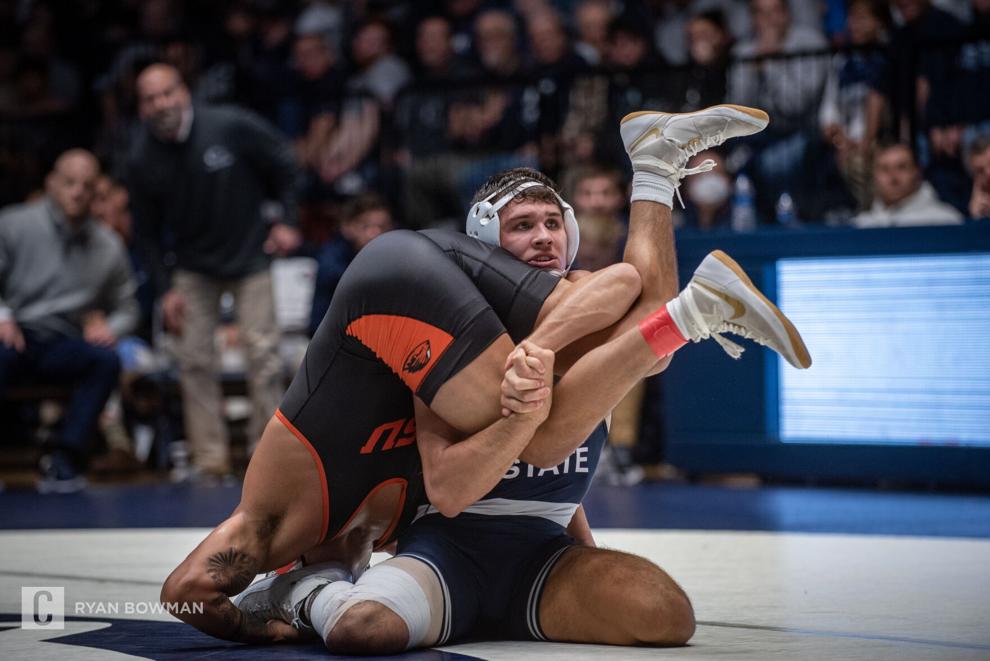 165 pounds: No. 5 Alex Facundo (PSU) vs. No. 13 Patrick Kennedy (IOWA)
Penn State will be represented by No. 5 Alex Facundo at 165 against No. 13 Patrick Kennedy.
Facundo, a redshirt freshman, has started the season 11-1 and has been a consistent contributor in Penn State's lineup.
The young gun rose sharply in the rankings from No. 16 to No. 5 after beating No. 6 Cameron Amine in sudden victory this past weekend. Facundo looks like a future cornerstone of Penn State's ongoing dynasty, and he should be prepared to face Kennedy on Friday.
Kennedy enters this matchup 12-2 on the year and lost in his most recent outing. The loss came at the hands of No. 7 Dean Hamiti, as the Hawkeyes barely held on against the Badgers.
Kennedy, a sophomore, didn't compete in any duals until this season, but he did win a U23 freestyle National Championship at the 2022 World Team Trials.
The two young grapplers will have a chance to further prove themselves this weekend as they wrestle each other for the first time.
174 pounds: No. 1 Carter Starocci (PSU) vs. No. 16 Nelson Brands (IOWA)
Back-to-back defending NCAA Champion No. 1 Carter Starocci will face off with Iowa's No. 16 Nelson Brands in the 174 slate.
Starocci will look to extend his unbeaten streak to 39 bouts and continue his quest for a second-straight perfect season.
Brands will be the highest-ranked opponent that Starocci has faced to this point of the season. While Starocci hasn't faced the Iowa senior yet, Brands is 0-1 against Penn State's Aaron Brooks all time.
Brands is in his first full season at 174 pounds, as an injury cut his 2021-22 season short. Brands' move from 184 to 174 saw him improving from a 8-6 record in 2020-21 to 5-1 in 2021-22, where he was ranked as high as No. 6.
While Starocci will be a heavy favorite, this matchup will be key for the Hawkeyes, who need to avoid a bonus-point victory in this class.
184 pounds: No. 1 Aaron Brooks (PSU) vs. No. 12 Abe Assad (IOWA)
Penn State has another back-to-back defending NCAA Champion, this time at 184 with No. 1 Aaron Brooks.
Brooks has a 6-1 record on the season, with the singular loss coming to Iowa State's No. 4 Marcus Coleman. In that bout, Brooks escaped being pinned but still came up short, 9-7.
In his career, Brooks is 2-0 against his likely Iowa-opponent, No. 12 Abe Assad, and holds a 29-2 record against common opponents.
Assad finished his 2021-22 campaign with a 14-10 record and a seventh-place finish in the Big Ten, despite being ranked as high as No. 15. This season, Assad has posted a 14-2 record so far, already tying his win total from last season.
Still searching for his first win against Brooks, Assad will be a heavy underdog against one of Penn State's best wrestlers on Friday.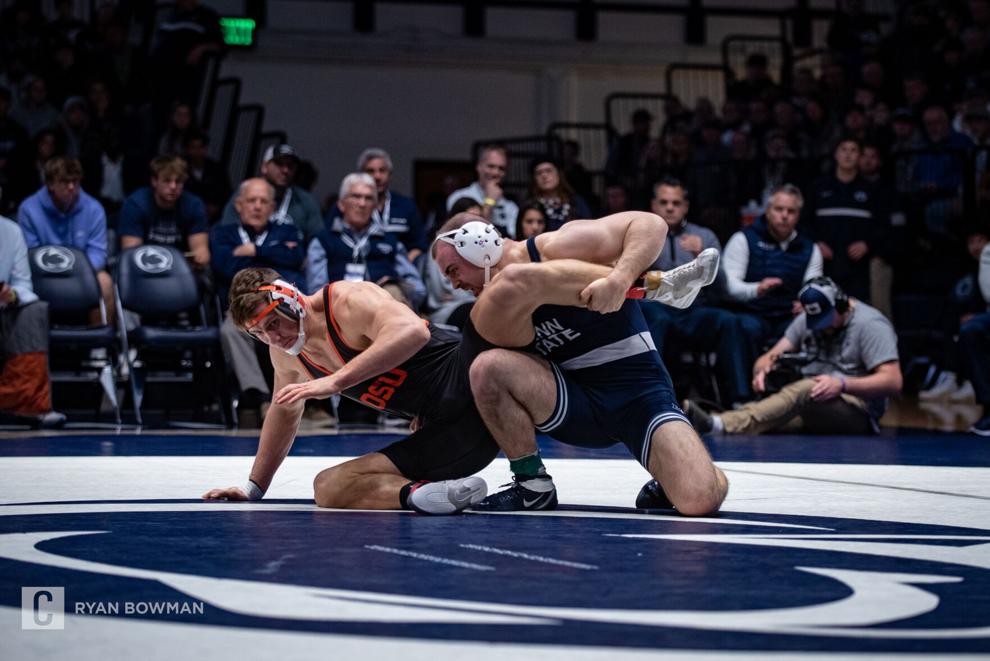 197 pounds: No. 4 Max Dean (PSU) vs. No. 7 Jacob Warner (IOWA)
At 197, Penn State will have defending National Champion No. 4 Max Dean taking on No. 7 Jacob Warner.
Despite winning the title at 197 last season, Dean slid down the rankings a bit after losing back-to-back bouts early on in the season. Since those two losses, Dean is on a seven-bout winning streak, including three major decisions.
Dean has faced Warner twice before, going 2-0 against the Hawkeye.
Warner is coming off a season where he finished second in the NCAA Championships and remains a contender for this year. Entering this dual, he has an 11-2 record, and he's on a two-match win streak.
This bout could go either way, with Dean being a slight favorite due to his history of success over Warner.
"I'm just excited to compete," Dean said about facing Warner again. "I think it will be a fun opportunity for our team."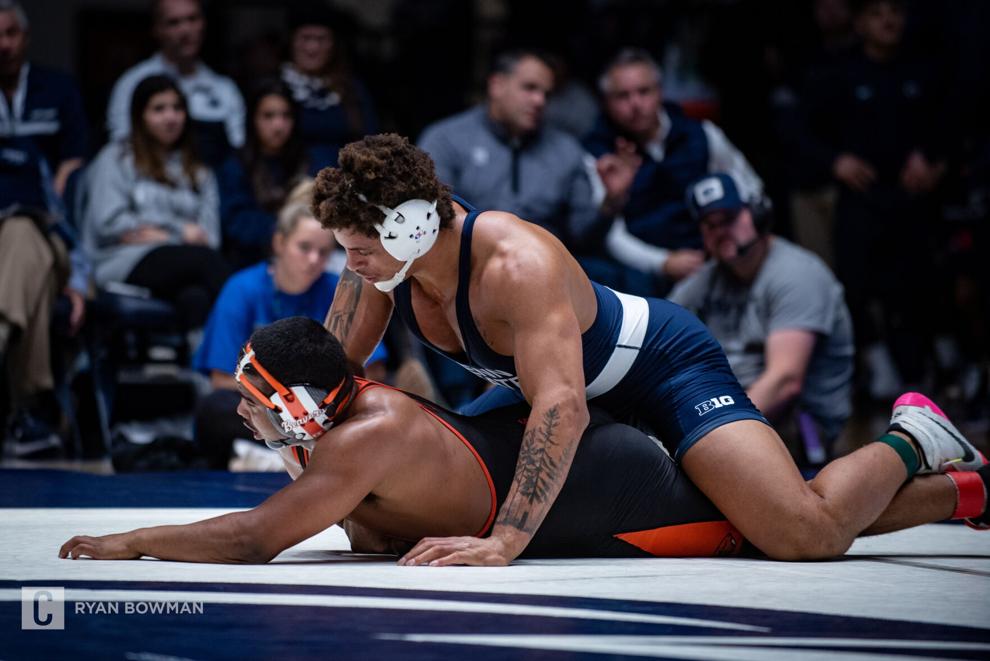 Heavyweight: No. 2 Greg Kerkvliet (PSU) vs. No. 3 Tony Cassioppi (IOWA)
In the heavyweight class, there will be a familiar matchup as No. 2 Greg Kerkvliet and No. 3 Cassioppi will face each other for the fifth time in their collegiate careers. Cassioppi holds a 3-1 advantage all time, but Kerkvliet got the most recent win in the NWCA All-Star Classic.
Although the bout didn't officially count toward either wrestler's record this season, it helped Kerkvliet keep his ranking over Cassioppi through this part of the season.
Kerkvliet holds an 8-1 record this season, with the one loss coming at the hands of No. 1 Mason Parris over the weekend. The two-time All-American finished fourth in the NCAA last year at 285.
Cassioppi has had the upper hand on Kerkvliet over their careers, but the bouts have been getting progressively closer. As a three-time All-American, Cassioppi has yet to win a title but could start that journey with a win this Friday.
On the season, Cassioppi is 16-0 on scored-bouts this year and will try to get even against Kerkvliet when the Hawkeyes come to University Park.
The Hawkeyes have had several duals come down to the final bout, including their most recent victory over Wisconsin.
"I think he feels good," Cody Sanderson said about Kerkvliet facing Cassioppi. "He was able to get the win last time out there at the All-Star meet. I would think he likes where he is."
MORE WRESTLING COVERAGE
On Tuesday, InterMat released its new rankings, and several Nittany Lions made big leaps.