After snapping a three-game losing streak on Sunday, Penn State moved quickly onto its next goal in mind: pick up a conference road win for the first time this season.
The Lady Lions looked like they were on their way to doing just that on Thursday against Rutgers after an opening quarter in which they shot 62% from the field and led by as much as 11.
However, the blue and white struggled from there and was never able to recover in an 86-82 overtime loss to the Scarlet Knights in East Piscataway.
In what turned out to be a back-and-forth matchup, senior guard Makenna Marisa knocked down two clutch free throws to send the game to overtime. Rutgers ultimately got the edge by outscoring Penn State 7-4 in the extra period.
Neither team shot it particularly well from outside the arc, with the Lady Lions shooting it at 33% and Rutgers making its threes at just a 13% clip.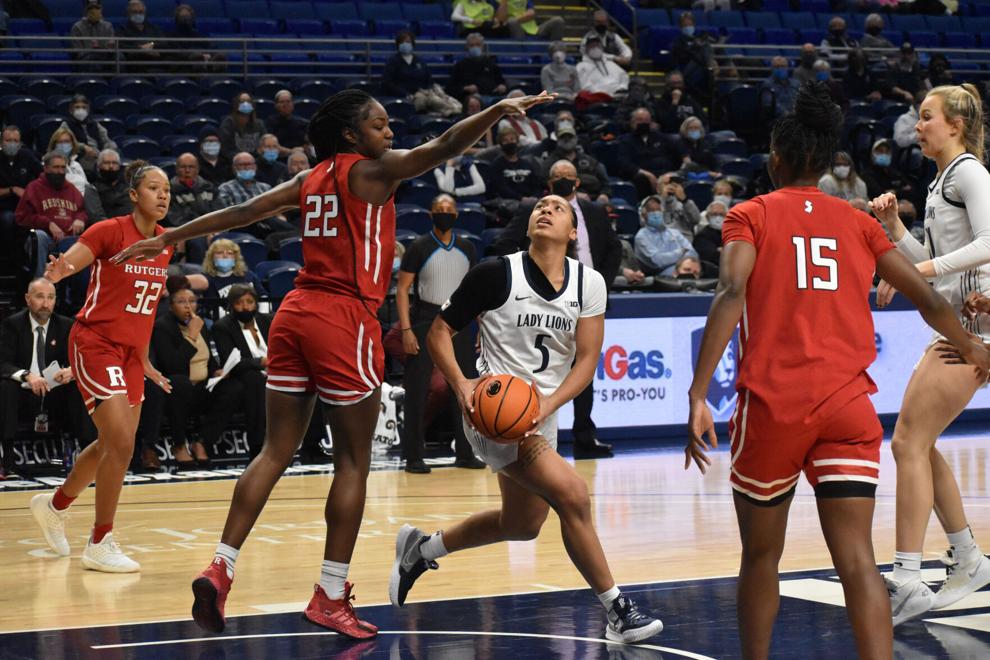 Marisa led the blue and white with 24 points, but was not very efficient, making just eight of 20 field goal attempts before fouling out in the overtime period.
Rutgers had three of its starters reach double digits, with junior forward Chyna Cornwell leading the way with 16 points and 10 rebounds.
The Scarlet Knights actually committed more turnovers in the matchup with 16 to the Lady Lions' 11, but also outrebounded coach Carolyn Kieger's team at a 49-45 margin and outscored the Penn State bench 27-12.
One big thing that the blue and white will take from this matchup will be the points it left at the free throw line; the Lady Lions shot just 55% from the stripe, making just 11 of 20 tries.
Facing the program's former head coach in Coquese Washington, who now leads the Scarlet Knights, for the second time this season, the blue and white looked to leave East Piscataway with a regular season sweep of Rutgers.
With the loss, Penn State remains winless on the road in Big Ten play and has yet to win a game in a non-neutral site away from Bryce Jordan Center this season.
The Lady Lions are now 12-9 overall with a 3-7 record in conference play.
Next up for the blue and white will be No. 10 Maryland, which it will face off against in College Park, Maryland, this Monday at 6 p.m.
MORE BASKETBALL COVERAGE
Penn State will look to shake some of its road woes in the midst of its five-game losing str…