After meeting in South Bend, Indiana, back in December, Penn State and Notre Dame split a two-game series, proving that the second series in Happy Valley was not going to be an easy feat for either team.
While Notre Dame hit the ice coming off of six-straight series splits, Penn State returned to home ice after a disappointing series against Michigan State
As soon as the puck hit the ice, both teams locked in and both rosters knew that the next three periods were going to be a challenge, and that nothing was going to be given.
With the puck sliding towards defenders Christian Berger and Paul DeNaples, the front line took position and searched for pockets in the Notre Dame D-line.
Both rosters seemed to be using the first five minutes as a "speed dating" approach, taking time to get to know how their opponent plays. Remaining severely civil with few hits or checks, it resembled a game of chess.
However, the first major (and unexpected) move of the night came from Notre Dame. Testing the waters and utilizing the lifted pass, the Irish hoped for a quick slide or an out-of-position Nittany Lion defender. After no result, Penn State took a shot at the same play.
After a frame of back-and-forth play in the neutral zone, Penn State's back line sent a puck up, but Notre Dame defenders had time to position themselves to negate any possible scoring opportunity or angle that may result from the pass.
Longer air time gives attacking players time to set up under the puck so they can take it in stride or slip between defenders into a pocket. It also gives defenders a longer time to scan and position themselves to cancel out any opportunities that the opposing team may have.
When done perfectly, the pass will land in stride or past the defender who misjudges, maximizing opportunity for the attacking player. Plays like these are produced by highly technical teams, but also are shut down by skilled defenders.
After both teams took turns sending the puck flying only to be inappropriately placed or met by an opposing glove, both decided that the lifted pass wasn't in the cards.
So they took to their next best option: the game of head, shoulder, knees and toes.
Still sending passes over the top, both teams shimmied and tango'd to keep the puck under control. With the period still scoreless, Penn State took a chance. Working from the back, the d-line strung a quick pass to sophomore forward Danny Dzhaniyev who was quickly caught in an unpleasant two-on-one just entering the Notre Dame attacking third.
"He's been playing extremely well lately," said Gadowky. "He got rewarded for it but his overall play has been excellent".
Getting the puck at his blades, he showed off his footwork, managing to get the puck to a teammate. Seconds later he was the receiver of the final pass of a string of passes from freshman defender Jarod Crespo and senior forward Ture Linden, scoring the opening goal of the night, with just a minute left in the first period.
After a relatively peaceful first period, both teams hit the locker rooms dialed in more than ever.
Notre Dame continued to send pucks over-top, either out of desperation or attempts to create opportunities. These were all met by a Penn State glove or skate.
Minutes later, sophomore forward Ben Schoen shut down another break away, showing that when needed, Penn State can get a stride ahead.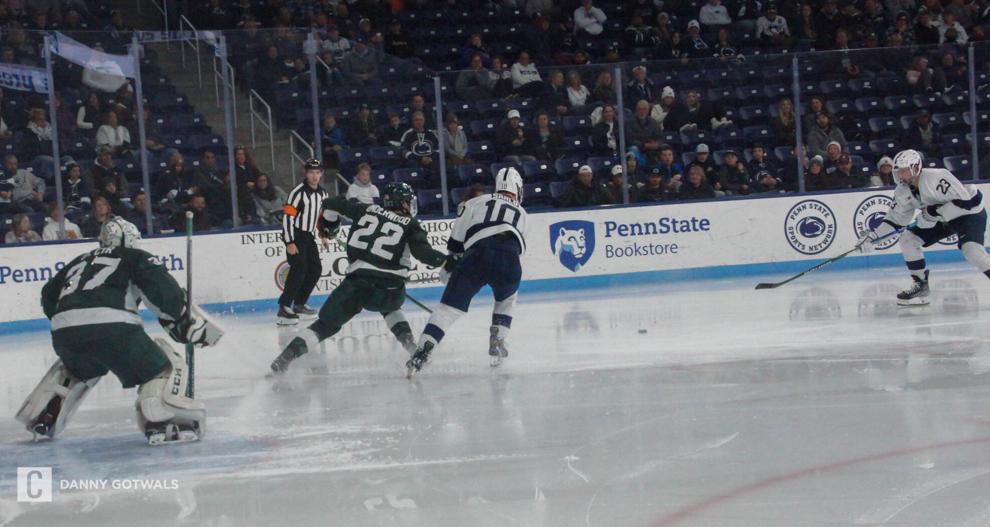 Starting Period 2, the Irish came knocking — and kicked down the door. Graduate student Chayse Primeau finished off a tight cross from teammate sophomore forward Justin Janicke, evening the score at 1-1 with a power-play goal.
"You give a team like that multiple opportunities and usually that's one of the results" Gadowky said.
Through the rest of the period, Notre Dame neglected to use the neutral zone to create opportunities, and instead opted for shooting pucks ahead which proved ineffective. Bouncing off of skates, jerseys and hands, no puck was able to find the back of the nets.
The trend that stood: gloves and skates were utilized just as much as sticks.
Kicking off the third period, the Irish stepped up, with junior forward Ryder Rolston sneaking one past Penn State goalie junior Liam Souliere.
"Really good" was how Gadowsky described Souliere's performance. "I thought he hung in there really well."
Now a more physical game as the clock ticked down, both teams began to visit the box as intensity soared. Almost doubling Notre Dame in shots (44-24) with just under five minutes left in the period, the Nittany Lions were hungry for a game-evening goal.
With just under two minutes left in the final period, Souliere was pulled from the net, in an attempt to find the equalizing tally. With a frenzy of shots in front of the net, Penn State was unable to finish the job.
Despite the 54 shots that Penn State produced, finishing opportunities is on the forefront of the team's mind.
"Keep on going. You gotta keep on and deliver… especially going to be important tomorrow" said senior forward Tyler Gratton.
Guy Gadowsky found positives from Friday's game, and knew that the team was going to have to continue to bring the energy into Game 2.
"As far as a five-on-five game, I would take that game every night of the week," Gadowsky said.
MORE HOCKEY COVERAGE