No. 1 Penn State hasn't lost a dual meet since Jan. 31, 2020, but that'll be put to the test in the first of two Bryce Jordan Center duals this season.
On Friday, the top-ranked Nittany Lions will wrestle the No. 3 Wolverines in the blue and white's second conference matchup this season. While the matchups look close on paper, Penn State is hoping for a repeat of last year's dual meet against Michigan.
Last season, No. 1 Penn State defeated then-No. 3 Michigan 29-6 in what many believed would be a close dual meet, but it got out of hand fast after an early Wolverine lead.
Whether Michigan revenge is on the horizon has yet to be seen, but Penn State would have to be upset more than once for that to happen.
Eighteen of the 20 wrestlers between the two teams are ranked, with the only gaps appearing at 125 pounds for the Nittany Lions and 197 pounds for the Wolverines.
125 pounds: Gary Steen (PSU) vs. No. 23 Jack Medley (MICH)
Penn State 125-pounder Gary Steen was thrown onto the mat earlier than expected due to a season-ending injury to Robbie Howard, who was in line to start the 2022-23 campaign.
It hasn't been a great season for the redshirt freshman Steen, as he'll enter the Michigan dual meet on a six-bout skid dating back to the Penn State-Lehigh dual meet on Dec. 4, 2022.
Steen will wrestle sixth-year senior Jack Medley, who's on a momentum-high as of late. Medley took over at 125 pounds after the departure of Nick Suriano and currently owns a 14-5 record ahead of his bout with Steen.
Medley is fresh off an upset over Wisconsin's No. 6 Eric Barnett, which is the reason for Medley's skyrocket in the latest InterMat poll. After defeating Barnett 12-6 as an unranked wrestler, the Wolverine is currently the No. 23 wrestler at 125 pounds.
For reference, Barnett defeated Steen with a 15-0 tech fall when the two wrestled.
Steen is in dire need of a win to salvage momentum and a potential NCAA Tournament bid, but he'll have to return the favor over Medley and record an upset of his own.
133 pounds: No. 1 Roman Bravo-Young (PSU) vs. No. 12 Dylan Ragusin (MICH)
Roman Bravo-Young and Dylan Ragusin will meet for the fourth time in their careers on Friday.
Bravo-Young is 3-0 all time versus the Wolverine and defeated him twice during the 2021-22 season by 8-1 and 4-0 decisions.
Although Bravo-Young has beaten Ragusin in all three previous meetings, the Nittany Lion has never scored bonus points over the Wolverine, though two of the decisions were decided by 7-point margins.
The fourth meeting between the two will likely be another Bravo-Young victory given the history between the two and Bravo-Young's current 43-match win streak. However, an upset can always occur.
141 pounds: No. 4 Beau Bartlett (PSU) vs. No. 23 Cole Mattin
Beau Bartlett and Cole Mattin's bout last season lasted 12 seconds before a Bartlett takedown caused a Mattin injury default. They'll have an opportunity to wrestle a longer bout on Friday.
Both wrestlers have moved down a weight class from last season, converting from 149 pounds to 141 pounds. Bartlett and Mattin are also both having better seasons at their new weights.
Bartlett enters the Michigan dual with a perfect 12-0 record, while Mattin currently holds a 12-3 record of his own.
The Wolverines needing an upset over Nittany Lion wrestlers will be a common theme during the upcoming dual meet, and the Bartlett-Mattin bout won't be an exception.
149 pounds: No. 14 Shayne Van Ness (PSU) vs. No. 21 Chance Lamer (MICH)
While there's a 7-spot disparity between Shayne Van Ness' and Chance Lamer's rankings, their career histories are nearly identical.
Lamer and Van Ness both enter the dual meet as redshirt freshmen, with similar win percentages — 84.62% for Van Ness and 84.38% for Lamer — and bonus-point percentages — 46.15% for Van Ness and 46.88% for Lamer.
The Michigan man enters with a clear advantage in experience, though, as Lamer's 27-5 record features 19 more bouts than Van Ness' 11-2 record.
This should be an intriguing bout between the two redshirt freshmen, as the matchup is underrated considering the hype surrounding the Greg Kerkvliet-Mason Parris showdown.
157 pounds: No. 17 Levi Haines/Terrell Barraclough (PSU) vs. No. 10 Will Lewan (MICH)
True freshman Levi Haines has been hot as of late, but eligibility adjustments may be in line soon.
Haines can only wrestle in one more dual meet bout before his redshirt is burned. If Haines were to wrestle on Friday versus Michigan and on Sunday against Michigan State, he'd burn his redshirt.
If Cael Sanderson doesn't want to do so, Terrell Barraclough could see mat action against the Wolverines.
Barraclough has seen improved success this season compared to last season. Before Haines took over the 157-pound slot in the past four dual meets, Barraclough was the No. 25 wrestler at the weight class.
Either way, they'll have to wrestle 2022 All-American 157-pounder Will Lewan.
Lewan defeated Barraclough 5-2 in last year's Penn State-Michigan dual meet, but a matchup between Lewan and Haines would be new. Whoever takes the mat for the Nittany Lions on Friday will have to defeat the higher-ranked Lewan.
165 pounds: No. 16 Alex Facundo (PSU) vs. No. 5 Cameron Amine
Redshirt freshman Alex Facundo dropped his last bout to Iowa State's No. 2 David Carr. Facundo will look to bounce back against his second-straight top-5 opponent in Michigan's No. 5 Cameron Amine.
Amine is a two-time All-American, recently placing fourth at the 2022 National Championships, and the younger brother of Wolverine great Myles Amine.
Facundo, who's 9-1 this season, will face another test as the Big Ten Tournament looms closer. He'll have to be on the top of his game to pull out a win.
174 pounds: No. 1 Carter Starocci (PSU) vs. No. 30 Max Maylor (MICH)
Carter Starocci begins the juggernaut that is Penn State's final four wrestlers, and he'll do so against Michigan's newly ranked 174-pounder Max Maylor.
Starocci hasn't lost a bout since the 2020-21 season and has only lost two matches over his entire college career so far. On the other hand, Maylor has only wrestled in four of the Wolverines' dual meets this season.
The two-time defending national champion will be a heavy favorite against Maylor, as the strength of Penn State's lineup picks up.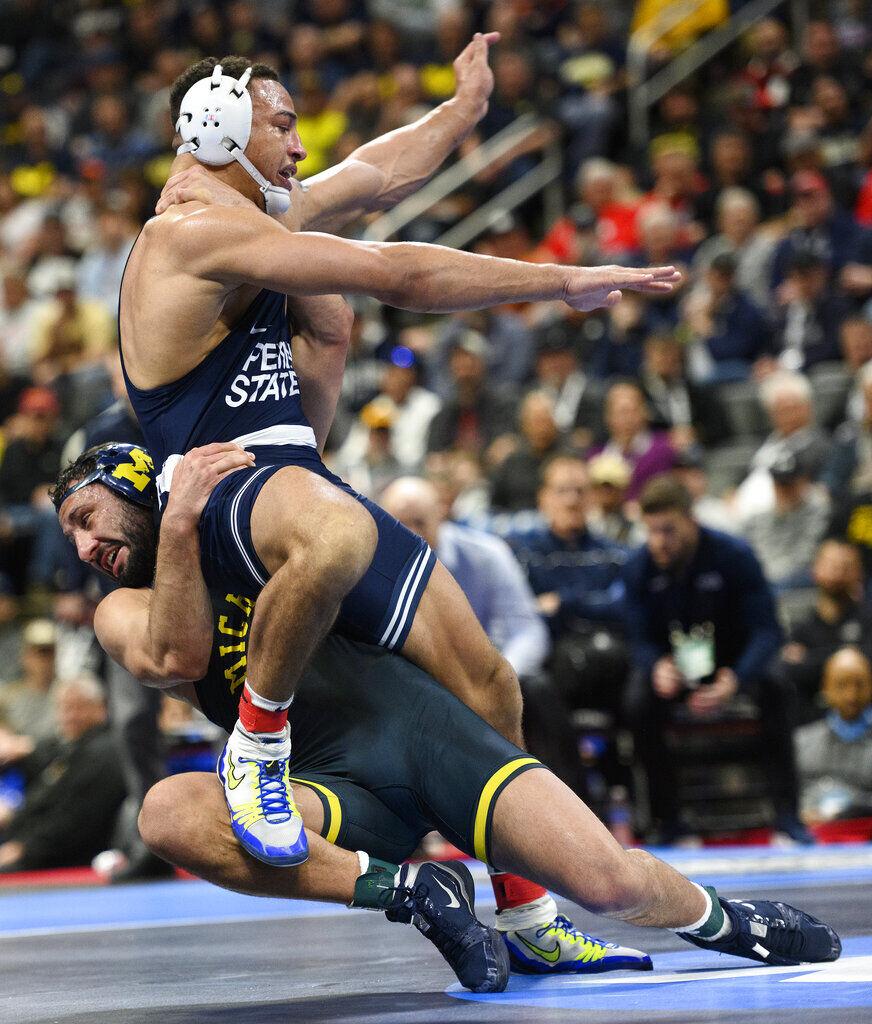 184 pounds: No. 1 Aaron Brooks (PSU) vs. No. 9 Matt Finesilver (MICH)
Aaron Brooks redeemed his loss to Iowa State's No. 3 Marcus Coleman with a tech fall over Wisconsin's Tyler Dow. Brooks will face another top-10 opponent on Friday, though.
Coincidentally, Michigan's Matt Finesilver is also coming off a technical fall victory over Dow. Finesilver will have his hands full against the two-time national champion Brooks.
Brooks will be favored against Finesilver, but the Wolverines will probably need an upset here to have a chance at the team win.
197 pounds: No. 4 Max Dean (PSU) vs. Brendin Yatooma (MICH)
The 197-pound bout is Penn State's equivalent to the 125-pound bout.
Max Dean and Brendin Yatooma have had two different season trajectories so far. Dean is currently 10-2 this season, while Yatooma is 4-7 this season and 2-4 in dual meet bouts.
This bout should be a Dean victory, with Yatooma trying to limit the bonus points.
Heavyweight: No. 1 Greg Kerkvliet (PSU) vs. No. 2 Mason Parris (MICH)
The dual meet between two top-3 teams will finish off with a heavyweight clash between the two best wrestlers at the weight class.
Kerkvliet and Parris have a storied history that's been dominated by Kerkvliet in recent memory. The Nittany Lion holds a 3-1 record over the Wolverine, with all three wins against Parris occurring last season alone.
Both heavyweights enter the No. 1 versus No. 2 battle undefeated. Kerkvliet is currently 7-0, while Parris has compiled a 17-0 record already.
The storybook ending would be a Kerkvliet-Parris bout to decide the dual meet, but Michigan will have to provide a couple of upsets for that to happen.
Expect the dual meet to potentially be decided before the heavyweights take the mat.
MORE WRESTLING COVERAGE
Levi Haines has officially entered InterMat's ranking system as the No. 16 wrestler in the 1…