With its first two matches coming against a top-10 BYU team fresh off a national championship game appearance, Penn State's early 2022 season looked to be an unenviable gauntlet.
The No. 5 Nittany Lions passed their first test of the campaign with flying colors, earning consecutive sweeps of the No. 6-ranked Cougars at Rec Hall on Thursday and Saturday night.
Despite not dropping a set, Penn State got BYU's best Saturday — the Cougars pushed the Nittany Lions to the edge in the third set and nearly extended the match to a fourth.
"I think tonight was probably a little bit less clean for us and a little bit more clean for BYU at times," coach Mark Pavlik said. "After watching what we did Thursday, I think [BYU] felt they had to come out and serve a little bit tougher."
Pavlik and company experienced a bit more of a challenge from BYU's serves Saturday than they did in the teams' first match on Thursday, when Penn State recorded nine aces to BYU's one.
"Their numbers — their service errors — went up, but [so] did their aces. They had three more than they had on Thursday," Pavlik said. "I thought we hit a stretch in [match] two where we started to lose some rhythm with our serving, but after that stretch, I think we calmed down well and really got back after them with our serve."
While this season's BYU squad isn't the same as the 2021 edition after losing a few stars to graduation, the Cougars are still among the nation's most talented teams — beginning with 2021 first-team All-American Davide Gardini, a senior outside hitter.
Gardini led BYU with nine kills Thursday and followed up that performance with eight on Saturday.
"There's not a whole lot of other guys in the country [that] do what he does," Pavlik said.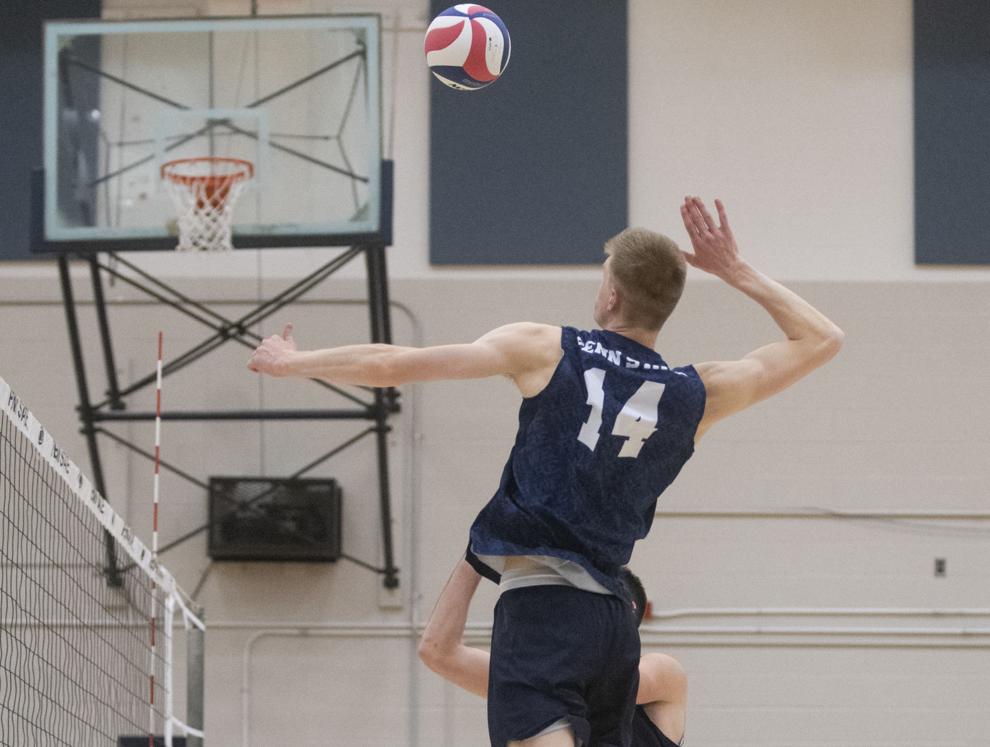 Pavlik spoke to the importance of facing a team with the physical capabilities of BYU at this point in Penn State's young season.
"It gives the coaching staff the opportunity to see how our physicality can hold up through the course of the match," Pavlik said. "Whenever you get a chance to see physicality early, I think it really lets you measure what you have to do with your physicality,"
Being challenged early on may prove to be beneficial for Penn State in the long run, and that possibility isn't lost on the Nittany Lions.
"I think it is a really good indicator of where we start and where we go from there," senior middle blocker Sam Marsh said.
"Our first [few] matches are all against tough opponents," senior opposite hitter Cal Fisher said. "We really get to challenge ourselves and see where we are at the beginning of the season and what we can do to get better at the end."
The blue and white is an experienced bunch — a trait that could come in handy down the road.
This blue and white squad has developed a sense of composure and chemistry that stems from the "brotherhood" the players have developed on and off the court over the years, Marsh said.
"There isn't as much nervous energy as we had freshman and sophomore year. Now, it's just excited energy and we're ready to get out there," Fisher said. "I think that's a huge part of being around for this long."
MORE VOLLEYBALL COVERAGE
Penn State finished off the opening weekend of its 2022 season by securing its second consec…