After flying across the country for seven consecutive road games, the Nittany Lions are finally back home to host two familiar foes: in-state rival Saint Francis at 7 p.m. on Saturday and Ohio State at 7 p.m. on Tuesday.
Despite the travails of traveling, the blue and white closed the road trip with an impressive overall 2-1 record, including an uplifting victory against No. 1 Hawai'i.
With eight regular-season matches remaining, it's time for Penn State to rally with all of its momentum. Currently sitting at 17-2, the Nittany Lions have a shot to surmount their 23-4 record last season.
Saint Francis
A month ago, unranked 2-7 Saint Francis gave No. 2 Penn State a shock, a competitive five-set battle that nearly completed one of the season's biggest upsets through its valiant efforts.
It was an atypical night for the Nittany Lions' net presence, as hitters compiled 22 errors with a .262 hitting percentage and added only five blocks in five sets. In comparison, Penn State averages a .331 hitting percentage per game and 2.4 blocks per set on the season.
The Red Flash, meanwhile, dialed up 12 blocks and limited Penn State All-American hitter Cal Fisher to only six kills in that match, making the Nittany Lions trail the whole game and barely escape with a thrilling reverse sweep.
With the victory, the blue and white rolled into a nine-game winning streak before it was snapped by No. 3 UCLA the past weekend. Meanwhile, Saint Francis secured four more wins, moving up to 6-10 prior to this week's clash.
On paper, the Red Flash isn't close to being the most talented team Penn State has encountered this year. The Nittany Lions have more kills, a higher hitting percentage and almost twice as many total blocks compared to their enemy.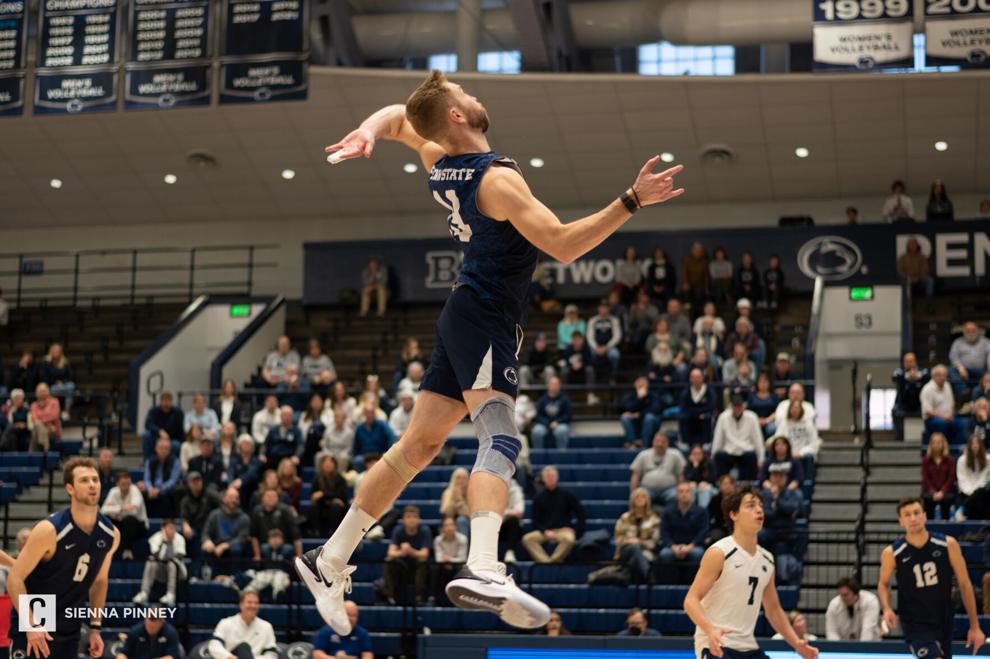 However, rankings and stats don't matter when the game starts. To take care of its business, Penn State needs to avoid the slow start like the first meeting and prevail with the talent at the net.
Ohio State
Unlike the Nittany Lions, March hasn't been kind to the Buckeyes, as they desperately try to cast off the hefty five-game losing streak.
The first meeting between these two programs dates back to January, as once-No. 4 Penn State defeated once-No. 13 Ohio State 3-1 on the road.
Senior opposite hitter John Kerr had a phenomenal game with a team-high 21 kills, adding five blocks to help Penn State dominate the net battle even without Fisher, who missed the early regular season due to injuries.
Now with Fisher back in the lineup, Penn State will have a pair of lethal weapons to continue damaging the Buckeyes' defense. Junior outside hitter Michal Kowal has also been red hot with 25 kills in two games in the Outrigger Challenge against the nation's top teams. The blue and white's offense is firing on all cylinders heading into this matchup.
Unlike the balanced firepower of the Nittany Lions, Ohio State's offense builds around a dangerous duo, junior outside hitter Jacob Pasteur and senior middle blocker Samuel Clark. This combo has combined for 461 kills on the season, just under half of the team total.
On defense, the Buckeyes also have a pair of stifling blockers led by redshirt junior Justin Howard with 52 blocks and sophomore Cole Young with 51 thus far.
MORE SPORTS COVERAGE
Mark Pavlik is a volleyball lifer; he's been the Penn State men's volleyball coach for nearl…