No matter the sport, the dynamic of a locker room is one of the most important aspects of a team. Chris Sabia completes Penn State's.
Games are won and lost in the locker room. A tight-knit group of athletes can produce far above its potential. A team laced with superstars with absolutely no chemistry may never meet expectations.
"You would think that one person being upbeat and smiling and making jokes wouldn't really do anything, but it actually creates a much better mood for everyone," fellow defenseman and roommate Mike Aronow said. "Everyone can relax and focus and play better."
Coach Jeff Tambroni is extremely grateful for the group of guys that make up his locker room. He's seen the players grow and bond with one another and it has yielded positive results.
"That locker room camaraderie has definitely spilled over into the field and you can see it by the way they compete and by the way they play," Tambroni said. "I do believe that it is a very selfless style that these guys have been willing to adopt and I think it's in large part because of the way they act and the way they care about one another off the field."
The Nittany Lions have battled through adversity all season, whether it be injuries to stars like Grant Ament and Gerard Arceri or battles with tough opponents, yet they've continued to persevere.
One of the leaders who has held the Nittany Lions together through it all is Sabia.
Sabia is a three-year starter and a key piece of a veteran-filled Penn State defense. He's grown significantly on the lacrosse field over the years, but his growth as a leader has caught the attention of his teammates and coaches.
"Since the fall," Tambroni said, "he has grown as much, or more so, than anyone on our team in regards to his leadership."
Sabia has a unique aura surrounding him. Everyone on the team points to him as the one who keeps spirits high no matter the situation.
Whether it's after a close loss, a hard practice or just a bad day, Sabia will find a way to be positive. It's an aspect of his personality that he's proud of and one that he's held onto throughout his life.
"You have to work at it," Sabia said. "Obviously there's times where you're like 'oh wow this stinks' and you get down on yourself, but you have the guys around you propping you up and helping you out."
Sabia has a very strong bond with his teammates. It's evident on the field, as Sabia and the defensive unit can be seen in their patented huddle hyping each other up before the face off.
"They're one of the reasons why I play and why I try to compete so hard," Sabia said.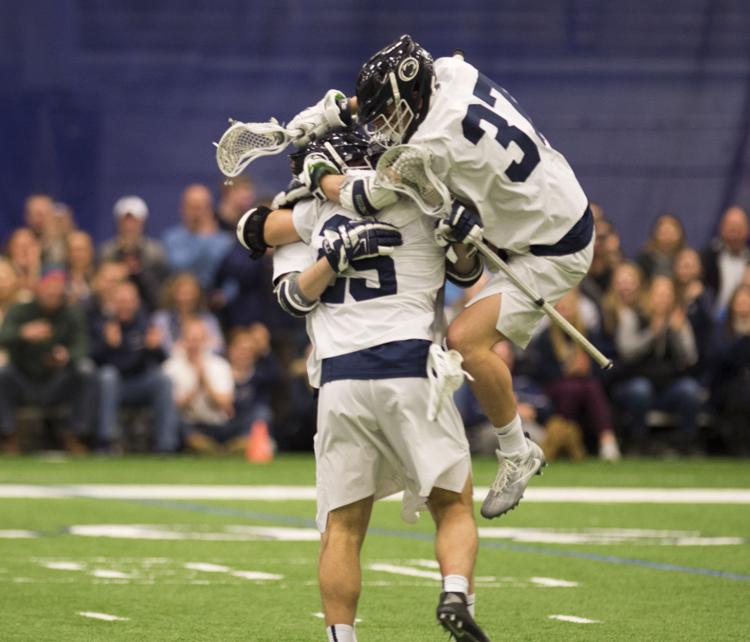 That relationship goes both ways. His teammates agree that whenever they're facing adversity, they can count on Sabia to lift their spirits.
"He's a goof. I love the kid," goalie Colby Kneese said. "[He's] always got a smile on his face."
Sabia's ability to elevate the mood of the team isn't the only thing he brings to the table, though.
On the field, Sabia is a force for Penn State's defense. He leads the team in forced turnovers with 15 and he has also picked up 15 ground balls.
Sabia has also shown that he is not to be left alone when charging up the field after a turnover. He has a great vision of the field and is not afraid to drive the ball all the way to the opposing net. Sabia has scored four goals this season off of big defensive plays.
Tambroni is very grateful to have a player of Sabia's caliber on his team.
"When it comes to someone that you can count on on a daily basis based on performance, based on knowledge, based on trust that we have in someone, I would say Chris probably is as good as it gets," Tambroni said.
Sabia's talent has been recognized across the country by peers, coaches and media members. He was named to the United States Intercollegiate Lacrosse Association Player of the Year watch list before the season began and he also earned recognition during the season as an honorable mention on Inside Lacrosse's 2018 Midseason All-Americans list.
Sabia is part of a veteran defensive group that has kept Penn State in games all season long. The unit is one of the main reasons that Penn State is still in NCAA Tournament contention at this point in the season.
While he's a lighthearted jokester off the field, Sabia is a different animal on gameday. He has what coach Tambroni described as "a competitive spirit," which counterbalances his laid-back side.
His competitiveness is what makes Sabia into the monster he is on the lacrosse field. It's something he's carried with him since he was young.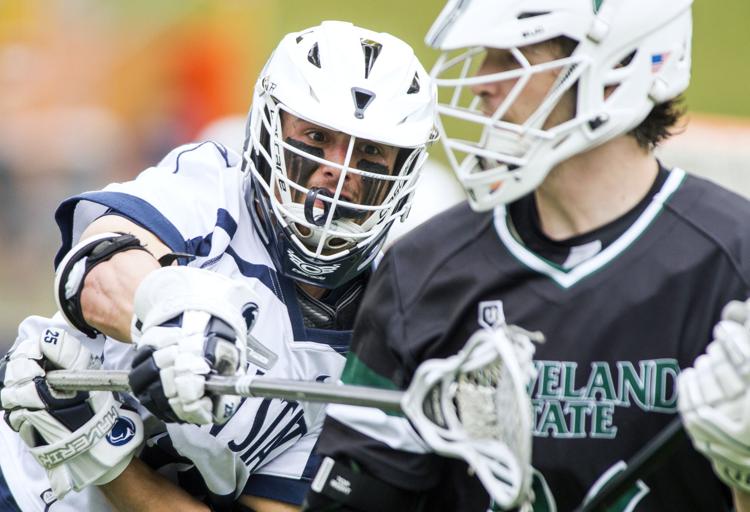 "It doesn't really matter what I'm playing," Sabia said. "It could be a video game, it could be something in the backyard, it could be an actual sport. I always want to win it."
It's an interesting contrast to his off the field persona. Sabia enjoys having fun and making jokes as much, if not more than anyone else, but when it's time to get down to business, he flips a switch and doesn't look back.
"I can always start calm and be like 'oh I'm not going to try too hard doing this,' but then there's a certain point where I hit it and then it's just full go," Sabia said.
The ability to find the right balance of lightheartedness and competitiveness is just one of many factors that make up the player that is Sabia, but it's an extremely important one. With his diverse personality and immense talent, Sabia is a model player that every coach wants to have.
"It'd be tough to replace a guy like Chris Sabia," Tambroni said.