Coach Jeff Tambroni often attributes his team's success to the locker room dynamic. He credits the leadership of his captains Matt Donnelly, Mike Aronow and Chris Sabia for sustaining such a tight-knit group throughout the course of the season.
Before the players arrive on campus, it's a different story.
The Haverford School and Malvern Preparatory School produce some of the most talented high school prospects in Pennsylvania.
They're also bitter rivals in every sport. Each school has become a go-to source for recruits.
Penn State currently has four players from Haverford on its roster, including the nation's leading point producer Grant Ament. Sabia, TJ Malone and John Nostrant also came from the school found in the suburbs of Philadelphia.
For Malvern Prep, a youth movement is in place.
Last year, two Nittany Lions, Tripp Traynor and Chris Isenberg, represented the Friars in University Park.
Since the graduation of those two seniors, three more players have arrived on campus. The freshman trio of Jack Traynor, younger brother of Tripp, Seamus Glynn and Jordan Donaghy are next in line from the Malvern Prep pipeline.
Tambroni and his staff keep their eyes on these two schools not just because of their success on the field, but the efforts they put into molding individual players.
"Both Haverford and Malvern, the coaches that are there, the programs, the culture's just really fit," Tambroni said. "Having a connection with those programs and the culture and the way they run those programs was certainly a desire for us."
Coach John Nostrant of Haverford and coach John McEvoy of Malvern Prep expect a lot out of their players. By doing so, they made it easier for the athletes to make the transition to the next level when the time came.
Ament credits his time at Haverford for his development of a well-rounded skill set.
"I think coming from the high school that we came from actually prepared us a lot better than others," Ament said. "There wasn't like a superstar on the team, and it was kind of all balanced, and you actually learned how to play team lacrosse."
Not simply being the only option on his team paid dividends for the redshirt junior attackman. His ability to find his teammates for open goals has been his best asset.
Ament currently leads the country in assists per game with 6.57 and broke a program record for assists in one season in the seventh game on the schedule.
"I think a lot of times high school players have the benefit of being able to do really well in high school," Ament said, "but at the same time, it could hurt them because they don't know how to necessarily play within an offense or a defense."
It's a similar story at Malvern Prep. McEvoy is committed to instilling a "blue-collar work ethic" into each athlete that passes through his system.
"I think our coach prepared us really well to just come in and work hard and just be ready for anything," Traynor said.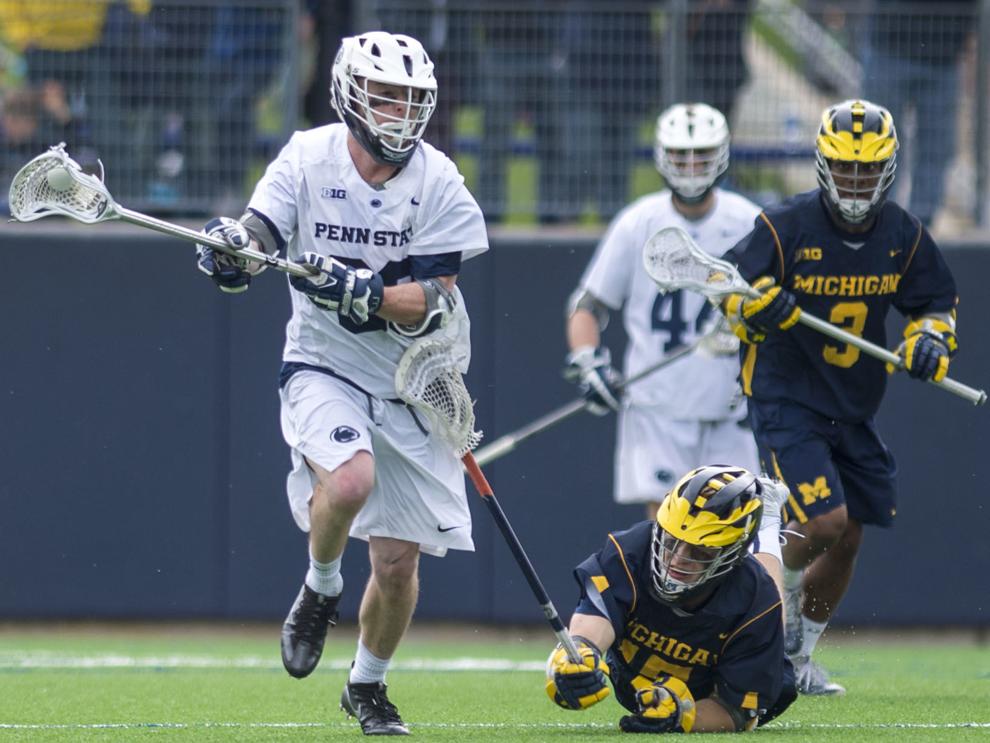 McEvoy's approach to coaching aligns similarly with that of Tambroni.
"The practices are actually like relatively similar in design and the drills," Glynn said. "Obviously there's higher skill and better athletes here, but the practice design and tempo are pretty similar to high school."
Even with the high quality talent produced by both schools, recruiting from two schools with a well-documented rivalry between them provides some risk. Going from heated competitors to teammates sharing a locker room isn't a task that is accomplished overnight.
Tambroni expects some lingering feelings of disdain coming in, but it has never created any sort of issue in the team's cohesion.
"I think once they're all in the same locker room, they look around, they realize how similar they are versus how different," Tambroni said.
As it goes with many rivalries, there is a sense of admiration between the two powerhouses, making it a little easier to adjust to the shift.
"On the field we hated each other," Donaghy said. "Off the field we respected and liked each other."
Tambroni also noted the growth of the sport being a way to ease the tension between rivals.
"I think in this day and age different than when I played," Tambroni said. "There are so many club opportunities that these guys play with each other or alongside of each other so much more now than we used to that most of that stuff has worn off."
The keywords in that sentence are "most of." When Haverford and Malvern Prep go head-to-head there's bound to be some banter being thrown around in practice that week, especially for lacrosse games.
"Anytime we play, we definitely make it known, specifically to the younger guys, that they only won one game against Haverford in four years," Ament said.
For someone like Ament, it's easy to dish it out. But for the freshman Malone, not so much.
"They like to remind me they beat me in the championship last year, so it's give and take," Malone said.
Even if the teasing is all in good fun, the pride for their schools still runs deep. Each guy still has at least one Haverford or Malvern Prep shirt somewhere in his closet and will break it out to show support no matter the occasion.
Continuing the connecting between the high schools and Penn State is a point of emphasis for the players from both Haverford and Malvern Prep. That being said, no one takes the process more seriously than Ament.
Ament grew up a fan of the Nittany Lions and made it his goal to one day take the field wearing blue and white. Now that he's here, he wants to inspire others to do the same.
"I definitely am a big salesman towards Penn State for Haverford for guys now," Ament said.
His first customer was Malone. While Malone was originally planning on attending a Division III school, Ament's conversations with him eventually swayed him to become a Nittany Lion.
With Sabia graduating and Ament being a senior next year, some of the responsibility to keep the pipeline active falls on Nostrant and Malone. The connection will also have to survive the loss of coach Nostrant at Haverford, who will be stepping down at the end of this season, ending a 28-year stint as leader of the program.
Still, the players remain hopeful.
"I don't see the relationship kind of going anywhere for years to come," Sabia said.
On the Malvern Prep side, there's no outspoken individual campaigning for Penn State like Ament. Instead, the freshman trio prefers to let the recruiting process play out on its own and provide insight on life in University Park when guys show interest in committing.
"I wouldn't say I like reach out and tell them to come," Donaghy said, "but if they come up for the recruiting showcase, we'll go watch them and, you know, tell them how good it is."
The players might not be going out and actively recruiting their former teammates, but Tambroni certainly is.
Current Malvern Prep junior midfielder Cade Szostek has been committed to Penn State since August 15, 2016, according to Inside Lacrosse's recruiting database.
"We've had a lot of great players from Malvern Prep, so we're excited to continue that tradition," Tambroni said.
Now working together as a team, the alumni from the two schools, along with their Nittany Lion teammates, head into a crucial part of the season. Back at high school though, the seasons are just getting started.
Tambroni knows that when the inevitable Haverford versus Malvern Prep matchup is in view, he'll be hearing the chirping from both sides.
"It's tough to pull the Haverford and Malvern out of those guys."
To email reporter: stc5243@psu.edu
Follow him/her on Twitter at @ShaneTConnelly