With eight regular season games remaining for Penn State — four at Pegula Ice Arena and four on the road — here's a look at the eight most captivating stats through the Nittany Lions' first 26 games.
1. A year after leading the nation with a .549 percentage on face-offs, Penn State's .493 face-off percentage ranks 40th out of 60 teams.
Even coach Guy Gadowsky can't seem to figure out his team's face-off woes.
"It's hard to score goals without the puck. There are 60 plus face-offs a night and if you start with possession on a majority of those, you're giving yourself a good chance," Gadowsky said following his team's 5-1 loss to No. 6 Ohio State in which the Nittany Lions went 23-27 in the face-off circle. "If you don't, you put yourselves behind the eight ball and it's a big problem we have to address. Honestly, I'm getting a little sick of it."
The blue and white had five players who possessed a face-off percentage over .500 last year, but only have two this season. It was reasonable to expect a small drop-off with the graduation of Ricky DeRosa and Dylan Richard, but Nikita Pavlychev and Chase Berger have each regressed, dropping below Gadowsky's standard of .500.
Freshman Evan Barratt boasts an impressive .541 face-off percentage this season, but since the Chicago Blackhawks third-round missed time early in the season, he has taken less face-offs this year than Berger, Pavlychev and Nate Sucese by a wide margin.
Berger finished sixth in the country in face-off percentage last year, operating at a .641 clip in the face-off circle, only for that rate to drop to .494 this season.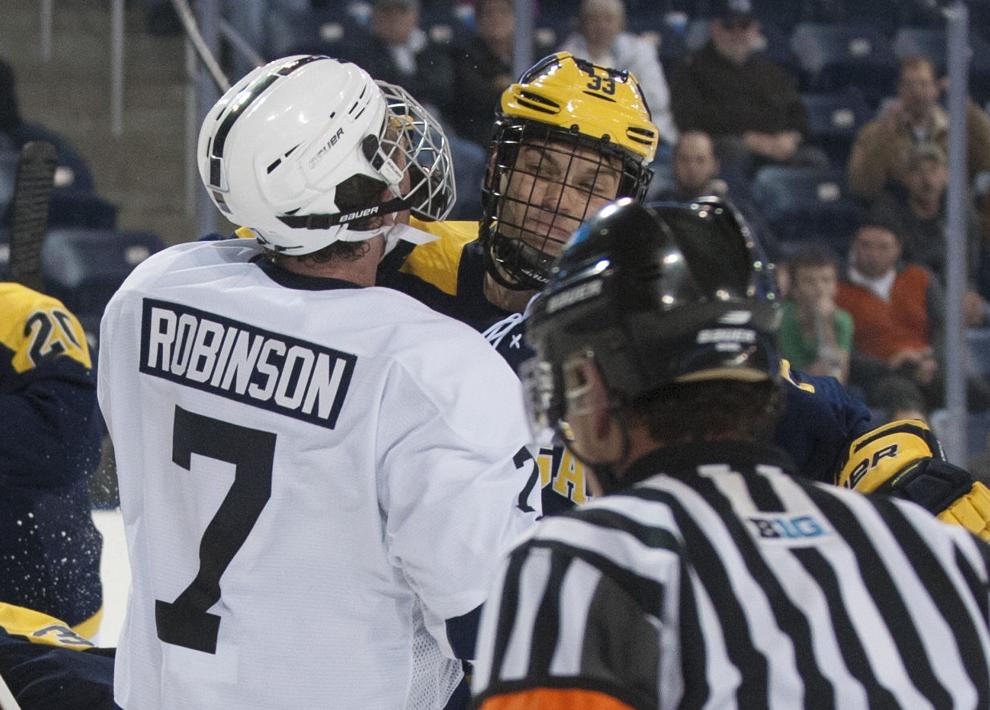 2. Captain James Robinson has only scored three goals this season. They all occurred in a span of 17 minutes and 56 seconds.
Never eclipsing four goals in a season, Robinson, better known as "Jimmy Pucks." isn't exactly known for his scoring. So when he exploded for a hat-trick against Mercyhurst back in November, many were caught off guard.
Robinson hadn't scored prior to that 7-5 victory over the Lakers and hasn't found the back of the net since, despite playing on the same line as two of the Nittany Lions' top players in Berger and Andrew Sturtz. The hat-trick marked the first multi-point and multi-goal outing of Robinson's career.
3. Penn State has allowed the second most goals at home in the country with 48.
Pegula Ice Arena is regarded as one of the most daunting atmospheres in all of college hockey, yet opposing teams have had no trouble scoring there this season. Only Lake Superior State, who is 6-18-4, has allowed more goals at its home rink.
Early in the season, the Nittany Lions got caught with too many men playing high in the offensive zone on numerous occasions, leaving them prone to breakaways. As a result, they conceded 12 goals in two games against Mercyhurst, nine to Michigan and eight to American International.
Penn State is 7-4-2 this season with a plus-9 goal margin at Pegula, but it'll have to continue to improve defensively to make the NCAA Tournament.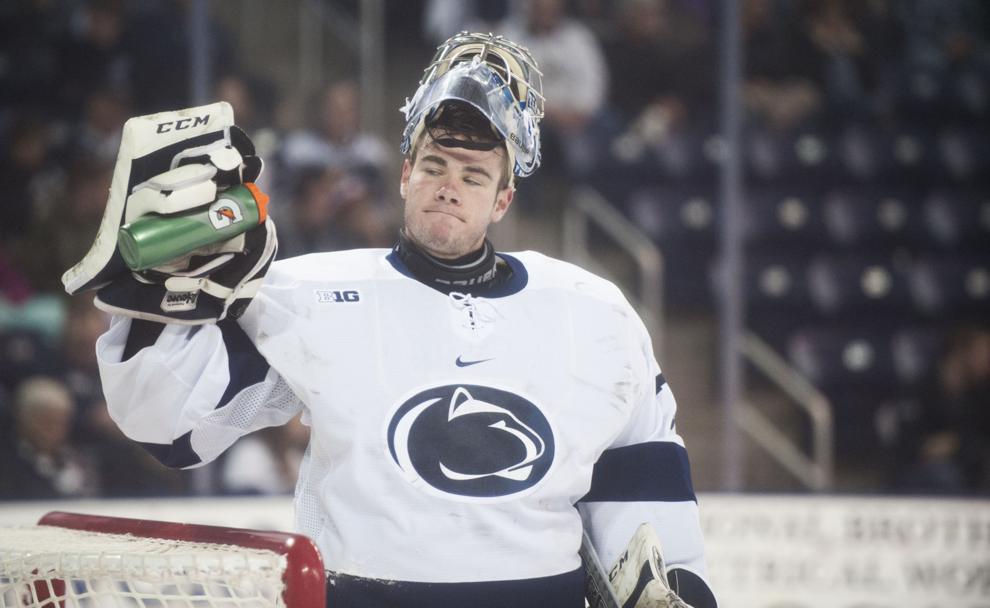 4. Andrew Sturtz had 17 goals and six assists at this point last season. He has 11 goals and 19 assists through 25 games this year.
Sturtz has been one of the conference's top scorers since stepping foot in "Hockey Valley" back in 2015, but with potential NHL contracts looming, he has been called upon to improve his distribution.
"For him to be more successful at the next level, he's going to have to learn to give-and-go and to give up the puck much quicker because there's a little less space. Other than that, he's just gotten better at what he does," Gadowsky said.
Penn State is 9-1-3 when Sturtz records a point this year and 2-7-0 when he doesn't.
Sturtz faces fierce competition for the Hobey Baker Award from Northeastern's Adam Gaudette, Harvard's Ryan Donato, Denver's Henrik Borgstrom and Ohio State's Tanner Laczynski, among others, but is a legitimate contender for college hockey's most prestigious award.
5. Peyton Jones' .929 save percentage since Nov. 11 is tied for eighth-best nationwide over that span.
It is well documented that Jones didn't get off to the start this season that Penn State fans had hoped for. His .863 save percentage up through Nov. 10 ranked 73rd out of 75 goaltenders in the NCAA.
Since then however, Jones has been exceptional. The Nittany Lions may have been swept by No. 1 Notre Dame back on Nov. 10 and 11, but the second game of the series marked the turnaround of Jones' play.
Jones, now a sophomore, made 26 saves in a 1-0 defeat to the Irish, which was Penn State's last loss before it began its 11-game unbeaten run.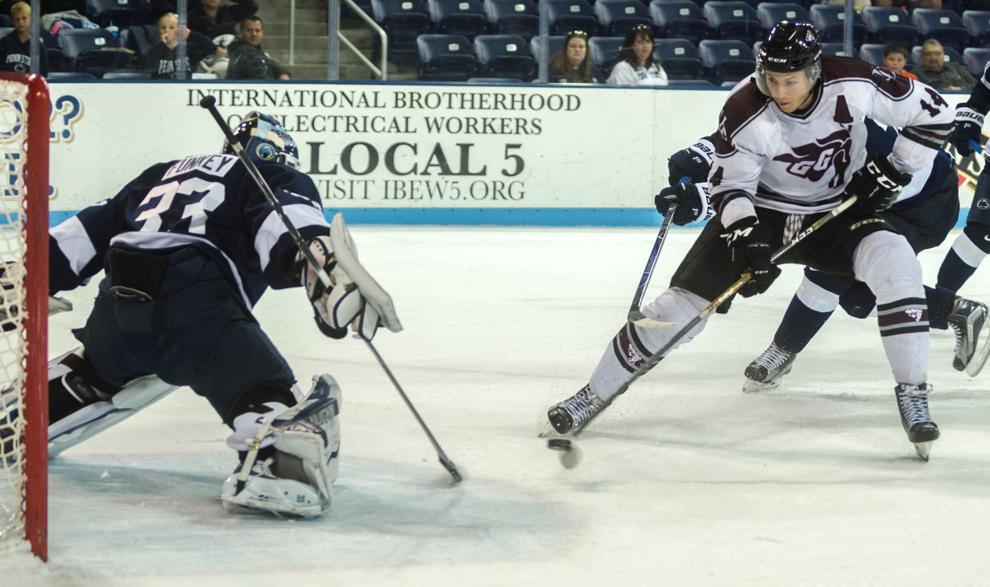 6. Chris Funkey has only started three games in goal.
Even though Gadowsky employed a multi-goaltender system for his first four years in State College, it's become increasingly clear that he's riding Jones as his No. 1 in net for the second straight season.
Gadowsky even regularly used three goaltenders in 2013-14 and 2014-15, having Eamon McAdam, Matthew Skoff and P.J. Musico at his disposal.
With a .897 save percentage, Funkey has performed adequately when called upon. He earned the blue and white's first shutout of the season against Arizona State back in November.
7. Trevor Hamilton's 11 third period points are tied for the most in the NCAA among defensemen.
Few, if any defensemen have produced like Trevor Hamilton has in the 2017-18 campaign. The senior from Grosse Pointe Farms, Michigan has been on the ice for more even-strength goals than any player in the entire NCAA and ranks near the top of almost every statistical category for defensemen.
Hamilton's most significant third period point came back in November, when he scored with 34 seconds remaining to force overtime at home against Michigan State.
8. The blue and white's 13-10-3 record.
Penn State was 18-6-2 and ranked No. 9 in the USCHO.com poll at this point last season. The Nittany Lions currently sit at No. 16 in the PairWise Rankings, meaning if the season ended today, they would miss the NCAA Tournament since the 16th and final spot in the tournament would go to the winner of the Atlantic Hockey Association.
The blue and white limped into the Big Ten Tournament with a 3-5-0 record in the final eight games of the regular season last year, only to go on and win the tournament as the No. 4 seed.
However, the Big Ten Tournament format changed this offseason, making it far more challenging for a team to pull off a run like the Nittany Lions did last year. From this year forward, higher seeded teams receive home-ice advantage rather than playing at a neutral site.
Down the stretch, Penn State will likely have to finish over .500 at a minimum to give itself a chance to make its second consecutive NCAA Tournament. A weekend series at No. 18 Wisconsin is up next for the Nittany Lions, who took five of six points from the Badgers back during the first week of January.