SOUTH BEND, Ind. — There Liam Folkes was, lying completely stunned on the ice just a few feet in front of Penn State's bench.
For all of the clutch Canadian's postseason heroics, Penn State's season was suddenly over just one game short of the NCAA Tournament.
And for once, it just wasn't Liam's night. The Big Ten tournament's all-time leading scorer was held without a point for the first time in seven games.
It was Cale's night.
Cale Morris, that is. You know, the goaltender who has terrorized Penn State over and over again and is now basically the difference between the Nittany Lions and the postseason.
Morris stopped 46 of 48 shots. Remember Peyton Jones in the 2017 Big Ten tournament? Try multiplying that by 10.
And even though coach Guy Gadowsky tried to recruit Morris to Hockey Valley a few years ago and has had a front row seat to watch him do this to his team quite a few times now, he was just as stunned as Folkes after the game.
The first words out of his mouth at his postgame press conference? "I don't know what to say."
The Nittany Lions outskated Notre Dame, like they typically do. They deserved three or four goals in the first period and another two or three in the second, but only two pucks found the back of the net.
The point here is this: Frankly, it's difficult to determine what constitutes a successful season for Penn State.
Should an NCAA Tournament berth be the expectation at this point? Absolutely. For all of its defensive shortcomings, this team has more offensive talent than anyone else in the NCAA and I'm not even sure it's close.
Did the Nittany Lions underperform relative to their talent level? Probably, and a 3-8-2 stretch from Nov. 14 to Jan. 24 is ultimately what held them out of the tournament.
So there are two boxes left unchecked.
And given that Penn State missed out on home ice in Allentown in the NCAA Tournament and that one of, if not both, Evan Barratt and Alex Limoges are very likely headed to the pros this summer, along with possibly Nikita Pavlychev and Peyton Jones, it's very easy to view this season as a massive missed opportunity.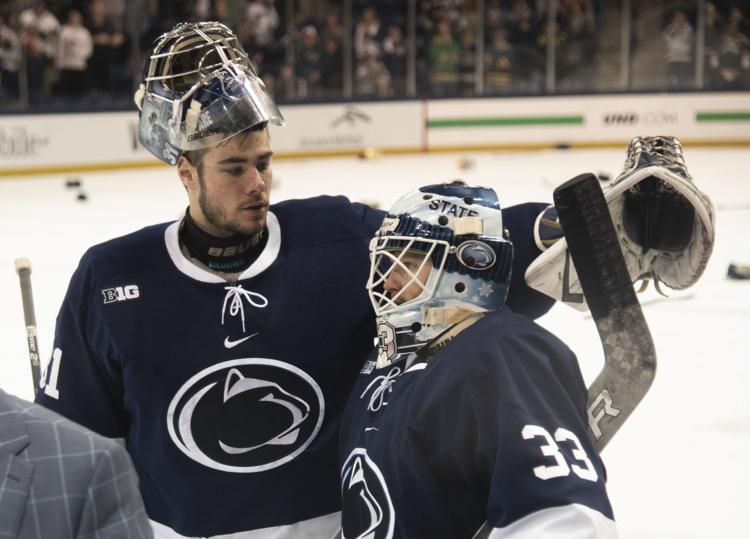 But I'm just not willing to go there.
This simply wasn't the same hockey team that we watched earlier in the year. I genuinely believe it would have beaten last year's team by a couple goals and done some damage in the postseason had it snuck in.
If you don't want to believe me, then take it from captain Chase Berger, who responded with the following when asked about how the team reacted to Notre Dame's game-winning goal that came with just 1:36 left in the second period.
"Early on in the year we would kind of panic a little bit," Berger said. "And just credit to how far we've come. We came in and we were like, 'Oh, we've got this. We're going to keep playing our game. We're going to score.'"
They didn't. But they probably would have against any other goalie in the country, and if that was the case, suddenly we'd all be calling this a successful season because they made the NCAA Tournament.
"Something we came a long way in is we stuck to our game the entire time," Berger added. "Sometimes we get away from that and tried to be something else and I thought we really made strides toward the end of the season."
Even objectively, it's a shame to watch a player lie on the ice in complete and utter shock at the season's close. That'll be the final memory for a senior class that's done a whole lot of winning over the past few years and has a lot to be proud of.
And yet, still, despite the fact that he was maybe 20 minutes removed from that feeling sinking in, Berger answered every single postgame question genuinely and thoughtfully. He's done the same thing since the day he stepped on campus, and after the final question, shook the hand of each member of the media and shared words of gratitude.
Again, it wasn't unusual. This is simply who Chase Berger is. And this is what Penn State hockey is.
Just a few minutes earlier and not more than 60 seconds after he sat stunned at his postgame presser, Gadowsky went out of his way to share a few extra thoughts on the game with me, a student reporter. I mean, the guy yelled at me across the street on a golf cart once as I was walking to class. He's the program's top-ranked ping pong player. He personally hands out dozens of boxes of pizza to students 10 minutes before important home games.
I could go on and on. I literally won a scholarship just by writing a column on how interesting he is.
For as exciting as the on-ice product is, it's the people that have made this program so much fun to cover. And for you, the fan, it's what makes them so fun to watch and follow.
So if you want to view this as an unsuccessful season, go ahead. I've been as critical as anyone of the program's inconsistency and defensive woes.
But then the last 14 games — stretched across a span of two months, which is a pretty decent sample size — happened, and I think it provides a more accurate glimpse at the future than you might think.
It was only a few months ago that I was wondering what this year's team would look like, and it sounds like Berger had a similar thought.
"Going into the season we talked about, 'Do we really know what our identity is?'" the captain recalled Saturday.
It's a roster full of skill-based players, after all, lacking a single Ricky DeRosa or James "Jimmy Pucks" Robinson grinder type forward.
The Nittany Lions grappled with that question all season long, but it seems like we've started to see that identity round into form over the past 14 games in which they've gone 9-4-1 and improved their goals against average by almost a full goal compared to the two-month stretch that preceded it.
They've scored plenty of pretty goals, but they've also scored some greasy ones. They've won battles. The forecheck pressure has been suffocating at times. That gritty style of hockey that made the program successful earlier than many expected was there, maybe not to the extent of the Nittany Lions' earliest squads, but it was more than just a hint.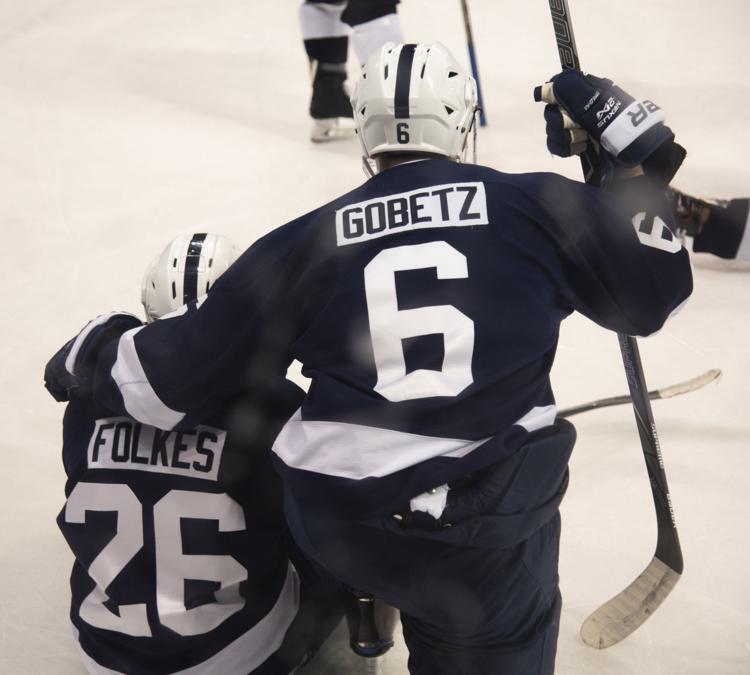 What changed?
"I think the underclassmen committed to it," Berger said, "and I have a lot of faith that the culture will continue."
Maybe Penn State loses a bunch of key contributors to the pros, maybe it doesn't, and of course, I'm still worried about the defense. Even with the slight improvement, the Nittany Lions' defensemen still make plenty of inexcusable mistakes in their own zone, including a couple on Saturday night.
Whether the blue and white can figure things out on that end of the ice remains the biggest question going forward. The good news there is that everyone should be back other than Kevin Kerr — who deserves an Edible Arrangement or some sort of gift from this fanbase for playing injured as often as he has — and Derian Hamilton.
Cole Hults and Paul DeNaples are both absolute rocks while Kris Myllari is pretty reliable himself. So a good amount of that unit's improvement could come down to whether Alex Stevens and Evan Bell will take that "next step" and if incoming freshmen Mason Snell and Hunter Carrick are ready to contribute immediately. It's more than that, of course, but things don't look terrible from a personnel standpoint.
Peyton Jones was good down the stretch but never great. If he's back, he'll have to be better and more consistent. If he isn't, they'll either have freshman Liam Souliere or sophomore Oskar Autio, who has just one start and three career appearances, in net.
However inexperienced they may be, Souliere, the CCHL's goaltender of the year, is talented and Autio appears to be a bit better than many anticipated.
As for the forward group, they'll have to replace two centermen with Berger and Ludvig Larsson graduating and might have a couple more vacancies in the middle depending on what Barratt, Limoges and Pavlychev decide to do.
Not ideal, obviously, but there's some talent coming in — Kevin Wall and Connor McMenamin, especially — and let's be honest with ourselves, even if Penn State doesn't have the best line in college hockey again, there isn't much need to worry about its forward production.
Exactly a year ago to this day, when the Nittany Lions were eliminated by Denver in the NCAA Tournament for the second straight season, I filed a story about how far they've come but how far they still have to go.
They're still not where they need to be yet, but they're closer, and I don't think they're too far away.
So even if they figured things out a little too late, even if this season has felt like a constant question of "What if?" and even if the final moment was rough, maybe the ending to this season wasn't so terrible, after all.
Penn State might be onto something here.
As long as Cale Morris isn't standing in the other net, of course.