DES MOINES, Iowa — As Penn State trotted onto the court for pregame warmups in its first round matchup with Texas A&M, chirps and insults flung from the lips of opposing fans, hoping to taunt a program unknown to the NCAA Tournament since 2011.
"You guys have a basketball team?" an Aggie fan shouted from the first level past the hardwood.
With a roster full of unsuspecting talent, loaded with transfers from smaller institutions and led by second-year coach Micah Shrewsberry, the Nittany Lions entered Thursday night a relative secret nationally. That was before blowing out what many believed to be the tournament's most under-seeded team, 76-59.
Underdogs in nearly every matchup played over its six-wins-in-two-weeks stretch, Penn State is beginning to receive the respect it deserves, but isn't letting it alter the culture it's built since the summer.
The Nittany Lions thrive off the negativity.
"We're underdogs, we're fighters," guard Cam Wynter said postgame. "Obviously, a lot of us either come from a small school or were underrecruited, so we kind of take that with us on the court. We've just done a good job of proving people wrong and it feels good."
Wynter, a standout scoring threat over four years at Drexel, transferred in to Shrewsberry's program in the summer. So did Andrew Funk, another high-profile scorer at the mid-major level, voyaging from Bucknell.
Both have been essential to Penn State's recent spark, with Wynter nailing two game-winners in must-win games over Northwestern and Maryland and Funk setting the program's NCAA Tournament-record with 27 points in the win over the Aggies.
"I think our team has a chip on their shoulder," assistant coach Adam Fisher said. "Penn State throughout the course of history, there's always going to be a little chip. So, if you didn't know Andrew Funk, now you do. Cam Wynter hits the two game-winners in two weeks. If you didn't know Cam Wynter, now you do."
Over 127 years, the Nittany Lions have never defined themselves as national competitors. Even when things began to turn around in 2020, a year that saw the program ranked top-10 in the AP Top 25 poll for just the third time in school history, the powers that be stripped an inevitable NCAA Tournament appearance from their grasp when the season folded due to the coronavirus.
Two players from that year's team, Myles Dread and Seth Lundy, still remain after half the roster departed following the controversial exit of its former coach Pat Chambers.
A connection with Shrewsberry's vision to shock the world with a written-off program was a major factor in Dread's decision to stay in town for fourth and fifth years despite the program's turnover.
"I've been an underdog my whole life," Dread said. "A lot of these guys in this locker room have been underdogs their entire lives. Under recruited, almost disrespected at times. We're used to it and we're just gonna go out there and prove it every night."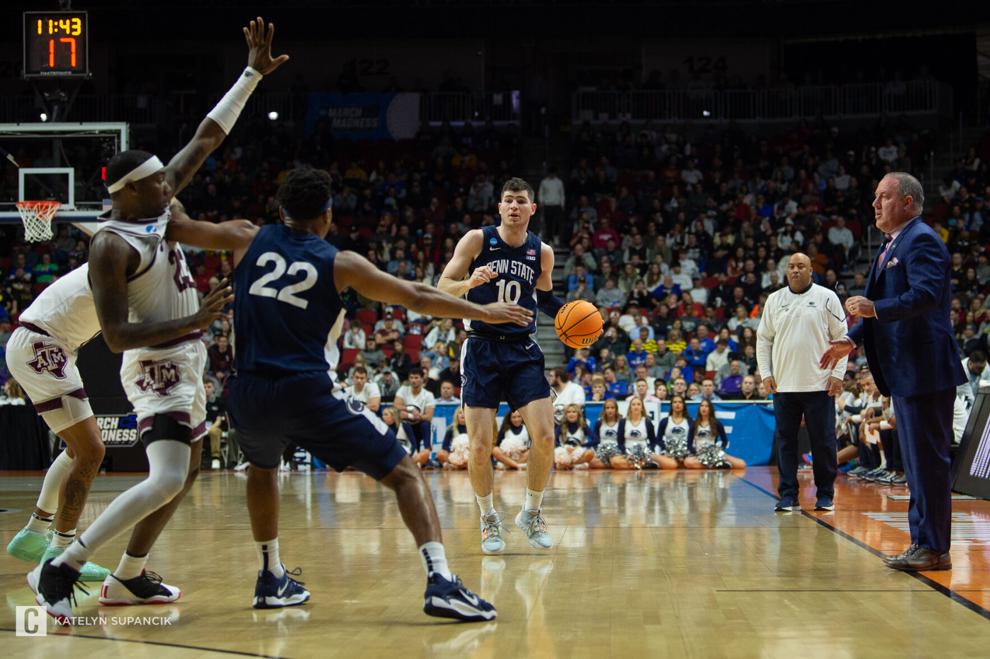 Like Wynter and Funk, All-American Jalen Pickett, who's quickly defined himself as one of the nation's best, was struggling to attract looks as a do-it-all guard at Siena just two years ago.
One of the only high-major coaches that showed him interest was Shrewsberry, who just last week said "no one wanted" him as a head coach after years of paying dues as an assistant with Butler, Purdue and the Boston Celtics before Penn State.
"I think that's what drew Pickett to him," Wynter said. "No one wanted him and it felt like no one wanted us, so I feel like we're just all a good match for each other. So we're just trying to keep that mentality no matter how many wins we get."
While the wins have piled up as of late, hopes of an NCAA Tournament appearance took a free fall in late February after the Nittany Lions blew a 19-point second-half lead to Rutgers at home.
Coinciding with the team's underdog mentality, adversity has seemingly only strengthened Shrewsberry's group, which bounced back for five straight victories and a trip to the Big Ten Tournament Championship after the loss to the Scarlet Knights.
"After that Rutgers loss, the practice leading to Northwestern, we were just clicking on all cylinders," Dread said. "Just playing together, holding each other accountable. Meeting with players, visiting with coaches, and just deciding that we're going to draw the line in the sand and go to the NCAA Tournament."
Losses can be draining, especially ones that were in full grasp of victory, making responding and moving forward that much more difficult.
But for Penn State, a team that thrives off adversity and being the cast out, it's no different than a trip to the bathroom.
"Whenever you take a poop, you never leave it in the toilet," Dread said. "You always flush it. So, like, that was our poop. We flushed it and moved on to the next game and played as hard as we could."
MORE BASKETBALL COVERAGE