After knocking off off Texas A&M in the first round of the NCAA Tournament, Penn State will face off against second-seeded Texas in the Round of 32.
Micah Shrewsberry's squad downed the Aggies behind a dominant night from deep, making 13 3-pointers in the contest. Fifth-year guard Andrew Funk led the way for the blue and white, shooting 80% from behind the arc while nailing eight 3-pointers.
The Longhorns, like Penn State, dominated Colgate with 3-pointers, scoring 13 of their own, while downing the Raiders 81-61.
Here's how our staff predicts Saturday's matchup between the two deep-shooting squads to shape up.
Seth Engle: Texas 70, Penn State 67
Penn State is days removed from claiming its first NCAA Tournament win in 22 years, winning by double digits against a team many believed to be the tournament's most under-seeded unit, Texas A&M.
Expect the margin of victory to narrow against second-seeded Texas on Saturday, a contest that could come down to the final minutes in determining a Sweet 16 appearance.
The Nittany Lions shot a miraculous 59% from 3-point range in their win over the Aggies. Micah Shrewsberry's squad could be in for another shocker over a Lone Star staple with another night like that from behind the arc.
Don't rule out Texas, though, which shot over 56% from deep in its first round victory over Colgate, a mark that competes with Penn State but adds a valid paint presence that has seldom appeared for the blue and white.
If the hot shooting continues for the Nittany Lions, a trip to Kansas City for the Sweet 16 is certainly up for grabs. If not, the Longhorns could claim victory due to their wide range of scoring means.
Spencer Ripchik: Texas 72, Penn State 66
If Penn State's shooting is hot, like it was against Texas A&M, it can beat any team in the nation — and that still stands.
However, Nittany Lion guard Andrew Funk, who led the way for his squad, shot 80% from deep and made eight 3-pointers, something that'll be hard to replicate.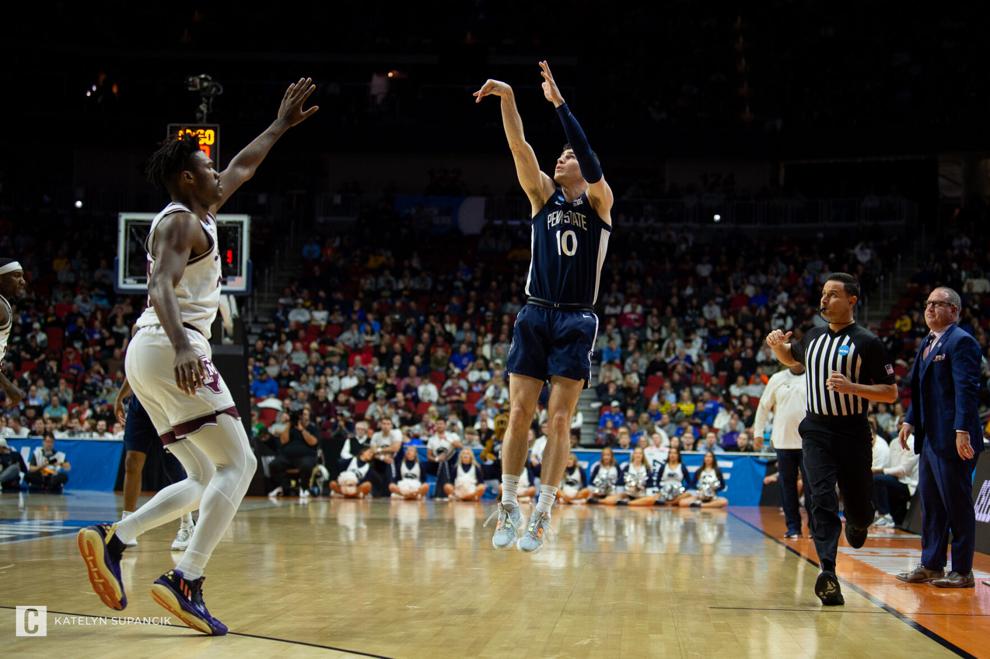 The blue and white is one of the hottest teams in March, but Texas is right there with it, and has won its last four games, with two of those wins coming over No. 1-seeded Kansas. The Longhorns dominated the Jayhawks in the Big 12 Championship game, 76-56.
Penn State shot lights out against Texas A&M, but Texas did too against Colgate. The Nittany Lions' lights-out 3-point shooting has been what pushes them over the hump this season, though they might've used it all on Texas A&M.
The Longhorns' defense is really good at forcing turnovers, and when Penn State has struggled and lost this season it has been because it failed take care of the ball. The teams' offenses are pretty evenly matched, but the Longhorns have a slight defensive edge.
Penn State's March magic is bound to run out at some point and against Texas might be where it happens. But, if the Nittany Lions drop 10-plus 3-pointers again, they're going to be hard to beat.
With that being said, Texas is the all-around better team, so the Longhorns will be advancing to the Sweet 16.
Tyler Millen: Penn State 76, Texas 70
Following a signature upset win against seven-seeded Texas A&M, that saw Penn State's first NCAA Tournament win since 2001, the squad will face a Texas team on a historical run of its own.
Slated as a two seed for the NCAA Tournament, the Longhorns hold their highest slot since the 2008 tournament and are just one of four teams in the country with a top-20 mark in Kenpom's offensive and defensive efficiency ratings.
Ranked as the fifth-ranked team in the country, Texas has been in the top 10 since the last week of January and will mark Penn State's fourth straight matchup with a team in the AP top 25, a daunting challenge for Shrewsberry's squad.
Looking to appear in its first Sweet 16 since the 2001 campaign, the blue and white will face off with Texas for the first time in program history.
Since taking over for Chris Beard, interim coach Rodney Terry has led the Longhorns to its 29th NCAA appearance in the last 34 tries, orchestrating one of the most dangerous offenses in the country. Led by graduate student guards Marcus Carr and Sir'Jabari Rice, who combined for 40 of Texas' 81 points against 15-seed Colgate, Texas boasts a formidable attack.
These squads can really shoot the ball at an elite level, but Texas held Colgate, the No. 1 3-point shooting team in the country, to a lowly 3-for-15 from beyond the arc — so Penn State must establish its strong suit early and often.
After cementing himself into March Madness lore on Thursday night, Funk will continue to be the catalyst for the blue and white's magical run through March, a run that'll ride on with one of the program's most remarkable upsets.
MORE BASKETBALL COVERAGE
Driving to the rim, Penn State freshman guard Kanye Clary was stuffed by two Texas A&M p…