Jutting out from a hallway on the bottom floor of the White Building sits a pair of nearly identical rooms with floors neatly lined with 46-foot-long metal strips.
The acoustics of the tucked-away alcoves send quiet echoes of the clanging of metal into the main corridor leading to the fitness center.
The sounds usually start as early as 7 a.m. and persist throughout the day, so subtle that many of the gym-goers whose heads are filled with whatever is blasting through their headphones probably don't even notice them.
For the past 33 years, those noises are often interrupted by the booming voice of Wes Glon.
"Many times you hear me, and I am raising my voice, because I am passionate," Glon said. "It's out of passion, out of excitement, out of involvement. I always tell kids, if I don't raise my voice, if I don't get into it, that means I don't care."
Since his hire in 1985 as an assistant coach for the Penn State fencing team before eventually taking the reins in 2013 , Glon has overseen the development of All-Americans, Olympians and 16 NCAA National Champion teams.
His fencing pedigree as an athlete, trainer and official has led to his rise as one of the most internationally well-respected coaches in the country.
But, although Glon has now made his home in State College for more than a quarter of a century, the journey to Penn State was far from direct.
Born outside of Warsaw, Poland, Glon quickly developed an affinity for athletics. He started trying sports, but finding one to fall in love with took time. Swimming involved too much sacrifice for boring practices, he was too tall for gymnastics and his mother didn't want him boxing.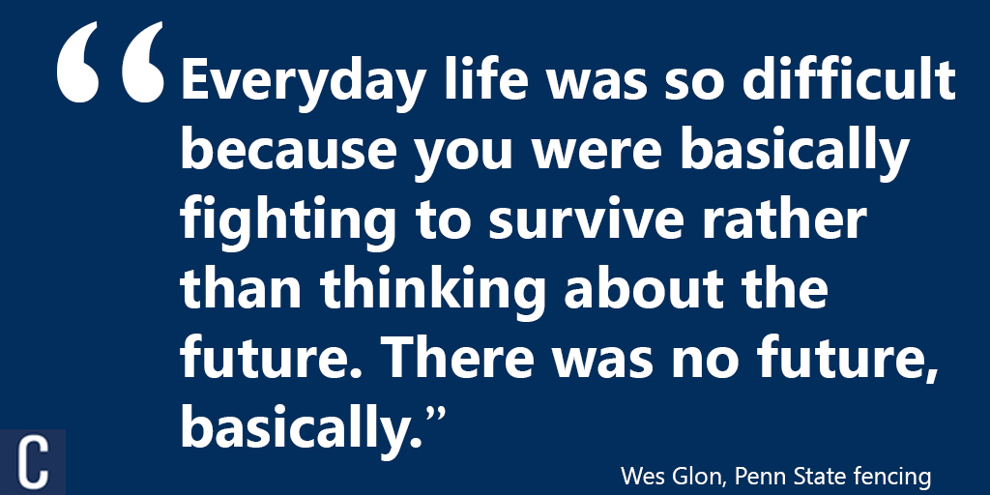 Eventually he was left with two options: soccer and fencing.
While he liked scoring goals as a soccer forward, Glon decided he was looking for an individual sport.
"I felt like I want to be responsible for my own actions rather than taking the credit for winning or taking the blame for losing," Glon said.
Fencing had also run in his family, as his uncle was a member of the Polish national team and started his own club.
With his heart set on fencing, Glon quickly climbed through the ranks and became one of Poland's top fencers. His hobby turned into a career, and Glon began making a salary thanks to his impressive results.
Glon was considered one of Poland's best sabreurs from 1975-1981, and in 1979 won the Bronze Medal at the World University Games.
During his successful stretch as a professional fencer, Glon was encouraged by his family to pursue a degree. Because fencers at that time were given a sizeable salary as a result of the communist system, very few continued schooling once turning professional.
But Glon managed to continue his fencing career while simultaneously earning a degree in physical education from the Academy of Physical Education in Warsaw in 1977 . Upon graduating, he accepted a position as an assistant professor at the school where he was introduced to the world of coaching.
"This was very challenging, but I really liked it," Glon said. "It put me on both sides of the spectrum. I was an athlete, but at the same time I was teaching how to teach. I started early. I didn't do this as a career, I was just an assistant and I was slowly getting into it."
Completely immersed in fencing, Glon continued to progress as both an athlete and a coach. He was even a hopeful to qualify for the 1984 Summer Olympics in Los Angeles .
But Glon's success on the fencing strip was paralleled by civil and economic unrest in his native Poland.
"At that time, the solidarity movement started and it was a very unknown situation," Glon said. "What would be tomorrow?"
It left Glon with a decision to make.
Although most Polish citizens at the time were prohibited from leaving the country, as a professional athlete Glon was one of few to own a passport. He and his wife had the rare opportunity to defect before what he suspected to be a bloody war.
"Everyday life was so difficult because you were basically fighting to survive rather than thinking about the future," Glon said. "There was no future, basically."
Glon understood the consequences of leaving the country — once he left, there was no coming back, and his family could pay for his actions.
But as the winter of 1981 approached, the situation became dire. People had stopped working, store shelves were empty and a contact of Glon's who was in the army warned of an imminent communist takeover.
Glon and his wife made the decision to leave.
"Once I made my decision I didn't look back," Glon said. "I was only going forward."
He was able to take advantage of the corrupt system to acquire a passport for his wife, and he informed government officials they would be leaving for vacation.
"At this point I just turned around, locked up my apartment and took off," Glon said. "We ended up in Austria with two suitcases. We left everything behind."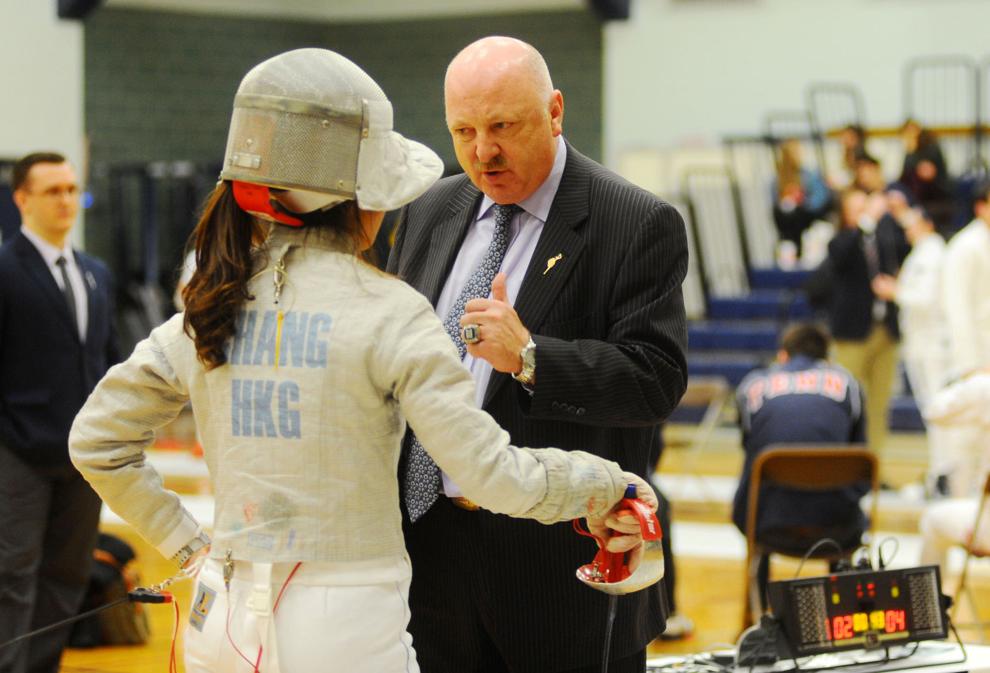 Less than two weeks after they defected, martial law was imposed on Poland in the hopes of avoiding Soviet intervention.
The coach of the Austrian national team was a friend of Glon's, and he was hired as an assistant. Glon held the position for two years, but the goal was always to immigrate to the United States.
Through Caritas , a Catholic humanitarian relief organization, Glon, his wife and newborn daughter were able to find a sponsor in Richmond, Virginia, and arrived in the United States in 1983.
The sponsor was of Polish heritage and, like Glon's wife, worked as a nurse, so she was able to assist with finding employment. Meanwhile, Glon still wanted to build a career out of fencing, and America provided him with a unique opportunity to do so.
"Once we got there I started looking around for fencing and there was not much around," Glon said. "American fencers on the international arena almost didn't exist. They were coming, but they didn't have any success. They were like the Cinderella's of the game."
Glon did some work as a coach at Virginia Commonwealth University and consulted at a few small clubs around the area. He eventually opened Richmond Fencing Club — which he eventually sold but is still active today — and accepted an assistant position at the College of William and Mary .
During his time in Richmond, some of his compatriots who had opened businesses in Polish sections of large cities encouraged him to join them, but Glon refused.
"I got the opportunity to go, but I decided no, because if I move over there I will eventually forget about fencing," Glon said. "I wanted to be back in my profession, because my profession is my hobby."
Glon became a referee on the national circuit, traveling to competitions across the country. That's how he met Emmanuil Kaidanov , Penn State's head fencing coach, who offered him a job.
Glon had another decision to make. Penn State's fencing program was more established than other schools in the Richmond area, but accepting the position meant cutting his income by more than half and moving for the third time in four years.
He accepted the offer, quickly opening clubs in Altoona and State College while serving with Penn State's team. He also founded the Central Pennsylvania Fencing Scholastic League , an organization which provides introductory fencing classes to elementary and middle school aged children.
Meanwhile, Glon earned the title of Maitre d'Armes , meaning he exhibited excellence in coaching all three weapons, and Penn State's program flourished and became an NCAA powerhouse under the guidance of Kaidanov and Glon.
"Every time they had an opening at every other university I never applied because I just love it here," Glon said. "I was comfortable with the clubs and the schools. They would contact me. I was happy as an assistant."
Glon eventually assumed Kaidanov's position in August 2013 , and although some of the administrative tasks which come along with it can be exhausting, Glon still boasts his hobby is his profession.
"My most favorite [part] is being with the kids every day," Glon said. "It's so enjoyable to see how you mold them. You're adding to other sources which are molding them to be good citizens."
The clanging which comes from those two rooms in the White Building is certainly audible.
What's harder to hear is the metal sword smacking against the dark protective chest and arm guards Glon wears for the better part of everyday.
"In fencing, you both sweat," Glon said. "I'm not standing on the side telling them, 'Do this, do that.' I put on a mask and spend six hours a day under the mask, running back and forth with them on the strip.
"If you sweat with someone, if you go through the thick and thin together, then you have a better bond, because you're both involved."