David Lucas held the weight in his right hand, standing at the back of the throwing circle as he stared out of the protective netting, mentally preparing himself for his second-to-last chance at winning a national weight title at the NCAA meet in College Station, Texas.
Behind him, the vector expanded outward with lines across denoting the different measurements.
He swung the weight next to his body a couple times to gain momentum, then began to swing it around over his head. To the beat of external claps, Lucas kept the weight swinging over his head with two gloved hands as he began to spin toward the front of the circle — a series of rhythmic taps, right over left feet, keeping his torso solid and wound tightly like a rubber band.
One, two, three, four. A whoosh of breath. Release.
A natural inclination
Lucas didn't start out throwing.
Beginning track and field in seventh grade in his hometown of Lititz, Pennsylvania, Lucas began as a sprinter. However, he said he noticed the throwers up on the hill next to the track, and asked the coach if he could try it out.
"I was a seventh-grader and I was probably 5-9, 5-10, I was really tall for my age," Lucas said. "I looked back and I saw people up on the hill on our discus vector and saw people throwing and thought, 'OK. That doesn't look too hard.'… I took to disc naturally. It felt good."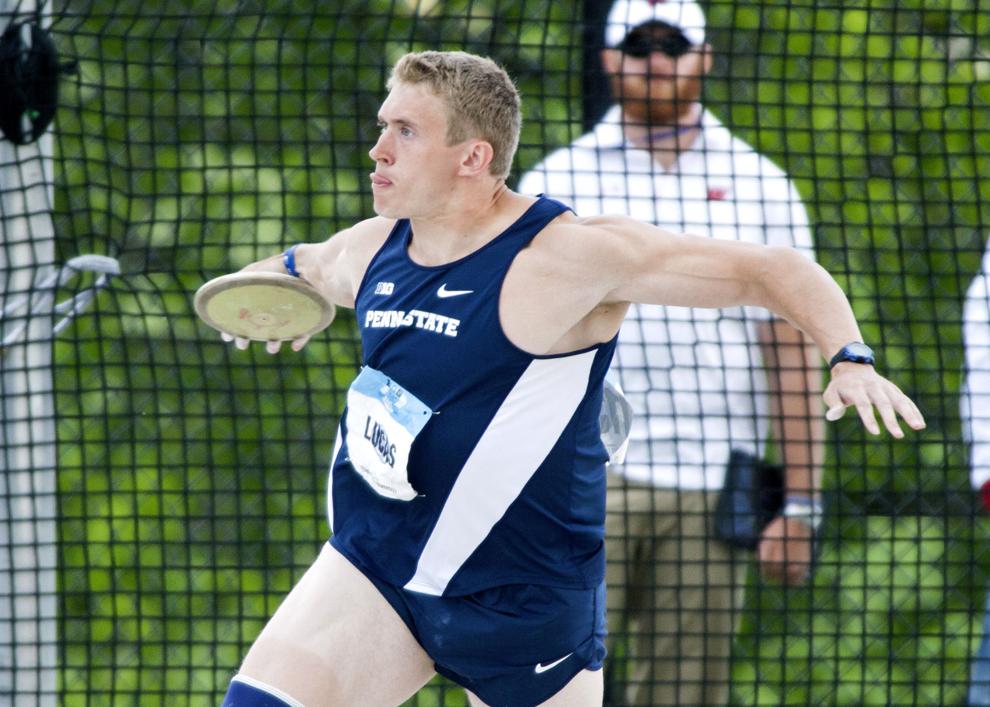 Until he was a sophomore in high school, Lucas said he did both sprinting and discus thrower before he finally settled on discus. He found a personal coach —a former throws coach from Shippensburg — and he said "things really started taking off."
In high school, Lucas won the Pennsylvania AAA District Three discus competition twice, finished second in discus at the 2015 Penn Relays, and was the runner-up in discus twice at the state meet. Penn State head coach John Gondak said he always had a "strong interest" in Lucas and had been watching him since his sophomore year of high school.
Despite growing up in a family composed majorly of Penn State alumni, Lucas was allowed to decide whether or not he wanted to continue the blue-white legacy. He said he looked around at other colleges, but decided on Penn State because of the educational opportunities he could get here for his future career in hospital administration as a bio-behavioral health major and health policy and administration minor.
Lucas' primary event is discus, with shot put as his secondary. Hammer throw was a "distant" third, according to throws coach Lucais MacKay, and Lucas started learning weight in the not-too-distant past.
The first two years of college, he said, were spent learning more technique, improving upon what he already knew, and learning how to adapt to the college implements and the college training lifestyle. He even learned weight and hammer toss.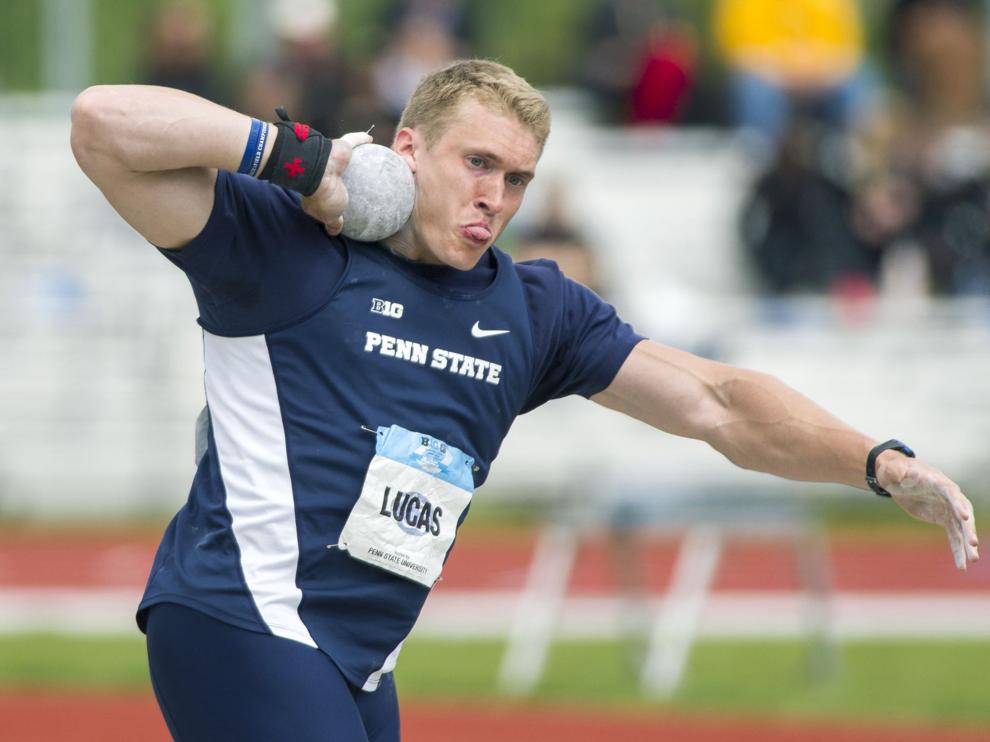 MacKay said Lucas' technique has come a long way since he began, and said Lucas has amassed enough technique to go out and coach athletes at a small college to get them throwing and get them throwing far.
"Freshman year was a time of a lot of building and lot of growth, kind of coming from the bottom up," Lucas said. "Sophomore year for me was a lot of building consistencies, being able to go out in any meet I wanted to in shot and throw my personal best from the previous year anytime I want…Now junior year, I'm starting to get comfortable with hammer and weight, and feeling a lot more comfortable with discus."
The hope for the future
MacKay has spent almost two full years at Penn State. And MacKay is no stranger to coaching an athlete to a national championship, also having been through the process himself.
After transferring from the University of Southern California to the University of Georgia, trading in a football scholarship for throwing implements, MacKay took home the national hammer throw title in 2003 and, by the time he graduated in 2005, he had accumulated six All-American honors and eight All-SEC thrower honors.
Before he came to coach the Nittany Lions, MacKay spent time coaching at Oklahoma State, Southeastern Louisiana and California Lutheran University. In total, MacKay said he has coached three national champions.
"This feels different though," MacKay said. "This feels like the first one."
"A, he's not supposed to be there. B, it's not his event. C, while he's gone to nationals before, he has thrown far less. So, there was no expectation. There was hope that if we followed the plan, things will turn out better. And then, it was home run, home run, home run, home run. I truthfully didn't think about it, until 'oh my gosh, there's one throw left.'"
During the competition, MacKay said he thought Lucas was one of five people who had a chance at winning the national title. However, while another thrower was the "crowd favorite," it was Lucas who came out on top — even after fouling his sixth and final throw of the competition.
MacKay said handling fame comes with winning a national title. Because track and field is not like sports like football or basketball, getting interviewed by reporters just once or twice a season is "kind of a big deal," so he's trying to help Lucas manage.
"It's tricky, not having a plan to have that much success indoors," MacKay said. "My plan is that this parlays into outdoors and be the same person, and look at what helped you have that much success, which is a lot of work and a lot of attention to detail. I [want to] make sure those factors stay consistent and, if those do, just enjoy the outdoor season."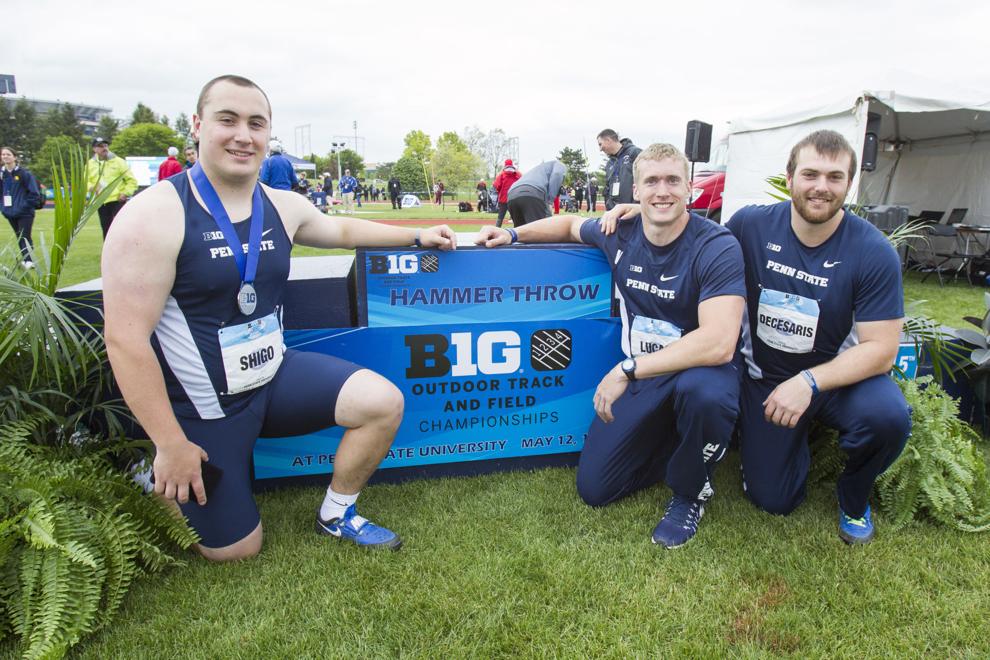 When Lucas walks into a room, because he's tall and muscular, people pay attention. MacKay also said there's three types of leaders: those who lead by example, lead by success and senior leadership. MacKay thinks Lucas is trying to mesh those together.
"I do love those three facets of leading," Lucas said. "This is my first big-meet win, so I think it can be easy to fall into leading by success…I think I'm going to try to blend all three of those and have a holistic sense of leadership. I'm not a captain on the team, but I'm really trying to take an informal leadership position to kind of mentor where I can and do what I can to keep pushing the team in the right direction."
Becoming a national champion
Upon release, the weight traveled 24.02 meters (78 feet, 9.75 inches) — two more feet than his previous personal best.
"I was really focused on overall the throw as a whole," Lucas said, "The tempo of the throw, and finishing with some excitement. There was no tiny technical cue that was going through my mind. It was just go out there and compete."
"Going into it, I knew I needed to stay on-balance through each throw. I knew I just needed to have some rhythm."
Lucas said when he walked into the circle on that fifth throw, he needed to have some sort of rhythm. For him, this was swinging the weight back and forth next to his die and following that with his steps toward the back of the circle — the slow beginning of a piece of music.
Then, there was an increase in the tempo — in the rhythm — as Lucas swung the weight above his head and focused on keeping it in control and being "on-balance" as he got his foot down for that first turn. From that point, Lucas said, he was trying to push into and against the ground to counter the weight of the ball to "keep putting that linear force into it as I'm going through each turn."
"Each time when my foot came down, I tried to put more and more force into it," Lucas said. "When I got to [turn] three, I just tried to stay really tight in my core and tried to stay centered and push into the ground and turn and lift the ball."
Lucas said this was the first time he "stayed center" upon releasing the weight. When a thrower is off-balance in a release, their chest will come forward and follow the fast acceleration of the ball out of the circle, or they will sit back to far and not get enough acceleration or enough height. In his meet-winning throw, Lucas felt the snap through his waist.
"I knew it had some heat on it when I let it go," Lucas said. "The first thing I did was look down at the ground to make sure I didn't foul out. I kind of stepped my left foot back to make sure I was on-balance in the ring and when I looked up the ball was still high up in the air. It kept going. I screamed at the ball, and I saw it land just before the 80-foot line and I knew that was the throw."
Lucas said he and his parents, who were in the stands watching him, cried after it was made official.
"I thought to myself: 'I finally did it,'" Lucas said. "I finally went out there and competed on a national stage the way that I've been trained. The way that I know I can go out and compete."