For Penn State's four person-coaching staff, leading the Nittany Lions is a year-round affair.
In addition to the 50-game spring schedule, coaches are involved in practice, preseason workouts, fall exhibition contests and recruiting. This large time commitment was a major topic of discussion in a recent NCAA committee meeting, ultimately resulting in a pair of votes that sent shockwaves across Division I college baseball.
In mid-April, the NCAA Division I Council met to discuss a plethora of topics surrounding collegiate athletics, two of which focused on college baseball -- the proposal to add a third paid assistant coach and the implementation of a new recruiting calendar. The new coaching structure did not pass while the fresh recruiting schedule was accepted, both of which were immensely significant decisions for the sport. 
The 40-member council is made up of athletic directors from across the country, several conference commissioners and a few other representatives. Certain members have a "voting weight" greater than one vote.
Currently, Division I college baseball teams are limited to just two full-time, paid assistant coaches in addition to their head coach and a volunteer assistant coach. The proposed legislation to add a third full-time, paid assistant coach was voted down by the council in a 36-25 vote, according to D1Baseball.com.
According to Baseball America, the idea to add a paid assistant was born three years ago and promoted by the American Baseball Coaches Association. It was widely supported by head coaches across the nation, as a 2015 poll showed that 85 percent of skippers were in favor of the change.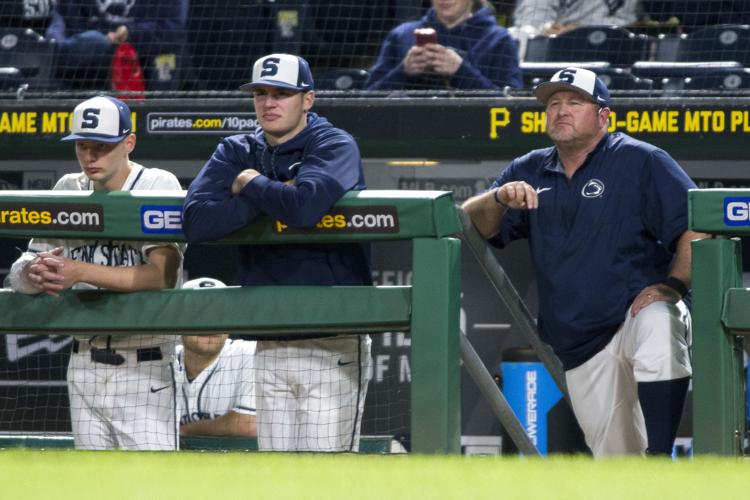 Penn State coach Rob Cooper was no exception to the majority, as he favored the proposal. Shortly after the vote was announced in late April, Cooper gave his take on the determination.
"Obviously, I was disappointed," Cooper said. "I'm a guy that firmly believes that we got to grow this game and we got to try to make opportunities for young coaches that are coming behind us."
Cooper also cited baseball's 12:1 player to paid coach ratio, which is one of the highest in all of college athletics. He went on to say that he believes adding a third paid assistant will positively impact the student-athletes and ultimately make the sport better.
But above all else, Cooper spoke from personal experience when evaluating the matter. For someone who has been around baseball nearly his entire life, Cooper understands the impact coaching can have on a person.
"I'm very fortunate, I'm in this game because I had great coaches that were mentors," Cooper said. "Everything that I think is sacred in my life… it's all because I got opportunities and had great mentors."
The legislation was sponsored by the Southeastern Conference and also included adding a third full-time, paid assistant coach in softball. Despite the SEC's support, only two other Power Five conferences, the Atlantic Coast Conference and the Pacific-12 Conference, voted in favor of the motion.
Along with the Big 12 Conference, the Big Ten voted against the idea. Representing the conference with a total "voting weight" of eight votes, Big Ten Commissioner Jim Delany and Iowa athletic director Gary Barta both voted "no."
Another vote on the proposal will not come until 2022 at the earliest, according to D1Baseball.com. However, Cooper is still optimistic about the future of the idea.
"Hopefully it opens up the conversation for us to continue to figure out a way to make college baseball better," Cooper said.
On the flip side, the proposal that did pass was a new recruiting calendar. According to Baseball America, the new schedule, which will take effect during the 2019-2020 school year, ultimately shortens the amount of time coaches can be out on the recruiting trail.
The schedule features new "dead" and "quiet" periods, categories used to describe the extent of recruiting during a particular time of year. During both periods, coaches may not travel off their respective campus to visit, watch or contact a high school player. 
Similar to the third assistant coach proposal, opinions on the new calendar were split, even among head coaches. Cooper is in favor in of the new recruiting structure, and believes it is a step in the right direction.
"One of the things we're trying to do is we're trying to bring a little more balance to the grind of recruiting," Cooper said. 
Baseball recruiting is currently spread over the entire year, with various time periods and limitations. Cooper believes the new schedule gives recruiting some structure and power over youth baseball, something it does not currently have.
"Baseball has never really had a recruiting calendar that I think benefits us as coaches in the sport," Cooper said. "We've let the summer teams and programs and showcases dictate when we are out and about recruiting." 
While its part of the job, Cooper cited the immense amount of time that recruiting takes away from coaching his current team as a major problem. He also mentioned time away from family as another issue.
"The fatigue that happens along with it is a real thing," Cooper said about recruiting. "So, we're trying to help that out a little bit."
Cooper finds the current recruiting period that overlaps with the College World Series to be the least logical of all. While at the national championship, coaches often have to leave Omaha, Nebraska and fly to other locations to watch prospective recruits play.
"That makes no sense to me," Cooper said. "You would never do that in football. You would never do that in basketball." 
Simply put, Cooper said his ideal recruiting calendar would feature longer dead periods in the fall and during the season in the spring when coaches are working with their current teams. While he enjoys recruiting, Cooper said that it's not why he became a coach in the first place.
"I got into coaching because I wanted to coach players and develop them and make an impact on them and mentor them," Cooper said. "[You] can't do that if you're not there."