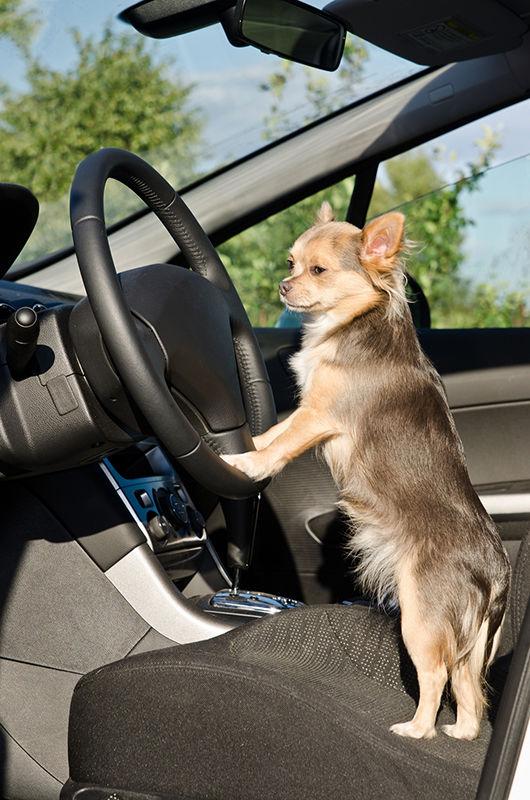 I recently adopted a dog, and he loves car rides. I went out and bought all of the supplies I think I'll need for my canine pal, but my friend keeps insisting that I buy a car seat or restraint for my dog.
I never see other drivers restraining their dogs. Their heads are always popping out of the window or hanging out between the front and back seats.
Do I really need to buy a car restraint for my dog?
Thank you for adopting a dog and giving him a new forever home. Car rides are great for dogs. They get a chance to explore their surroundings and get some fresh air.
But your friend is right. You should be using a restraint when riding with your dog in the car. In fact, some states have laws that require seatbelts or some other type of restraint when dogs are traveling in vehicles.
You're not alone in ignoring these laws or suggestions. Only 16% of drivers use pet restraints. In another survey, 31% of pet owners admitted to being distracted by their dogs while they were driving, and 59% admitted that they engaged with their pet at least once while driving.
But failing to restrain your dog puts his life and your own life in danger if you don't use them.
Even if you live in a state that doesn't have pet restraint laws, you might be charged under distracted driving laws – especially if you're traveling with your dog in your lap.
In some states, drivers can be charged with impeding the safe operation of a vehicle if they're traveling with an unrestrained animal.
Think about this: a 10-pound dog can exert 500 pounds of force in a 50-mph crash. An 80-pound dog can exert 2,400 pounds of force in just a 30-mph crash.
There are many products on the market that can keep your pet safe and ensure that you're following the law, including:
Dog safety belts and harnesses
Dog tethers
Hammocks
Barriers
Crates
Car seats (ideal for small dogs)
All of these restraints are easy to use and will help keep your dog from flying forward in case of an accident. As far as type is concerned, it's really a matter of preference. Car seats tend to work best with small dogs, but safety belts are great for bigger breeds. Hammocks are excellent for dogs of all sizes, especially if you have more than one pet.
These products come in a wide range of prices, too, so you're sure to find one that you can afford. You can also put your crate in the car and keep your pup in there.
If you want to travel with your dog in the car, you should make his safety your top priority. Restraints help you do that. You wear a seatbelt, right? Your dog should be, too (or at least something that will keep him from being flung around the car in an accident).
Pet restraints become even more important if you're taking your dog on a road trip. The last thing you want is to have your dog distract you while you're driving on the highway at 75 mph.