On Monday, members of the Pennsylvania Student Power Network, along with some others, held a small rally on the steps of Old Main to pressure Penn State President Eric Barron to denounce and defund "hate groups" on Penn State's campus.
Hate groups are obviously bad, and I would be all for defunding and denouncing State College's local KKK chapter or some other white nationalist front, if such an organization existed.
These protesters were specifically targeting Penn State's Turning Point USA chapter and the Bull Moose Party, a campus organization founded to support Donald Trump in the 2016 election.
The protest at Penn State was in solidarity with similar protests happening at Indiana University of Pennsylvania against Charlie Kirk, founder of the conservative TPUSA, who spoke there Sunday night.
While I am not a fan of Charlie Kirk and his organization –– which at PSU does not even receive university funding –– or the Bull Moose Party, neither advocate hate crimes, racism or anything of the like. The Bull Moose Party blindly follows Trump wherever he goes, while Charlie Kirk and TPUSA mainly crank out bumper sticker slogans and whimsical posters about how capitalism is cool.
These protests follow a pattern from liberals that we've seen not just on college campuses, but basically everywhere across the country. If your opinion does not fall within the small range that is acceptable to the left, they will come for your platform and attempt to get you fired, defunded or boycotted.
Last week, a campaign to get conservative writer Kevin Williamson fired from his post at The Atlantic over his abortion views succeeded.
Also this month, Twitter CEO Jack Dorsey retweeted an article about why bipartisanship is dead and how America needs to move to a one party rule by Democrats because, "one side or the other must win." His comment: "Great read." Is this really the guy we want controlling who gets banned and who doesn't?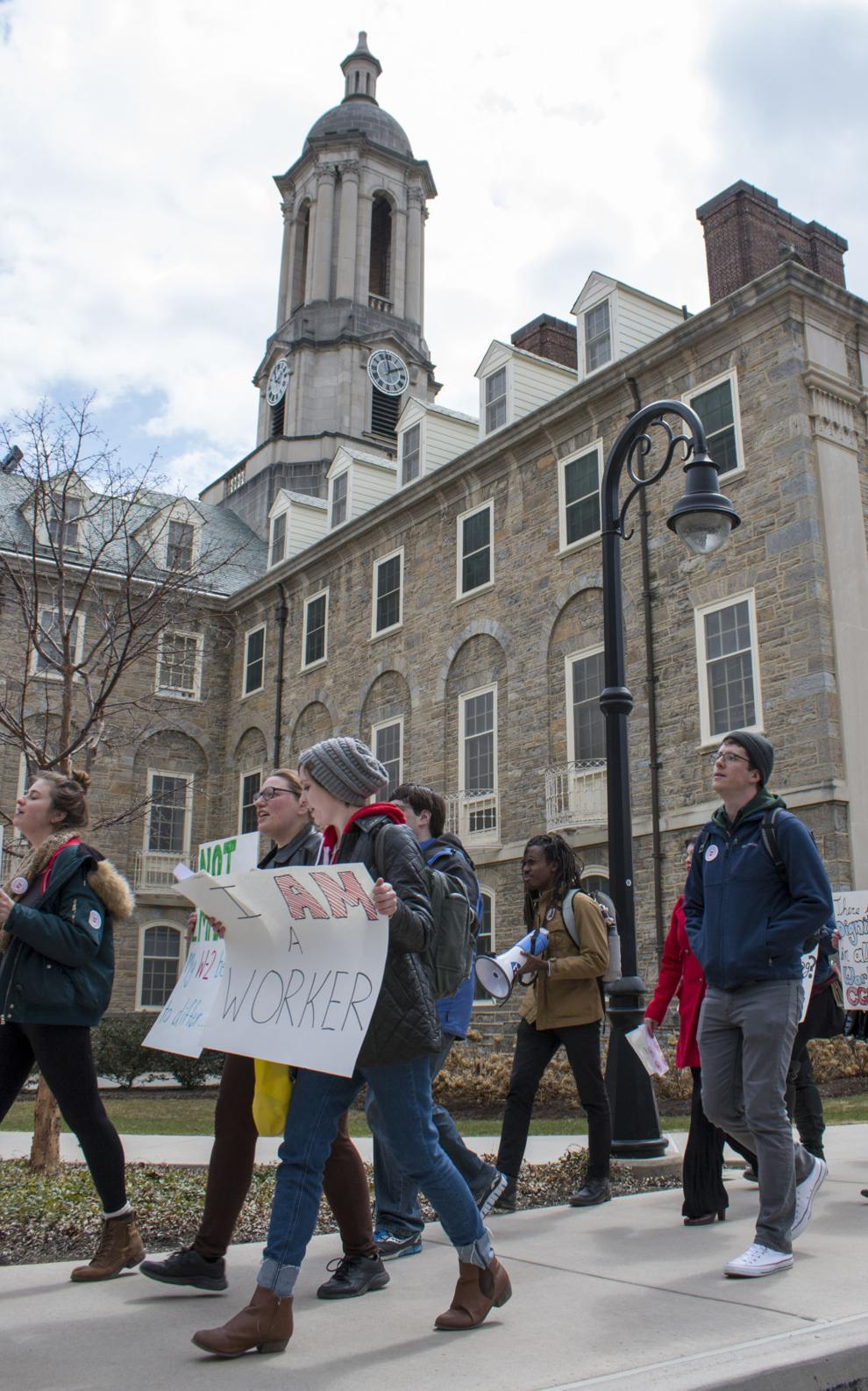 This is, of course, not to mention the proliferation of attacks on college campuses against conservative organizations and conservative speech.
Last year when Ben Shapiro spoke at UC Berkeley, leftist protesters rioted on campus and downtown. Nine of them were arrested. The security for the event –– one tiny-framed man speaking into a microphone –– cost $600,000.
When Shapiro came to Penn State in 2016, protesters banged on the doors outside the event in the Sparks building, shouting, "Shut him down."
Just last year, a Turning Point USA chapter at Santa Clara University was denied recognition by the student senate and the student court. They claimed that TPUSA was racist somehow and that it went against the school's Jesuit mission, without any evidence.
Santa Clara's Vice Provost for Student life later overturned the decisions of the students who sought to prevent TPUSA's presence on campus and recognized the chapter.
Similarly notable at the Penn State protest Monday was the complete lack of evidence from the participants about any hate from TPUSA or the Bull Moose Party. Organizers said there was a general anti-immigrant sentiment from TPUSA and Bull Moose, but the claims lacked specificity and facts to back up their arguments.
What's most ironic about this whole situation are the speakers at the event. One was Christine O'Donovan-Zavada, a professional Planned Parenthood organizer and avowed communist, while another was a member of the United Socialists.
Socialism and communism killed almost 100 million people in the 20th century. It's now doing the same in Venezuela, starving the population in what was once a prosperous country. Abortion, Planned Parenthood's favorite issue, has killed over 50 million babies since the Roe v. Wade decision.
Those are facts.
So why don't you see conservative students trying to get those that promote socialism, communism and abortion defunded or de-platformed? Because instead, they fight for an open debate on the battlefield of ideas, not in the convoluted world of university bureaucracy or in actual battlefields some leftist groups have created on the streets.
If an actual campus organization starts preaching hate, then we'll take a look at their funding. Until then, let's quit it with the thinly veiled targeting of anyone we disagree with.
Tyler Olson is a sophomore majoring in broadcast journalism and political science and is a columnist for the Daily Collegian. Email him at tso5043@psu.edu and follow him on Twitter at @TylerOlson1791.
University President Eric Barron was given a list of demands — not everyone agreed with them.