Pewdiepie's meme *clap* review *clap* may be on its way to becoming illegal.
The European Union approved a copyright directive 438 - 226 that the internet is up in arms over. Our beloved captioned pictures of doges, perfectly-edited movie clips, videos of people caught mid-hilarious-position shooting into the stars and the trolling "Rickroll" are in danger of becoming censored in the EU.
The directive is intended to give credit to original creators, but it comes at a cost to everyone who wants to share the content those creators make. Articles 11 and 13 of the directive are where the controversy lies. Respectively dubbed the "link tax" and "meme killer," the hyperlink tax and upload filter are reasons for dispute.
The controversial copyright directive is essentially the EU's version of the United States' effort to repeal net neutrality protections.
Article 11 would require platforms, such as social media and news outlets, to pay publishers of links or works they implement or reference. A few exceptions are laid out to omit insubstantial contributions and noncommercial uses of content from the rule but the exceptions are too vague to be effective.
Article 13, though, is where the real battle is. It's denoted to protect original creators by striking down re-uploads of their content or by requiring platforms to pay to license the content for use.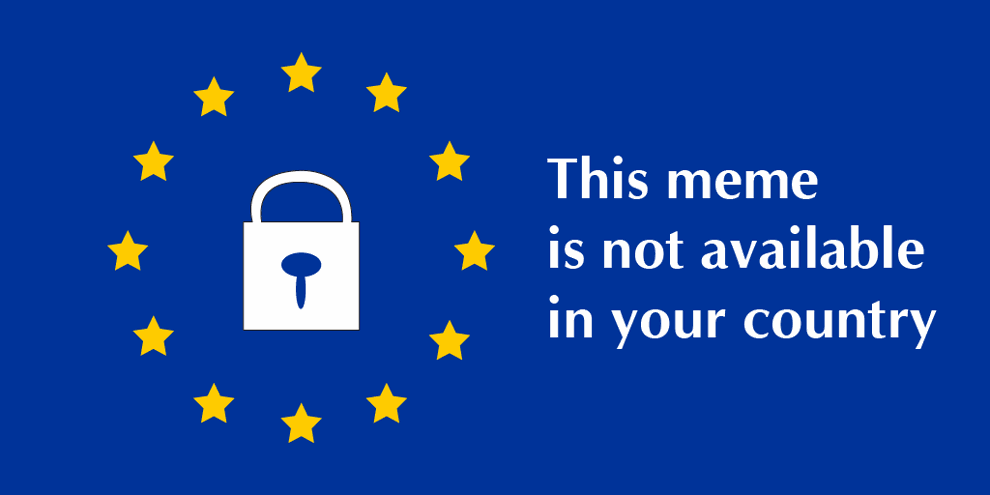 Memes commonly build off of copyrighted images, pictures and songs.
The copyright directive is not currently enforced; it still has to go through months of steps and negotiations before another vote is tallied on it in January 2019. If it does pass, the internet is sure to have issues with it.
Platforms would have to develop artificial intelligence smart enough to detect copyrighted material and to differentiate memes (if they are defined as an exception) from the rest. This will give large tech companies an immediate advantage over startup websites because they have the funds to invest in developing and implementing an acceptable AI.
Select uploaders would be prone to their internet contributions being pulled down preemptively due to people submitting false reports of copyright abuse on them. Pewdiepie, who lives in the U.K. and has 66 million subscribers on YouTube, for instance, has had to re-upload videos taken down due to people who dislike him spamming the report for copy strike feature.
YouTube, which has billions of active daily users and hundreds of hours of videos uploaded to it every minute, lobbied against article 13. This alone is a telltale sign the directive should be a no-go. YouTube already has a strict copyright algorithm in place that has given its community grief.
Let's Plays and vlogs are vulnerable to getting demonetized or claimed for copyright infringement. YouTubers have had to find workarounds to dodge what they called the "Adpocalypse" by inverting videos and overlaying sound bites to avoid detection by the AI. A thumbnail of a video game character can be enough to warrant action.
YouTube is probably one of the most knowledgeable platforms when it comes to how copyright restrictions affect internet users, so its opposition to the EU's directive should be taken seriously.
So, YouTube, I just wanted to let you know — before writing this constitutes copyright infringement in parts of the world — "Hey now, you're an all-star."
Along with the platforms that have taken to fisticuffs with the EU, internet users are the real MVPs. One of the more commendable and funny ways they are fighting back is to ironically turn the EU against itself by making the EU flag a meme.
I have to give the Europeans praise for their rebuttal. It's almost as comical as when the good people of the World Wide Web took advantage of a British agency and voted to elegantly name a $287 million boat "Boaty McBoatface" in 2016.
No matter how proficient AI gets to be at discerning copyright abuse versus memes, negative effects are guaranteed. People will be targeted and falsely reported, big tech will surge even further ahead of small companies than it already has, news outlets will have to push through inconvenient processes to legally include hyperlinks in their articles and there will be unnecessary censorship of European internet users.
While I am all for giving credit where credit is due, I also think creative interpretations have their place. Putting the proposed measures into effect would protect creators' content, but it would also bar people from sharing or re-illustrating it for the public to enjoy.
I don't always make memes, but when I do, I use copyrighted material.