I wasn't supposed to join The Daily Collegian.
I'm not a broadcast or digital and print journalism major, nor do I have any future plans at the moment to pursue a career in the field. On a complete whim, I tried out for the newspaper in the spring semester of my freshman year.
I distinctly remember sitting in a classroom in the basement of Sparks next to Alison Kuznitz, the Collegian's current Features and Investigation Editor, overhearing her tell one of her friends to try out for the paper. I butted into their conversation because I had written for my high school newspaper and was a little intrigued.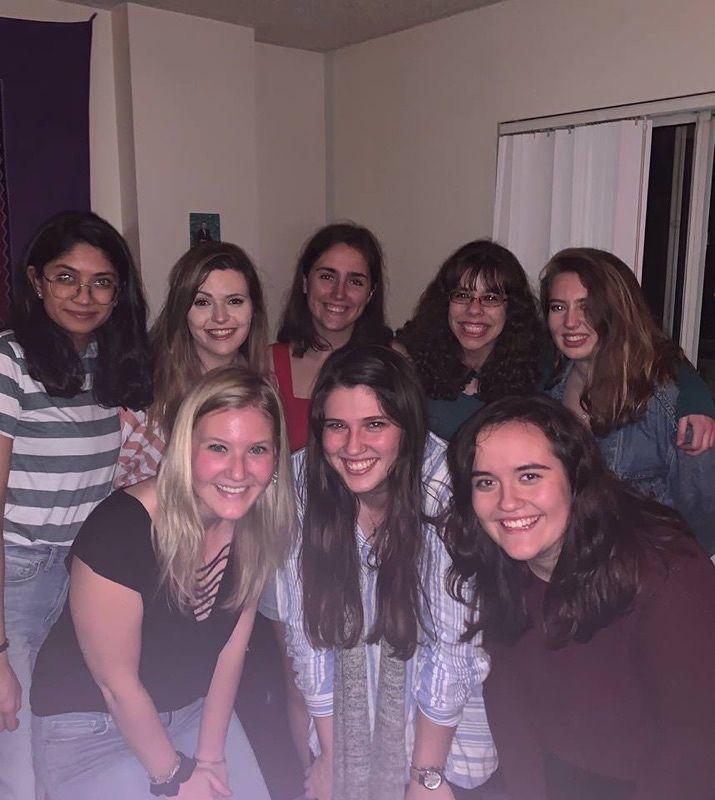 For those who do not know Alison, she is very convincing.
So, when she asked me to try out, I thought about it for a second before saying I would. I figured I didn't have much to lose, as I had not yet found my niche at Penn State. I have also always had a passion for writing; if this worked out, I would have an outlet to express that.
During my first two semesters on staff, I definitely flew under the radar. I wrote and did what I had to do, but I didn't really socialize beyond that.
Then after studying abroad the spring semester of my sophomore year, I seriously considered not reapplying to the Collegian for the fall 2017 semester. I enjoyed the Collegian and writing for it, but I was getting into the thick of my studies and didn't know if I could dedicate the time.
My mom — who has always felt that I should pursue a career in journalism — talked over the decision with me that summer. I realized I didn't want to regret not continuing my journey with the newspaper, so I applied for a reporter position as well as for a position on copy desk.
I honestly didn't think I would get the copy desk position, I just applied to put myself out there. But to my surprise, I did. In the moment, I have to admit I regretted expressing my interest in the position because as the story goes for my time at the Collegian, I had checked the box on a whim.
But now, I consider that the best decision of my college career.
During my junior year on staff as an editor on copy desk in the fall and as a columnist in the spring, I learned a lot, met and worked with wonderful people and made some great friends.
Come fall 2018, I worked as the opinions editor, which was perhaps my favorite job I held while here. It was incredibly rewarding to function as the voice of the Board of Editors for the semester, and I thank my friends at the paper for encouraging me to apply for the job.
Back in fall 2016, my first official position on staff was as an arts and lifestyle reporter. Now as I serve my final semester on staff as the arts and lifestyle editor, I feel like I have come full circle.
A lot of people come into college knowing exactly what career path they want to take and knowing exactly what organizations they want to join. While there's absolutely nothing wrong with that, I was not one of those people. There is also nothing wrong with figuring out your next steps by taking encouragement from others and doing things on a whim.
The Collegian taught me invaluable information about journalism, reporting and writing I never would have learned otherwise. But I also learned a lot about putting yourself out there and the importance of occasionally acting on a whim.
The friends I have made this past year and the friendships that have bloomed have been the best part of my four years at Penn State.
***
For being the first really good friend I made at the Collegian, I want to thank Aabha Vora. I remember sitting at copy desk while you were senioring talking with you about the Eagles and your study abroad plans. I am so thankful for our friendship, and I can't wait to see all of the great stuff you and Caitlin produce on photo staff again next year.
For encouraging me to apply for opinions editor and for arts and lifestyle editor, I have to thank Kara Duriez and Andy Kalmowitz. I know I can be a frustrating person to deal with at times, but I want to thank you for being great friends and encouraging me to continue my journey with the Collegian. If your wallet is what you seek...
For opening the door for me to work at the Collegian, I have to obviously thank Alison Kuznitz. If I'm being completely honest, if you hadn't talked to me about tryouts that day in our English 138 class, I probably never would have joined the Collegian. Todah rabah!
For my parents, I'd be silly not to thank you for all of the support you've granted me — and continue to grant me — over my college career. When it comes to the Collegian, I think you've read everything I've written five times over and have bins filled with newspapers that contain my work. I am so incredibly lucky to have you guys as my support system and encouraging me to do what's best for myself.