For International Holocaust Remembrance Day, Penn State Hillel hosted guest speaker Alon Yitzhaki to share his personal connections to the Holocaust before the organization invited community members to participate in a name-reading vigil.
As the Peter J. Rubinstein Senior Jewish Educator for Hillel at Penn State, Rabbi Rob Gleisser helped the community honor and celebrate those impacted by the Holocaust.
"The trauma of the Holocaust is something that we… survived," Gleisser said. "To remember it, we have to hear from family members and people who have these personal experiences relating to the Holocaust."
First, Holocaust speaker Yitzhaki attended via Zoom and spoke to students both online and in person, Gleisser said.
Gleisser said Yitzhaki "told his family story."
"They were victims of the Holocaust and escaped the tragedies," Gleisser said. "... The most powerful stories come from personal connections, so it was really impactful to hear somebody whose grandparents were personally impacted by the tragedies of the Holocaust."
Gleisser expressed that tragedies "happen to real people who are living real lives."
Following Yitzhaki's speech, Hillel hosted a "name-reading vigil," in which individuals read the names of the "thousands of children" who were victims of the Holocaust.
The list was 79 pages long and took over two hours to read, Gleisser said.
"On those pages were the name of the victim, the age they were when they were murdered and the place of their murder," Gleisser said. "We gave each person a moment of silence, a moment where they [could] be recognized as the human being that they were, no matter how short their lives were."
Gleisser said the significance of these events is "not just a way to recognize the day — Holocaust Awareness Day — but it's also to honor the victims."
"And even a simple act of sharing that person's name… for that moment, brings that person back to life," Gleisser said. "For that moment, we get to experience who that person was."
That evening, members of Hillel gathered to celebrate Shabbat.
"I think that's something that's really beautiful about the Jewish people," Gleisser said. "In many ways, Judaism doesn't seek out perfection, but it seeks out truth, and the truth is that there is sadness in the world — there is atrocity in the world."
However, Gleisser said "there's also the ability to be joyous and… the opportunity to experience happiness."
"So, we were able to balance the weight of Holocaust Awareness Day and the joy of Shabbat," Gleisser said.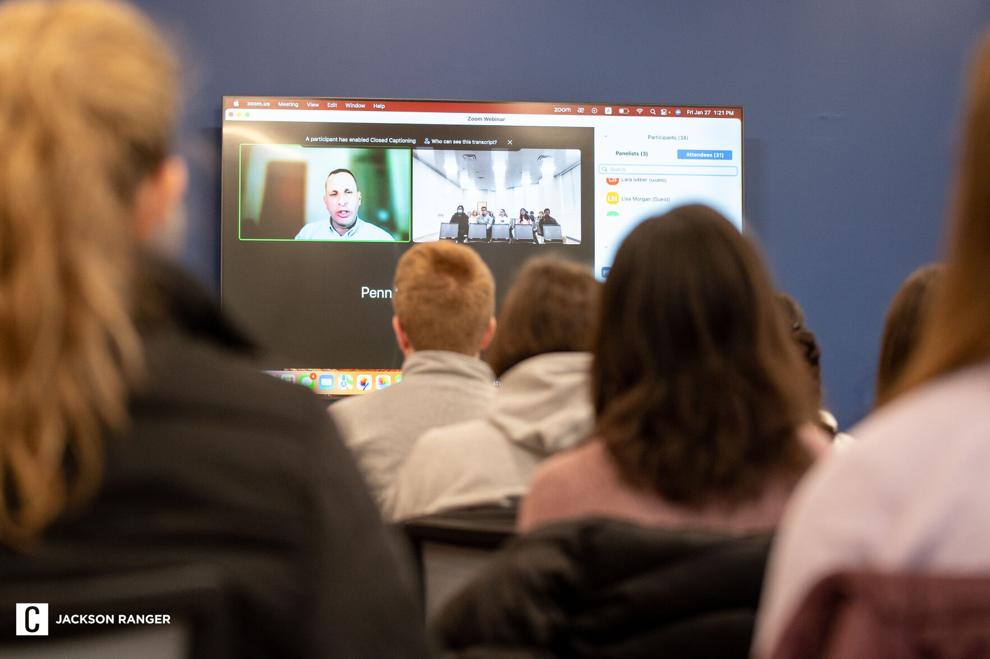 Gleisser said community bonding plays an important role in healing.
"We came together over a festive meal and prayed and ate together as a Jewish community," Gleisser said. "Being able to do both of those things over the course of six hours or so… was a really powerful part of the game."
For students who attended, Gleisser said he hoped they saw the human component of the Holocaust.
"When we think about Holocaust education, our job as educators and then our job as learners, is to remember that the victims of the Holocaust weren't just numbers on a page," Gleisser said.
Gleisser said it's important for people to "preserve" the memories of the victims as individuals.
"They weren't just 6 million victims; they were 6 million human beings," Gleisser said. "They were individuals who walked this earth, who could have been our relatives, could have been our family."
The goal of the event, he said, was to "transition this experience from one of a distant study of a historic past to a contemporary study of a living memory."
Gleisser added the access to technology provided by "the modern age that we're living in" is a "wonderful" resource for students interested in Holocaust education.
Because these resources are available to "anyone who [wants] to search," Gleisser said those interested "can do research from [their] own living room."
For those seeking additional resources, Gleisser recommended Elie Wiesel's "Night," Anne Frank's "The Diary of a Young Girl" and Katherine Corcoran's "In the Mouth of the Wolf."
In addition, Gleisser advised curious students to "just talk to people."
"Most American Jewish people have a personal connection — or at least [are] one or two degrees of separation from a personal connection — to the Holocaust," Gleisser said.
"Whether it's International Holocaust Remembrance Day or Yom HaShoah," Gleisser said, "the moments when we can seek out Jewish and non-Jewish family members of victims of the Holocaust… are opportunities for us to seek out these personal stories that will create a connection to this tragic history."
He said this experience shouldn't be an isolated one but a "history that we have all lived through, a history that we share, not only as Jewish people, but as human beings around the world."
"Germans didn't commit the Holocaust. Human beings committed the Holocaust," Gleisser said. "Jews weren't the only victims of the Holocaust; human beings were victims of the Holocaust."
Morgan Kohler held the last shift in Friday's name-reading vigil. She said the experience "helped [her] wrap [her] mind around just how big of a tragedy the Holocaust was."
Kohler (sophomore-accounting) said even when she was reading, "it was really hard just to listen to the ages and to see the ages on the list."
Kohler said ages included numbers "less than five" and even down to "one."
"They already had to go through so much that no one should ever experience," Kohler said. "I don't know what to say — it kind of put life in perspective."
Kohler said the current cold weather put into perspective the conditions of the concentration camps "and how… being cold for 30 minutes does not compare."
Kohler said "when people throw around numbers" instead of personalizing those impacted by the Holocaust, "you can't even really wrap your mind around what that means."
"I feel like I could never really grasp what it meant for that many people to die," Kohler said.
Kohler said she "always [tries] to think about it beyond just the numbers" but recognized "it's kind of hard if you don't have a personal tie."
For Kohler, she said her great-grandparents noticed the changing political landscape in Romania and were able to escape before facing persecution.
Due to the Immigration Act of 1924, the U.S. had a quota for immigration at the time, so Kohler's family settled in Panama.
Like Kohler, Hannah Koval also has a personal tie to the Holocaust.
Koval (junior-biology) said her grandfather's "whole family," aside from a few surviving members, was "murdered in the Holocaust."
Because of her personal ties, Koval helped prepare a graphic for Yitzhaki's presentation.
She said it's now the role of young people like herself "to carry these stories" and to "teach others and educate others about the Holocaust and antisemitism."
Koval stressed "it's important for people like [Yitzhaki] to tell their stories of their family if they know any."
"Keep sharing," Koval said.
When listening to Holocaust speakers, Koval said "it's important to listen to these stories… so we can remember their stories and remember history, so our generation will never forget, [and] it will never happen again."
MORE NEWS COVERAGE
Penn State Campus Recreation held its annual Blue and White Boulder Bowl in the Intramural B…