Tussey Mountain is a 50-acre ski resort with three chair lifts and one snow tube lift. The ownership of the mountain has changed hands since its opening in the 1960s, but it remains open to the public today.
Despite facing variable conditions and warmer weather so far this season, skiers and snowboarders at the resort still appreciate the convenient location and affordable ticket prices. To combat the unpredictable Pennsylvania weather, Tussey has relied on a snowmaking system that covers approximately 90% of its skiable terrain.
As the director of ski school operations at Tussey and a Penn State alumni, Andy Woolley said he can usually spot a large number of Penn State students at Tussey, especially on days with good conditions or lots of sunshine.
"I love seeing all the things they do in the office to get students out here," Woolley said, referring to a student-specific lift ticket discount.
He added that a trip to Tussey gives students "a way to get away from campus, forget about things, make some turns and get some sun on their face."
According to its website, Tussey Mountain offers a buy one, get one free all-day or five-hour lift ticket on Mondays to any college student who shows their ID card at the ticket office.
Woolley said he appreciates the student discount because he remembers taking advantage of similar deals when he attended University Park.
Woolley graduated in 1991 with a bachelor's degree in kinesiology.
Woolley also said he was an instructor for the Penn State KINES 11 and 12 courses.
"I'm fortunate to teach the kids who have been skiing a long time and who have great ski stories," Woolley said.
Woolley said he enjoys teaching because the course offers a great environment for "forging friendships" and discovering common interests.
"Each year, my students tell me that KINES 11 is the first kinesiology class to get booked up during registration," Woolley said.
Professor Laura Gilham, assistant director for campus recreation at Penn State, said via email that Tussey Mountain is "subcontracted" by Penn State to provide a facility for the "on-snow" portion of the course — approximately 40% of the overall class component.
Gilham also said Tussey Mountain employees don't participate in grading or other aspects of the course.
In an email, Gilham said the Tussey Mountain employees' "purpose is to coach students on snow with [Professional Ski Instructors of America & American Association of Snowboard Instructors]-focused skiing and snowboarding fundamental content that is given to them by Penn State."
Parker Brown has frequently taken advantage of student discounts and other school-sponsored opportunities at Tussey through his participation in the Penn State Ski Club.
Brown (junior-agricultural science) said he "skis at least once a week — both with and without the club."
"My favorite thing about Tussey is how close it is," Brown said. "You can't beat a 10-minute drive to go skiing."
With several ticket deals throughout the week, Brown said Tussey compensates for its "small size" with affordable prices.
"For such a small resort compared to others in [Pennsylvania,] Tussey has a very diverse feel to it," Brown said.
Brown said the resort features a "wide range of beginner terrain" to accompany the more advanced and intermediate slopes, including two black diamonds "for experts to gain more experience."
At Tussey Mountain, Brown spends most of his time skiing in the park section because he enjoys the wide spectrum of difficulty that can be found among the assortment of jumps, boxes and other skiing elements.
"When I'm not in the park," Brown said, "I can usually be found skiing 'Utah.'"
Utah is classified as a "more difficult" slope aimed at intermediate skiers and snowboarders, according to the Tussey Mountain website.
Reflecting on why he continues to visit Tussey, Brown said, "No matter how small the mountain is, it's always good to get outside and ski."
"I would definitely say that it's worth it," Brown said.
Rob Tawse, another frequent visitor at the resort, said he enjoys Tussey because of the "freshly groomed runs" that open at noon on weekdays. He said the skiing was "fabulous" because guests can "ski on fresh corduroy."
He said he enjoys the exclusivity of skiing down this advanced-level slope because there are always fewer skiers around.
"This year they still don't have any snow on the trail," Tawse said, "but when they have natural snow, it's a beautiful slope right up against the pine trees."
For a significant part of his time as a Penn State student, Tawse was unable to ski at Tussey Mountain because the resort was owned by private individuals.
Tawse said he was very excited when the mountain reopened to the public because alternative ski resorts couldn't match the convenience of Tussey's location.
"There's no place in the world where you can be on the slopes and skiing only 10 minutes away from your dorm," Tawse said.
Tussey offers an "inviting cafeteria" and "great bar" among other amenities, Tawse said.
"By the end of the day, you've just had a ton of fun and met all sorts of interesting people because Tussey is such a family resort," Tawse said.
Tawse also shared that Tussey has all sorts of two-hour programs and evening hours when interested guests can come out to ski for a reasonable price.
"Everyone says skiing is a really expensive sport, and at Tussey, it really isn't," he said.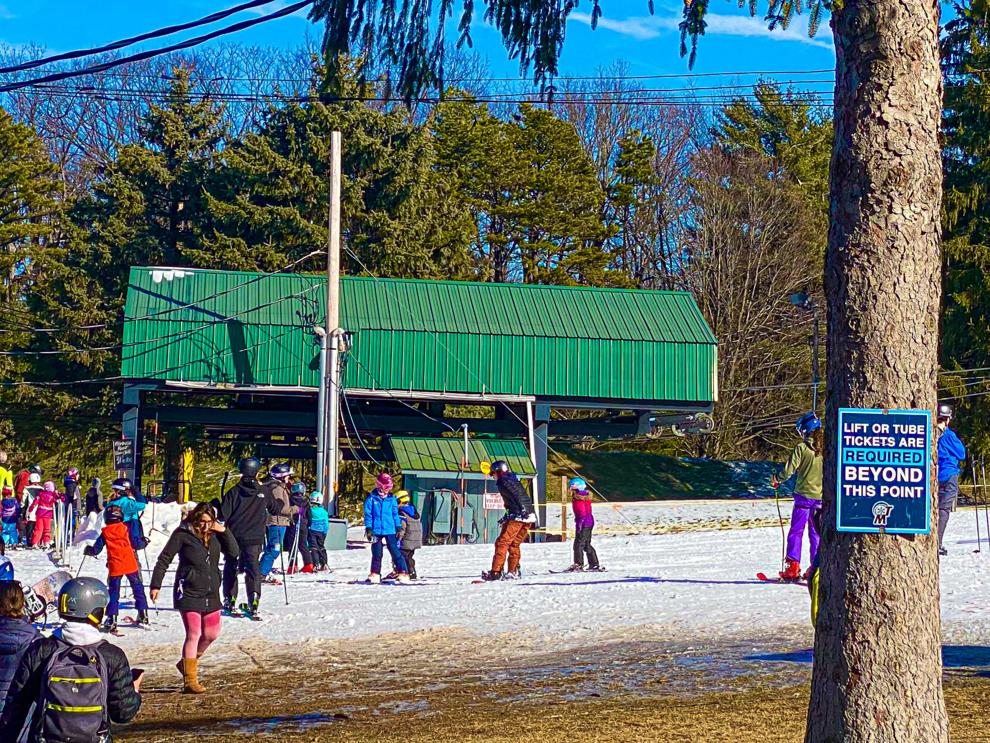 Jon Eckess, a ski patroller for Tussey Mountain, said February marked the peak of the ski season for Tussey's winter operations.
"The weather can really ebb and flow throughout a season, but once the snow hits the ground, people start coming out," Eckess said.
Eckess also served as a certified instructor for the Outdoor Emergency Care and Outdoor Emergency Transportation courses required for all prospective patrollers.
He said he's seen a "gambit" of injuries and severe situations throughout his time at Tussey. Nonetheless, he said "injuries are usually very few and far between."
Eckess said he often works alongside Ski Patrol Hill Captain Joe Horvath.
Horvath said Pennsylvania slopes used to open "around Thanksgiving weekend."
"But with global warming now, that challenge has been kicked further and further down the road," Horvath said. "Resorts no longer open in November and instead begin operations as late as December and into the Christmas holiday."
With Pennsylvania being in a variable region of climate, the temperature fluctuation can prevent snow build-up and severely impact the viability of skiing operations at both larger and smaller resorts, Horvath said.
"If you can learn to ski in Pennsylvania, that means you can ski anywhere in the world," Horvath said.
According to its website, Tussey Mountain is open for regular-season operations all week, with varying opening and closing times each day.
Anyone interested in visiting Tussey Mountain can visit its website for more information here.
MORE NEWS COVERAGE
Penn State's Gender Equity Center held a Penn State Police training session, titled "STALKED…