8:23 p.m. | St. Paul's Methodist Church
In the last hour of voting in the Pennsylvania 2018 midterm elections, a steady stream of State College residents trickled in to the social room in St. Paul's Methodist Church to cast their vote. While the number of voters rushing to the booths has gone down drastically as the day came to an end, volunteers at the polling booth said that the numbers have been surprisingly high.
Jordan Emely, a volunteer who hadn't stepped foot outside in over 12 hours, said it had been busy all day long.
"The current administration is politically charged both ways. I think that's why the turnout has been so large. Don't get me wrong, I think it's a great thing that so many people are coming out and voting and I hope we vote like this every single time we have an election, this country will be in a better shape than it is right now. But I think it's also bad because it polarizes people and I don't think the way to make a change in this country is to do that," Emely (sophomore - secondary education in social studies) said.
Emely said he doesn't mind the exhaustion of the job though, because citizens exercising their right to vote is all that mattered.
Eric Zager, who is looking to take "the money out of the politics," voted for Libertarian candidates this year.
"It's the root of all the evil. The parties spent millions of dollars on the election campaign this season. Do you know how many mouths that could have fed," said Zager (senior - finance). "[The Libertarians] are not paid by JP Morgan, AT&T or Comcast. Libertarians don't take the money. People keep voting for the same things that never change so we have to change it up. Both the big parties are not going to give us that change."
Some students don't see the difference between the presidential elections in 2016 and this year's midterm elections.
"Both times had a great sense of urgency for me. I don't really see a difference. I guess now, I feel like I'm ready if the outcome is bad. Last time, I wasn't. I was expecting good things and then I was terribly disappointed," Omou Barry (senior - journalism) said.
At 8 p.m., Emely and the other volunteers begin the clean-up process. Voting for the midterm elections has officially concluded.
"At the end of the day, politics out of it, it's just about helping people. We put names on it, it hurts us. But if we just keep in mind that we're helping people, that's going to save us," Emely said.
                                              - Varshini Chellapilla
---
8:18 p.m. | The CBICC Building
In the final hour before the polls closed down for the night, the Chamber of Business and Industry of Centre County polling center welcomed a slow trickle of last-minute voters.
Just over 530 people placed there votes at the CBICC on Tuesday, with a few more stragglers expected to come in before the night's end. Volunteer worker, Kasey Knauff, said the turnout was higher than average for a midterm election at the CBICC.
Citizens had been casting their ballots at the CBICC since 7 a.m. this morning, and according to Knauff, who is also a senior at Bellefonte High School, people were lined up outside long before the doors opened. She said the busiest times were from 7-8 a.m. and 10:30-11 a.m.
"I thought we would maybe get more during lunchtime," Knauff said. "We had a decent amount, but it wasn't as much as in the morning."
                                                    - Matthew Knaub
---
8:13 p.m. | HUB-Robeson Center
The Heritage Hall lobby in the HUB is mostly cleared out in its final hour. With no line, students are able to walk right into the auditorium and cast their votes.
Luke Miller, State College resident, 30, is volunteering to help with the polls for his first time. Arriving at 4 p.m., he said that the voting traffic has significantly died down, especially around 6:30.
Still, there is a trickle of voters entering the hall and exiting with their "I Voted" stickers.
While there aren't many people on their way to vote in the lobby, there are people standing around trying to persuade the voters. A group of students is handing out pamphlets telling passer-bys to vote democrat, while handing out information on the candidates. Marc Friedenberg, who is running for Congress, and Erza Nanes, who is running for State Senate, are both shaking hands with students and talking about their platforms.
Kathryn Chesnick voted within the last hour with a straight Republican ticket. While she said there were no specific issues that brought her out tonight, she still believes voting is important.
"I think that a lot of people risk their lives for this right," Chesnick (junior-biomedical engineering) said. "And it's kind of abusing it if we choose not to do it and everyone loves to complain about politics, but if you don't put in your vote, then you're not doing anything to change it."
Semiah Jones said that while she doesn't know much about the individual candidates, she still voted in line with the democratic party, calling herself a "full-on democrat." She said democratic views on healthcare played a part in her decision, as it's a personal issue to her and her community.
"The more [millenials and younger people] that get out to vote, we can have a say in our future and what goes on," Jones (freshman-hospitality management) said.
Nickolas Zingaro said voted straight republican because he comes from a republican family. It was his first time voting today, and he said it was a fun experience.
"I'm finally of age to vote for a major thing in our world," Zingaro (freshman-DUS) said. "Who has the power in this country, I feel, is very important and I would want someone who's views I support to be running this country.
                                                          - Grace Miller
---
7:30 p.m. | Friends Meeting House, 611 E. Prospect Ave.
At the Friends Meetinghouse on E. Prospect Avenue, the crowd died later into the day, but a few last minute voters came out to cast their ballot. Penn State students, such as Kimberly Kramer, voiced their opinion about the election and voting in general.
"I think that even someone I don't agree with should still vote. I would definitely have more respect for somebody that I don't agree with voting than someone who doesn't vote," Kramer (senior- nutrition) said.
Emily Helm voiced her opinion on the importance of voting and how Penn State has done a great job with spreading awareness about the election. Helm (senior- chemical engineering) also noted how the actions of her parents influenced her to make sure that she votes as well.
"All of our voices matter. I know growing up my parents didn't always vote and I think that that's something that could've been handled differently," Helm said.
Emily Dinda said how great of a job Penn State has done with providing information about the election, such as more information about the candidates.
"I think it really is important to vote as Americans. It's part of our civic duty and it's a privilege for us because not all countries across can globe can," Dinda (junior-public relations and Spanish) said. "There's no reason for you not to."
- David Pollak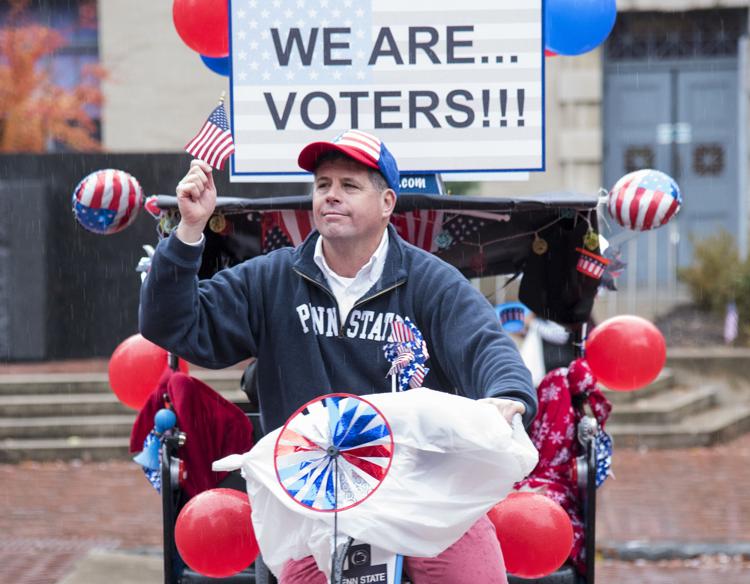 ---
7:12 p.m. | HUB-Robeson Center
As the evening continued to progress, the line to the doors of Heritage Hall in the HUB- Robeson Center dwindled. Fewer students entered the line, but there was still a flood of students in the voting booths and exiting the polls.
The majority of student voters exited the polls with information in their hands on guides to the candidates and the positions they are running for.
Though the lines were subsiding when student Meghan Dunn voted, she said she was "surprised that there was a line for a midterm election".
"I never heard of a midterm before until I did my research, but I don't think a lot of other people still know about them," Dunn (junior- landscape architecture) said.
Dunn said she wanted to see more of a balance in power on both sides, so she voted Democratic. She also said the most significant issues to her were access to healthcare for women and the less fortunate, and the future of programs like Planned Parenthood and Medicaid.
Joseph Fertig also said he had hope for a shift in the control of the government. Fertig (junior- finance) said he our country has the "best political environment right now," and voted today to change this.
"I voted Democrat today because they focus on social issues for the LGBT community, which is important since I'm gay," Fertig said. "I don't believe that right now the President is making strides toward improvements, in the United States, for the LGBT community."
According to Anabella Schuman, the most important issues in our country generally should involve helping others and making sure everyone has equal rights.
Schuman (junior- animal science and pre-veterinary ) said she believed everyone's vote matters and their vote makes a big difference
"I'm hopeful for the results because I think a lot of people were shocked that Trump won, and they are voting now to make a difference," Schuman said.
                                                          -Katy Shero
---
7:10 p.m. | The CBICC Building
Voting starts to quiet down at around 6 p.m. as a steady number of voters visit the Chamber of Business and Industry of Centre County, or the CBICC, building.
Many Penn State students felt as though it is especially important to vote in today's political climate.
Yao Rong hasn't viewed himself as very political in the past, but thinks today's Election Day is important.
"I feel as though now is the time to take a stand," Rong (senior - finance) said.
Cecilia Mabilais-Estevez is nervous for the final results tonight.
"I did the straight vote for Democrat in hopes that the results are what I want them to be but will benefit the majority of the country and a lot of marginalized groups especially," Mabilais-Estevez (senior - English and Italian) said.
Mabilais-Estevez also had ideas to make voting easier.
"I just wish voting was more accessible," Mabilais-Estevez said. "I wish it were a national holiday so people who worked could vote easily."
Brooke Castle felt as though she didn't do enough research before voting.
"I was back and forth on the candidates, but I know tried my best and I actually voted, which matters," Castle (senior - psychology) said.
                                                   -Nicole Rogosky
---
6:58 p.m. | Saint Paul's Church
After a very long Election Day, the polls were starting to slow down at Saint Paul's Church around 6 p.m. on Nov. 6.
"There was a huge voter turnout this year. It was definitely one of the biggest that Penn State has ever seen," said voter Keilah Laing (senior - broadcast journalism).
The rooms of Saint Paul's Church were quiet as a few late voters made their way to the polls.
According to Addison Albert Saint Paul's Church only hosted about seven voters last year.
This year, there were nearly 500 voters that walked through Saint Paul's doors eager to make a difference and use their voices.
"This election is more popular, and students are now realizing that they have a voice that they have to use in order to make a difference," said Albert (sophomore - broadcast journalism).
Lacey Walker was a first time voter, and she was excited to make her voice heard.
"It's a really cool opportunity for young people to have a voice. It's something that we couldn't have otherwise had," said Walker (freshman - agricultural science).
Another voter, Patrick Shelton, was happy to be a part of a school and county that contained different views, and was persistent in urging students to vote.
"I think Penn State and Centre County are good places to be because you have people from every side. I think the democratic parties are definitely in good shape this year," said Shelton (junior - marketing and political science).
                                                            -Lexi Teny
---
6:10 p.m. | HUB-Robeson Center
With three hours left to vote at the HUB, there was a long line of voters that stretched far out the doors of Heritage Hall, which according to Freddy Purnell, who has been working the polls since 9 a.m., was nothing compared to the long line that wrapped around the HUB earlier in the afternoon.
"We have already quadrupled the turnout for the 2014 midterm elections, and as of right now we are approaching 3,000 voters, which is almost as half of the 2016 election," Purnell (junior - biology) said. "That is unprecedented for a midterm election here."
As the hour continued, the line became increasingly shorter, but there was a steady crowd of voters that came in waves.
First time voter, Adam Bolotsky, was excited to vote this year, and it was very important to him to vote.
"I never got a chance to vote before. This election is very important to me because I want to make a difference, and I want to make my voice heard," Bolotsky (graduate – engineering science) said. "I was thinking it would be more crowded at this time, but maybe after more classes start to end, more students will come out to vote."
Bolotsky was right. At 6 p.m., a large group of students came to vote, and the line once again started to wrap around the HUB.
Chloe Roberts, who changed her address, so she can vote here, voted because she felt that it is an important responsibility.
"It is our right to help choose who is in office. I think every vote matters. Go vote," Roberts (freshman – veterinary and biomedical sciences) said.
                                                   -Anjelica Singer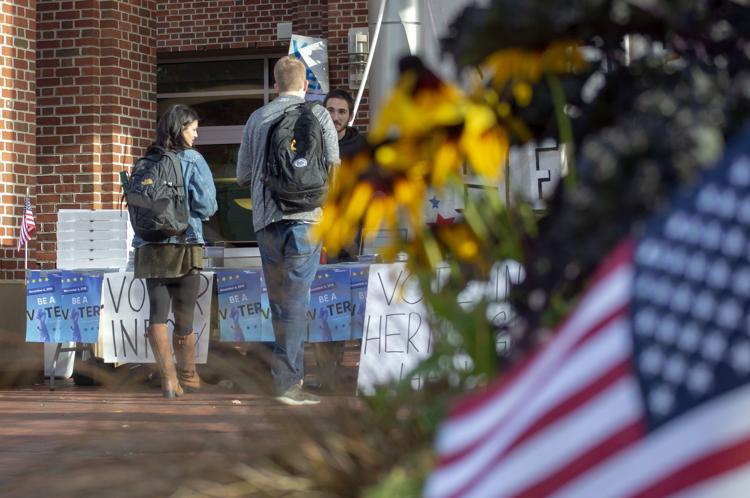 ---
5:58 p.m. | St. Paul's Methodist Church
While, at one point, few voters were in St. Paul's Methodist Church, more trickled in around 5:30 p.m.
Despite the low turnout, Kyle Feigenwinter emphasized the importance of voting.
"Students have so many opportunities to vote here," Feigenwinter (sophomore-cybersecurity) said. "[The polls] are so close to campus. There's no reason not to."
Jake Galushka, who voted straight Democrat, said that after the 2016 presidential election, it is more important than ever for people to voice their opinions.
"They were expecting [higher] voter turnout and not as many people as they thought came out," Galushka (sophomore-cybersecurity) said, "We have to voice our opinions and put our input into everything."
Jess Yoo said she voted "all blue," saying Democrats represent what many young people need and want from the government.  
"I want to know that I actually matter," Yoo (freshman-media studies) said.
She said that it is a civic duty for the people of America to vote in the election.
"People who do show up and vote are the ones that determine the future," Yoo said. "People should take matters into their own hands and not just go with the flow."
-Chelsea Kun
---
5:07 p.m. | Friends Meeting House, 611 E. Prospect Ave.
With only a few hours left to vote in this year's midterm elections, students are slowly piling into Friends Meeting House to let their voices be heard.
Many are not approving of the current economy, and the consensus among students here would like to see drastic changes occur.
Carly Wolff (junior-IST), a registered Democrat, says her party affiliation affected her ballot in the voting booth.
"I wanna see change, definitely," Wolff said. "Especially with the state of our country right now, it definitely influenced my voting."
She also feels it's imperative for college students to exercise their rights to vote.
"I absolutely think it's important," Wolff said. "Mainly because this is our future… as college students we're setting up our future country, what it's going to look like, and how it's going to be ran."
One student in particular, Layne Deakins (sophomore-english), agrees students need to speak out.
"I don't think we realize how much of a difference that can make, but we're such a big population and we can make a big difference," Deakins said. "Voting should give [students] a sense of pride to get out and vote for their country, make their voices heard, and stand up for what they believe in."
                                                   -Jason Shulman
---
5:04 p.m.| State College Borough Building, 243 S. Allen St.
The State College Borough Building had a very quiet hour from 4-5 p.m.
Penn State student Madison Wood said she voted for a marking study for her class, which also encouraged student voting by bringing in voting volunteers who asked students if they wanted to register to vote.
Wood (sophomore-business) also had other motives for voting.
"I am Democratic and am upset with everything that is going on, I'm 19 now so I wasn't able to do anything at the last presidential election," Wood said. She also added that the voting encouragement from friends and around the school helped contribute to her need to vote.
Ian Dietrich came to the polls today with thoughts from the last election. Dietrich (senior-kinesiology) realized from the extremely close race that every vote truly does matter, which brought him out to vote again this year.
"Regardless of how everything turns out, we as Americans should go out and vote and have a say with what happens in our government," Dietrich said. He also added that one cannot complain if they don't vote, especially the people who try to write in a candidate for fun, it simply cannot create change.
Colin Riley said that it was his first-time voting. Riley (sophomore - Division of Undergraduate Studies) decided his votes from one of the online voting questionnaires that gives voting suggestions based on one's answers. Riley said that he just stuck with the answers it gave him and didn't do much research besides that.
Charla Leonard, a State College native, has been a constant voter since she was 18. "I've always voted, so there wasn't one thing that made me vote, it just has always been important to me because I care about the world," Leonard said. 
                                              -Cassandra Kidwell
---
4:57 p.m. | CBICC Building
With students voting en masse, quite a few problems have risen. 
With students often moving each year while at Penn State and, therefore, changing addresses, students are going to their voting station only to find out they are not registered to vote in that particular location.
At the CBICC, this has been a prevalent problem
"There have been a lot of online registration drives and we don't know if the paperwork go to the county, there also seems to have been a lot of failures with some online services, where people will change their address, but that didn't get to the county," CBICC volunteer Susan Venegoni said.
 Venegoni has had to call the county 28 times so far to deal with these issues, with most of the students having to return to the HUB to vote, as they are still registered to vote on campus. 
                                                       -Jim Krueger
---
4:16 p.m. | St. Paul's Methodist Church, 250 E. College Ave.
Some Penn State students express excitement and confidence in voting while attending the polls.
At St.Paul's Methodist Church at 250 E. College Ave., the flow of student voters is steady, but the polls aren't overcrowded from 3-4 p.m. The church has plenty of colorful signs pointing voters in the proper direction to vote.
"Voting in this election was very simple and the polling location was easily accessible. I was approached by a voter registration group on campus and was recruited to vote at the Redifer Dining Hall," Lydia Jordache (sophomore- microbiology) said.
Voter turnout for this election has improved greatly according to poll worker Addison Albert.
"Last election, the entire voting period at this location, we only had ten voters, but today at the halfway point of our day we have over 400 voters. Many of them were enthusiastic first time voters," Addison Albert (sophomore - broadcast journalism) said.
Laryn Jackson (sophomore - journalism) feels confident about her party winning.
"After the 2016 election things could go in either way at the polls, but I'm very confident about the Democrats taking the win this election," Jackson said.
The polls at this location like others in Pennsylvania will close at 8 p.m.
                                                 -Alyshia Hercules
---
4:12 pm | HUB-Robeson Center
Despite the lines dying down later in the afternoon, students still flowed in and out of Heritage Hall in the HUB-Robeson Center to cast their votes.
Tyzyr Johnson (sophomore - psychology) is a first time voter who was too young to vote during the 2016 presidential election.
""The election [in 2016] was really important and I couldn't even vote," Johnson said. "Now that I can vote I want to make a difference."
Stephen Day is not affiliated with any political organization, but decided to come out on Election day to pass out republican tickets in support of Scott Wagner.
"I came earlier today and saw the democrats had stuff up advocating for their candidates so I figured I would just come out by myself," Day (sophomore - supply chain management) said.
Emily Akers was taking photos and videos of the election process for her advanced multimedia production class, and took a break from her project to share her support for the democratic party during this election.
"In light of Brett Kavanaugh's recent confirmation I am just frightened for the future both of this country and as a woman," Akers (senior - acting) said. "It is our job and our responsibility to take back our country and fight for our rights, and that's why I'm voting today."
                                                            -Lauren Fox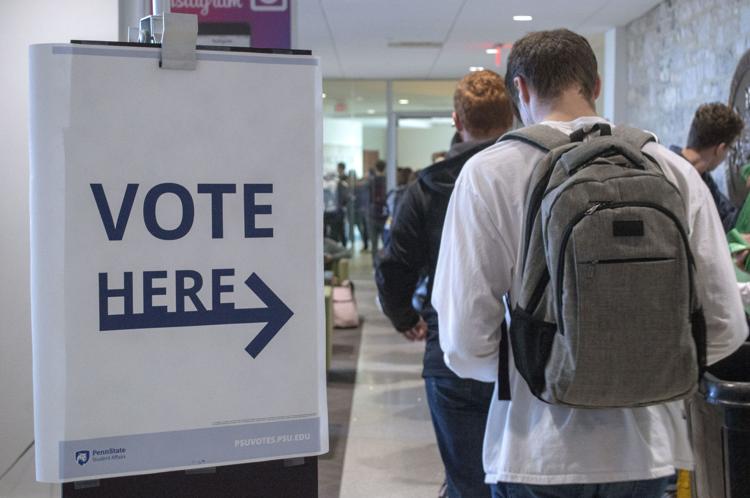 ---
3:17 p.m. | State College Borough Building, 243 S. Allen St.
At 2:30 p.m., Nelson Peterson was marked the 240th voter at the State College Borough Building. 
"If there is such low voter turn out, especially in the younger age groups, our voices aren't being heard," Peterson (senior-toxicology) said. 
He said he does not like how the Republican Party has been handling issues this year, and he voted to "make sure the Democrats took over."
Caroline Sene, a member of Penn State's College Democrats, remains optimistic after seeing the large voter turnout at the HUB-Robeson Center this morning.
She said she was there encouraging people to vote before voting herself at the State College Borough Building.
"I think it's really important to be involved in local politics because you have a much larger role than in the presidential elections," Sene (sophomore-political science) said. "Here our votes really do count and do matter. It's so important to be involved and care about this stuff because it affects our lives."
Domenic Incarvite said he does not think the current government focuses enough on the environment and social policy.
"I think we need to let [politicians] know that they won't be keeping their jobs if they're not going to support the population," Incarvite said. "I feel like they don't represent the general public."
Incarvite moved to Washington D.C. two years ago, but came back to State College just for today because he is still registered to vote here.
State College resident Stac Comly agreed, saying it is important for people to vote in order to "keep our government officials in check and let them know we still have a voice."
"The more people that vote the better our government represents us," Sene said. "Regardless of your party, if you vote you are allowing your voice to be heard and that's the point of our government. If we don't cast our vote then we're not being represented accurately"
-Lindsey Toomer
---
3 p.m. | HUB-Robeson Center, Heritage Hall
The line to vote at the HUB-Robeson Center's Heritage Hall was dense, but continued moving along.
First-time voter Hannah Adighije said she was excited to vote, noting that she has been waiting to make her vote count in an election.
"I did a lot of research leading up to today to figure out who was running and what they believe in," Adighije (freshman-petroleum and natural gas engineering) said. "It is very important to know about who's running before coming out to vote."
Aidan Mattis represented Republican candidates today in the HUB, answering questions from students and providing information about the candidates in today's election.
"If anyone has questions or if anyone is on the fence, I am here to help them get the information they need to vote," said Mattis (junior, medieval studies). "While sides may change and people may be solid on the partisan issues, the most important thing is that everyone voting is informed."
While waiting in line to vote, students were greeted by 12th Congressional District candidate Marc Friedenberg and his campaign volunteers.
"If you look at the turnout here at the HUB, it's absolutely phenomenal," Friedenberg said. "We are crushing records from 2014. Penn State is where I work, Penn State is where I went to school and I can't think of a better place to be and I'll be out here until the polls close tonight."
-Greydon Tomkowitz
---
2:55 p.m. | HUB-Robeson Center, Heritage Hall
Plenty of students buzz around the HUB-Robeson Center on a given day at 1 p.m. This traffic was present at the voting polls today, where lines of students continued to wait outside of Heritage Hall to cast their vote.
Despite lines stretching out of the hall, most students said they only waited five to 15 minutes to vote. Both first-time voters and students who voted in previous elections were excited to cast their ballot.
As a first-time voter, Delaney Hucker said she decided to vote today because everyone "hyped up" voting and the impact it can have on society.
"Voting for the first time made me feel really important," Hucker (freshman-division of undergraduate studies) said, "like I was actually making a change and doing something."
Sean Setnick was also a first-time voter. Setnick (freshman-political science and finance) said he believes it is important for young people to vote so they can get into the "ropes of politics" at an early age.
"I feel like I've contributed to society," he said.
As it was his first time voting, he said he did not expect to cast a paper ballot — he thought he would vote electronically.
Quinn O'Neill, who voted in the 2017 local elections, said his parents always stressed the importance of civic participation. As a political science major, he sees voting as an important way to contribute to the community.
"I believe getting out and voting is the number one, most basic way of [civically participating]," O'Neill (sophomore-political science) said. "It really makes me feel like I'm doing my part — that I'm being involved in my local community, whether that be in State College or on a national scale."
However, Sanjana Jhaveri said the turnout for the midterm elections in the HUB was not as busy as it was when she voted in the 2016 presidential elections. Jhaveri (senior-computer science) said she voted in 2016 and in 2018 because she wanted to see more members of her party represented the in the government.
Katierose Epstein, the president of the Penn State College Democrats, has been standing outside of Heritage Hall since 7:30 a.m. encouraging students to vote.
Epstein (senior-political science and women's, gender and sexuality studies) said she has seen more students vote in this election than any other election, adding that she believes the crowds are larger than those for the 2016 election.
"I think people know that midterm elections do matter," Epstein said. "I think there's been a lot of rhetoric explaining, 'This is why you should vote, this is when you should vote.' People are more educated now and its really helpful."
-Maddie Aiken
---
2:05 p.m. | State College Borough Building, 243 S. Allen St.
At 1:06 p.m., Caroline Vallotton was the 200th person to vote at the State College Municipal Building.
"I'm hoping that there are a lot of young voters and that there is a large voter turnout," Vallotton (senior-statistics) said. "I'm personally hoping that the House turns blue."
Vallotton said she was involved in politics at her high school and knew a decent amount about the candidates before coming to vote in this midterm election.
At 1:30 p.m. voter participation increased and students began filing in to vote.
Scott Hromisin said he is hoping for more accountability within the government and to "hopefully elect some more leadership that's more bipartisan in nature, willing to compromise and talk about the issues."
Hromisin (graduate-aerospace engineering) leaned toward the democratic side with his voting and felt more strongly while voting than in past years.
"With the nature of the political beast now, I feel like it's time to be more active and involved with [the election], and just be more informed," Hromisin said.
Abby Heilig also voted Democrat, choosing candidates based on a website that correlated her political views with candidates. This was her first time voting in a midterm election.
"I'm glad I got to be a part of it," Heilig (junior-security risk analysis) said.
-Jordan Corley
---
1 p.m. | CBICC Building
Mid-day at the Chamber of Business & Industry of Centre County, polls are quiet as voting activity is sparse on this rainy day in State College.
Amanda Strassler is a student who exercised her right to vote this afternoon.
"I just voted for all the democratic electives," said Strassler (senior-film and integrative arts).
She provided some insight into her voting experience.
"I'm not really that passionate about voting because it feels more like you're just trying to pick the lesser of all the evils."
Another student provided a different perspective of voting in the midterm election. Voting in the midterms is a mere reflection of today's political climate.
"I think it's always important to vote… these midterms really just reflect on what we agree with and what we don't agree with with what's going on in the current government," said Julia Dewit.
As an education major, Dewit (senior-education) emphasizes the importance voting and its impact on younger generations.
"It's important for me as my major," she said. "I'm working with students just to make sure that I'm creating a world that I want them to learn in."
-Katherine Dietrich
---
12:50 p.m. | Friends Meetinghouse, 611 E. Prospect Ave.
A steady stream of voters interrupted the silence at Friends Meeting House about every five minutes.
Shahaf Hadary, a Penn State student from Tel Aviv, Israel, was happy to have cast his ballot. 
"It feels great," Hadary (freshman-finance) said. "I vote straight Republican…I support the Republican Party, I signed into them."
Other students echoed Hadary's voter pride and commented on their desire to fulfill their civic duty.
"It feels f***ing amazing," Allison Marcus (senior-marketing) said. "I think it's really stupid if you don't vote because if you're going to have an opinion, there's really no other way to voice your opinion…you can't sit here and complain."
Emily Mansfield conveyed a similar pursuit of civic engagement in spite of her limited political awareness.
"It's my first time voting," Mansfield (sophomore-spanish) said. "I'm not the most informed, but I know it's a really important election, so I thought this would be a good time for my first voting experience."
Mark Lafer, 72, Democratic co-chair for Precinct 30 of Centre County, commented on his political preferences for this election.
"I endorse the entire Democratic slate, which is not always the case," Lafer said. "For me, at least, it was a clear-cut choice between the candidates in the two major parties."
Justin Conarro is on the other side of the ideological spectrum.
"I just voted to continue the current Republican policies and keep the economy strong," Conarro (junior-business) said. "I think everyone should get out, trying to exercise my right as an American."
-Sebastien Kraft
---
12:45 p.m. | HUB-Robeson Center, Heritage Hall
On an average day, the HUB-Robeson Center is often packed with students by noon. However, the HUB's Heritage Hall was especially crowded by midday as students waited to cast their votes.
A consistent line of over 50 people formed from the hall doors to the nearby information desk. The wait has shortened slightly after an initial surge of voters arrived at the top of the hour.
Volunteers sporting various candidate apparel passed out candy and flyers with information of about Democratic candidates.
Senior Director of Student Engagement Programs Barry Bram — a coordinator for on-campus voting — walked along the growing line, commenting "Wow, that picked up fast."
Bram said it was "wonderful" to see so many students take time out of their day to vote.
"For a midterm election this is the craziest I've ever seen it at Penn State," Bram, who has been with the university for 24 years, said. "I think it's great having people excited about voting, elections, their civic duty and just paying attention to what's going on in the world."
In line, Gunnar Litz said he worried about how long the line would take due to a "tight schedule," but felt it was important enough to wait.
"I think [the Democratic candidates] align with my values the most," Litz (sophomore-supply chain and international politics) said.
Litz went on to explain he felt the political climate is "dictated" by a Republican majority.
"Hopefully, a wave of Democratic support can really effectually change a lot of the legislation that is in favor of the Republican values, which I don't really support," Litz said.
As "Born in America" by Bruce Springsteen played in the background, Kris Hart also talked about his plan to vote Democratic.
Hart (senior-broadcast journalism) said many people who did not vote were disappointed with the result of the 2016 presidential election, and made people feel more obligated to vote in the midterm election.
"Being an African American student, I just feel that it's important because a lot of people fight for me to have the right to vote," Hart said. "It's important to rock my vote."
-Lilly Forsyth
---
12:25 p.m. | Friend's Meeting House
People all of ages, with the majority being students and older adults, steadily flowed into the small house in an effort to make their voices heard.
"I believe it is very important to vote. People need to get their voices heard," Andrew Calen-Mandujano, who was voting in his second election, said.
Olivia Rueger, who voted a straight Democratic ticket, believes that the election of current President Donald Trump was an eye opener to many young voters to go out and vote. She wants young Democrats to go out and make their voices heard.
"I campaigned for Hillary back in high school when I couldn't even vote. Obviously, we [the Democratic party] were setback by the result [in the 2016 presidential election], so the midterms are extremely important," Rueger said.
Jacob Smucker, who voted a straight Republican ticket, said that he believes that he has not seen as large as young voter turnout for the midterm compared to the 2016 presidential election. However, he finds that it much needed that students go out
"It's our civic duty. They are a lot of people around the world who can't vote, so we have to take advantage of that and vote," Smucker said.
-TJ Schaeffer
---
12:20 p.m. | St. Paul's United Methodist Church
Lines were long as students gathered to vote at St. Paul's United Methodist Church.
Jordan Emely, the judge of elections, said the "turnout is absolutely incredible."
"Usually this place gets 50 to 100 voters in one election day," Emely (sophomore-secondary education) said. "Right now we're almost at 170 voters."
Emely said he thinks the large turnout is in part because the parties are energetically charged and have done a good job educating people on the issues. He also thinks voter registration advertising has been very prevalent.
"It's important for people to vote," Emely said. "We have one job as American citizens. The United States was founded on the idea of people and if people don't vote, there's no people and it's just government."
Tyler Labus said he came out to vote because he wanted to do his "civic duty."
"I know that sounds cliche," Labus (junior-mathematics) said. "But I have the opportunity to vote, and not everyone does."
Labus said he read this quote somewhere online and it resonated with him: "If people don't care about politicians then in turn politicians won't care about the people.
"I would hope a lot of people my age would vote," Labus said. "From what I know in the past a lot of people don't turnout and that's unfortunate. I hope this election is different."
This was Veronica Budzinski's first time voting. She said because her parents are immigrants, her family hasn't been too involved. However, she said ever since the presidential election, her family has been more proactive.
"Voting was a lot easier than I thought it would be," Budzinski (senior-psychology) said. "I wish I would have voted in the presidential election. I'm so mad at myself because I didn't want Trump to win."
Moving forward, Budzinski said, she is "going to be sure to vote."
-Bailey Jensen
---
12:15 p.m. | HUB-Robeson Center, Heritage Hall
A steady stream of students continued to flow from Heritage Hall around lunch time. 
Caitlin Tiger (freshman-film and video), a first-time voter, said she filled her entire ballot with the Democratic party. By being the change she wants to see, she hopes to see more rationality and mindfulness in the actions of the country's leaders.
"The Republicans are a little too off their hatchet right now." Tiger (freshman-film and video) said. "There's too much Republican power in the government."
Kaitlyn Mohi, another first-time voter, had also casted her votes in favor of the Democratic party.
"Everything that Democratic's stand for I agree with," Mohi (freshman-criminology) said.
Mohi hopes that there will be more same-sex couples rights, and abortion rights.
Andrew Uhring, a student at Penn State, stood outside the polls in front of a map of campus, helping guide students in the right direction.
Uhring (senior-political science) determined where students needed to vote based on their precinct. He asked voters where the last place was they were registered to vote, and ultimately knows where they should join in on the polling lines.
"I want students to vote, and young people's issues to be heard," Uhring said. "They're not heard, and they're not taken seriously."
Uhring mentioned how this is the largest turnout he's seen in five years.
-Natalie Schield
---
12 p.m. | CBICC Building
As rain continues to sprinkle in Happy Valley, voter turnout is starting to pick up in the Chamber of Business and Industry of Centre County on Fraser Street.
Voter turnout surpassed 150 voters by 11 a.m., consisting of mainly Penn Students students.
Student Colin Miller said the plaza precinct is not as busy as others he has seen while voting previously in State College.
"In my last polling place, before I moved, there was a line out the door," Miller (senior-drawing and painting) said. "And there is nobody here right now."
However, he said he hopes there are more student voters as the rain subsides.
Also leaving the slick entrance of the Martin Luther King Jr. Plaza after voting was student Rachel Blackburn.
She said she has always noticed heightened energy about civic engagement in State College during election seasons.
"I think people in State College are very passionate about their candidates and about the issues they push," Blackburn (junior-public relations) said. "At least, more passionate than where I'm from."
"You always know when it's campaign season because everyone is out and about," she continued.
She said that passion may be displayed by some, such as Marc Friedenberg — a candidate for 12th Congressional District. Friedenberg is also an assistant teaching professor in the College of Information Sciences and Technology at Penn State.
"I would think a lot of students would vote for him because he will probably do things to benefit the university," she said.
Blackburn said she decided to vote because there are certain issues she cares about, such as climate change.
"I know some candidates are supporting [work to aid climate change] and some are not," she said. "I want to see changes be made in that direction so I think my vote is important to get [the government] where it needs to be to make those changes."
Matthew Taylor said he started voting in the last election when he just turned 18 because it feels wrong to not exercise a duty that was fought so hard to obtain.
"More than ever there ha[ve] been a lot of people on social media that have been getting involved," Taylor (senior- accounting) said. "There is a lot of hostility around a lot of politics in recent years." Taylor continued, saying the best way to voice an opinion is through exercising the right to vote.
"If you want the right to have that voice in terms of social media and being able to argue with anyone on the street, there is no better way to get your argument across than going out and filling out a ballot," Taylor said.
-Mikayla Corrigan
---
11:32 a.m. | State College Borough Building
On the rainy morning of Election Day, it was somewhat quiet at the State College Borough Building.
Penn State students and State College residents were sparsely seen going in to cast their vote.
One student, Navya Kotha exercised her right to vote for this first time in this election.
"I feels good," Kotha (sophomore-data sciences) said. "I'm excited that I was able to take advantage of it."
Some voters expressed concern about voter turnout and the outcome in general.
"My only concern is that not enough people are going to vote," Page Hogan (senior-economics) said. "We're in a really great time of change in our country, and I think it's important for young people to get out and have a say in who their elected officials are."
Todd Pontius, a chemistry instructor at Penn State, said he thinks this election is especially crucial because it is an important step in change in this country.
"This is my first time being a straight ticket Democrat vote," Pontius said. "So, I am hoping for blue wave because I'm really displeased with the course the country has taken and I hope this will serve as a turning point to get us back on track in being leaders in humanism."
-Madeline McCabe
---
11:07 a.m | HUB-Robeson Center, Heritage Hall
Waves of Penn State students paraded through Heritage Hall before 10 a.m. to vote in the first midterm election during the Trump era. 
Though the number of future voters fluttered, one trend was seemingly constant: A possible blue wave. 
Grace Kennedy, a member of College Democrats, expressed concern over many issues facing the nation today.
Kennedy (sophomore–political science) listed a number of topics which were important to her in this election. 
"Mainly environmental — especially after the information that came out recently about having 12 years left before we all die," Kennedy said, referring to a recent United Nations report on climate change. "Also healthcare…and gun laws." 
Following a similar trend, fellow Penn State student Gianna Viola voted with LGBTQ rights and immigration in mind. 
Viola (junior-psychology) said her main concern in this election is morals.
"I just feel like in the last few years that [morals] has kind of fallen apart and anything sort of goes," Viola said. "I want to vote to create a country that I believe in."
In a change of rhetoric, Kyle Reed, a member of the Sigma Phi Epsilon fraternity, is voting for the candidate who is the most "pro fraternity." 
"Locally, I am going to vote for any candidate is who is pro fraternity," Reed (sophomore-mechanical engineering) said. "Apart from that I am going to vote for Republicans across the board." 
-Connor Donlon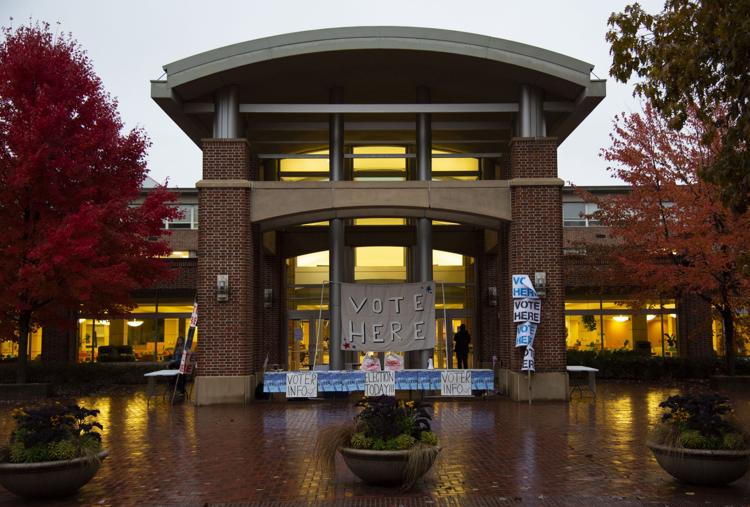 ---
10:40 a.m. | Friends Meetinghouse, 611 E. Prospect Ave.
College students and adults alike packed the parking lot of the Friends
Meeting house in State College Tuesday morning.
"It feels pretty great to vote today," Yanelis Melendez said. "Especially seeing young people coming out. We have to fight for our future."
Those who woke up early to vote seemed displeased with the actions of the federal government since Trump entered office.
"It's extremely important," Chad Finkelstein said when asked about the importance of young people voting. "It doesn't matter if you're a Democrat, Republican, Green Party, or Libertarian. The country is going through a lot right now and it's really important that we all have a voice."
Emily Akers said she thinks there is a lot of promise when it comes to young voters casting their ballots.
"I think there's a lot of doubt in our ability to vote by older generations, and I think today is the day that we prove them wrong," Akers said.
-Tommy Calpin
---
10:05 a.m | HUB-Robeson Center, Heritage Hall
With short voting lines and representatives to help students find their precinct, students found it easy to exercise their right to vote.
Nicole Dellapesca, a first-time voter, said she was excited to have her voice heard and voted for the democratic party.
"Being a community like University Park, where everyone is very adamant about voting, despite the party, is great because people are able to help out no matter what," Dellapesca (sophomore-education) said.
Students showed up in small groups to vote, with democratic and green party representatives waiting to voice last minute opinions to sway voting decisions.
Diego Santos, born in the Philippines, voted for the democratic party after conducting research on the candidates.
Santos (sophomore-biochemistry) said it did not matter which party they were from as long as their values matched his. His values include diversity, education rights, and immigration.
"I am a firm believer of bringing immigrants into this country," Santos said. "If my parents did not take a chance and come to America and gain citizenship I have no idea where I would be."
Freddy Purnell said he was most excited about this election because there is a chance for Stacey Abrams, a Georgia politician, to become to first African American woman governor.
Purnell (junior-biology) said he voted for the Democrats because there are a lot of things going wrong in our country stemming from the Republican party.
"We want to make sure Universal Healthcare continues to exist, the rights of Queer and Person of Color individuals are fought for, and to make sure Trump can't do whatever he wants unimpeded," Purnell said.
-Caitlyn Frolo
---
9:30 a.m. | HUB-Robeson Center, Heritage Hall
As doors opened for voting in early hours of Tuesday, Nov. 6, few students arrived to cast their ballot.
Some students blamed the rain for not having a large turn out, and others blamed the need to rush off to a 9 a.m. class.
Laura Guay is a student who said she is enthusiastic State College will get the outcome many residents are hoping for.
"State College usually tends to go one way, so I think a lot of people in State College will be happy," Guay (sophomore-biobehavioral health and French) said.
Other students were hoping voters will learn from past political mishaps and elect a candidate who can "remain calm" in their position.
"The rhetoric is very interesting in how they're trying to appeal to candidates," Aditi Kale (junior-premed) said. "I'm trying to go for the most peaceful candidate."
While many have still yet to cast their ballot, some students like Sonali Patel don't see a big turn happening at all this year.
"I think its a smaller election...it's not as hyped up and we don't really know the names on the ballots," Patel (junior-premed) said. "They haven't been publicized so there is not as much excitement."
-Jeena Cadigan