Eighteen members of the Beta Theta Pi fraternity and the fraternity corporation had charges filed against them Friday morning for their alleged role in the death of Penn State sophomore Timothy Piazza.
Beta Theta Pi corporation was charged with involuntary manslaughter, in addition to eight other former members of the fraternity, District Attorney Stacy Parks Miller said at a press conference Friday morning. 
Ten members of the fraternity faced arraignment Friday afternoon at the Centre County Court House. 
REACTIONS: President Eric Barron, Infraternity Council issue statements
ARRAIGNMENT:10 brothers appeared in court Friday afternoon
The list of members charged include Chapter President Brendan Young, Pledge Master Daniel Casey, Jonah Neuman, Nick Kubera, Michael Bonatucci, Gary Dibileo, Luke Visser and Joe Sala. Michael Angelo Schiavone, Craig Heimer, Lars Kenyon, Parker Jax Yochim, Ed Gilmartin, Ryan McCan, Lucas Rockwell, Braxton Becker, Ryan Foster and Joseph Ems were also charged.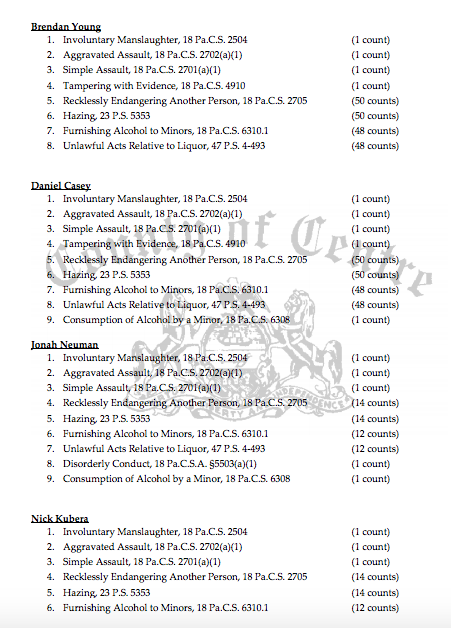 Piazza died on Feb. 4 after suffering injuries at a pledging event at the Beta Theta Pi fraternity, as previously reported by The Daily Collegian.
Piazza's blood alcohol level was between .28 and .36 percent, according to court documents released Friday morning. 
"Also Tim Piazza might actually be a problem," former Beta Theta Pi brother Greg Rizzo posted in a group message the night of the incident, according to court documents. "He fell 15 feet down a flight of stairs, hair-first, going to need help."
Jim Piazza, father of Tim Piazza speaks about charges. pic.twitter.com/njPHW8kVMf

— Frank Esposito (@FqEsposito) May 5, 2017
Piazza's death sparked a series of shifts in the Penn State greek life community.
Piazza's death, along with hazing and other infractions, led to Penn State issuing various sanctions on greek life on March 30, which altered the rules for how the groups recruit members and host social events with alcohol. Beta Theta Pi was also permanently banned from Penn State.
Other infractions included alleged hazing at Phi Kappa Psi, forcing Alex Frederick to step down as Interfraternity Council president, on Feb. 15 along with other officers from the fraternity.
Police charged Beta Theta Pi's house manager, Braxton Becker, on Feb. 17 with 10 felony charges and five misdemeanor charges for selling marijuana and drug paraphernalia, at the fraternity house. The investigation began before the death of Piazza.
Penn State allowed Parent's Weekend socials to still take place, but multiple fraternities violated the sanctions. These violations prompted Penn State President Eric Barron to write a letter on his blog, "Digging Deeper", warning greek life could come to an end at the university if violations continued.
The IFC responded to the letter with one of its own. The IFC's letter asked students, administrators and alumni for help in dealing with the ongoing situation. The letter asked for more support from those groups to help with preventing another death.