For the first time since THON was founded in 1973, Penn State World Campus had its first dancers at the 46-hour dance marathon — Danielle Ray and Brayden Caraynoff-Huber.
Ray (graduate-business administration and management) first attended Penn State in 1992 where she got involved with THON through her sorority, Gamma Sigma Sigma. As a candidate for master's of business administration through Penn State World Campus and the Smeal College of Business and the current chair for World Campus Benefiting THON, Ray said she never thought she'd "get the opportunity to dance."
"I wanted to do it this year because I felt that it tied into the goals I had set for the organization and for myself to really make a difference this year," she said. "I feel very humbled that I was selected because there are so many students out there that want to be involved. And to be the first one, it just shows that my passion came through."
Calling the opportunity "once in a blue moon," dancing at THON was an easy decision for Caraynoff-Huber.
"There's not really many other places in either the United States or the world where you get to stand [and] be forced to stay awake for 46 hours," he said. "It's a unique opportunity to push yourself beyond your limits and help children who might not be here the next time it comes around."
Preparations for THON Weekend started months before. Ray said cutting out alcohol and caffeine and limiting sugar intake were among the restrictions she had to follow for a couple of weeks.
"I really stuck to that as closely as possible, [and] I added some of my own things like standing at work for seven, eight hours a day," Ray said. "I think that helps because the regimen, they've been doing this for 50 years, so they know what works; I followed it knowing that it would help me succeed."
Caraynoff-Huber said he didn't realize how much he missed McDonald's and Coca-Cola until THON was over.
"It was hard in the start. After a couple of weeks, I didn't really notice that I had stopped drinking soda and chocolate milk," he said. "You don't really notice the changes that you made, but then when it's done… I have to admit, it felt really good."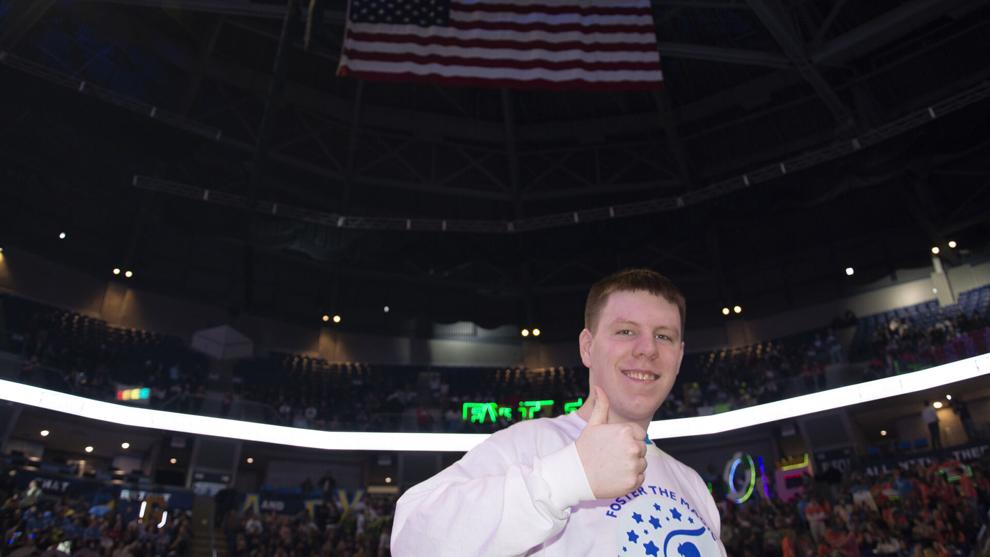 As much as Caraynoff-Huber enjoyed his experience, he said he doesn't plan to dance again next year.
"I think this is one of those things that you do it once for the experience, and you never go back again," he said. "It's because of the physical and mental process you go through. You come out of THON different from the way you came — THON does change you a bit."
But Ray begged to differ. She said she plans on dancing again next year if possible.
"It's an honor," she said. "It was the best thing I've experienced as a Penn State student, both undergrad and grad. They trusted me to represent World Campus, and they trusted me to be the face for all the World Campus students who couldn't be there, who were not able to dance — and that's something special."
Throughout the weekend, Ray and Caraynoff-Huber received tremendous support from the Penn State community at the Bryce Jordan Center.
Julie Fitzgerald, co-curricular program coordinator for Penn State World Campus Student Affairs and adviser for World Campus Benefitting THON, was among the supporters on the floor.
Fitzgerald said Ray and Caraynoff-Huber were "great representatives" of the organization and of World Campus, considering their involvement in World Campus Benefitting THON over the years.
"[They] each assumed a leadership position within this year's organization and each surpassed their individual fundraising goals," she said. "Their participation and experience will inspire other World Campus students to know that they, too, can be a part of this incredible Penn State event and have an impact on advancing such a worthy cause.
"This year's organization should be extremely proud of their efforts and accomplishments. It has continued to build on the organization's success over the last several years."
Looking back, Ray said she's "emotional" thinking about the experience.
"I think what made it so special was because you got to interact with the families in different ways and interact with the other dancers… [there was] so much encouragement and love and support by everybody who was there," she said. "It feels like a community. It feels like you're building these relationships and friendships that can be there long after THON is over."
MORE THON COVERAGE
With 707 dancers participating in THON Weekend 2023, many stayed awake for the full 46 hours…