THON dancers depend on the food served to them throughout the 46 hours, and many said they've been happy with the results.
The first meal for dancers was pasta and chicken from Noodles & Company. Next up were Subway sandwiches, followed by bagels and fruit in the morning.
MJ Scheck, dancer and president of ServeState, liked the food and thought the portions were good for her, but she said they may not be sufficient for other dancers.
"I'm just like a 5'-1'' girl, so it's enough for me, but I know there are bigger guys here that probably need a lot more food," Scheck (senior-psychology) said.
However, Scheck also said they can probably eat more at other stations, as there's a big variety of food constantly. There are peanut butter and jelly stations for dancers, as well as snack stands.
"I didn't want to eat too much in the beginning just because I feel like they feed us consistently throughout the weekend," Scheck said.
Similarly to Scheck, Liam Eggleston who's representing his fraternity, Phi Kappa Tau with Whiplash Dance Team, didn't eat much during the first meal.
"Honestly I was really nervous, so I didn't eat much," Eggleston (junior-biobehavioral health) said.
Eggleston was a bit surprised with the menu, thinking they would have more catering options.
"But it was still really good, and it did the best it could to keep me going," Eggleston said.
What Eggleston enjoys the most about the food is that it's carbohydrate heavy, which he said has been helpful to keep him full of energy.
Reilly McCarthy who's dancing for his fraternity Sigma Phi Epsilon and their corresponding sorority Pi Beta Phi agreed with Eggleston.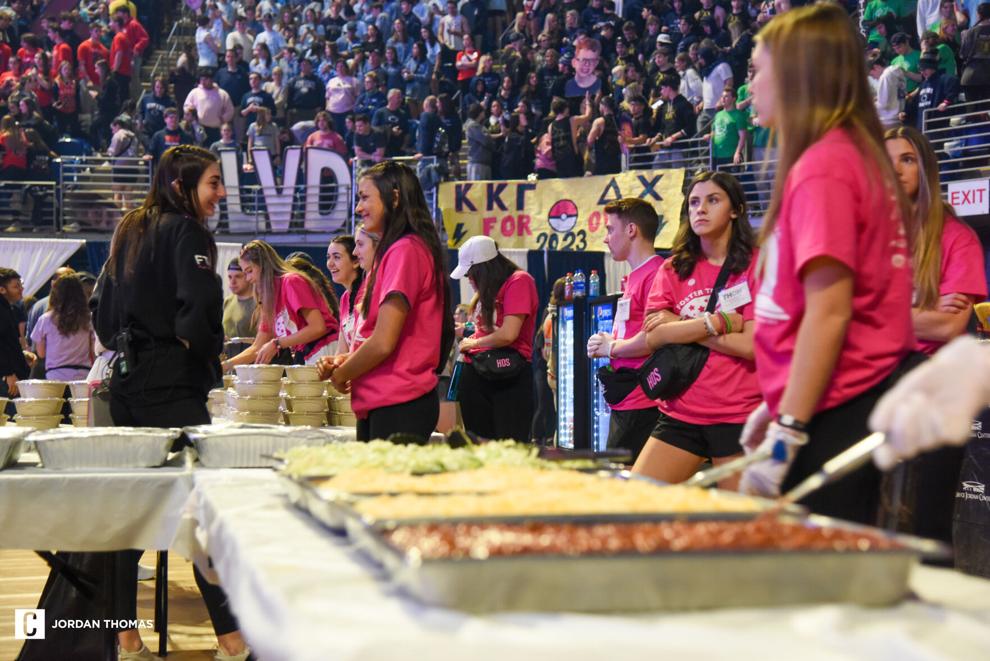 "It feels like they're doing as much as they can to energize us," McCarthy (senior-supply chain and information systems) said.
McCarthy has been head Family Relations chair for his fraternity for the past two years, and he became much more involved in THON after he went through chemotherapy himself.
"The THON mission kind of helps me get through my journey," McCarthy said.
As someone who's very passionate about THON, McCarthy has participated for 40 hours in the stands in past years.
He said there is a noticeable difference between the food for the audience and dancers. Although he loves the chicken baskets, they can become "a bit too much" for him and others after eating too many.
McCarthy has liked all of the dancer meals a lot better than the stands because of the "good catering." Even when a dancer doesn't eat one of the meals, they are still able to eat something offered.
"Any meal you don't want, there are always good PB&Js, so you always have a substitute," McCarthy said.
McCarthy said dancers essentially have unlimited snacks along with the ones they brought beforehand.
Jordyn Sanders and Karis Blagden said they've had an "amazing experience" so far working on the THON Hospitality Committee, where they serve dancers and families these meals and snacks.
They also roam around, passing out waters to make sure dancers stay hydrated.
One of their shifts, they were able to experience handing out dancer meals, which Sanders (sophomore-architectural engineering) said looked good, and she liked the fact that there are many options.
"I feel like everyone is able to pick and choose to their liking, and people with dietary restrictions have their own meals, which is nice," Blagden (freshman-environmental resource management) said.
Blagden said she believes the most impactful part of serving meals to them is that they get to encourage everyone who's trying their hardest and interact with everyone in THON.
"It's been such an amazing experience just getting to serve all the dancers meals, and getting to support them is amazing," Sanders said.
MORE THON COVERAGE
Lights flashing, music blaring, people dancing — my ADHD brain should be beyond overstimulat…