For the last four years, Regina Duesler has been on the finance committee in Penn State's THON. Now, she'll serve as the organization's executive director for THON 2020.
"I am so excited," Duesler (senior-accounting and finance) said. "It's truly been a dream of mine to have an impact on this organization that has given me so much, so I am so excited and hopeful for the future of the organization and I see so many opportunities for us to take advantage of this year."
While she's been on the same committee for four years, Duesler said her experience has been different every year.
"Seeing all the different ways that THON has evolved over the past four years makes me so excited," she said. "The people that I've met, the families that I've had a chance to interact with, they really are so passionate about THON, as well as I am, so I'm very excited to continue to give back to the community."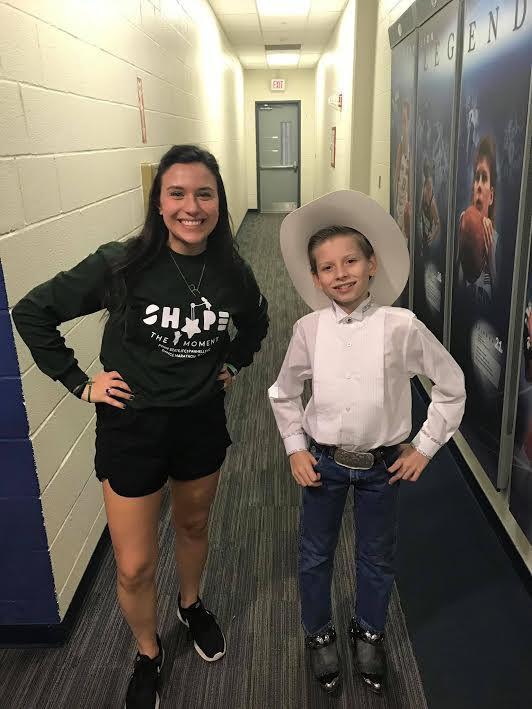 As executive director, Duesler hopes to ensure that everyone's voice is heard. She said she's looking forward to hearing different perspectives that can inspire changes that will benefit the organization.
"As the executive director," Duesler said, "I will lead the executive committee, but I'm going into this role as being an advocate and a resource for all of the 16,500 student volunteers, so I'm ready to take that on and lead anybody that would like to speak out if they have any feedback or anything like that."
In addition, Duesler's job as executive director will entail her overseeing all 16 committees and facilitating necessary discussions. She will also act as a liaison between Four Diamonds and Penn State.
During her time in the finance committee, Duesler said she became close friends with other captains, who have influenced her journey in a large way.
"I was able to see all them grow, as well as they were able to help me grow as a leader," Duesler said.
One of these friends is Jess Tyrrell, rules and regulations fundraising safety director. Tyrrell said Duesler isn't the type to take no for an answer.
"[Regina is] honestly the hardest working person I know," Tyrrell (senior-biobehavioral health) said. "She has put her entire four years at Penn State and will put the next year completely THON first."
Tyrrell said that Duesler was willing to work on any issue, no matter how challenging. She recalled Duesler always being the first one to step up with an idea.
"Honestly, I couldn't see anyone better for this position," Tyrrell said. "She knows THON so well, every single aspect of THON, because she has worked on it for so long. I just think that under her, THON will be in incredible hands and it will just continue to grow and change."
Emily Purnell, THON 2019's communications director, also grew close to Duesler during their involvement in THON.
"Regina is one of the most hardworking and passionate people I know," Purnell (senior-masters of accounting and Spanish) said. "She is very forward-thinking and is always looking for ways that she can help."
Purnell recalled spending time with Duesler last semester when they would have back-to-back THON meetings together.
"We would be in the HUB very late and start to get a little delirious," Purnell said, "so we have a lot of funny memories together switching between working together for THON and working together for school."
Purnell said she hopes Duesler will continue to learn and grow throughout her experience.
Kelly McCready, THON's 2019 executive director, also has high hopes for Duesler next year.
"Regina has a great vision for the organization, and my hopes are that she will accomplish what she sets out from day one," McCready (senior-human development and family studies) said. "I want her to walk away from the year being proud and recognize the difference she is making in so many lives."
McCready said that throughout the year she was able to learn from the community and learn more about herself as a leader. As someone who's been in the position, she would tell Duesler to keep an open mind.
"There are many aspects of the year that are unexpected, but carrying yourself each day with a positive attitude is recognized by everyone," she said. "The year will fly by, and it is important to cherish moments while also being proactive to accomplish goals."