Looking into the crowd of hundreds on the Bryce Jordan Center floor, most dancers are wearing their white long sleeve shirts with Penn State THON's 2019 "Shape the Moment" logo – and a personalized phrase on the back.
On the back of Chelsea Bunner's shirt is the date "03.04.2007."
Bunner (sophomore-French and agriculture business management) said the date marks the day her grandmother died from cancer.
"That was the cancer story that hit home for me," Bunner said. "She's kind of been my inspiration through it all, so anytime I always try to pay some homage or remembrance to her."
"She'd be so proud of you," Megan Reece said to Bunner. Both Reece (junior-economics) and Bunner are participating in THON together as independent dancers.
Bunner and Reece said they have similar background stories as to why they got involved with THON. In addition to attending THON when they were growing up, both dancers said their parents had danced in THON, and that they are now following a tradition.
From outside of Harrisburg, Bunner said her parents are alumni and danced back when THON was 48 hours.
"[My parents] keep giving me crap," Bunner said. "Because they danced when it was 48 hours, and they were like 'We didn't have a [Dancer Relations Committee member] or have people visit us or dancer mail.' But they've always been very supportive of me."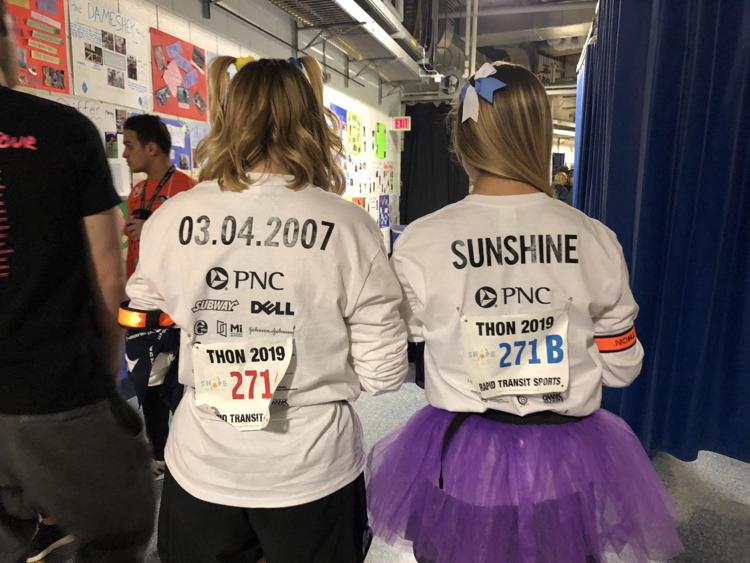 For Reece, the word "sunshine" inspired her to put it on her shirt in honor of her grandmother.
"[My grandmother] used to sing 'You Are My Sunshine' to all of us, all of the grandkids," Reece said. "So we always referred to her as sunshine. Sunshine will always be part of my life."
Reece said whenever she tries to honor her grandmother, it usually involves sunshine – from socks with suns on them, to her shirt.
Morgan Flynn chose the phrase "For the Smiles," because she hopes she bring more smiles to a Four Diamonds child's face.
"Cancer can take away the smiles," Flynn (senior-architectural engineer) said. "But if we can bring one more smile each day or throughout THON, or even just with our families or any other aspect of our lives, [we] would make the world a much better place."
Jessica Rutkoski said she chose the phrase "For Colleen" in memory of her best friend who died two years ago.
Rutkoski (senior-early childhood education) said she wanted this THON weekend to be for her friend.
"She deserves more memories and I think by having the time this weekend to keep her in my mind will keep me forward and focused and make me want to finish out strong," Rutkoski said.
Now participating in her third THON, Rutkoski said her experience as a committee member in the past is different from now independently dancing.
"I guess you can see the big impact you're making while you're dancing," Rutkoski said. "Obviously everyone is making a huge impact, but it hits close to home when you're dancing."
---
RELATED
Marc and Vina Davis, of Selinsgrove, Pennsylvania, came to the Bryce Jordan Center to see th…
---