Sarah Speed will never forget the night she received a call from the emergency room urging her to bring her daughter Mckenna to the hospital immediately.
At just the age of three, Mckenna Speed was diagnosed with acute lymphoblastic leukemia.
Speed, of York, Pennsylvania, said the only symptoms she saw were that Mckenna was constantly tired and catching viruses. It wasn't until Mckenna's pediatric surgeon noticed her spleen was larger than usual that he ended up calling for a cancer screening. It was then that they discovered she had almost no healthy white blood cells left.
For Speed, the discovery completely changed her life.
"A cancer diagnosis is earth shattering," Speed said. "What it robs from you is this blissful presumption that you have as a parent that your baby is going to grow up. You worry about, 'Oh jeez, are they going to want to play basketball like I did or what college they're going to?' You never consider, 'Is she going to make it to kindergarten?'"
Despite going through periods of inpatient care and treatment, Speed said Mckenna looks back at her treatment as a fun time for her.
"She doesn't remember pain and being hungry before spinal taps and a million and a half doctor's appointments," Speed said. "She remembers her THON girls coming to visit her for her birthday. She remembers college students hanging out and playing Play-Doh with her for a couple of hours in the infusion room."
Speed said what helped shape Mckenna's perspective was the amount of support her THON organization, Penn State's chapter of the National Student Speech Language and Hearing Association, provided her while she was going through her battle with cancer.
In October, Penn State THON announced its 2019 theme as "Shape the Moment," as previously reported by The Daily Collegian.
According to THON, the philanthropy chose the theme as a way to "create their own experience" and see "the light in the darkest of times."
---
RELATED
Penn State THON 2018 proved to bring another level of spectacular performances to the Bryce …
---
"What shaping the moment means to us is that we found ways, and frankly, Four Diamonds gave us all these ways to make treatment for cancer like a fun experience for our kid," Speed said.
From sending care packages to becoming pen pals, Speed said the THON community became a "shining, bright, lovely light."
Mckenna was on treatment for around two and a half years. In June 2017, Mckenna rang the ceremonious bell at the Penn State Children's Hospital in celebration of the end of her treatment.
Through Mckenna's journey, Speed said she has learned to find better ways to cope with the tough times. Speed said she remembers recently when she was on vacation with her family and friends and one of the children fell down a top bunk bed and had to be taken to the emergency room for stitches.
Speed said in that moment her stress response was extremely heightened.
"It's probably from my post-traumatic stress disorder of being a cancer mom. Your body is so used to reacting so strongly with every little thing because you've actually had this massive trauma," Speed said. "Something like that you overreact to."
Recently, Speed said she remembers telling Mckenna she hopes she can have an entire year of not needing to go to the doctor's office.
"Mckenna was like, 'Why? Why would you want that?'" Speed said. "I just kind of revealed that [going to the doctor's office] is great for you, but mommy did not enjoy being at the hospital all the time."
Staying connected in the THON community means different things for Mckenna and her mother. Mckenna enjoys all the activities and events with her THON organization every year.
For Speed, staying connected in the community can be bittersweet.
"Staying involved with this community means that my friends' children die sometimes, and I have to continue to face that over and over again," Speed said. "And I will, because I know what it is to be there. It's important for me to be there for those moments."
---
RELATED
In many captain and committee member interviews for Penn State's THON, one question is commo…
---
Recently, Speed said her friend's baby was diagnosed with cancer. Being there for her friend brought back all the memories of having the "new parent's phase" she had experienced when Mckenna was first diagnosed.
"I wouldn't trade anything like that for the world," Speed said. "But that means I have to figure out better ways to cope with this and learn from a new angle. It's just this constant process of trying to just face that moment over and over again until we finally beat this."
Speed said having perspective and perseverance makes a person resilient through the tough times.
"I'm trying to raise kids who think for themselves that stand up for when they believe in something and won't give up on any of their dreams," Speed said. "THON has been a really strong reminder of what that means — because every year we come together. Every year we mourn loss. Every year we celebrate victories, and every year we just keep going."
'Light at the end of the tunnel'
Sara Weinhold , of Ephrata, Pennsylvania, will always remember how her daughter's two THON organizations, Volé, the Penn State Ballet Club and the former Alpha Sigma Phi chapter, have dropped everything to be there for her daughter during scary moments.
At the age of four, Noelle was diagnosed with stage four Wilms tumor, a form of kidney cancer. Weinhold said she had to ask her doctor to repeat himself 10 times initially because she couldn't wrap her head around the news.
A few years ago, Weinhold remembers being on the phone with members of Volé when they heard Noelle in the background sounding upset. Noelle was about to go back to the doctor's office for a routine scan to check on the progress of her cancer treatment.
Moments after she hung up the phone, she received another call from the members letting her know they already organized five cars to drive to the hospital to be with Noelle when she got her scans. Weinhold said they assured her that Noelle wasn't going to go through this alone.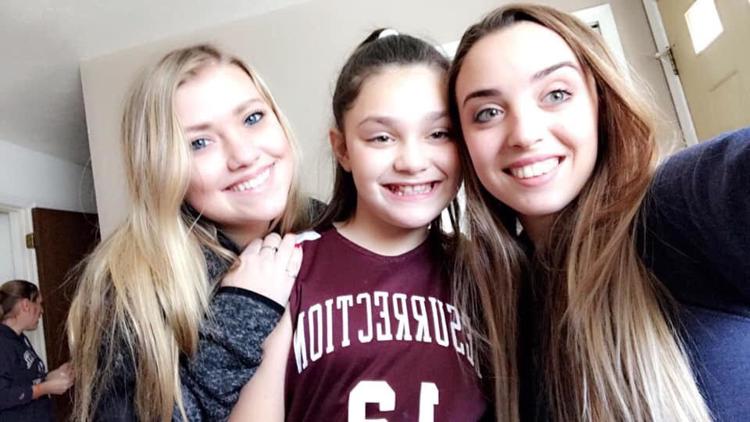 "If it wasn't for our orgs being there, I don't know if Noelle would have gotten through those scans," Weinhold said, as sometimes it took eight people to hold Noelle down for x-ray scans. "They gave her the strength. They held her hand. It was just incredible."
Weinhold said so many members stopped by that they had to leave the clinic because it was reaching capacity.
In addition to visiting at the hospital, Weinhold said her THON organization also helped the family when they lost their house. Weinhold said students paid for the family to stay in a hotel room for the weekend and created a GoFundMe to help pay for their first down payment on their new home.
"When we say we would not be where we are, we mean it," Weinhold said.
Weinhold said Noelle's THON organizations also stopped by Hershey Medical Center on their way back from a canvassing trip last fall to visit her and her friend Kirra, another THON child who had leukemia.
"Again, above and beyond incredible acts of selfless love," Weinhold said. "Seeing all of [them] for our kids and for us as parents, [they] are the light at the end of the tunnel. [They] are the hope in our darkest place."
Noelle met Kirra at Hershey Medical Center when they were just 4 years old, and they grew up fighting cancer together. When doctors told Kirra's family there would be no treatment for her fourth battle with cancer, Weinhold said they created Christmas for Kirra — an initiative where they came up with a list of gifts and decorations so Kirra could celebrate Christmas one more time.
"It was only 12 hours from the time I posted [about the project] to the time we had everything that we needed to do Kirra's last Christmas," Weinhold said. "More than 50 percent of the gifts were from Penn State students."
Weinhold said students from all over at Penn State also created a Christmas video to show Kirra their support. Weinhold took a reaction video of Kirra and was able to capture her smiling.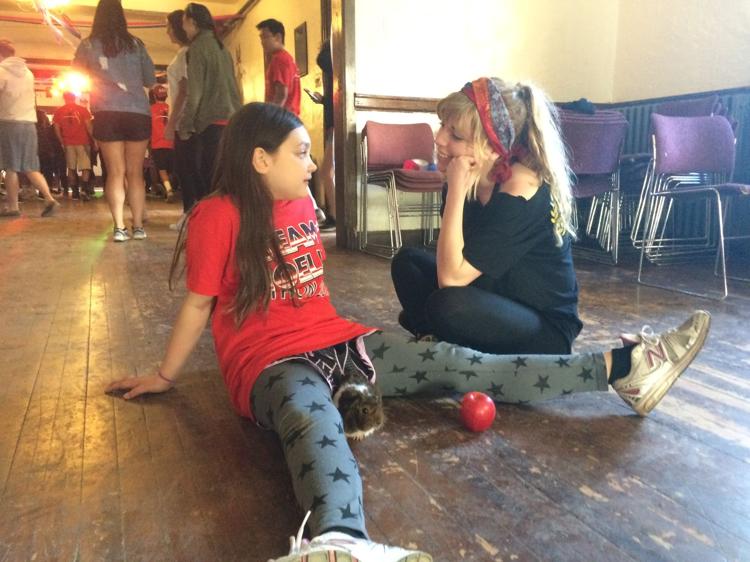 "You could tell that there was a lot she couldn't understand at the end," Weinhold said, choking up. "But that you knew she did. The way she lit up. She was so happy."
On Dec. 1, 2018, Kirra died.
"Kirra embodied everything about THON," Weinhold said.
Through the pain of the loss of their friend, Weinhold said Noelle uses Kirra's memory and the strength she gained from her family and the THON community to create change.
In the beginning of February, Weinhold said Noelle went to the Pennsylvania State Capitol in Harrisburg to give a speech in front of General Assembly members advocating for Pennsylvania Senator Scott Martin's Senate Bill 74 , which would create a tax credit for donations made to pediatric cancer research centers.
Weinhold said the bill would help generate up to $100 million to fight pediatric cancer over the next 10 years.
During her speech, Noelle, who is now 10 years old, talked about her experiences with cancer and about her friend Kirra.
"She's transforming into not only a beautiful lady," Weinhold said, "but she's also got the best role models to look up to."
Meghan Yizzi , a Family Relations Captain for THON, said reflecting on this year's theme for THON helps put committee members back into perspective and explains why she is involved with THON.
"It makes me realize that I THON because I have to," Yizzi (senior-biochemistry and molecular biology) said.
Yizzi said while she got to know THON families from events throughout the year and listened to their stories, she realized that the little moments make the biggest differences in their lives.
"I think all of those little moments have gone along with the theme, and shaped every second of their journey and shaped every second of our journey," Yizzi said. "Because at the end of the day, the families are the reason why we are here. They are exactly who we are fighting for."
---
RELATED
Many Four Diamonds families excitedly anticipate experiencing Penn State's THON in the Bryce…
---