Penn State students love Instagram.
But Penn State students also love THON, which means THON is full of fun places to post during the 46-hour marathon.
Here's a list of spots to help make the most of your THON social media experience.
1) The stage
Of course, if you're lucky enough to get on stage during THON weekend, it's the perfect place to grab a group picture of your club or team with the full BJC crowd behind you. Good luck getting up there, though.
2) The floor
The floor is full of excitement, bright colors and plenty of smiles, which is just what you want for your profile. There's always something going on to take a picture of, and it's a great way to support the dancers standing for 46.
3) The PNC Bank Photo Booth
Located right outside of Portal 20, the THON/ PNC backdrop gives you and your friends the ultimate selfie lighting. The line might be long, but think of all the likes you'll get! Totally worth it.
4) The THON Merchandise Booths
After stocking up on all your THON 2019 merch, make sure you snap a pic in your new outfit. You can stock up across from Portal 4.
5) Waiting in line outside the BJC
Everyone knows that waiting in lines is an inevitable part of THON weekend.  So why not make the most of it? Get hyped up and grab a couple silly photos to share while you're waiting.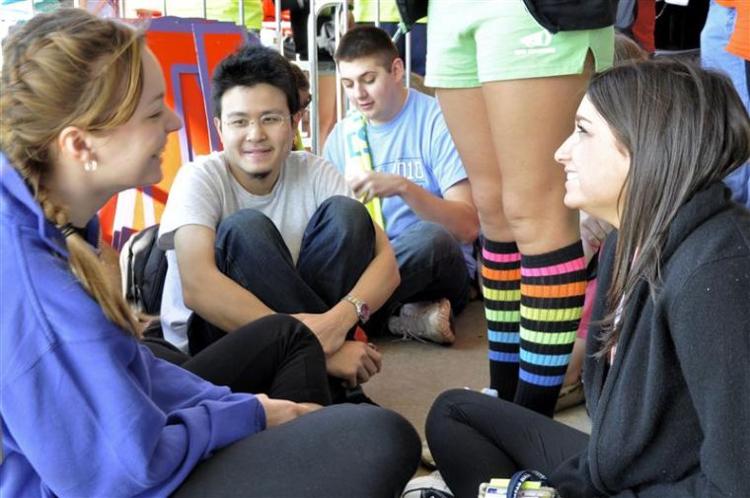 6) The nosebleeds
Even though the action is mostly on the floor, it might be worth it to head up a couple flights of stairs to the highest rows in the BJC.
From there, you can see the stage, the crowd, the floor and everything in between, making this the perfect place to capture THON's entire atmosphere.
While sharing THON with your followers feels like a must, remember to put your phone down and enjoy the weekend. Spend time with old friends or make new ones -- just remember to tag them all in your pictures.