Both seniors, Katie Bagnardi and Stephanie Sixsmith met during summer session of their freshman year, with the same leap program and many classes together. And while they did not live together in summer session, they have lived together ever since.
Through both captain committees and greek life, they have been involved with Penn State THON each year, and it was a goal for them to dance since freshman year.
Bagnardi (senior-biobehavioral health) said through dancing independently, she and Sixsmith have been able to see THON "from a whole new perspective."
"It's a lot of extra fundraising and planning," Sixsmith (senior-nursing) said.
Bagnardi said the need for extra fundraising, for them, was just one more way for them to donate their time to the philanthropy.
"So far we haven't left each other's side," Bagnardi said, laughing.
They said that, because they lived together for so long, they are able to tell what the other person needs. That will help them support each other throughout the weekend.
"It's kind of a culmination of all four years at Penn State," Bagnardi said. "For every child we've impacted, we're doing this for them."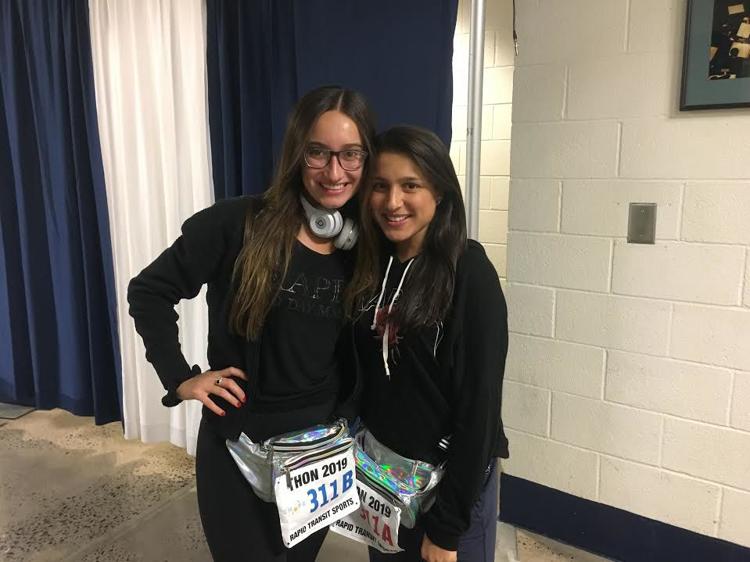 Taylor Evans and Rachel Patel became friends through their sorority Kappa Kappa Gamma their fall semester of freshman year — however, that wasn't their first time speaking. They found out this year — their senior year — that when they were seniors in high school they messaged each other on Facebook to be roommates, but they ended up finding other people to room with.
"We were really close literally the first day we met each other," Patel (senior-agribusiness management) said. "We've been really close since."
While they are both in the same sorority, they still decided that they wanted to dance independently.
"I felt like I needed to raise the money myself," Patel said. "Since I'm dancing for my mom, it was something I really wanted to do."
Evans (senior-biobehavioral health) said the two always knew they would want to be dancers together, and doing so as seniors is "a really good way to go out."
"Independent dancing is so rewarding in its own way," Evans said. "It's completely different from dancing for an org."
Evans and Patel are waiting until hour 40 to do massage rollers, ice baths and wear slippers, and are instead relying on each other to keep going, as well as hourly stretches and a "positive mindset."
Patel said she hopes she and Evans will be able to give the kids they are dancing for joy during some times they may not be smiling.
"We have our own specific people we are dancing for," Evans said. "But just in general, cancer has affected so many people, and it just means a lot for us to be here dancing for them."
---
RELATED
Ben Hammel was involved in Penn State THON all four years he attended the university, and he…
---