With THON merely hours away, let's take a look at the massive event by the numbers. One thing is certain: the statistics are remarkable.
Two-thirds of all money raised since THON's inception in 1977 has been raised in the past 10 years.
Since 2007, THON has raised over $93 million dollars for Four Diamonds, according to the Four Diamonds annual financial reports.
Four Diamonds provides financial and medical assistance to children with pediatric cancer and their families, specifically for care and treatment not covered by insurance or other means as well as additional expenses that disrupt the welfare of the children.
According to Four Diamonds' website, 100 percent of all patient's bills are covered.
However, the Four Diamonds does not just cover the treatment bills for kids with pediatric cancer. Four Diamonds also enables specialty care providers to be made exclusively available to patients and their families. These specialty care providers offer psychological care, nutritional care, social work such as transportation assistance, musical therapy to help cope with hospital settings and pastoral care for spiritual and religious needs.
Based on the information aggregated from Four Diamonds annual financial and impact reports, Four Diamonds on average takes in and provides funding for treatment for about 93 new patients per year and provides funding for treatment for about 558 patients per year total.
The funding Four Diamonds has received has allowed them to fund researchers and research initiatives for fighting and treating cancer. Specifically, funds from THON have allowed for the creation of stem cell transplant clinic, a pediatric cancer experimental therapeutics research program.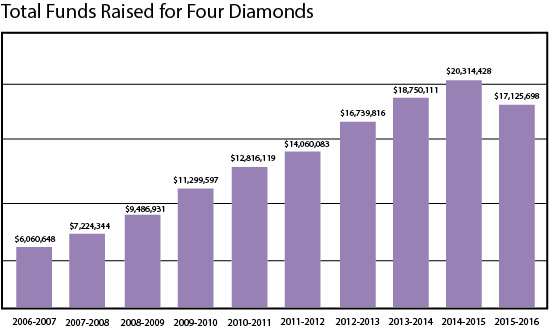 Gil Pak, the Operations Director for the Hershey Children's Hospital, said the fundraising from
THON is one of the primary contributors to research funding.
"The original goal of the Millards, when they founded Four Diamonds was to assist families, but with the fundraising success of THON and Mini-THONs we can go beyond that and invest in research, "Pak said. "Providing assistance to families will always be the main goal, but now we can go beyond just helping families and help find a cure."
From 2007 to 2014 the funds raised by THON increased steadily. In 2007 THON raised $4,497,001, but by 2012 THON was raising eight figure sums and in 2014 THON raised a record breaking $13.3 million in funds.
However, the last couple years saw a dip in funds raised by THON.
Despite Four Diamonds receiving record of $20 million in 2015, THON actually experienced a slight drop in fundraising from the previous year.
In 2015 THON raised $12,732,897, about $60 thousand less than 2014 when THON raised a record breaking $13,336,675.
Funds raised for the Four Diamonds by THON 2016, $10,262,256 was the lowest since THON 2011 when it raised, $9,266,841.
The cutbacks on canning in 2015 to 2016 (THON 2016 but the 2015-2016 Annual Financial Report), following the death of Vitalya "Tally" Sepot, a sophomore at Penn State, in September of 2015, may have been one of the factors that led to THON raising less money that year.
Sepot's death sent shockwaves through the Penn State community and caused THON to evaluate the safety of canning trips. Several canning trips were cancelled by THON organizers due to concerns about less than ideal weather or other safety concerns.
Other factors could be at play as well. The drop in funds raised could also be that it is just difficult for those canning and participating in other fundraising events to continue raising money that will top the previous year's eight figure sums. One student quoted in a previous report by The Daily Collegian said that the number of people canning in the same areas made it more competitive.
However, as reported previously by The Daily Collegian, many of those participating THON do not see topping the previous year's funds as important as how much the funds are benefiting kids with childhood cancer.
Even though funds raised by THON have decreased over the last couple years, the funds raised by Mini-THON's have steadily increased each year.
In 2007, Mini-THONs which are as events similar to THON that are held in elementary schools, middle schools, high schools and colleges, raised $624,246, but by 2016 though less than a decade later funds the funds raised were $5,497,215, about 8.8 times the funds raised by Mini-THONs in 2007.