Editor's note: In honor of Veterans Day on Nov. 11, several student veterans were interviewed about their unique life experiences in the military. They shared their stories about how and why then ended up where they are today, as well as revealed a bit about their personal interests here on campus. 
 Find the full series here and below this article. 
---
Robert Abraham Morss is a 24-year-old who served four years of active duty in the Army.
Morss (sophomore–secondary education) was a ranger in the 2nd Ranger Battalion stationed in Fort Lewis, Washington, and was deployed to Afghanistan three times.
He went into the Army immediately after finishing high school. "I had my 18th birthday in basic training," he said.
Morss' time in the military enabled him to figure out his particular career goals.
"I had known going into the Army that I wasn't going to stay forever," Morss said. "[The Army] definitely crystallized the idea in my mind that I wanted to become a high school history teacher."
He specifically wants to teach American history because he believes "our nation's founding is a beautiful time."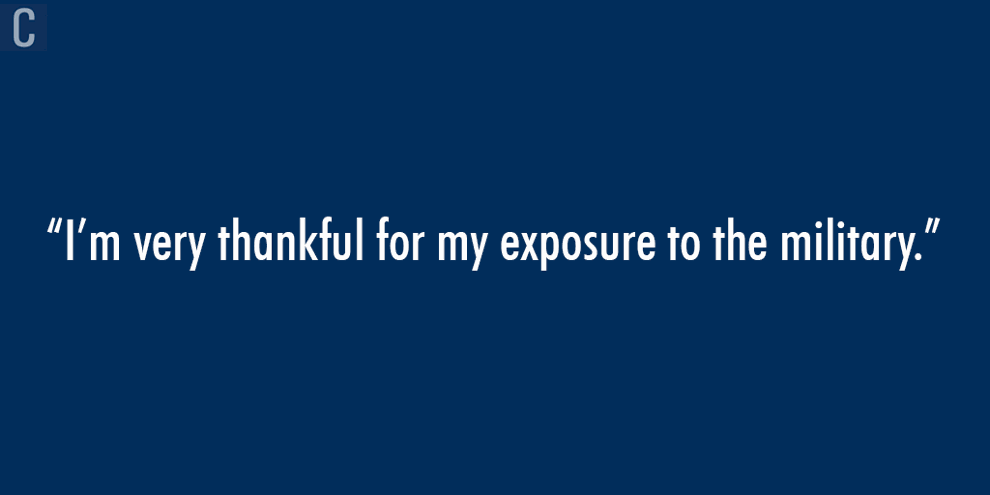 However, Morss expressed the importance of learning many different perspectives of history to understand the sacrifices that people of every race and gender have had to make, often giving up their lives for the United States.
Traveling for the military also illuminated just how lucky Americans are to live in a country that has protective laws in place.
"My first deployment to Afghanistan really bolstered my pride for America because I saw what a country was like without a Constitution to protect its people," Morss said.
His enlistment in the Army concluded on Dec. 15, 2015.
Morss ultimately chose to attend Penn State in the following year thanks to a friend he had made while in the military. The two decided to attend together, so Penn State was the only college to which he ended up applying.
Morss really liked the Penn State culture and pride, as well as its extensive alumni network that stretched across the country. He also acknowledged how well this school treats former military people.
"I appreciated how much Penn State takes care of the veterans and how much they respect them," he said.
In the months before starting college, Morss was an Uber driver. It was a side job that he originally picked up during his last two months of being in the Army. Morss would drive 6-7 nights a week, trying to save up as much money as he could to help him in his transition back to school.
When the time finally came for him to begin school, he and his father packed everything Morss owned into a U-Haul and drove cross country, through 15 states from Reno, Las Vegas, Nevada to State College.
As someone who admits to being a social butterfly, Morss explained that transitioning back to school wasn't the easiest for him. However, there were certain measures Penn State took that greatly eased this phase of his life.
"My first semester showing up here at Penn State, instead of a freshman seminar there was a veteran's seminar. It was really cool," Morss said.
A former marine officer ran the seminar, presenting student veterans with a welcoming space to talk and to learn what to expect from college. Morss made numerous good friends through this seminar that he's still in contact with today.
He admitted that certain skills in the military really benefitted him during this time, especially self-discipline.
Like many other student veterans on campus, Morss works at the Office of Veteran Services helping veterans schedule classes, get their GI Bill funding figured out and become connected with other veterans.
Within the Penn State community, Morss is a member of the College Republicans. He also currently holds an internship within the History Department where he transcribes Civil War journals.
Morss appreciated his time in the Army because he gained valuable insights and maturity.
"I'm very thankful for my exposure to the military because it's definitely given me perspectives that I share with people decades older than myself," Morss said.
---
Editor's note: In honor of Veterans Day on Nov. 11, several student veterans were interviewed about their unique life experiences in the milit…