Ezra Gershanok and Jacob Halbert said they believe they've found a solution to the costly problem of losing the key to an apartment or dorm. The two Penn State students call it the "Keyper."
According to Gershanok (sophomore-economics) and Halbert (sophomore-engineering), the Keyper is a silicone phone wallet fit to hold credit cards and a key.
"The Keyper [idea] came to me one day while my girlfriend, Kate, and I were watching Shark Tank," Gershanok said. "I was thinking of what I could do to make a difference, or play a role in creating a product and having a business."
After considering inconveniences many college students face on a regular basis, Gershanok came to the conclusion that all students who live on campus need three things: "their phone, their ID card and their dorm key."
Given that many of Gershanok's friends have lost their dorm room keys — an item that costs $60 to replace — he decided to create a device to help students easily and efficiently keep track of their keys.
Last summer, Halbert reached out to Gershanok about getting involved in the project after finding out about his idea through a Snapchat story.
"I just thought Ezra had a really good idea," Halbert said. "I wanted to be a part of that once I transferred to Penn State."
Currently roommates and business partners, Halbert and Gershanok's friendship spans 10 years, beginning when the pair first met at a sleepaway camp in Morgantown, West Virginia.
"What's really good about the two of us as partners is that our skills complement each other," Gershanok said. "I was able to come up with the creative idea, and he was able to implement it using 3D designs. I've been able to contact suppliers, and he's been able to build our website."
After Gershanok and Halbert became business partners, they began the process of designing and creating Keyper. The two started with dozens of sketches, which lead to three dimensional designs. The three dimensional design of the product was finalized in September.
In the meantime, Gershanok looked for a silicon manufacturing company to produce the Keyper design. He found a producer in China, who currently manufactures the product today.

"It took three months to get from point A to where we are today," Gershanok said. "Aside from a few obstacles, it's been a smooth sail to get to this point, and I think that's due to the simplicity of the product."
Gershanok and Halbert have started testing Keypers on campuses and selling samples to students, noting that student reception has been positive thus far.
Allie Ryave, who has had the product for a few weeks, said she is "very pleased" with her Keyper.
"At first, I thought my key would fall out and I didn't really think this product was necessary, but now I love it," Ryave (sophomore-human development and family studies) said. "I used to always lose my key, so I would have to keep it on my wrist. It would end up scratching me, but now it's always on my phone, which is way more convenient."
Gershanok and Halbert have tested the Keyper at various schools including Emory University, the Georgia Institute of Technology and the University of Pittsburgh. Additionally, they handed out Keypers to some of their friends over Thanksgiving break to test at their respective schools.
Halbert added they have had people reach out to them from Harvard University and Arizona State University with interest in purchasing the Keyper.
"We would like to eventually have a sales ambassadors program in which we work with people from other schools to sell our product," Halbert said.
However, the interest in Keypers is not limited to college students.
Gershanok said a marathon runner has purchased a Keyper, and a Florida lawyer reached out with interest in purchasing Keypers for the firm.
Gershanok and Halbert recently received 1,000 units of Keypers, and said they do not think there will be a problem selling them all.
Additionally, they said they plan to expand their business by selling Keypers in local State College stores, such as McLanahan's and stores specific to college towns like Target.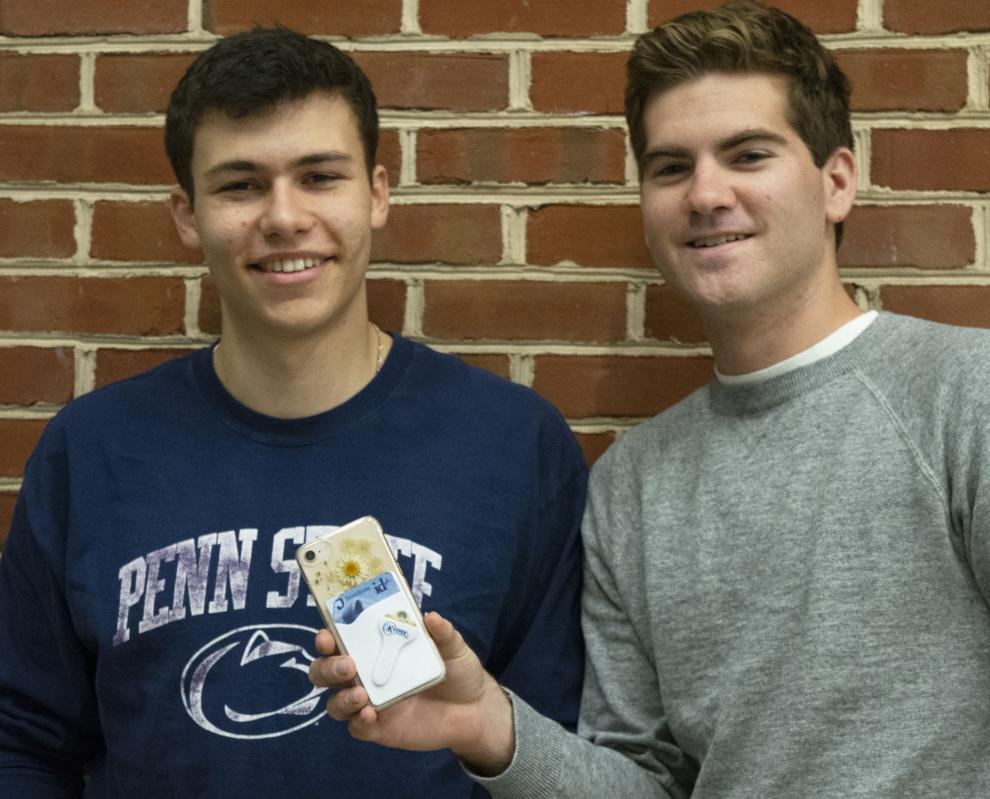 "We also may partner with other universities and their freshmen classes and offer a mass order at a low cost for them," Halbert said. "This is important because something we don't consider is that it doesn't just cost the student money for a lost key, but the university as well."
The two said they are planning to eventually offer customizable designs to students, clubs and potentially universities.
Halbert said there is now a patent for Keyper which was "really big" for the two. Further, he said creating the Keyper business has been a significant learning experience for him even if the business doesn't work out.
Gershanok agrees.
"In the three months, we've created bank accounts, relationships with supplies in China, marketed and learned how to market through social media," Gershanok said. "If this was a class, I think I would've learned more than any of my actual college classes."
The Keyper is currently being sold for $5, and can be purchased online at TheKeyper.com.