"An eating disorder is like a voice in your head, controlling you and telling you what to do," Shannon Schubert said. "I used to call it the monster because it just overcame me."
For years, Schubert has struggled with an eating disorder, but it's been more than 100 days since her last relapse.
Schubert (junior-secondary biology education) has aspirations of becoming a high school biology teacher. Schubert says she loves how much there is to do at University Park and she tries to be as involved as she can.
When she isn't tutoring football, Schubert spends time with her friends, enjoys a run or participates in a club called "Feel Free to Be Me," aiming to help its members focus on a positive body image and general positive outlook on life.
Schubert said these activities help her from being drawn back into the dangerous cycle of an eating disorder, which has the highest mortality rate of all mental illnesses.
National Eating Disorder Awareness Week, observed from Feb. 26 to March 4, fosters a dialogue around the estimated 30 million individuals in the United States who struggle with an eating disorder.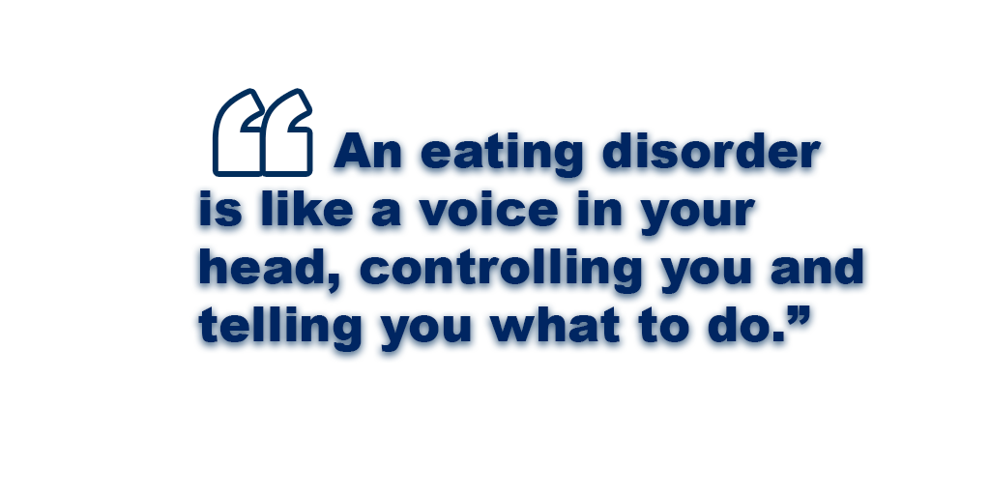 Schubert said her eating disorder began in middle school.
"In sixth grade, I was bullied for my weight... there was this one student, he would constantly call me a pig," Schubert said. "It just stuck with me. That word has always been in the back of my head."
After that, Schubert she resolved to lose weight. She began skipping meals, or only eating crackers or other small portions of food. When her parents asked her why she wasn't eating, Schubert said she would tell them she had a stomachache or that she wasn't hungry.
"I would just lie and make up excuses, because even I didn't know what was wrong with me," she said.
Mandie Sivils, her cousin, noticed when Schubert began losing weight.
"At first I thought it was from all her dance classes, but then her mother told me she wasn't taking dance classes anymore," Sivils said.
According to the National Eating Disorder Association, the emotional symptoms of an eating disorder may include skipping meals, a preoccupation with weight, food and calories and withdrawing from friends and usual activities.
Before her eating disorder, Schubert said she was very involved in clubs and sports. However, as her struggle intensified, Schubert stopped going to meetings and practices.
"After things started getting bad, I had no motivation to do anything," Schubert said.
It was during her sophomore year of high school, Schubert said, when she learning about the symptoms of eating disorders.
"I would hear things, and I would think, 'Oh, I do some of those things'... But I never put two and two together. I never thought I had a problem," Schubert said.
It would take years to come to that realization.
In her senior year of high school, Schubert said her boyfriend broke up with her. That, combined with the stress of applying to college and schoolwork, intensified her symptoms.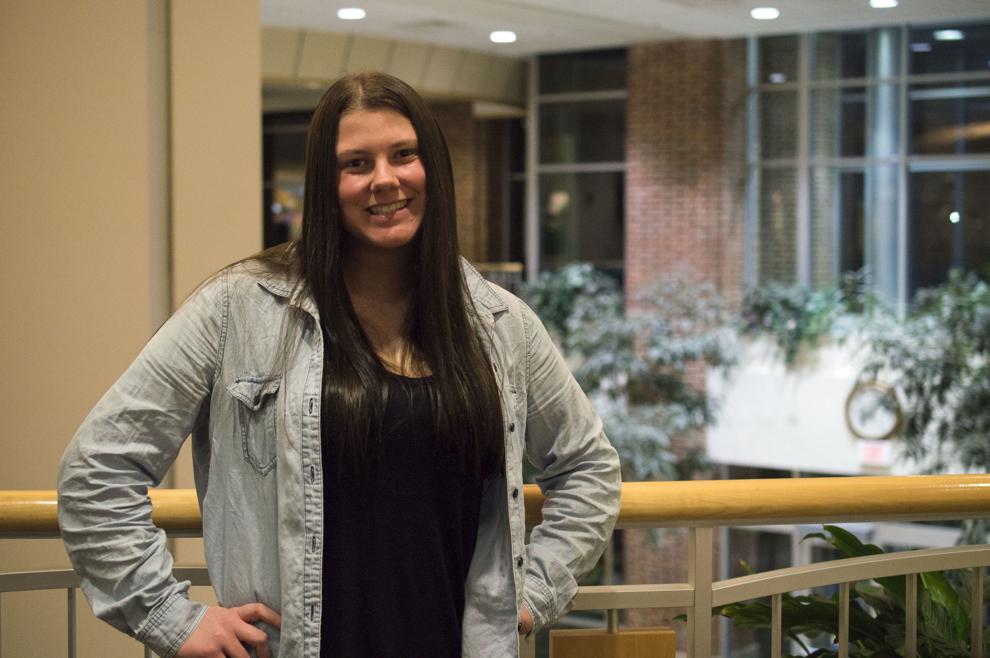 "I would go to the gym at least three times a day and I would wear pants and a sweatshirt so I would sweat more," Schubert said. "I thought if I sweat more, I would lose weight. And I thought if I lost weight, I'd be skinny... and I thought if I was skinny, then I'd be happy."
Yet, the eating disorder began to take its toll.
Schubert said she had very little energy during the day and would take a nap as soon as she got home from school.
"I was just so miserable all the time," Schubert said. "I even painted my bedroom walls white...I didn't want any color. I just wanted everything boring and dull, and I wanted to be by myself."
It was Schubert's best friend, Heather Moss, who intervened.
"At lunch she literally wouldn't eat anything," Moss said.
Schubert would tell Moss she just wasn't hungry.
"I knew she wasn't going to do anything about it herself," said Moss, who then decided to approach Schubert's parents.
One day, when Schubert came home from school, her parents said they were going to the store. Schubert got in the car with them and soon discovered they were actually going to visit a doctor, who developed a plan to help combat the eating disorder.
Schubert said she was initially angry at Moss and didn't find the treatment helpful, but now she is thankful every day.
"They weighed me and I didn't like that," Schubert said. "Anything with scales I was not about. And mirrors — I hate mirrors."
Schubert and her therapist discussed nutrition and body positivity.
"When you have an eating disorder, it's not just about food," Schubert said. "An eating disorder can make you think really negatively about yourself."
Her turning point in therapy, Schubert said, was when her parents wouldn't allow her to go away for college.
"Penn State was my dream school," she said. "I thought if I could overcome [the eating disorder] over the summer, I would be able to go.
Schubert did go away for school that fall, starting at Penn State Altoona. The new landscape of college presented new challenges and during her first relapse, Schubert stopped eating again.
"I was so miserable I would pay people to take me home on the weekends," Schubert said.
Eventually, her organs began to fail from lack of nutrients, and she had to be hospitalized. Although this helped Schubert recover, she later succumbed to her eating disorder again — developing bulimia.
Over time, however, Schubert has learned to overcome her eating disorder.
"Now if that voice starts to come back, I know how to push it away," she said.
Schubert said there are many individuals and groups that have helped her fight, including NEDA. She still participates in NEDA walks to this day.
"The organization is amazing," said Sivils, who participated in walks with Schubert. "I honestly think [NEDA] was a big support for her because there were people who knew what she was going through and who could give her advice."
Schubert has a tattoo of the word "hope" on her wrist, intertwined with the NEDA symbol.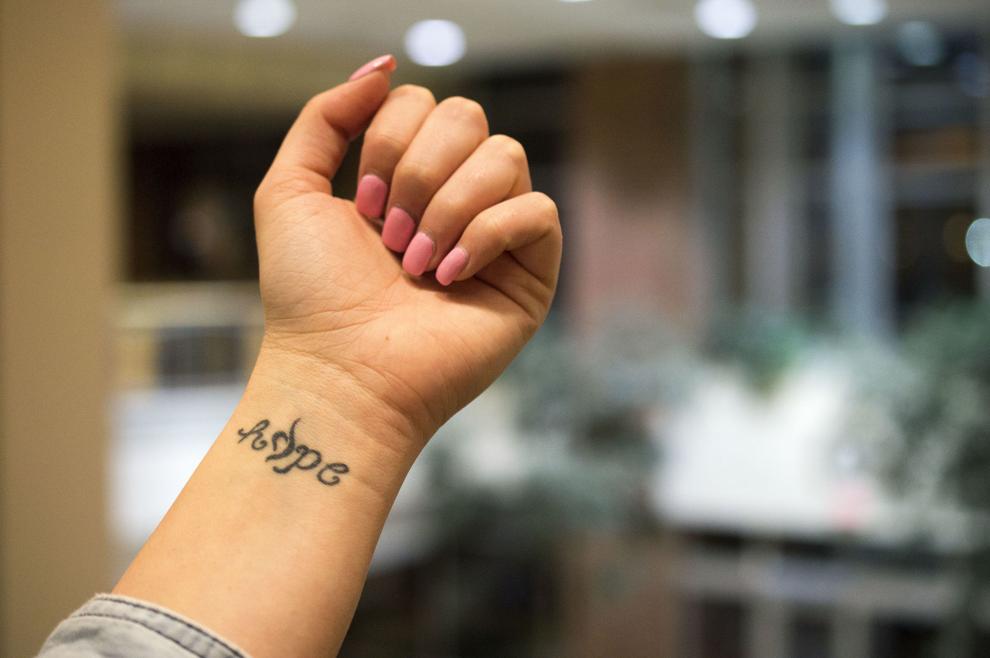 "[NEDA] is a really important part of my life and I want it to be part of me forever," Schubert said.
Hope, she said, is another integral part of her life, and it motivates her to never give up.
"Throughout my eating disorder, I've always turned to hope," Schubert said.
Sivils, who has been one of Schubert's closest confidantes, said it's important to be there for friends who may be struggling with an eating disorder — and not judge them.
"That way they will open up to you and let you know what's going on, so you can help them," she said.
Schubert said she doesn't think she could have overcome her eating disorder without support from friends and family. She also said her own mental strength has been key.
Maintaining a positive mindset is an important part of not just recovery, but of everyday life, she said.
"I definitely would not wish this experience on anyone. It is awful," Schubert said. "However, I'm thankful I went through it because it helped me grow."
---
National Eating Disorder Awareness Week starts off with a vigil at Old Main.
Some illnesses are easy to spot in people and may prompt speedy responses from family and fr…