Michelle Kinsman is dedicated to making students more ready for the workforce than she was at their age.
In preparation for the job fair JobExpo in Alumni Hall tomorrow, as well as in observance of Women's History Month, Kinsman gave a talk at 6 p.m. in 160 Willard Building.
"I've always been really passionate about helping other women build their careers," Kinsman said. "And helping them become more prominent leaders in the workplace."
Kinsman, a graduate of the Class of 1992, is the senior vice president and executive director of production and operations at Digitas Health, one of the largest advertising companies in Philadelphia.
The advertising workforce, in Kinsman's experience, has been made up of almost equal parts men and women. This does not mean, however, that equality has been achieved as women still hold considerably fewer leadership positions in the advertising field.
"Focus on becoming your own advocate," Kinsman said. "We have to know what we're worth and we have to ask for it,"
She wanted to contribute to feminism in some meaningful way. After thinking about it for years, she wrote a book, "Real World Feminist Handbook: Practical Advice on How to Find, Win & Kick Ass at Your First Job." As a woman in a leadership role in the adversing field, she felt that her advice and the lessons of her storied career would help women assert themselves in the workplace.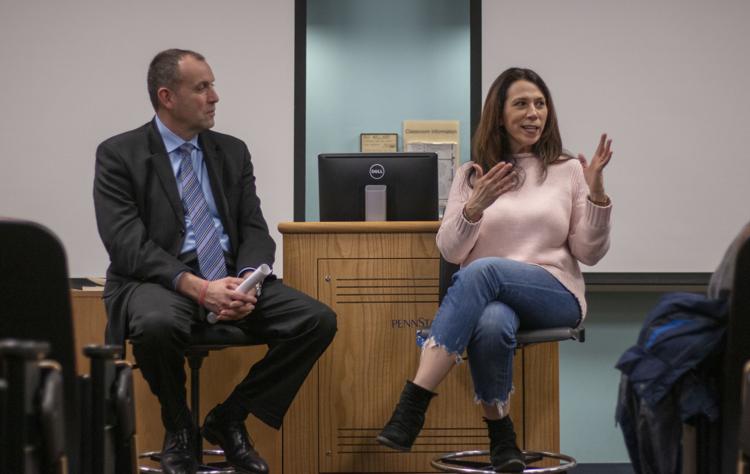 Kinsman was the first person in her family to go to college. However, after graduating from Penn State with a film degree — despite her mother's protests — she "got stuck."
As a self-described perfectionist, Kinsman warned students not to make the same mistakes she did: overthinking and remaining in her comfort zone.
"There's no perfect solve," she said. "My advice is to find the biggest thing and take action on it, things will start falling into place."
Fiona Zhang, a student who attended the talk, said Kinsman broadened her view of her future.
"It's interesting to know that she was a film major," Zhang (sophomore-public relations) said. "It's like she's telling me there are more possibilities than we know."
Kinsman reminded students that their best option in the workforce is to be confident, something that women in particular may feel uncomfortable with. She believes that the biggest thing that jump-started her career was getting out of her comfort zone.
Bob Martin, assistant dean for Internships and Career Placement in the Bellasario College of Communications, hopes that students got some "personal empowerment" out of Kinsman's talk.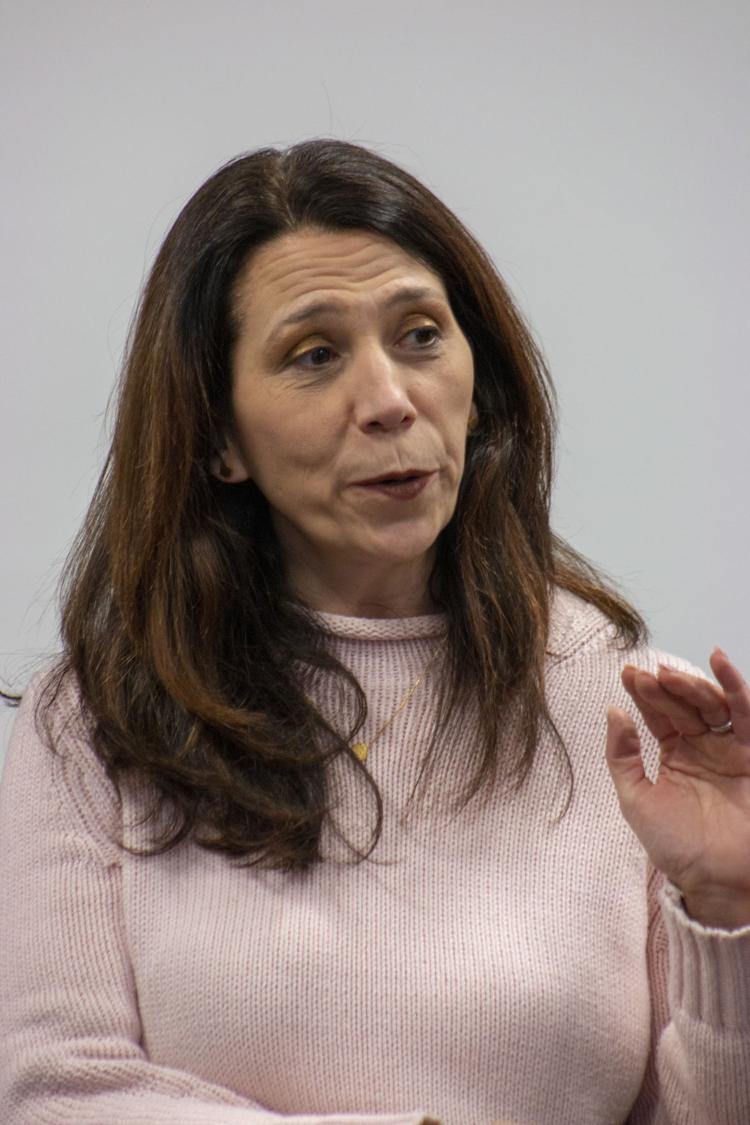 "Don't worry so much, 'Oh my word, did I get the perfect job right out of school?'" Martin said. "It's not a life sentence, it's a journey"
Kinsman believes one of her other biggest hurdles to jump was a lack of connections. Unwilling to let that stop her, after she went to Philadelphia she started looking up hiring opportunities in the phonebook. She encouraged students to take 21st century initiative.
"The chances of your resume actually landing in the right hands of an interviewer who is going to act on it are slim... I'm not going to say it never happens, but the way you get noticed is by finding a connection," Kinsman said. "You would be shocked to know who knows who."
She suggests that students find people and interact with them face-to-face by any means necessary and not be intimidated or "skeeved out" by making their ambitions known on social media and LinkedIn — specifically because they never know who might respond.
"Wouldn't you help somebody if they asked you?" Kinsman said.
Making a connection is only the first step, however. Kinsman reminds students to be prepared, ask relevant questions and, above all, make a personal connection and be nice to talk to.
"A lot of what people are looking for is, 'Can I spend 40 hours a week with this person?'" Kinsman said.