When a photo of Rachel Cargle holding up a poster stating "If you don't fight for all women, you fight for no women" at the 2017 Women's March in Washington D.C. alongside her friend went viral on the internet, Cargle said her life completely changed the way she existed in the world.
Cargle, who is an activist, writer, lecturer and an undergraduate student majoring in anthropology at Columbia University, said the photo was first spread to white audiences, receiving a positive response.
When Afropunk, a media platform that Cargle said has mostly an audience of people of color, posted the same photo of her a few weeks later, she said she received a completely different response.
"I got a lot of questioning of who I was, 'Why would you be a feminist? This movement was never about you,'" Cargle said. "And it really made me start becoming incredibly introspective and questioning what they were saying and why they were saying it."
As a result, Cargle took time to further research feminist history in relation to race.
Once she looked into more information, Cargle said she then knew she had to educate others about her findings – sparking her to go on tour to lecture people across the country.
Hosted by the Penn State Gender Equity Center, Cargle's lecture, titled "Unpacking White Feminism," discussed feminism through the lens of race, modern manifestations, intersectionality and changes that need to be made on Wednesday night at the Flex Theatre in the HUB-Robeson Center.
Before starting, Cargle told the audience to think critically by "stepping out of their ego in how you feel, because that doesn't matter right now. What matters is the black lives that are affected by society right now."
Defining 'white feminism'
Cargle started the lecture by defining "white feminism."
"White feminism is a feminism that focuses on and advocates for the needs and experiences of white women on the basis of gender without regard to needs and experiences of the marginalized communities that intersect with womanhood," Cargle said.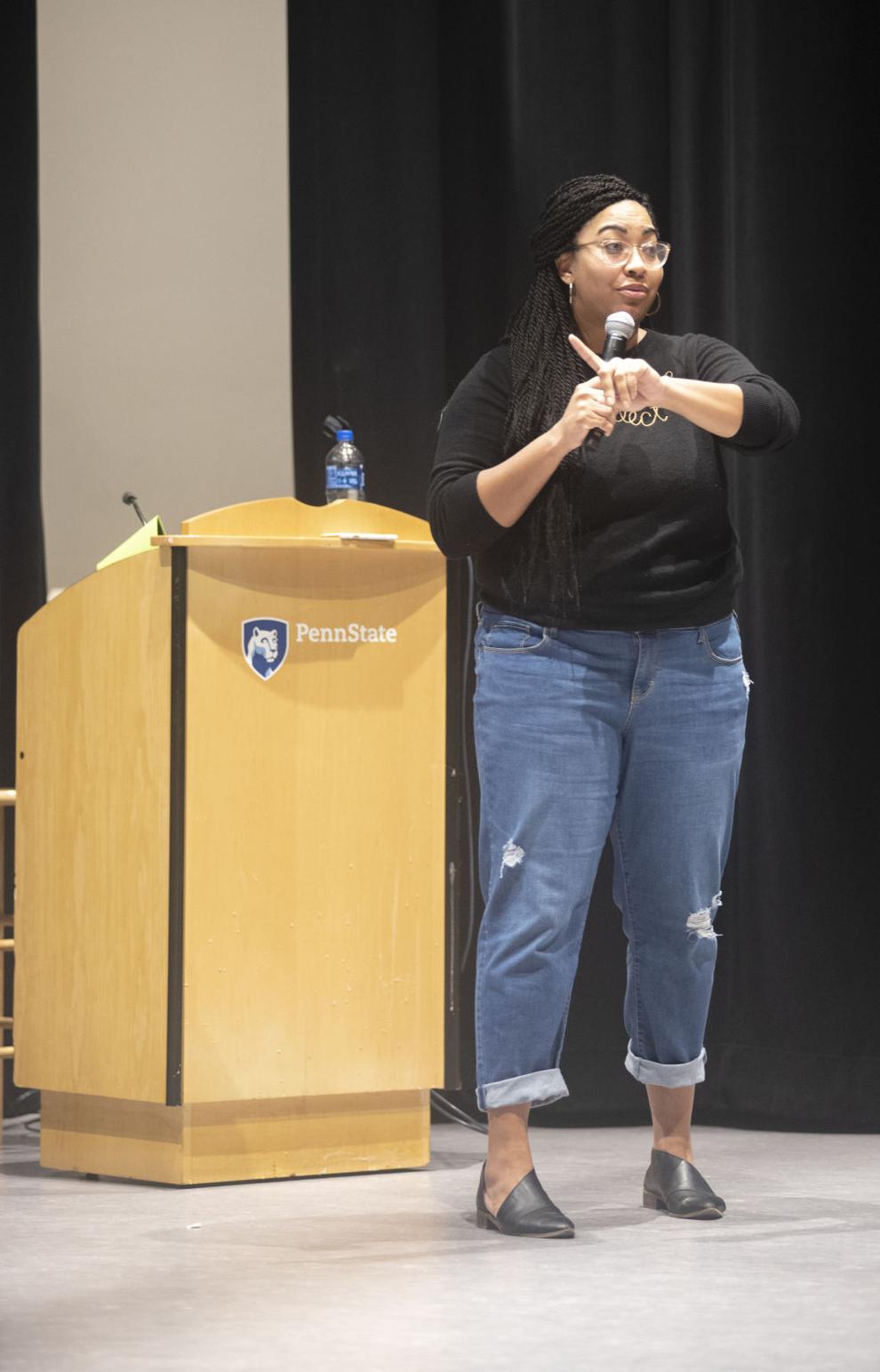 Cargle then showed a photo of Angela Peoples, a social justice activist, holding a sign stating, "Don't forget: white women voted for Trump" in front of three white women, one of which was seemingly taking a photo of herself.
"Performative activism," Cargle said. "I haven't been to a march since then because feminist marches, women's marches to me are just parades of white women who did arts and crafts with a sign the night before and decided to show up," Cargle said. "The reason is, because after the march, the receipts didn't show what they said they were going to do."
Cargle said 53 percent of white women voted for Trump in the 2016 presidential election. She also discussed how there was a lack of support for the Black Lives Matter march on Washington.
"It wasn't until white women were personally affected that they decided to show up in the millions," Cargle said. "When you think about feminism, if it's about all women, they would have been at all the marches."
Cargle said the real change isn't about attending the marches, but "calling out racist family members."
Cargle then discussed how Elizabeth Cady Stanton, Susan B. Anthony and Carrie Chapman Catt, recognizable figures of the suffrage movement, had a newsletter that stated, "If intelligence, justice and morality are to have precedence in the government, let the question of the women be put up first and that of the negro last."
"They didn't see black women as women," Cargle said.
In addition, Cargle said when Chapman Catt was out campaigning for the right for women to vote, she was quoted to have said, "White supremacy will be strengthened not weakened by women's suffrage."
"She was very aware of what it [white supremacy] was, who it affected, who it benefited and how she would be a part of it," Cargle said.
Today, Cargle said the example of "white feminism" can be seen by white female support for Trump.
"I call it voting your whiteness over your womanhood," Cargle said. "Deciding that you want to be safe in your supremacy over having a clear understanding of how other women would be affected."
---
RELATED
A place that feels like home, a group where someone can feel like themselves without reservations.
---
Cargle then brought up the book "Feminine Mystique" written by Betty Friedan and how it pushed for women to get out of the house and be independent.
In response to Friedan's perspective that women should go out and get jobs, Cargle said black women had been working for "a very long time by force."
"Working was not a revolution," Cargle said. "Now consider, for white women to get out of their house and work in jobs, what did it require? It required women of color coming in and doing all of the work that they didn't feel like doing. So it wasn't really a revolution for all women."
Cargle said in today's world she still sees women of color babysitting white babies in the upper west and east side.
"If your feminism is focused on equality of white men, you are going to have to oppress some people," Cargle said. "Because white men have nothing without the oppression of others — women and people of color. So consider how you are showing up within feminism and if it just means 'breaking a glass ceiling' to get where white men are, that ain't it. It's not going to get what feminism claims to be."
Defining 'intersectionality'
Cargle then discussed intersectionality, citing the 1976 court case titled "DeGraffenreid v. General Motors" and how the court dismissed the case twice after the defendants argued that General Motors was discriminating against their race and gender when deciding who to layoff.
The court argued that the company was not discriminating against race because black men were still working and that they company was not discriminating against gender because white women were still working.
"Black women were literally invisible to the justice system because of this double oppression that they had," Cargle said.
Cargle discussed how this was not a unique case.
"This happened over and over and over again," Cargle said. "The erasure of the existence of women of color because they didn't hold the weight of value that society saw as either being a man or being white."
Cargle then discusses how the term "diversity" does not mean the same as "intersectionality."
"[Intersectionality] is an entire theory that adds to the realities of how people experience several oppressions," she said.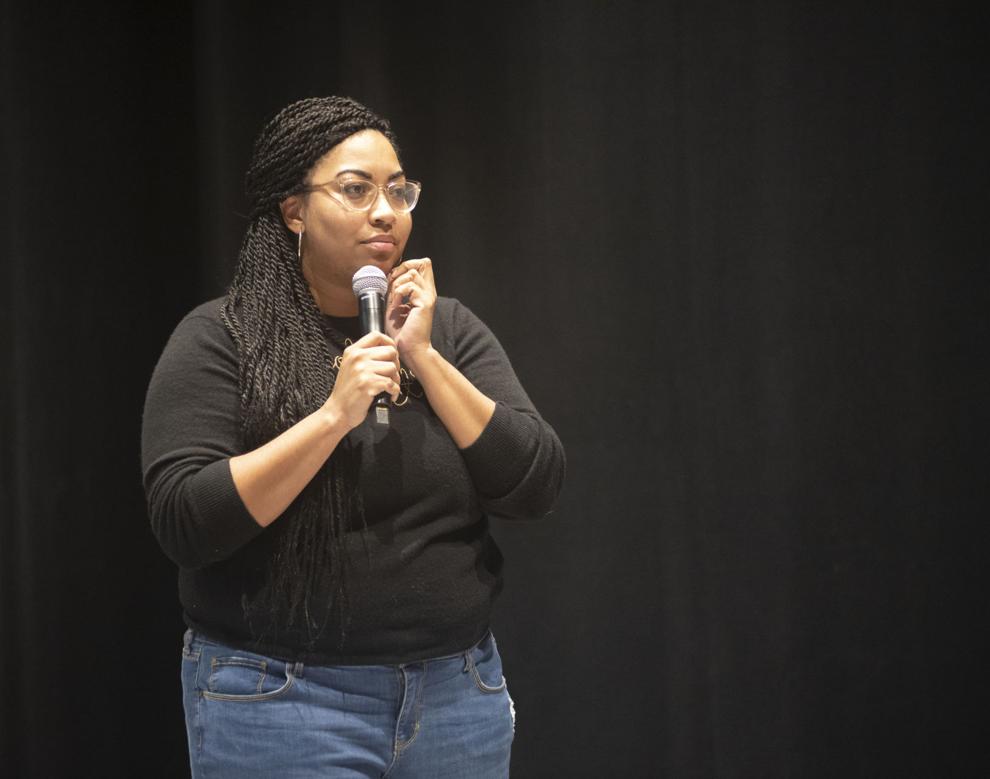 Defining 'gaslighting'
Cargle then discussed the term of "gaslighting" in relation to the "all lives matter" discussions.
"Gaslighting is a form of psychological manipulation that seeks to sow seeds of doubt in a targeted individual or members of a targeted group, making them question their own memory, perception and sanity," Cargle said. "When people are dismissing the term for Black Lives Matter, they're really just acting like black people don't see what's happening. Like, 'No no no you can't say that, everyone's treated the same. Why would you say that? Why wouldn't you include everyone in it?' Because not everyone is experiencing the same thing," Cargle said.
Cargle discusses how its aspirational to say "Black Lives Matter."
"We're trying to bring light to a particular situation," Cargle said. "So when white people say 'all lives matter; that's literally saying, 'You have no clue what you're talking about, include me because my feelings matter more than your lives.' "
Cargle then discussed the modern manifestations of white feminism by citing the viral video of a white woman calling the cops on a black family who were picnicking in a park in Oakland because she said they were breaking the law by using charcoal grills.
When the police finally came after two hours of her waiting on the phone, Cargle discusses how the police officer gave the woman "the utmost respect" by giving her sympathy.
Cargle then discussed her own personal silencing when an instagram user named Jackie direct messaged Cargle stating she should "do yoga" so that she "wouldn't be so wound up about race all the time" and that if she "spoke a little nicer, white women would care."
"She was coming into my space and she was tone policing me," Cargle said. "She was policing my tone and telling me that the only way she was going to care is if what I had to say made her feel good enough."
'Just skimming the surface'
In addition to attending the lecture, Cargle said to the audience to do further research.
"I'm just skimming the surface," Cargle said. "You need to deep dive in the ways that you know how to deep dive a student."
At the end of her lecture, Cargle opened the discussion up for a Q&A session.
A crowd of over 50 people gathered in the intimate Flex Theatre in the HUB-Robeson center to listen to Cargle speak. Among those in the crowd was Shaniyah Thomas.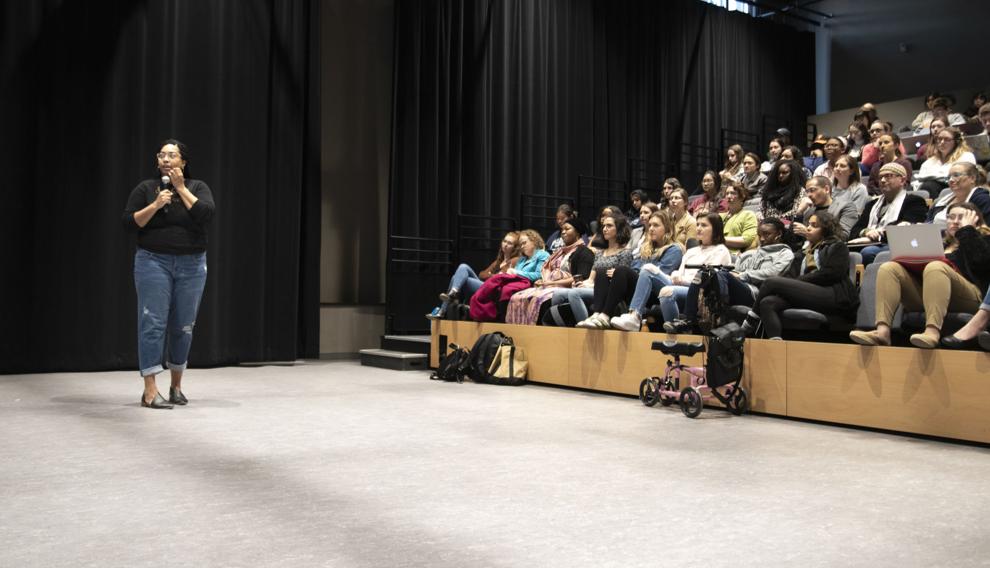 Thomas (sophomore-human development and family studies) said a highlight of her experience was the fact that Cargle called people out.
"I appreciated her addressing them needing to be accountable and why they needed to be accountable," Thomas said. "It actually gave me a clearer understanding of who I am within a society as a black woman and what I need to do as I continue to work towards being successful and finding myself within this society."
As a woman of color, Amy Zhong (freshman-mechanical engineering) said although she understands white feminism and how it can marginalize others, she felt it was important to attend Cargle's lecture to understand other marginalized voices.
"As an Asian woman, I understand that I have privilege that black women don't," Zhong said. "So it was really important for me to come to this lecture to know how I can unpack my own feminism and how I can become a better feminist overall."
Olivia Gilfillan (sophomore-information science and technology and political science) said she was drawn to Cargle's lecture as a way of improving herself through her experience as a white female.
"I learned a lot and I will definitely go home and think about the way I exist in the world and how I treat other people and how I'm making change negatively or positively," Gilfillan said. "There's always room for improvement."
Gilfillan said it's important for white people to attend lectures like this to learn more.
"You get white people like me who are here to learn and you get people like that guy that seems like he was here to stir up trouble," Gilfillan said.
Gilfillan said after the lecture, she said she will speak up more towards her white friends.
"My high school was a lot more diverse than here," Gilfillan said. "So at home I didn't have trouble talking about it and bringing it up but here [at Penn State] it is very different. I feel like I need to speak up more and go back to the way I used to address things. Because I know I changed. And that's a problem with me and I know it and I need to change it and I need to work on that. "
---
RELATED
The midterm elections in 2018 brought a record number of women into Congress, but the sweep …
---