While the pep rally at Penn State THON is always one of the most anticipated events, this year's event was a little different: it was the first ever white out Pep Rally. Everyone in the stands wore white shirts provided by the Penn State Alumni Association, who sponsored the event.
The Pep Rally began with a lively musical performance from the Penn State Blue Band, with routines from the majorettes, silks and a solo performance from Penn State Blue Sapphire Twirler, Gillian Brooks.
Judges for the Pep Rally included Kayla Repasky, Miss Pennsylvania 2018, Gillian Brooks of the Penn State Blue Band, CEO of Alumni Association, Paul Clifford and Penn State Director of Athletics, Sandy Barbour.
The show hosted 19 competitors in the following order: the Lionettes, women's gymnastics, men's soccer, women's field hockey, men's rugby, women's fencing, men's gymnastics, women's golf, men's swimming and diving, women's soccer, women's rugby, men's fencing, women's lacrosse, men's tennis, women's swimming and diving, men's golf, women's ice hockey, football and women's volleyball.
The winner of the 2019 Pep Rally was the men's gymnastics team, defending their title as reigning champs.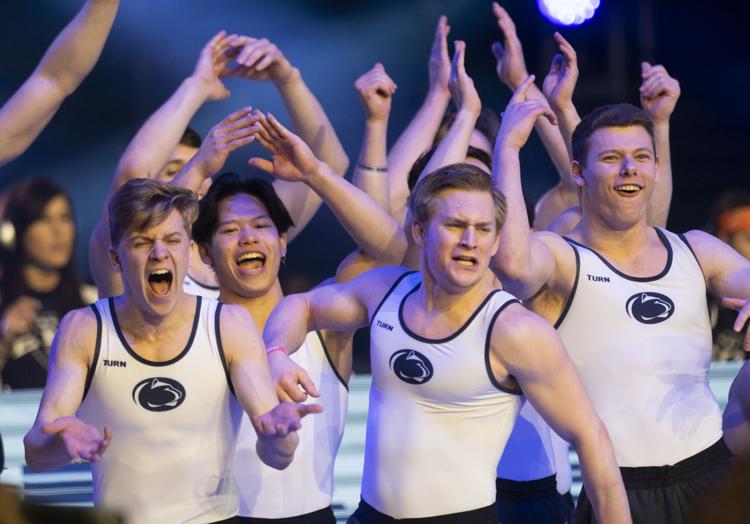 Each of the 19 teams performed dance routines – many of which involved throwback music from the early 2000s. Many teams wore costumes to go along with their dance, such as women's gymnastics who wore velvet tracksuits.
Women's golf all wore white shirts and black jeans with an accented red bandana while dancing to a variety of Beyoncé songs.
Men's swimming and diving donned white shirts and colorful leggings. They created the illusion of one of the team members swimming by using a blue tarp.
After every team performed and the crowd witnessed the kicks and flips from the contestants, the judges met to decide on the two finalists.
While they were judging, the stadium sang along to Penn State classics "Sweet Caroline," "Living On A Prayer" and "Mr. Brightside."
After some singing, the judges came to a decision and the finalists were announced: men's gymnastics and football.
The two teams performed their routines once more and the winner was decided. The men's gymnastics team celebrated their win on stage while linking arms and singing the Alma Mater.
The men's gymnastics team danced to "Temperature," "Footloose" and "Who Let the Dogs Out" with unique moves such as building a human gate to "let the dogs out." Toward the end of their performance, the team changed the mood to country and carried around one of their team members in a cowboy hat.
After the gymnastics team's last performance, the crowd erupted into applause to congratulate the 2019 Pep Rally winners.