Sonia Goldstein is part of a community whose numbers are fast dwindling: those who lived the Holocaust and remember it firsthand. Speaking last night before a crowd gathered in Alumni Hall, Goldstein shared her life's story as a survivor of the Stutthof concentration camp.
Sonia's granddaughter Jess Goldstein attends Penn State, and said the recent celebration of her grandmother's 90th birthday sparked the interest in having her speak to her fellow students. The sorority Alpha Omicron Pi, of which Jess is a member, organized the event alongside Penn State Hillel.
"I've had the opportunity to learn about the Holocaust in high school, and I've had the opportunity to hear first-hand accounts," Jess (sophomore — communication, sciences and disorders) said. "And there's nothing like hearing a first-hand account."
Sonia told her story to a sold-out crowd, starting at the time she and her family were moved to walled ghetto from their home in Vilna, Poland. After working for a time in a fur factory, Sonia, her mother, her aunt and her cousin were separated from her father and brother, all of them sent by train to separate concentration camps.
"If I tell you the truth, it reminds me of a lot of bad things," Sonia said to the Daily Collegian before the event. "But I have to do it because, another few years, and none of us will be alive."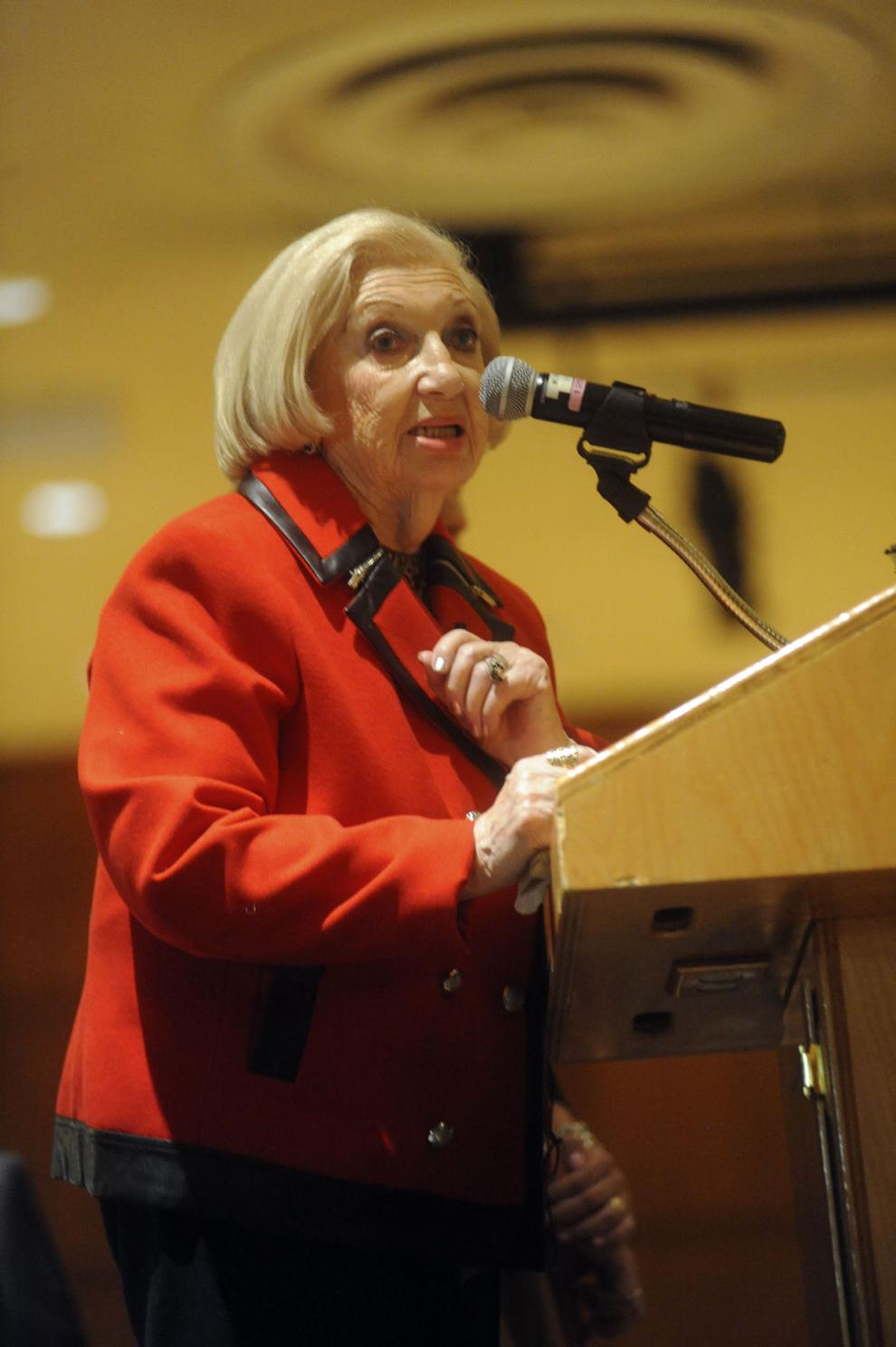 Not all of Sonia's time in Nazi custody prior to liberation was spent in the camp, however.
Towards the war's end, the days where small pieces of bread were worth "more than a 20-carat diamond ring," gave way to a "death march" out of Stutthof she and her fellow prisoners endured.
They were marched from village to village, Sonia said, until finally the German soldiers ordered them into a stable. From inside, Sonia said she could hear the sounds of gunfire.
Outside, the gaining Russian soldiers had shot dead Sonia's captors. Cans of gasoline in hand, the German soldiers had planned to burn down the stable with Sonia and the others inside before they were set upon by the Soviets.
After Sonia and her family recuperated at a refugee camp, they travelled to Munich, Germany where her father and brother, having survived in the Dachau camp, awaited in another refuge. After reuniting, she and her family lived in the refuge for several years while awaiting entry to the United States.
It was in that same refuge Sonia met the man she would one day marry.
"Our generation is the last one to hear a live speaker and a survivor of the Holocaust," Hillel President Jamie Butler (sophomore — hospitality management) said. "It's so import for everybody to be able to understand that. To hear the emotions behind the words, and not hear it out of a little paragraph in a textbook."
Jennifer Stone said she attended having learned of the event through her sorority, Kappa Delta, and that the Holocaust is a subject close to her heart.
"Half of my family is Jewish, and a lot of our family didn't survive the Holocaust," Stone (senior — communication, sciences, and disorders) said. "I don't get a lot of opportunity to hear from Holocaust survivors, so I really wanted to take the chance."
Rob France, assistant director of Hillel, attributed the large turnout to the uniqueness of the event.
"For many young Jews in America today, the number one thing that identifies them as Jewish is learning and finding out more about the Holocaust," France said. "We're just really happy that we actually have someone in our community that can bring an actual family member to learn that through."