On the night of Oct. 6, 2016, Old Main's pillars were lit up top to bottom by a multi-colored light display, simply reading: All In.
Born out of conversations students had with President Eric Barron and Vice Provost of Educational Equity Marcus Whitehurst, the initiative 'All In' seeks to expand and celebrate diversity, inclusivity and equity on Penn State campuses and in the community as a whole.
"Diversity by its definition is the broad range of all the unique differences that individuals bring to a community," Whitehurst said. "Diversity of thought...race, religion, ethnicity, sexual orientation, ability, disability, political persuasion, economic status and alike."
According to Whitehurst, a major intent of 'All In' is to create an environment where that level of diversity is "welcomed and appreciated."
President Barron wrote in a blog post, "In Step With All In," said one of the values of the initiative is the depth of the discussion about what inclusivity really is.
"Of course, I have my own view of the role of 'All In' — that we would be reminded that every student at Penn State has earned the right to be here," Barron wrote. "I very much like the tagline 'be who you are — together,' because it implies that we are accepting of those who are different from ourselves, even if we choose to disagree with their viewpoints."
'All In' has received a majority of its funding from the offices of the president, strategic communications, outreach and the office of educational equity. All these offices are trying to collaborate with funding for some of these initiatives, with much of the funding coming from President Barron's office itself. As of February, those various departments have contributed about $200,000 to 'All In' since its launch.
The initiative so far has been subject to both praise and criticism within the Penn State community.
Whitehurst, who has been one of the primary actors on behalf of the university toward the implementation of 'All In,' emphasized that the success of the initiative will require an abstract development within the university on top of the financial support already seen.
"Many of these initiatives don't require a great deal of funding, they require a change in perspective, a change in attitude and a willingness to be open and to hear different perspectives," Whitehurst said. "What we want is to be more about awareness as opposed to putting money or funds to an initiative. We want hopefully for individuals to be more open to listening and creating an environment built on respect and understanding."
The first ever "'All In' at Penn State: A Commitment to Diversity and Inclusion," a conference dedicated to 'All In' and it's ideals, was held on April 18 where two individuals were given the "'All In' at Penn State: An Achievement Award for Commitment to Diversity and Inclusion" which came with a $1,500 stipend for each recipient.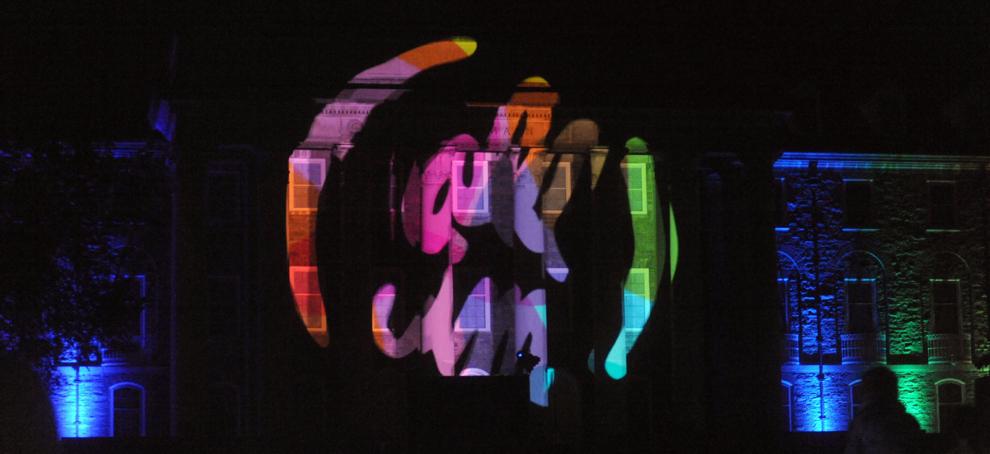 WHAT 'ALL IN' IS VS. WHAT 'ALL IN' ISN'T
Whitehurst, as well as Penn State spokeswoman Lisa Powers, said 'All In' is supposed to create a sustained conversation about the barriers to inclusion many students face, and the need for everyone in the community to consider their own actions and behavior in creating a more inclusive climate at Penn State.
"We don't see this ['All In'] as the Silver Bullet to the world," Whitehurst said. "What we are trying to do is at least bring education to our community about the importance of diversity and inclusion, but we do have a programming committee that is comprised of students faculty and staff."
The programming committee is charged with coming up with and finding relevant programming at Penn State. Those involved with the committee come from all walks of the community, and multiple members raised concerns over the initiative's current state.
Tomas Sanchez, who sat on the student diversity committee before it became the "All In" Programming Committee, said he doesn't agree with Whitehurst.
"The way I perceive it is something else than what a lot of other people might see it as," Sanchez (freshman-political science and sociology), said. "I see it as the university taking a stance staying we are going to stick by our marginalized communities and make sure that they feel safe and welcome...but I feel a lot of times they kind of get scared from doing anything."
Sanchez's concern with the university lies in what he said he sees as their words not lining up with their actions.
"They get scared about the political ramifications," Sanchez said. "The university playing it safe really doesn't benefit their marginalized students and there's not any progress that is being made, because the same stances that are being taken now...those same stances I'd expect from any university."
Terry Ford, former University Park Undergraduate Association president, sat on the programming committee and said 'All In' has both flaws and strengths.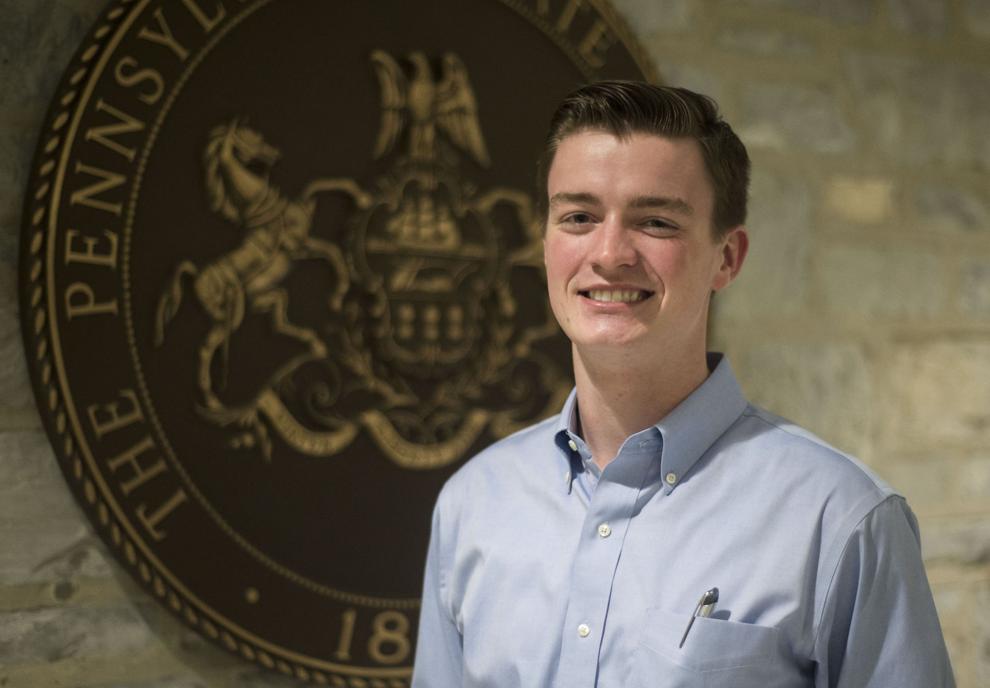 "Honestly, I think one of the flaws of 'All In' [is that it] isn't as active as I think students expect it to be," Ford said. "A lot of students feel as if 'All In' is really more about image and visual appeal."
However, Ford said to some extent that sort of marketing is a very good thing because the university wants to be publicly committed to diversity and inclusion — to make sure that the vision is backed up by concrete actions and events.
Keith Jervis, director of Student Disability Resources at Penn State who also sits on the All In programming committee, said programming isn't enough to achieve the inclusivity that 'All In' calls for.
Jervis called for a greater degree of involvement beyond the programming committee for both students and administration alike. Jervis claimed that, beyond the programs and activities hosted by 'All In,' there needs to be a push to make the initiative an integrated part of the culture.
Dwayne Wright (doctoral student-higher education), graduate assistant for Penn State's Center for Education and Civil Rights, said 'All In' is distinct from many programs related to equity, diversity and inclusivity that had already existed before 'All In'.
"I think that's a misnomer that some people think that 'All In' because of the name is bringing 'All In' the stuff that we already had at Penn State or highlighting the stuff we already had at Penn State," Wright said. "I think 'All In' the way it evolved as more of an independent program to raise awareness and highlight our diversity in ways that it hadn't been before but as far as has there been additional funding for existing programs that is not necessarily how it works. Part of it is you need to ask, you have a budget for our center [Center for Education and Civil Rights] and the budget for 'All In,' and those things don't necessarily overlap."
PROGRAMMING COMMITTEE
As one of the more concrete creations out of 'All In,' the programming committee incorporates students from many significant student organizations on campus, with the goal of properly implementing the mission of 'All In' in a way that the students have a hand in influencing.
"We do have a good strong collective voice of students that are helping to steer us in a direction of creating some programs and ideas that might be relevant for and interest our students across the university," Whitehurst said.
Genevieve Logerie, president of Black Caucus, sits on the programming committee. Logerie (senior-neuropsychology) said besides programming, the committee is tasked with reaching out to the "grassroots" so that everyone in the community can be reached by 'All In.'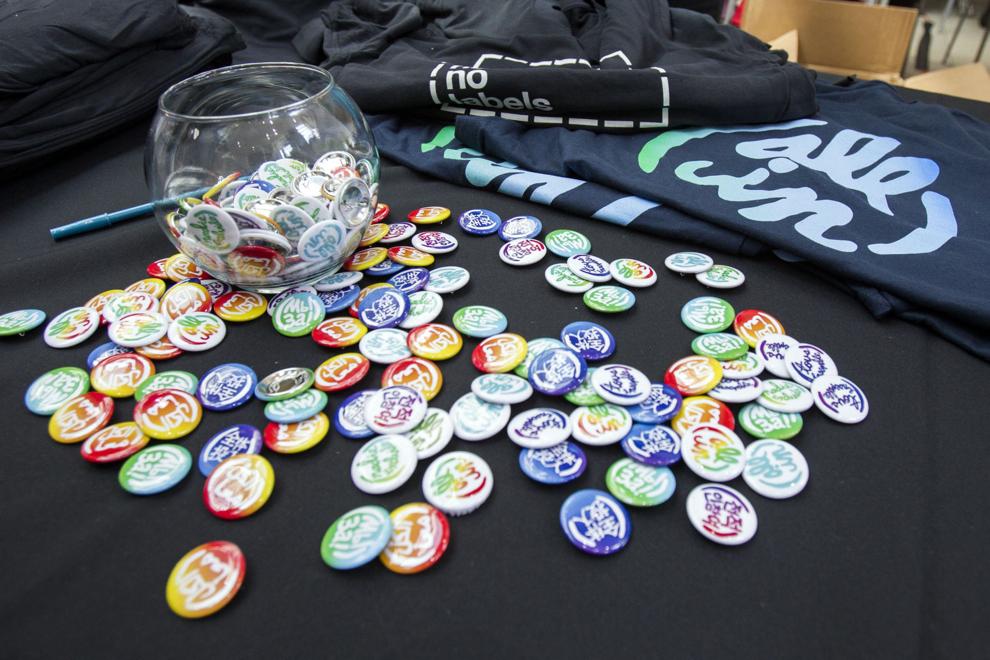 "Our role is to decide [what] the 'All In' programming committee should be doing next in terms of programming," Logerie said. "We are also trying to figure out what we should do in terms of university effort aside from the launch to continue it and make it visible."
Christina Walker (senior-special education), who is on the 'All In' programming committee, said the programming committee is trying to streamline a mission statement for the initiative and create clear objectives that will continue to be acted on throughout the years that 'All In' will be implemented.
Nathaniel Pentz, president of the LGBTQA Student Coalition, said many of the students involved with the programming committee have already been involved with issues and organizations related to diversity and inclusion, so becoming a part of 'All In' and the programming committee can present certain challenges.
"If you are involved in working in what the university has been doing on a more specific level, to be involved then with 'All In' is to go from working on a specific level to working on this broad thing," Pentz said. "So I think a lot of students are already focused on their area of interest and being involved with 'All In' is taking a step back working on a broader, slower pace with everything."
By being involved with 'All In,' Pentz (senior-sociology) said he had seen many of these students either spreading themselves thin or drop what they were doing to work on 'All In' via the programming committee.
Pentz said students often want action more immediately than the university, since most students only are at the university for four to six years.
BUILDING DIVERSITY 
Sanchez said that while the university is making efforts to recruit a more diverse faculty they are not doing anything to address problems with the current faculty, such as training them to be culturally competent.
"Situations can occur in a classroom where whether it be a micro-aggression or be instances where minority students are singled out and professors just don't know how to deal with it or issues that are really present," Sanchez said.
The university needs to do more with the faculty, though it is difficult because it is an issue that has a lot to do with students, Sanchez said.
In March, the university appointed Sara Oliver-Carter as the senior director of talent, diversity and inclusion.
Oliver-Carter is tasked with the development, implementation and administration of HR-based talent acquisition, talent management, and diversity and inclusion initiatives across the university.
Penn State already has programs and initiatives in place that are geared toward recruiting a more diverse faculty and student population. However, fostering the diversity so that everyone feels included is part of making Penn State more diverse as well.
Whitehurst went on to say that the administration is looking to foster greater recognition of gender and racial diversity within STEM field majors. Whitehurst encouraged educators in those fields to "bring cultural awareness to the classroom."
Carlos Wiley, head of the Paul Robeson Cultural Center, said when he was at the University of Wisconsin faculty had to undergo mandatory cultural competence training. Whenever incidents occurred within the school, they would address them within the first 15 minutes, Wiley said.
Whitehurst said there are accountable goals for everyone at Penn State to take part in and be held accountable for.
However, Wright said he had yet to see concrete goals be expressed for 'All In'.
"Any time you have a campaign, whether it be a financial campaign or a political campaign, you need to have goals," Wright said. "That is the thing that is so amorphous to me in this entire process what are three goals? A year from now when we're back around and it's a year anniversary from the kickoff how can I judge if you did what you wanted to say."
Wright said other initiatives at Penn State do not work or are not put in place without specific goals, and without goals to either reach — or fail to reach — anything can be considered successful.
Alicia Dowd is a senior scientist in Penn State's Center for the Study of Higher Education. She's involved with the Equity Scorecard — an action research initiative where faculty and administrators within a college or university identify racial inequity of access to education and then work to make changes in practices to fix the inequity.
Dowd said 'All In' isn't designed to be like the Equity Scorecard, which she said has concrete goals and is action oriented.
"When we look at 'All In' there is not a specific goal," Dowd said.
Pentz said because of the very nature of 'All In,' and the earliness of the campaign, determining and implementing specific goals may be difficult and take a while.
"I think setting up a distinct goal for it could be a tougher thing to do especially because 'All In' didn't come out and say 'All In' in specific to racial diversity and equity, it was 'All In' everything," Pentz said. "There's a lot of like what ifs and time that has to be given to see what's really happening."
DIALOGUES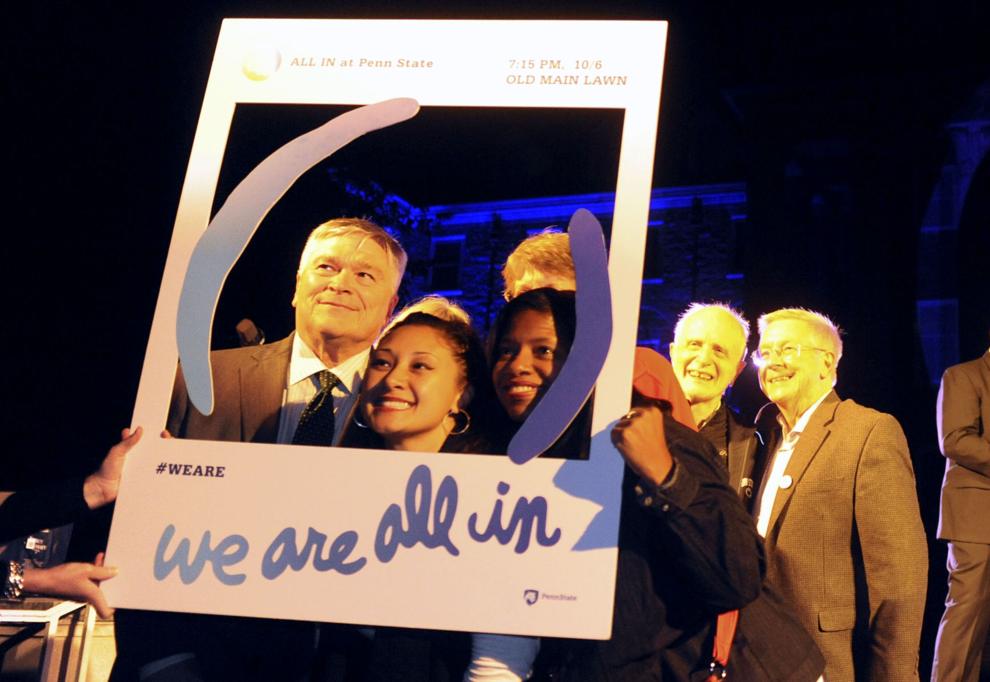 Walker said 'All In' is a sincere effort to change Penn State.
"Barron is really committed to making this into something that is going to create a new legacy at Penn State," Walker said. "It's going to be a new tradition of making sure people feel included, that we have a diverse representation here on campus and we are moving constantly forward to enhance that."
However, Sanchez said he doesn't see much from 'All In' though.
"A lot of this initiative has been stuff that's worked on behind closed doors and students just don't know what's happening. They had this big kick off event and we thought changes were going to come," Sanchez said. "But as we've been told now everything is slow moving, and it seems they brought this out as their commitment but they didn't really have an idea of what they wanted to do with it."
Sanchez said he felt 'All In' was launched without a clear idea of what it was trying to accomplish and that the university was not as open to diversity and inclusion as it appeared to be.
"A lot of people that I've spoken to have said they feel like it's a poster campaign that it is meant to sound good and make the university seem like it is doing more than it is," Walker said. "That's the most common response that I'm getting they feel it's just something that sounds good."
While students have expressed these opinions, it's important to note the actual, tangible efforts which have been made by the university.
There have been a number of events held under the label of the 'All In' initiative, much of which have been discussions, speaker events and programs related to diversity and inclusion such as the trustee town hall, which UPUA organized and Ford moderated.
"We are also looking to expand our facilitated dialogues where we can bring individuals in from diverse backgrounds to talk about their opinions and differences they may have in a civil manner where everyone can have an opportunity to learn from each other," Whitehurst said.
Another event related to "All In" was a major university-wide program which featured a panel discussion with some legal scholars about the first amendment and its intersections with diversity and inclusion.
However, "All In" is university-wide initiative that is not limited just to University Park.
According to Barron's blog, Residence Life launched an Inclusive Language Campaign for resident assistants to discuss with residents how their words may affect others.
Penn State Abington offered a "Building Community and Difficult conversations" workshop for faculty and staff that was attended by over 150 people. Penn State World Campus also featured an online 'All In' event that reportedly reached more than 13,000 students, as well.
Other commonwealth campuses and university wide organizations have held and continue to hold their own events, dialogues, programs and campaigns related to and under 'All In.'
ENVIRONMENT
Sanchez's high school, Central High School in Philadelphia, was named the U.S.'s most diverse public high school in 2015. Coming from that environment, Sanchez said Penn State was a culture shock.
Sanchez said for many minority students it can be difficult finding people of the same background, which can lead to feelings of isolation, loneliness and lack of support by the university and Penn State community.
"What happens is for [non-minority] students Penn State works for them and is an amazing place," Sanchez said. "The problem is the people that are having these conversations are the people that leave saying 'I felt marginalized my entire time at Penn State, I feel I wasn't worth anything there.'"
Jervis said he believed the next step was to embed something into the culture of Penn State to remind students to be 'All In.'
"I'll give you an example," Jervis said. "At Muhlenberg [college] all the doors are painted red. The idea is the red color symbolize compassion for others, so that's kind of become ingrained in the culture."
SURVEY AND FEEDBACK
Wright said he has not seen the university or those responsible for the programming of 'All In' collecting feedback.
"I've been to four 'All In' programs, not including kick off...I haven't seen one sort of assessment afterwards," Wright said. "They teach you in student affairs [and] in education, you're not gonna run a program without assessing of how you did. We don't do follow-up surveys. They might do it online but they've never done a paper follow up survey saying 'this is what you learned, what would you like to see more?'"
Walker said she believes doing a survey may be the way to go.
"The administration is not really coming to students about the issue of what 'All In' is or should be — we do have the student committee but that's only a handful of us, 20 or so," Walker said. "I think a survey is gonna be so important."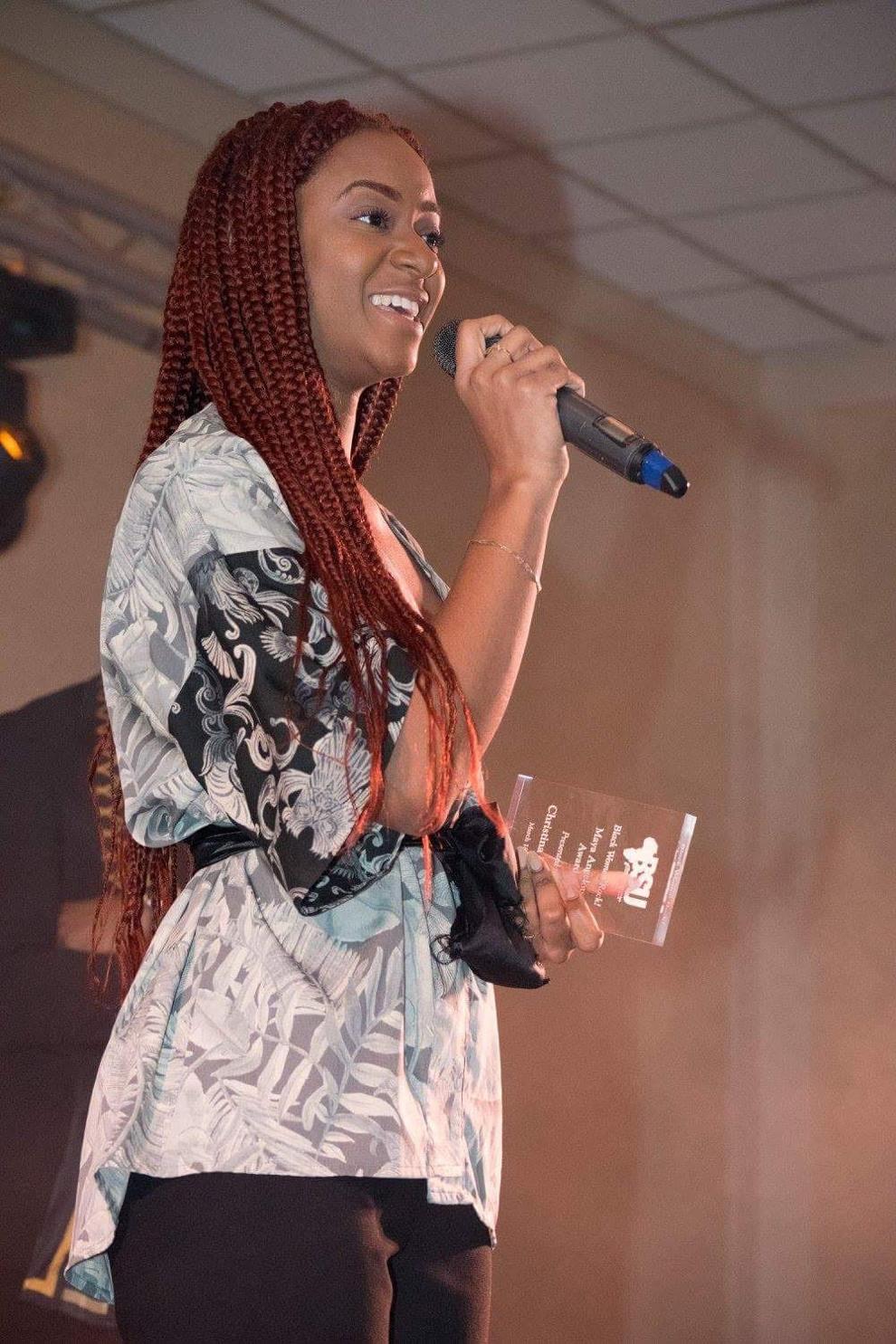 Walker said even if some students ignored or didn't see the survey, it would be a good way to get student feedback and get more students involved with 'All In' that haven't been."
However, Pentz said early on that establishing mechanisms for feedback could be difficult and take time. Pentz said Penn State had only in recent years begun collecting data on the LGBT community, and that such data collection is only occurring once every three to five years.
"In the beginning establishing what success is will be very difficult," Pentz said. "It'll take several years for 'All In' to be active and then get feedback and specifically on that end."
The university and those involved with 'All In' will begin soliciting feedback on the initiative from program partners, students, faculty and staff organizations, according to Powers. However, Powers did not specify when this process would begin or methods would be used to gather the feedback.
"[There] needs to be an assessment for the environment of minoritized students at Penn State," Wright said. "Whether it be a campus wide racial climate survey...the university needs to understand why many minoritized students feel isolated at Penn State. And they need to understand why it is beyond just numbers."
DIVERSITY COURSE
Some involved with 'All In' said they believed changing the culture and getting people into conversations could be accomplished in the classroom.
"Getting people in those conversations is the hardest part, and that's where the university needs to step in," Sanchez said. "The university, if they want to be 'All In,' needs to have some type of requirement for students to have these conversations, because if students leave not having these conversations, not breaking down that barrier then we are sending out an entire generation of Penn Staters that are just not culturally competent."
Walker said she felt attaching credit to these conversations can encourage students to put a little more effort into these conversations. However, adding a dedicated diversity course would involve a curriculum change, something that is not as easy to do as creating programs.
There's a diversity and cultures requirement, but Wiley said for a class to be eligible to meet that classification only 25 percent has to be related to diversity. Sanchez said that for a regular sociology class it would require about 75 percent of subject matter being related to Sociology.
Sanchez said this means that there are possibly thousands of courses at the university that satisfy the requirement but may not address topics of diversity as much as if a class required students to really talk.
"In a classroom setting you can really show the statistics and data to back up the claims that people tend to dispute," Sanchez said. "I feel like Penn State should do more to make students aware of the issues that arise and exist at Penn State."
However, not everyone agrees that a required course would be the best way to engage students in the conversation.
Dominic Decinti, the former secretary of the Bull Moose Party, said despite sounding good on paper, he does not believe a dedicated diversity course would be effective.
"I mean how often do you pay attention in your health classes?" Decinti (sophomore-industrial engineering) said. "No one would pay attention. They'd just bi*ch about how they have to take a diversity class when they could be focusing their time on their major specific classes, intramural sports, career fair, various career workshops and stuff."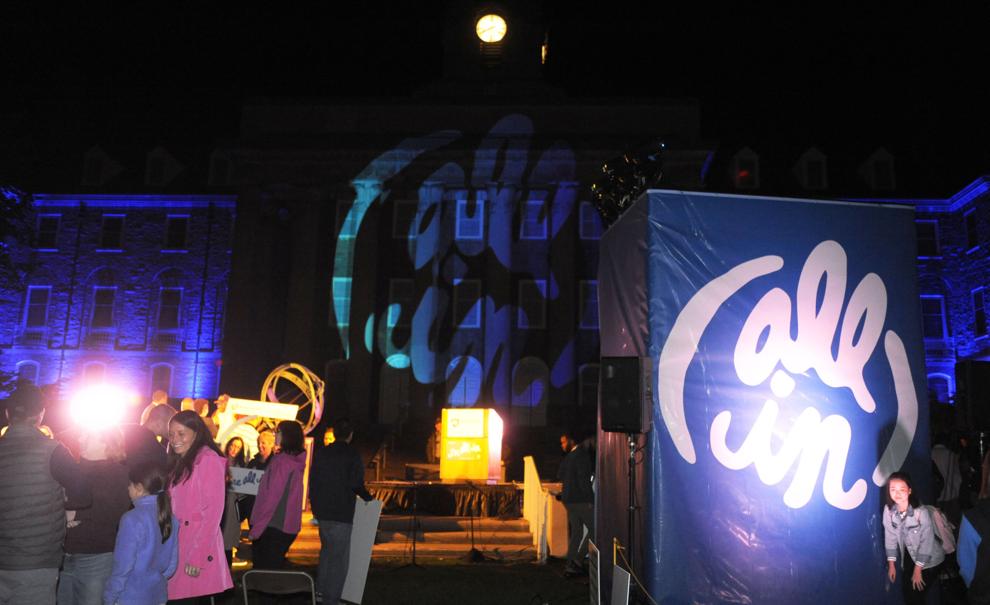 FUTURE
Going forward, the biggest concrete decision in place for the initiative is the inclusion of a work of art to be put somewhere on campus.
"The original launch was a big multimedia presentation so we are looking into a mural or some type of art piece that's dedicated to that," Logerie said.
The piece of artwork will feature quotes submitted by community members regarding diversity and inclusion. The university took submissions for suggestions on the piece until March.
The university is still in the process of making a final decision on who the artist will be.
"First we're starting with the mural," Logerie said. "But we're having trouble with locations on that because we don't want it to be defaced."
Whitehurst said the money spent on the "We Are" sculpture and the veteran's plaza by the university were in the same range as what is planned to be spent on the 'All In' piece, with the upper limit being near $500,000.
Though Sanchez said he believed the piece would be another example of the university's words not lining up with their actions.
"It just seems like it's just about making it appear that it's a lot more inclusive and welcoming than it actually is," Sanchez said.
At just six months after its inception, the true impact of 'All In' is yet to be seen, however no matter where the initiative goes from here, the 'All In' piece once erected will remain.