It was Sept. 17, 1996.
Grey clouds hung over the green, manicured hills of the HUB-Robeson Center as three unconnected students walked to class through the shortcut.
Melanie Spalla, a 21-year-old senior, parted ways with a classmate after leaving her Spanish class and made her way down the wet sidewalk. Simultaneously, 22-year-old sophomore Nicholas Mensah, walked by Health and Human Behavior Building East.
Brendon Malovrh, a 21-year-old senior, had decided to walk a different route through the HUB lawn after his morning class to get a bite to eat.
As the students went about their business, Jillian Robbins' actions went unnoticed.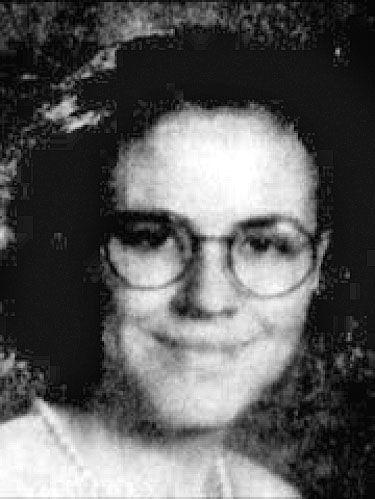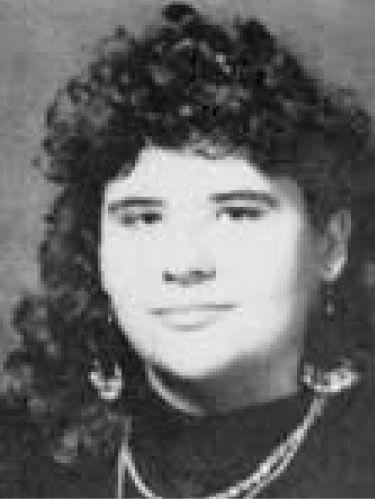 The then-19-year-old State College native spread out a tarp on the ground in the bushes on the southwest corner of the HUB lawn and, hidden in the bushes facing College Ave., pulled out a 7mm Mauser—a high-power military rifle—and and opened fire on the unsuspecting students around 9:30 a.m., as previously reported in the Daily Collegian.
'Death Valley'
Pop. Pop. Pop. Pop. Pop.
"I heard these very loud noises, like cannon fire, but at a higher pitch," Malovrh said in a recent interview with the Daily Collegian. "This is before any of the school shootings became a thing, so this is not exactly on anyone's mind as something that might be happening. I assumed they were just big-ass fireworks."
Two of the bullets hit students passing by — one entered Spalla's back and exited her neck, killing her instantly. A second passed through the left abdomen of Mensah, who was dragged into a nearby brush by a female student who had been walking right in front of him.
The third bullet hit the backpack of student William Mocker, while another student, Kerry Butler, found a bullet had grazed her backpack. Both Mocker and Butler did not realize this until after they had returned to their dorm rooms.
The fourth and fifth bullets were found, respectively, on an outdoor windowsill on St. Paul's United Methodist Church, 250 E. College Ave. and on the eighth floor of Penn Tower Apartments, 255 E. Beaver Ave., by police days after the shooting.
Chaos erupted as students panicked and began to flee the scene while others ducked for cover behind bushes and trees. While this was going on, Malovrh said he noticed smoke coming out of the bushes—where he thought the person was shooting off fireworks—and, because he was "pretty much curious about all things," went to investigate.
Malovrh said he walked down between 20-30 feet from the northwest to the southwest side of the lawn and, instead of a student shooting off small fireworks, saw Robbins kneeling on her tarp with a gun in her hands.
Malovrh said he and Robbins locked eyes, nodded at each other and, after a couple seconds, he realized she had a rifle in her hands and was shooting people. Malovrh said as Robbins turned toward him—gun pointed at his chest, reloading with the intent to shoot—he charged forward 20 feet, grabbed the butt of the barrel and "yanked" it out of Robbins' hands.
"She then pull[ed] a hunting knife—I saw it at the trial later—and [took] a couple quick stabs at me," Malovrh said. "I jumped backward. I have trained in martial arts, but I [didn't] know the exact defense if someone's stabbing in a downward, overhead motion with a knife. I was thinking, 'Wow. This is the first time, and probably last time, I'm ever going to use this.'"
Malovrh said once the first couple stabs missed, Robbins got "annoyed" and moved forward with the knife once more but stabbed herself accidentally instead. Malovrh said the knife sunk about three inches into Robbins' thigh.
After he disarmed Robbins, Malovrh said he picked up the knife and rifle and moved them away from her, and after yelling to people on the sidewalk to call for the police, he turned back to Robbins to take care of her leg. Malovrh took the belt of his trench coat and tied it around her leg to stop the bleeding.
Malovrh then met William Moerschbacher—the current assistant chief of the Penn State Police and Public Safety—and a couple seconds later Malovrh said he stood up to take a look around and noticed someone face down on the ground. Malovrh said he sprinted 200 feet toward the person, Spalla, and took her hand before noticing the wound on her neck.
"I could see the entrance wound on the back of her neck," Malovrh said. "I rolled her over and could see the exit wound right at the base of the neck—not bleeding at all. There [was] almost no blood, and I believe[d] she died instantly from it. Her heart was completely stopped. There was nothing I could do."
Malovrh said the entire nursing department had shown up to take care of Mensah, who had been shot right next to the nursing building—Mensah was then taken to Centre Community Hospital.
Mensah could not be reached for comment at the time of publication on Friday.
Moerschbacher and the then-chief of the university police, Tom Harmon, were the first on the scene. Moerschbacher said the duo was heading to a meeting and less than a minute away when the call about the shooting came in.
Moerschbacher said he and Harmon went down to where a group of people were standing around, and he assumed the shooting had stopped. Moerschbacher said from the time she fired to the time she was in handcuffs, the shooting lasted just a couple minutes.
"Unlike TV, where the police know everything when they arrive, you really don't know what's going on," Moerschbacher said. "You [have to] figure it out."
When they got to the group, they found Robbins—who had been disarmed by Malovrh and crippled by a self-inflicted wound—laying on the ground in what Moerschbacher said was probably a 40-foot area of concealment on a hill where Moerschbacher said Robbins could see everything down towards College Ave. and no one could see her.
"I drew my weapon and pointed it at her, and she was ignoring me," Moerschbacher said. "It got a little tense, there. She eventually did what I told her to do. I think she was in a bit of shock, in hindsight. She had a big, gaping wound and had just shot at people. But to me, it didn't matter. She had shot someone—I saw a gun there—and she wasn't listening to me. Luckily, she did."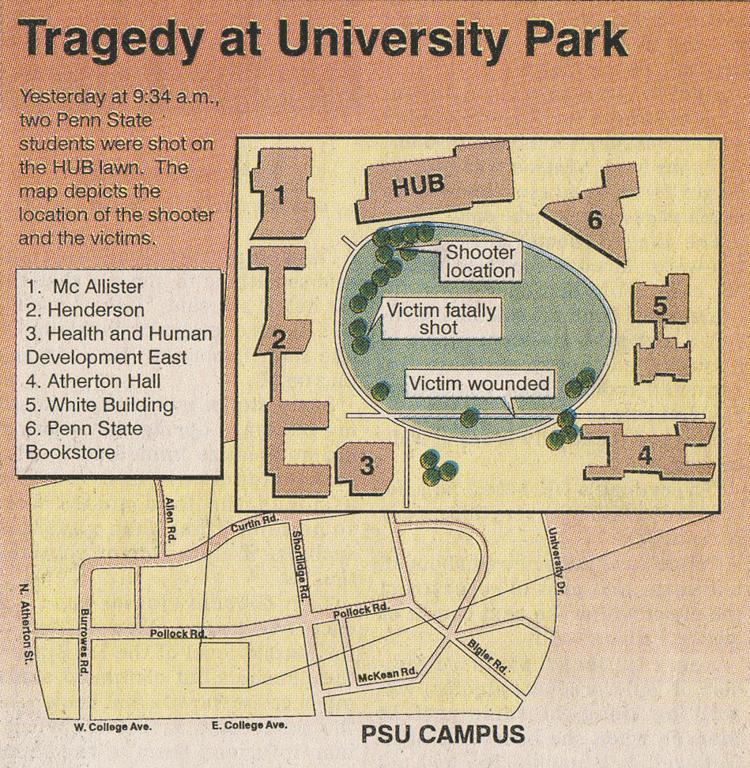 Protocol and procedure
Moerschbacher said in 1996 the Penn State Police were ill-equipped and not prepared to handle this type of situation, though he did say the office was prepared to deal with common shooting situations of the time. Moerschbacher said the officers were still carrying revolvers, but the couple shotguns they had were sitting back in the office.
"We did have some people, our own marksmen," Moerschbacher said. "But they, of course, weren't immediately available," "The incident was over before they were able to get there anyhow."
Moerschbacher said while in the middle of an active response, there's not much initially happening. He said police tried to get people in to help while trying to prevent anything else from happening and the situation was stabilized "relatively quickly."
After police personnel began to section off the area and reassured the public the situation was taken care of, Moerschbacher said the HUB lawn, which had previously been calm, became a crime scene.
"In the days that followed, we posted officers down there just to try to find people who might have seen something," Moerschbacher said. "Our investigation, of course, determined where she got the gun, how she came to campus and all that kind of stuff."
Robbins, who had been living off-campus at Turtle Creek Apartments on the 300 block of Toftrees Ave., got the gun from her father, Daniel Robbins—a Du Bois, Pa. native.
Jillian had been a member of the Army Reserves from March 1994 to June 1995, and was discharged after she failed to graduate high school, according to a previous Collegian article.
Daniel Robbins declined to comment at the time of publication on Friday.
To communicate with Penn State administration, Moerschbacher said the police used "Incident Command System," a popular system nationally and globally, which allows responders to organize themselves into a management structure, according to the Federal Emergency Management Agency (FEMA) website.
Twenty years ago, Lisa Powers, the current director of news and media relations, said she was in her office the morning of the shooting. Powers said someone on the first floor had a police scanner in their office and heard there had been shots fired at the HUB.
"We immediately —I don't know why we did it — ran directly there," Powers said. "There were two of us, and we ran to the scene, and it had all transpired by that time."
Powers said because they were the communications office, they immediately had to get information to the public.
"We huddled together with some administrators," Powers said. "At the scene, I remember talking to the police chief at the time. When a situation occurs that quickly, and it's so random, a lot is unknown. We decided immediately to hold a press conference."

A lasting impact
On Aug. 6, 1991, the Internet went live to the public.
A little over five years later, Powers said the former Penn State Office of Public Information used the advantages of the internet to get information of the shooting out to the public. The office created a website, to post the public information regarding the shooting on, which is how the media who hadn't made it to the scene reported on it, Powers said.
"It was the first time this office had ever used the internet to communicate on such a mass scale," Powers said. "Media [was] just coming in from all over, and that's where we posted every piece of information that we got—we tried to be really open about it."
Powers said press conferences were held consistently for the first three days following the events of Sept. 17.
All the people from the counseling offices helped anyone across campus who was traumatized by the event, Powers said.
"A lot of things were put in motion," Powers said. "It's protocol that we still follow today. Obviously, when there's a tragedy, we implement a lot of those same protocols."
When something happens now, strategic communications is immediately notified and someone is sent to gather first-hand information—a hotline for parents is created, which Powers said did not happen till after the shooting.
Former Penn State President Graham Spanier opened a hot-line number for parents and urged students to call them as soon as possible, as University Police Services did not release neither Spalla's nor Mensah's names until several hours later, according to a Collegian article written the day after the shooting,
"You cannot plan for everything," Powers said. "There was a general plan for an emergency, but I don't think anybody—at that point in 1996—ever envisioned such a random act on campus, such a destructive and horrible act."
Moerschbacher said he certainly hadn't thought a sniper firing on campus was even a remote possibility. At the time, Moerschbacher said he thought it was related to theft, drugs or domestic violence.
"Sniper situations are pretty rare," Moerschbacher said. "Even though today everything is just played over and over again and you think it's happening all the time, [that situation] really doesn't."
For the Penn State Police, Moerschbacher said the change was "fairly dramatic" as there were changes in training, tactics, weaponry, thought processes and expectations. The officers went from revolvers to patrol rifles and semi-automatic pistols.
"At the time, if there was a shooting or a hostage situation, a patrol officer's job was to create a perimeter and call in to help," Moerschbacher said. "We can't count on that—you have to fight with the army you have, and try to stop it from happening because we know right now there's just people who will go in and kill everybody they can."
During the trial, it was revealed that Robbins suffered from mental illness and actually went to the HUB lawn to kill herself.
"I don't think anyone knew how much distress [Robbins] was in," Powers said. "When a student dies, it's heartbreaking."
Robbins pled guilty to third-degree murder and four counts of attempted murder (Mensah, Malovrh, Mocker and Butler) in 1998 and is currently serving 30-60 years in the State Correctional Institution at Muncy where she will be up for parole in 2028.
"A student is right there at the time in their life when they're supposed to be making great decisions," Powers said. "You can absolutely feel the pain — probably not to the magnitude — that their parents feel."
Moerschbacher said the shooting made everyone realize things like this can happen even on a campus like Penn State.
"The 1996 shooting really brought to the surface that random acts of violence could happen anywhere at any time," Powers said. "I think it really shattered the feeling of safety and it made us feel vulnerable."