Penn State's Coalition of Graduate Employees had been fighting to unionize for nearly four years.
Last week, it was finally put to a vote.
Of the graduate students who voted, 1,438 were against unionization, with 950 voting in support of representation by CGE and the Pennsylvania State Education Association, according to a university press release.
"I do wish that more people had voted 'yes' and had participated in the election as a whole," Katie Warczak, CGE media officer, said. "But, I'm very proud of the work that we've accomplished."
CGE members said the Penn State administration might have contributed to the results.
"Graduate students are the pillars of our world-class research university," Penn State President Eric Barron said via email. "Penn State has always viewed our graduate students as individuals seeking advanced degrees, not employees, and believes this outcome is in the best interest of graduate education."
At a hearing in September before the Pennsylvania Labor Relations Board, the Graduate School argued that a union would create an uncertain future for graduate students. However, in February, the PLRB sided with CGE and declared graduate students could unionize.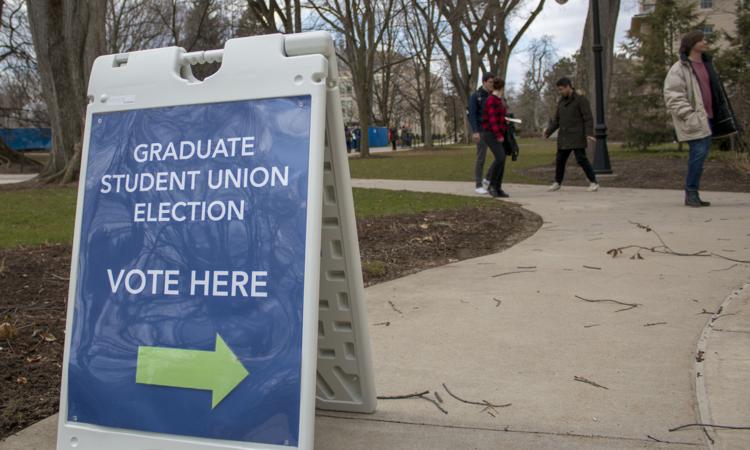 "I'm sure that every voter had their own reasons," Emma Van Burns, CGE records keeper, said. "But, I would say that the administration's tactics definitely contributed, which I think is really unfortunate."
While CGE could have reached out to more groups of people prior to elections, Warczak (graduate-English) said "the administration did run a fairly heavy anti-union campaign..."
Under Penn State's Grad Facts information page, administration stated, "It is unclear how a union may impact graduate students' programs."
Burns (graduate-chemistry) said administration was spreading doubt about unionization, "which we considered unwarranted."
Warczak said unionization would actually establish more certainty for graduate students. For instance, graduate students' health care plans vary each year without their knowledge, but a union would provide them that information, she said.
Earlier this semester, Dean of the Graduate School Regina Vasilatos-Younken and Penn State Executive Vice President and Provost Nick Jones answered questions about unionization at a town hall.
"You are not a homogeneous group," Vasilatos-Younken said at the town hall, explaining that not every individual graduate student's needs could be met with a union.
Administration reiterated this under Grad Facts: "There is no guarantee that any union can obtain improvements" in terms of benefits or stipends after unionizing.
The 33 other universities who have successfully unionized have not lost health care benefits or stipends, Warczak said, refuting the university's claim.
The Graduate School had also expressed concern over how unionization could impact student-faculty relationships.
With a union, the university would not be able to handle any issues a student has with a faculty member "behind the scenes," Vasilatos-Younken said at the town hall.
Many CGE members were particularly concerned with how administration directed information toward international graduate students.
Burns said some international students may have been worried about losing visas if the union were to go on a strike. Since those individuals are studying here on student visas, Burns said, going on strike from work — and not from classes — would cause no risk of deportation.
At the town hall, however, Vasilatos-Younken said a strike could impact students' graduation dates if it interfered with their research participation.
Amid conflicting perspectives, many graduate students decided to cast their ballot against unionization.
"I didn't think that the change was necessary from a university level," Sailahari Ponnaluri (graduate-bioengineering) said. "I thought it was more from a departmental level, and I think more changes need to happen for teaching assistants, rather than graduate assistants."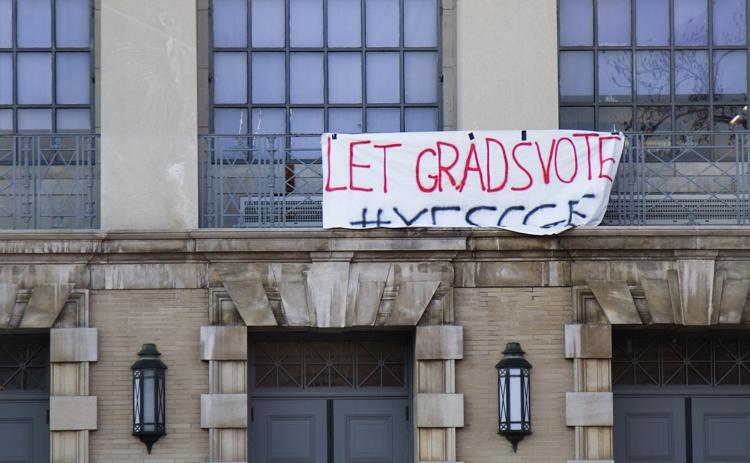 Without a union, some students in favor of unionizing said they would still like to continue advocating on behalf of graduate students.
"I'm personally very disappointed by the outcome of the union election," Brianne Pragg (graduate-sociology and demography), president of the Graduate and Professional Student Association, said. "GPSA will continue to work toward improving the lives of all graduate and professional students at Penn State."
Although the election results sided against unionizing, graduate students can continue fighting for representation in the future. A one-year cooling period is required, and graduate students would have to start the process from scratch.