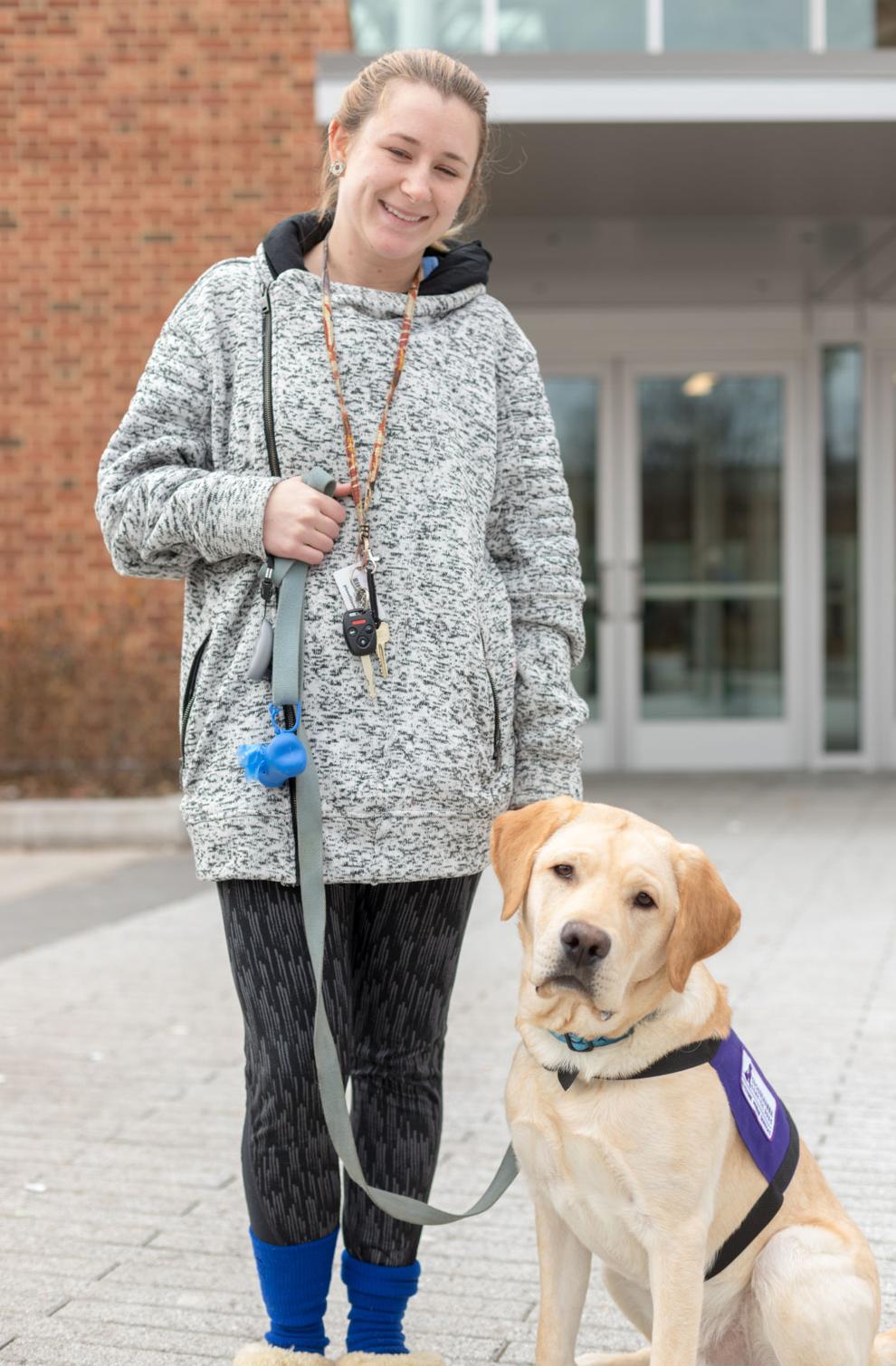 Manta Ray, Barracuda, Orca, Trail, Bear, Timber.
To six Penn State students, those seemingly random words are more than aquatic and forest-themed terms, they are the names of the service dogs they are raising.
The non-profit organization Susquehanna Service Dogs gives Penn State students a unique opportunity — to raise a service dog through a Campus Puppy Raising Program.
The program has six, eight-month-old dogs. A few younger puppies were just added to the program.
The student raisers have to teach the dogs basic skills that are centered on the dogs' manners and self-control. They also have to socialize the dogs and get them comfortable with the environments around them.
In addition to raising the dogs on their own, students take the dogs to a puppy class in the Snider Agricultural Arena twice a week. The class, which is taught by Penn State companion animal science professor Nancy Dreschel, focuses on reviewing the tasks the dogs have been learning.
Dreschel has been teaching the class for three and a half years.
"My favorite part about teaching this class is seeing the end-product, when the dogs get matched with someone," Dreschel said.
She said the process can be challenging for the students and that "getting all the puppies to the same point" can be difficult.
However, she said the pups are all "smart dogs."
The bi-weekly class begins with each student giving his or her dog a "puppy massage," encouraging the dog to relax and focus on their raiser.
The dogs then played a version of ring-around-the-rosy with their raisers, with the end of the nursery rhymes lyrics being changed to a combination of the sit, down and stand commands.
The puppies, whose tails were wagging almost the entire time, spent the majority of the class reviewing newly-introduced commands.
Students who wanted to raise a dog had to apply for the program and take two classes through SSD. SSD also did two home visits for each of the students.
After being approved, each student was put on a list. When the next available puppy was ready, the student began raising the 10-week-old furry canine.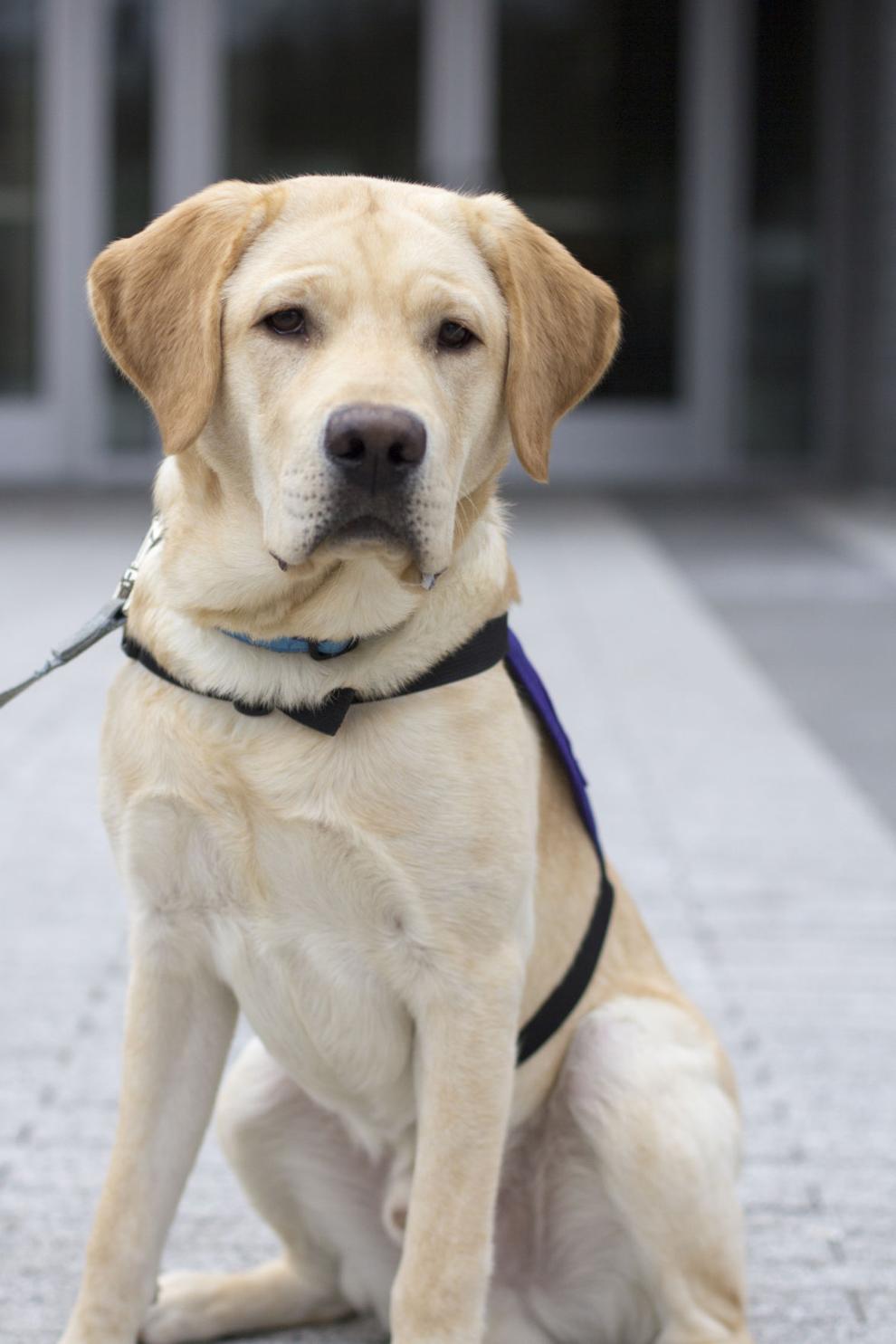 The puppies turned eight months old in February. After the puppies are a year and a half old, the dogs will leave their raisers and SSD will decide if they are ready for advanced training.
Mizelle Mulder raises Manta Ray, a black Labrador retriever.
Mulder (senior-bachelor of science) said the most rewarding aspect of this process has been seeing Manta Ray's improvement since she was only a few weeks old. Mulder said "free puppy snuggles" are also a benefit.
"Giving her up will be hard, but the part that makes it easier is that I will get to meet her partner," Mulder said. "The partners usually keep the raisers updated and are always very grateful."
While Manta Ray may be a future service dog, she still has many puppy-like qualities. Mulder recalled a time when Manta Ray ate half a bar of soap, or the numerous times she stole her socks because she wanted attention.
Mulder said she had been interested in raising a service dog for a long time.
"But I never thought I could do it," she said.
However, she said Pennsylvania's laws regarding service dogs in-training are what pushed her to apply for the program.
In Pennsylvania, service dogs in-training are treated like regular service dogs, meaning Mulder can take Manta Ray with her anywhere.
The student raisers can take the dogs to class; however, they are not supposed to take them to exams.
She said the most difficult part of the raising process has been having patience as she raises Manta Ray.
In addition, she said it is difficult to take Manta Ray out sometimes, as people will pet her or call out to her without asking for permission. She said someone is always supposed to ask the raiser or partner whether he or she can interact with the dog first.
Sammi Bright raises the yellow Labrador, Barracuda. Barracuda and Manta Ray are pup-best friends.
Bright (senior-animal science) first became interested in raising a service dog when she arrived on campus. She heard about the SSD program through Penn State's small and exotic animals club, and also saw service dogs on campus.
Bright said she enjoys watching Barracuda and the other dogs grow and learn.
"I like seeing how different they all are," Bright said. "They all learn really well."
One of Bright's favorite memories with Barracuda was when she and Mulder took Barracuda and Manta Ray to a lake at a nearby state park.
Barracuda evidently lived up to his name.
"I wasn't sure how he would react to the water, [but] Barracuda jumped into the water and swam across the lake," Bright said laughing. "He loved the water. He was blowing bubbles."
Bright said she thinks it will be hard to give Barracuda up, but it will be rewarding to see him with his partner.
"Getting to see where all the other [past] dogs are now in service is rewarding," Bright said.