During this time of year, thousands of students and alumni gather around Beaver Stadium to tailgate the afternoon away before a home football game. Just a few feet away from the tailgating grounds, some smaller members of the Penn State community are working hard not to grill burgers, but to produce honey.
The Penn State Beekeepers Club oversees and cares for over 100,000 honey bees that reside at the MorningStar Solar Home, just a short walk away from the gates of Beaver Stadium.
The start of football season is the start of a honey flow season for the bees, Grace Billy, the president of the club, said. The members of the club, which started two years ago, work together to extract the honey from the hives and bottle it.
"Honey extraction tends to be once a year, sometimes you can do two times," Billy (sophomore-environmental resource management) said. "They definitely make us a good 30 pounds of honey, but probably more."
Billy said that the honey is distributed among members based off a point system, but they are also looking into selling the honey to the public in the future.
Gathering delicious honey isn't the only responsibility this club has; they are also full-time beekeepers.
"We have classroom style meetings biweekly where we teach people the basics of beekeeping, information about bees and what it takes to be a beekeeper," Billy said.
Billy said during their on-site hive meetings, they teach members what they need to do to take care of their two bee hives, each containing at least 50,000 bees.
"I was really taken aback the first time we went out to visit the hives," Carrie Zamonski (sophomore- veterinary and biomedical sciences) said. "It was amazing."
Zamonski, the club's webmaster, said she stumbled across the club's table last year at the involvement fair, not knowing much about bees. She said the club taught her all she knows today.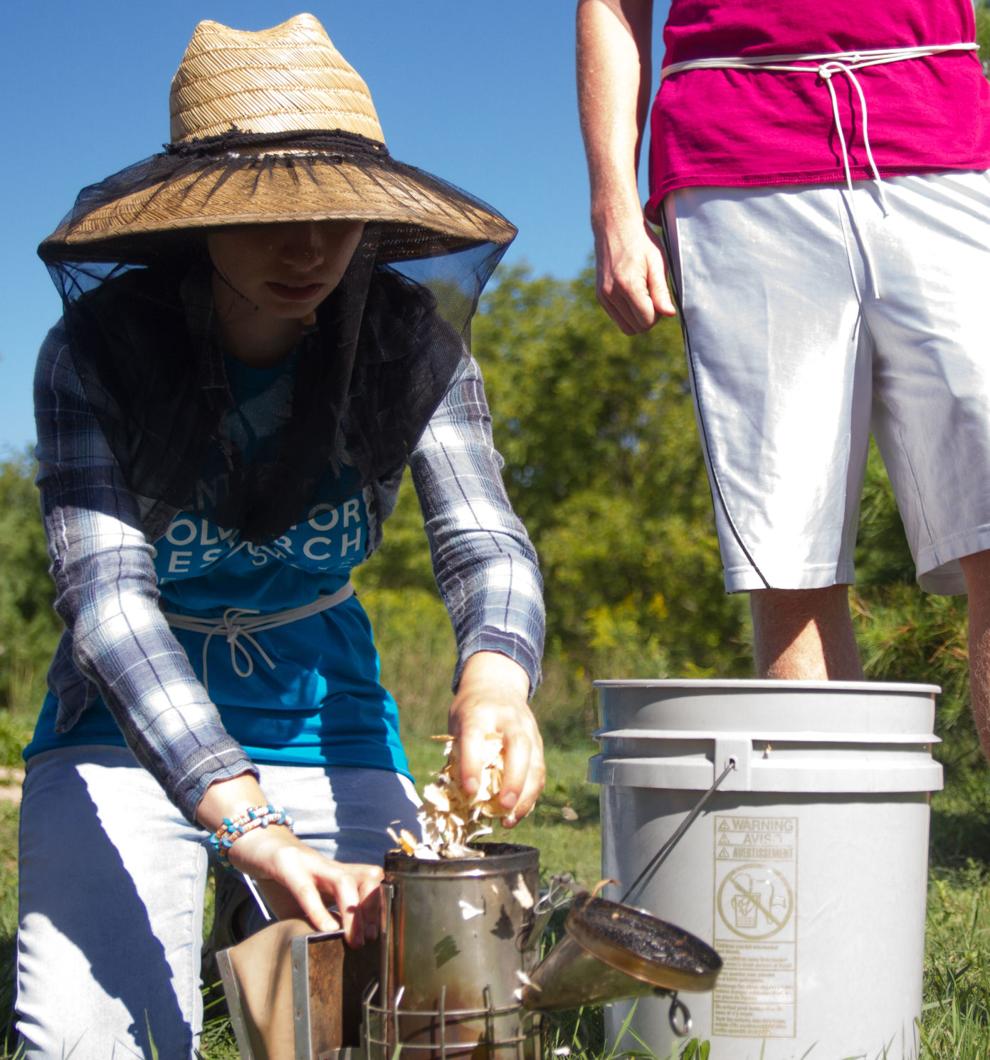 Billy said that the club uses a Langstroth hive: a hive that stacks vertically like a chest of drawers.
Inside these drawers, Billy said each tiny bee has a specific job to carry out. After opening a hive, many guard bees will fly around the perimeter. Billy said these are the bees that are most likely to sting.
"I'm so used to getting stung now, I kind of just brush it off," Billy said while holding a piece of the hive with her bare hands.
Billy said each bee's job is based off of their age. The youngest bees are nurse bees who take care of the newborns. There are also queen attendant bees who make sure the queen bee's needs are readily met. Next, there are forager bees who venture out to collect nectar and pollen.
Finally, the queen bee, who lays all the eggs for a hive, keeps the whole hive together. Billy said that her scent keeps all the bees coming back to the same hive.
The bees seen hard at work are all females, according to Billy. She said a male bee's main duty is to mate with queen bees from other hives.
These small, hard-working insects are important to more than just honey production.
"Bees are imperative to agriculture in general," Billy said. "A lot of fruits and nuts wouldn't exist without bees, like apples, cucumbers and blueberries for example."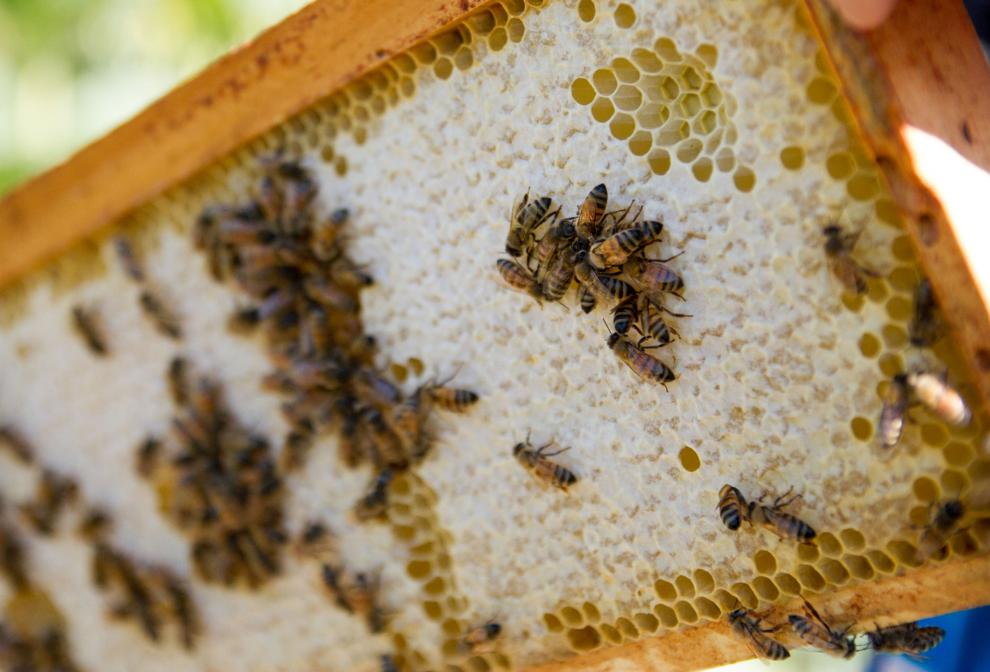 However, the bee population is on the decline.
Collin Charnoff, a member of the club, said he learned about the decline of bees in his EARTH 103 course, and then decided to get involved with the club.
"I love working with the hives," Charnoff (sophomore-earth science and policy) said. "It's important to protect the bees from climate change and pesticides."
Just a few weeks ago, almost three million bees were killed in South Carolina due to an insecticide spray called Naled, which is used to kill mosquitoes carrying the Zika virus. Local beekeepers told The Washington Post they did not receive proper warning of the toxic spraying and are devastated from the loss of their bees.
Alongside dangerous toxins such as Naled, the disappearance of bees is called Colony Collapse Disorder.
"A lot of our bees across the nation are dying," Billy said. "As of current research, it's predicted that 30 to 60 percent of honey bee colonies are dying nationwide."
Billy explained that the main cause of CCD are Varroa mites, a parasitizing organism that attaches itself onto the bee and then infects its blood. Billy compared the size of a Varroa mite on a bee to a dinner plate on a human.
"Imagine walking around with a dinner plate on you that's drinking your blood," Billy said. "That's basically the equivalent."
Varroa mites combined with a cold winter and other diseases will cause the bee's immune system to collapse entirely, Billy said.
Billy said the Varroa mite originated from Asian bees, who were healthy enough to sustain the parasite and remove it. The western bee, that is most popularly used today, cannot fight off the mite as easily.
Varroa mites spread to the west a few decades ago because bee colonies were moved overseas, Billy said. Since then, beekeepers have been trying to combat them.
Fortunately, Billy said there are treatment methods available.
She explained that the mite is more commonly reproduced in male bees, known as drones. Beekeepers can induce a queen bee to lay more drone cells in a frame by making the frame have larger cell diameters.
"When the queen lays the drones, you can uncap them and destroy all of them so the mites inside cannot reproduce any further," Billy said. "It's a way of getting all the mites in one place and destroying them."
Billy encourages any students interested in learning how to protect and care for bees in the midst of CCD to come to the club's meetings.
"We'll be going out to the hives as much as we can before it gets too cold," Billy said.
She also plans to have beekeeping experts from the State College community come to share their knowledge and research with the club this semester.
"People should be standing up for the bees and making sure we do all we can to help them," Billy said.
Penn State Beekeepers Club